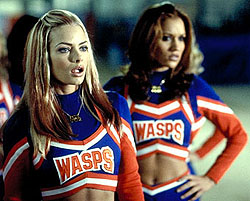 Release Date:
21st March, 2002
Starring:
Chris Evans, Chyler Leigh, Mia Kirshner, Jaime Pressly, Cody McMains
Director:
Joel Gallen
Genre:
Comedy
Rated:
TBC
Synopsis:
The irreverent comedy NOT ANOTHER TEEN MOVIE shows no mercy as it skewers the conventions and cliches of the genre you hate to love. Join Janey Briggs (Chyler Leigh), an aspiring artist who is outcast by her classmates for wearing glasses, a ponytail and paint-covered overalls; and Jake Wyler (Chris Evans), the all- American football star who makes a foolish bet to turn Janey into a prom queen, in a risque romp with an assortment of twisted takes on classic teen characters and teen movies.
Recent movies such as AMERICAN PIE, 10 THINGS I HATE ABOUT YOU, SHE'S ALL THAT, CLUELESS, CAN'T HARDLY WAIT and much more are spoofed in this one!