Cowabunga- Its Turtle Time!
Its official, the heroes in a half shell are turning 25 in 2009!
It all began back in May 1984 when the lovable turtles hatched as a blackand white comic book by artist Kevin Eastman and illustrator Peter Laird.Today, with over one hundred million fans worldwide (and counting), theTurtles are still the worlds most loved green teens.
And todays kids are just as likely to be fans of the Turtles - the heroes inthe half-shell have been consistently popular since they were born. Last year inAustralia TMNT finished the year in the top five best selling action figure brands.As part of the 25th anniversary shell-ebrations, the Turtles aregoing retro with the re-release of the original toy range.
Recreating the original first season figures, the 25th Anniversary
Teenage Mutant Ninja Turtles
(RRP$19.99), feature original characters and accessories and appear in the 1980s packaging. The range includes Leonardo, Michaelangelo, Raphael and Donatello. Collect them all!
Over the years there have been various incarnations of theTurtles. The latest creations are TMNT Mini Mutants. They are half the size, but twicethe fun! These lil' guys pack quite a punch, and come with their ownaccessories in true ninja style.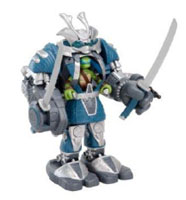 TMNT Mini Mutants Exoskeletons
(RRP$29.95) - Shredder and his fightingFoot Clan scientists have created giant robotic exoskeleton vehicles inorder to wreak havoc on the city! The Turtles have assembled their owntricked-out exoskeletons. Take your Turtle into battle - each radicallystyled Exoskeleton comes with spinning weaponry as the two sets ofrockin' sockin' robots go at it with full force!"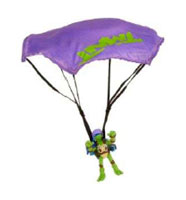 And, it's time for an all-out assault... in the air! With
TMNT MiniMutants Aerial Assault
(RRP$24.95), Leo, Don, Raph and Mikeyput on their safety shel-mets and strap themselves in. The Turtlesfly across the sky straight at their enemies. It's a clash of titansand may the best Turtle win! Each pack comes with two figuresand real working parachutes. Throw them in the air, and theirparachutes unfold for a cool landing!
And dont forgot TMNT Mini Mutant Mini Figures (RRP$4.99). Theseposable mini movie action figures stand around 5cm tall. Collectthem all and create your own shell-kicking turtle action.
Teenage Mutant Ninja Turtles are available now from all major retailersand independent toy stores. For customer enquiries or more stockist informationplease contact Funtastics free-call Customer Care Line on 1800 244 543.
Check out
www.TMNT25.com.au
for more details on Shell-ebrations around Australiafor the Turtles 25th Anniversary.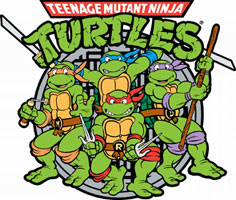 HOW NINJA TURTLES ALL STARTED
It all started with four pet turtles and a canister of alien ooze. Whenthe turtles were accidentally dropped down a sewer and bathed in aglowing green slime, they began to grow. To change. To mutate!
Genetically reborn in the sewers of New York City, they were raised by their wisesensei, Master Splinter and named after the Renaissance masters.Splinter schooled the turtles in the ancient martial art of Ninjitsu, helping them masterskills of stealth, weapons and fighting.
This supreme green fighting machine battles petty criminals, evil megalomaniacs andalien invaders, all while remaining isolated from society at large. They wont stop untilall of New York City is safe.