Ted
Voice Cast
: Seth MacFarlane
Cast
: Mark Wahlberg, Mila Kunis
Director
: Seth MacFarlane
Genre
: Comedy, Drama, Romance,
Rated
: R
Synopsis
: A story centered on a man and his teddy bear, who comes to life as the result of a childhood wish.
Release Date
: July 5th, 2012
Website
:
www.tedisreal.com
About the Production
A Bear Is Born: Meet Ted
Although Seth MacFarlane originally conceived of Ted as an animated series, he soon realised the story would lend itself better to a motion picture, especially with enormous advances that have been made in CG imaging and VFX technology over the past several years. He enlisted fellow Family Guy writers Alec Sulkin and Wellesley Wild to help develop the story of the magical stuffed teddy bear and the owner whose development has been officially arrested.
Together, they created the tale of a lonely boy whose 1985 Christmas wish is miraculously granted and whose beloved bear creates a worldwide sensation when he comes to life. Young John's headline-grabbing teddy is famous across the planet and routinely takes bookings such as The Tonight Show Starring Johnny Carson. But as the decades pass, a grown-up John finds that his once cherished toy has become his worse-for-the-wear, foul-mouthed, cynical companion. And as much as John loves Ted, John's starting to feel the effects of spending the majority of his time with him.
Seth MacFarlane walks us through the screenplay's genesis: "Alec Sulkin, Wellesley Wild and I have worked together for years. I met them when Family Guy got cancelled in 2002. They were working on a FOX sitcom called The Pitts, and I got hired to consult. We found that our comedic voices were very similar and that we worked well together, so I hired them on Family Guy when the show was brought back. They've been writing superstars since then and seemed an eminently logical choice. They have a great sense of the blend of story backbone, heart and, of course, jokes. They are two of the best joke writers that I know."
"Seth MacFarlane had the idea for Ted for a long time," recalls Wellesley Wild. "I remember him saying that he was waiting for the technology to get to the point where he could make it look like a real teddy bear." He laughs, "It was Seth MacFarlane's concept, but he didn't have time to write it with his 20 shows on television, so he sent us off to write a rough draft. We continued to work with him on weekends, changing it and punching it up."
"Seth MacFarlane said he wanted it to be a very R-rated comedy," adds Alec Sulkin. "The bear comes to life with a little child's wish, and then you cut to almost 30 years later and it's the roommate who won't leave. They have a sweet beginning; then Ted becomes this national sensation and ultimately turns into something like a former child star. He's somebody who was famous, is still alive, but not famous anymore. People continue to recognise Ted when they see him walking around with John, like when the pair is on their way to smoke pot in the park and run into some girl fans who recognise him and want to be photographed with the cuddly guy."
Seth MacFarlane agrees that he was most interested in the humor that occurs after the boy and bear grow up and Ted is no longer considered to be special. "A big part of the comedy comes from the fact that years after the bear came to life, people have gotten used to it and nobody cares anymore," the director says, "a point it would naturally get to in real life. So once that big moment has passed, what's the other 95 percent of your life going to be like? That was part of the comedy in Ted."
The project came over to Bluegrass Films and had producer Scott Stuber and executive producer Jonathan Mone laughing within the first several pages of the script. They were not only impressed with how clever and unique the screenplay was, but also that it still contained classic storytelling elements.
Scott Stuber reflects that it was the writers' ability to blend their voices into a singular one that interested him: "Alec Sulkin, Wellesley Wild and Seth MacFarlane have a great shorthand and feed off of each other. In comedy, that's important because not every great joke starts as a great joke. They protect each other and are on each other's side, so they give each other the creative freedom to try different things and then find the right answer. They do this continually in their work."
While it was critical to the filmmakers to bring bawdy comedy to the R-rated Ted, they knew the film would never work without a good deal of honest emotion. Explains Scott Stuber: "Seth MacFarlane's point is that he tries to offend everyone and not single out any group. However, he brings heart and comedy and absurdity to this story that's ultimately about growing up and leaving an icon of your childhood behind. He was able to mix in so many things. There's some crazy stuff in this movie that makes you drop your jaw in the best of ways and say, 'I can't believe they just did that.' But at the end of the day, he never lost sight of the heart, and the best comedies have that."
Producer Jason Clark, a motion-capture veteran, was brought on to help oversee the production. "I had done Stuart Little and had worked before with a CG character in a live-action world," he relays. "I'd also done Monster House, which is one of the first movies to employ the motion capture of a performance. With Ted, we move to the next level, creating a leading performance in a comedy, which requires great immediacy to capture the humor and repartee between the performers. It was not something that could be recorded in a booth outside of the production experience; it needed to be recorded live on the set. On top of that, we added another level of complexity, since the director is playing that lead character."
Having compiled a long list of credits over the years creating and overseeing the production of many projects (including three shows currently running on FOX), Seth MacFarlane brings experience and maturity to his debut as a feature-film director. "Seth MacFarlane understands the process and is such an incredible leader," commends Clark. "He has a way of giving clear indication of what he's going for and, at the same time, allowing everybody to bring their expertise."
Adds fellow producer John Jacobs, who has worked with Seth MacFarlane for years: "First-time directors often need 20 different choices for everything and can be indecisive, but because of Seth MacFarlane's incredible instincts and experience in animation, he's amazingly tuned in to what he wants and has been able to command three challenging roles: directing, acting and overseeing the VFX work for Ted. As well, his comedic timing, irreverent attitude and keen visual sense are like no one else's, as Family Guy fans know."
John Jacobs credits Seth MacFarlane with "being able to play animated characters in a completely real way. This is as far away as you could get from the Walt Disney style. This bear could just as easily be the guy sitting next to you at a bar or driving down the road with you to a bachelor party. I can guarantee that people have never seen a character like this and they are going to love this bear!"
Thunder Buddies for Life: Casting the Comedy
From the moment they find each other, young John Bennett and Ted vow to be best friends, forever and ever. Their shared childhood joys include time go-karting, making snow angels, watching Flash Gordon, dressing in costumes for the local opening of Star Wars: Episode I: The Phantom Menace (as Darth Maul and Yoda), getting high…and watching Flash Gordon. As kids, their shared fear of thunder bonds them as "Thunder Buddies," and the phobia follows them into adulthood. Nothing scares away thunder more than a shared song to embolden their spirits.
Seth MacFarlane discusses casting the role of the man who just can't grow up: "Mark Wahlberg was the perfect fit because he can be hysterically funny, yet he's also able to deliver genuine emotion and realism. When he talks to the bear, you believe that bear is sitting there. The way he could sit there and show such genuine emotion over the prostrate body of an inanimate stuffed animal was pretty impressive, and that is going to be a very big reason why the audience is invested in this."
While Mark Wahlberg has only appeared in a handful of comedies, his skills wowed the director. "His ability to do physical comedy is incredible," continues Seth MacFarlane. "That loveable, gullible character he plays in Boogie Nights and I Heart Huckabees was something we saw as a jumping-off point for John: the sweet and funny guy who is susceptible to Ted's urgings."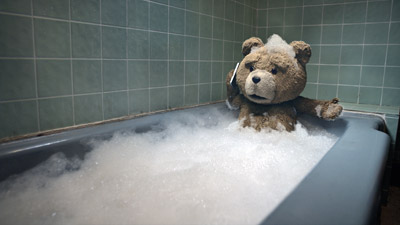 Mark Wahlberg admits that he usually selects the role opposite in character from the one he last filmed. He says: "I went from doing The Fighter press to shooting Contraband in New Orleans during award season and going back and forth. Then I got a copy of the script, and when I read it, 30 minutes into it I completely forgot about the bear, and I thought, 'Wow, what a great buddy movie with this dilemma in the middle of it with the girlfriend.' Then I met Seth MacFarlane, and I was campaigning to get the part."
As he read the screenplay, Mark Wahlberg says he was quite impressed by the comedy: "People will not be disappointed. It's Seth MacFarlane on steroids. When I first saw Family Guy, I couldn't believe that he was getting away with some of that stuff in a cartoon. But now with this rated-R feature film, he really pushes the envelope. There's nobody that he doesn't offend, either. Across the board, everybody's fair game."
Mark Wahlberg introduces us to his character: "John works at a rent-a-car place and has a beautiful girlfriend, Lori. He doesn't want to let go of his adolescence, but his girlfriend wants him to step up and be a man. He's enjoying life and couldn't be happier with his girlfriend and his best friend; they make the most of every moment together. But that becomes a problem because Lori wants a bigger commitment."
His first blended animation film, the actor wanted to make sure that he did the part justice. He says: "My only concern was that I wanted to play everything as real as possible. I wanted to play it completely straight and let the laughs come from the craziness of the situation. That was exactly what Seth MacFarlane was looking for." So intense was his preparation to ready himself for the scene in which John rattles off a number of potential names to Ted, Mark Wahlberg wrote out each girl's name hundreds of times.
Scott Stuber knew that the man they cast had to implicitly believe that his director wouldn't lead him astray. He explains: "Trust is a big word, and Mark Wahlberg had to go there with Seth MacFarlane. He had to sit on a couch next to a kickstand and hope that the animation and the personality of that bear would feel like two guys on a couch having fun and having real camaraderie. Mark Wahlberg was unbelievable; he gives such a great performance." The producer acknowledges that their lead gave them his all: "The irony is that if you watch the dailies of the movie, there's nobody playing against him. If you watch the movie just from Mark Wahlberg's perspective, he's getting his bare ass whipped, has to get up and sing poorly and is beat up by a bear-all kinds of indignation for his character. He just never complained, and he did everything we asked of him."
Cast opposite Mark Wahlberg was Mila Kunis as Lori Collins, John's formerly patient girlfriend and a rising public relations executive. The actress, who has voiced the role of Family Guy's Meg for almost 13 years, grew up with her director. Says Seth MacFarlane: "It was a logical choice to bring her on board, given my relationship with her combined with the fact that she is just blowing up right now, and deservedly so."
Discussing Lori's part in the comedy, Seth MacFarlane shares: "As with Mark Wahlberg, we had the same set of needs. This role had to be played with believability, despite the outrageousness. Her relationship is hampered by the fact that this guy's teddy bear is hanging around and keeping him from evolving and allowing their relationship to evolve. To play that real is asking a lot of an actor, and she pulled it off with flying colors. You believe that she's genuinely distraught that this stuffed animal is dominating their life. In many ways, that was the key to the recipe for the comedy. Since the premise brings its own comedy, the trick for mining it is to play it straight at the core."
How did Mila Kunis feel about tackling the project? "I've known Seth MacFarlane since I was 15," she says. "If you can work with your friends all the time, you can't ask for a better work environment." Plus, she deadpans, "It's a movie about a talking teddy bear, and I would expect nothing less from Seth MacFarlane, Alec Sulkin and Wellesley Wild. It all made sense to me, and I didn't question it at all. I'm on a cartoon with a talking dog. Like I'm going to question a bear?"
Nonetheless, Mila Kunis still found the experience working with Seth MacFarlane directing "a little strange." She offers: "On Family Guy, I'm in one booth. He's in another booth, and normally he has to explain to me what's happening because you record Family Guy a year before anything's drawn. Seeing him as the director explaining scenarios and characters and visually setting up shots has been great. Seth gets so giddy when he gets a take that he likes."
Mila Kunis explains that Lori is none too happy with the odd triangle in which she finds herself embedded. The actress says: "Ted is a roommate who gets in the way a lot. Lori is a hard-working girl who loves John for being a child at heart, but she also wants to settle down and have a sense of security that he's not capable of giving her. He is a sweet, beautiful soul, but he's like a stunted 15-year-old boy who means well but doesn't have the drive to go past a certain point. All he does all day long is smoke weed and get high with his teddy bear. Lori tries to get John to get Ted to move into his own place so that the two of them can start their life together."
Ted isn't the first time the two actors have performed with one another. Mila Kunis shares: "Mark Wahlberg's very present, and he's a comforting actor to work with. Just knowing that there's somebody who is looking out for your best interests and that you can trust is very rare."
Though the crux of the comedy is Ted, John and Lori, it was crucial to the filmmakers not to support the main characters with stock ones. Scott Stuber offers: "We wanted to fill out our characters' lives. One of the mistakes we sometimes make in filmmaking-whether it's a comedy or a romantic comedy-is that we tend to never show that our main characters have diverse lives. It was important to dimensionalise Ted, Lori and John's work lives and make sure that you knew these characters. Plus, across the board, we were able to get the kind of supporting actors that we wanted."
Joel McHale, familiar to audiences for his comedic roles on Community and The Soup, was cast as the lecherous Rex, Lori's boss at Plymouth PR. "Joel McHale was an obvious choice for me," says Seth MacFarlane. "I had tested him for a pilot for FOX. With Joel McHale it was about an old-fashioned swagger. There's almost nobody in Hollywood who can do that now because it seems that everyone has a much more informal style. Joel McHale was the only guy that I could think of who could pull that off."
Not used to being turned down, Rex mounts a merciless pursuit of his unresponsive employee. It's one that proves futile until she and John separate after a final Ted-precipitated disaster. Clark explains: "Joel McHale, as Lori's boss, works a destructive wedge in her relationship with John, yet he is such an incredible comedic actor who brings so much humor and charm to the role that you just love to hate him."
Joel McHale is the first to admit: "Rex is not the greatest guy in the world. Almost every time you see him, he is Olympic in his success; consider the amount of purple he wears. He is incredibly rich, drives a Bugatti, runs a PR firm and is living the good life, or he believes he's living the good life. He's nailed everything in the office, and Rex gets what he wants."
The actor appreciated the style of his director. "Seth MacFarlane is a rare combination in that he has talent and creativity pouring out of his ears," commends McHale. "He can do anything. I have seen him heal people, and he can lift large objects by just thinking about it. He has all that talent, and yet he's the most humble, self-deprecating person you've ever met. He is also open to messing around. After we did the lines, he would let us improvise and throw in jokes."
Giovanni Ribisi, recently seen opposite Mark Wahlberg in the action-thriller Contraband and Emmy nominated for his role on My Name Is Earl, plays Donny, a man whose boyhood need for a friend like Ted has grown into a dangerous adult obsession. "I think Donny had a tough upbringing. He was the boy who never got a teddy bear, so there is a hole in his life," states Giovanni Ribisi. "He wants Ted. When he gets older, he becomes a stalker who takes it upon himself to get what he never had. His life has been so destitute and downtrodden; he's looking for an opportunity to realise his dream himself."
The actor remembers "getting a phone call about doing the table reading of the script. The material was definitely off the beaten path for me. Seth MacFarlane called me up a couple days after the reading and said, 'I want you to be involved when we make the movie.' I was over the moon because I'm a huge Family Guy fan."
"Giovanni Ribisi brought so much to this role that we weren't expecting," praises Seth MacFarlane. "He's a great actor, but the form that greatness takes always remains to be seen. We don't see as much of Donny in the script. He was a little less fleshed out, and Giovanni Ribisi came in and completely dimensionalised the role in ways that make the character a more memorable villain."
Along with the film's co-writers and Mila Kunis, there are a number of other Seth MacFarlane favorites in Ted. "Family Guy fans will be familiar with cast members Patrick Warburton, Alex Borstein [the inimitable Lois Griffin], Ralph Garman and John Viener, who play multiple characters on the show," notes John Jacobs. "They all have a shorthand with Seth MacFarlane; some of them have worked with him for a decade, and they are his family. It ups the comedy when they get together on the set. It's magic to see."
Alex Borstein, who plays young John's mom, reveals: "They were nice enough to say, 'Let's have a lot of our friends we've worked with for years do something,' so this was a gift." She dryly adds, "As far as a teddy bear coming to life? I'm a Jew, so there's no such thing as a Christmas miracle. In my house, I'd cut the bear open and throw it out. Hanukah bears don't talk, and they don't come to life. They sit and complain."
Rounding out the cast are Bill Smitrovich (Iron Man) as Frank, Ted's demented supervisor at the grocery store; Matt Walsh (Bad Santa) as Thomas, John's Tom Skerritt-loving boss at Liberty Rent-a-Car; and Laura Vandervoort (TV's V) as Tanya, John's oddly empathetic co-worker. Lori's catty PR colleagues at Rex's firm include Jessica Stroup (Prom Night) as Tracy, Ginger Gonzaga (TV's The Morning After) as Gina and Melissa Ordway (A Very Harold & Kumar 3D Christmas) as Michelle.
The Final Member: MacFarlane as Ted
The first actor cast was the same one helming the film. Doing quadruple duty on set, Seth MacFarlane realised the character of Ted through the combination of the vocal and physical performance. This was coordinated by Seth MacFarlane wearing a motion-capture suit and the postproduction work of the visual effects team headed by VFX producer Jenny Fulle of The Creative-Cartel and VFX supervisor Blair Clark.
Seth MacFarlane explains the process: "It was necessary to have the suit there every day and for me to do a lot of the directing work with it on. So it had to be something that was comfortable. Jason Clark found this company that had a unique technology called Moven, and there are straps that go over your everyday clothes. There were days when I had to have it on the entire day, so it had to be something that was going to capture the data that we needed but wasn't going to be constrictive or distracting."
The filmmakers' primary focus was to give each scene the feel of two live actors working in the same environment. Often the voices for CG characters have to be done weeks before or weeks after the scene is shot, and the result is that it doesn't quite connect with the actors who are on screen. "To get spontaneity, Seth MacFarlane was on the set in his suit working directly with the actors so it's not dubbed over later," explains John Jacobs. "It's like a live performance between him and the other actors. He was able to trade riffs with Mark Wahlberg or Mila Kunis or Joel McHale. It makes a big difference, especially for comedy and for the improv that occurs during filming."
"In a perfect world, the performance of Ted is the same as everyone else's performance," states Seth MacFarlane. "It's the same level of reality. Who Framed Roger Rabbit is a great film and many of the techniques utilised in that movie are utilised in this one, but we didn't want to create the scenario in which there are the people and there are the cartoons. We wanted them all to be people, one of whom happens to have the body of a teddy bear. The trick was to treat Ted the same way as we treated everyone else. We avoided anything that would remind you that he's just not another person, like having anyone have to lift him up to get to a high place.
"The guy I look to as the epitome of doing that right was Jim Henson," continues the director. "The Muppets were real people; in that world it was normal for Muppets to be walking around. In The Great Muppet Caper, Kermit and Fozzie work at a newspaper and Jack Warden is their boss. They have the same relationship that newspapermen and their boss have in any movie, they just happen to be puppets. That was what we wanted."
Scott Stuber agrees with his director. He says: "The movie doesn't work if you don't believe that bear is real and has a personality and dimension next to John. That was the big overcome. So once that worked, we knew that movie would work. Seth MacFarlane spent a lot of time on the animation, on the reality of the voice and on the reality of the movements. That helped all of the actors who worked against Ted."
So what was the inspiration for Ted's voice? "I'm from New England," Seth MacFarlane notes, "and a lot of my family is from the Boston area so I grew up with plenty of Bostonians and Rhode Islanders. Ted's voice is a melting pot of voices, but deliberately more real sounding than, say, Peter's, Brian's or Stewie's in Family Guy."
When Ted is a young talking cub, he is played by actor Zane Cowans, who also plays the chief bully that gives young John such a hard time early in the film. What was good for Seth MacFarlane was good for the young actor, and Cowans also performed the dialogue live while strapped into the Moven suit.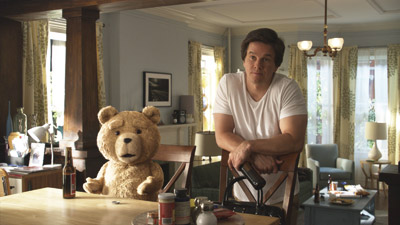 Blending Worlds: VFX of the Film
Most first-time director's efforts are not complicated by performing in their film or coordinating the appearance of a character that would be computer generated and layered in during postproduction. But Seth MacFarlane did not find the added tasks especially daunting. "I come from 15 years of animation, so there was a preexisting comfort level," he notes. "Yes, the CG-3D animation is a little different from my background in 2D animation, so there was a bit of a learning curve at first, but it was pleasantly surprising how easy it was to turn the dial and adapt my brain to that kind of thinking.
"I've got a phenomenal team that was unbelievably innovative and continued to be innovative into postproduction," he continues. "We've asked them to do something that in a comedy is relatively untried: Forget everything you know about Pixar or DreamWorks-style animation, and make this character move with human gestures the same as everyone else-not a lot of squash and stretch, not a lot of cartoony stylising in the actions."
Strapped into his Moven suit just off set, Seth MacFarlane performed Ted's dialogue and gesticulations in scenes between the bear and the other main characters. "But there are many cases that the gestures were not and could not be mine," the director notes, "because when all the big action is taking place, it's impractical to do that on a mo-cap stage; you have to animate it. Since a lot of Ted is mo-cap that incorporates my gestures, the challenge for the VFX team was to make everything seem just as realistic. It's the hardest thing in the world for animators to play it subtle and play it real. I've spent years trying to get my guys at Family Guy to get there, and when you add the 3D element, it's a whole other animal. I was very comfortable with their talent and their ability to pull this off, and they were enthusiastic about it."
Blair Clark describes how the bear was filmed and ultimately created for the screen: "Since Ted doesn't actually show up until postproduction when we rendered him, we had to create a series of 'passes' as we filmed each scene to record the information. First, we did a 'stuffy pass,' which required placing a stuffed bear in Ted's position in a scene to give the actors an indication of where the bear would be. This helped them to understand what their characters are seeing and where their eye line should be.
"After that, we recorded our 'eyeline pass,' placing into the scene an eyeline reference tool [basically a stick with two dots representing Ted's eyes] so the actors would look at the correct place where Ted would eventually be rendered," the producer continues. "At that time, Seth MacFarlane was off camera in a Moven suit that tracked his body movements by transmitting, via radio frequencies, the location of each of the sensors placed on him, instead of requiring a volume of cameras to film it. He was miked traditionally, and his voice was recorded in the same space and time as the actors so that the result was authentic and immediate and dialogue could overlap."
Blair Clark describes how a third on-set "pass" was filmed with Creative-Cartel's Civetta camera. He shares: "It's a new technology that allows you to take 360-degree photographs of the set and create a digital reference of the lighting scheme and 3D geography around you. We used that intensely on every shot in which the bear appears. It's a two-minute recording of the actorless set that allowed us to obtain a record for the teams of animators creating the bear's performance to have as a reference of the lighting in the scene. This allowed them to create seamless lighting on the bear."
This allowed Ted to "physically" interact with the environment. For example, if Seth MacFarlane needed Ted to sit on the couch, the pillows were depressed. If he needed the bear to run across a bed, they created depressions in the bedclothes where his footsteps would go. This interactive environment created less separation between the CG character and the live-action role.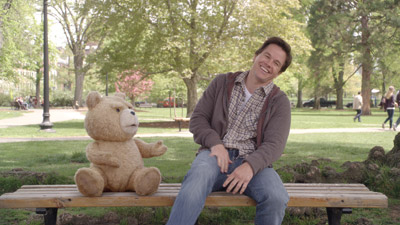 Production designer Stephen Lineweaver was also tasked with reinforcing the notion that Ted is just like everybody else in his world. He emphasises that carried over into the set design: "One thing that we were conscious of was organically building different levels for Ted to be able to appear at others' heights at any given point-unless he's supposed to be imposed upon by somebody, then he was on the floor. In order for him to appear on the same level, should Seth want to film a two-shot with another character, there were nooks and crannies in the apartment to which he can climb. That was an interesting design problem that I hadn't dealt with before."
Naturally, Seth MacFarlane's actors found sharing the screen with a bear that wasn't there to be a challenge. Shares Mark Wahlberg, who had to train for weeks with a stuntman to capture the moves needed in his motel fight with Ted: "It took a little while to get used to, but once we got into the swing of things, I started feeling very comfortable with the idea of just acting opposite the stuffed bear or the little stick with the eyes on it. Of course, having Seth MacFarlane in the room doing the voice was also very helpful."
"You act against nothing," echoes Mila Kunis. "If you're lucky, the first take you get a stuffy 'pass,' but then they pull the stuffy away and you're literally acting against air." "It's just you with a stand," adds Giovanni Ribisi. "There is a fascination with the idea of making a movie almost in the way of doing theater, where it's just you using your imagination."
Welcome to New England: Settings and Design
Ted is told in the Boston, Massachusetts, of today. The filmmakers agree that you provide realism to a completely unrealistic story when you set the tale in an actual place. Seth MacFarlane asserts: "Family Guy is set in Rhode Island because that's one more thing that helps lend reality to something that's out there, and with this movie we took the same tact and set it in Boston. Despite the fact that we're dealing with a talking teddy bear, this is, in effect, the real world. In this universe, Ted's presence is completely normal, which means that everything else about it had to be completely real."
Blair Clark continues that the team did not want to overstate the level of fantasy already inherent in the story. He says: "We didn't want to create an inauthentic, unnamed urban locale. We wanted it to play out in a very specific location, which is what we delivered with Boston."
Stephen Lineweaver was charged with creating a real world in which a talking teddy bear shares the streets with regular humans. "We created an array of interesting environments, including Donny the obsessed stalker's wonderful and creepy house. We also designed our spaces to allow us to see things from a small bear's eye level, which brings a whole new perspective and look to the movie."
One of the filmmakers' goals was to find an iconic location to shoot the final moments of the film's climactic chase sequence through Boston. To their excitement, the Boston Red Sox organisation agreed to allow them to film in Fenway Park, the venerable baseball stadium that opened in 1912. However, the giant lighting tower that Ted and Donny climb was reproduced on a stage.
During one of the nights lensing at Fenway, the production was graced with the presence of the Stanley Cup, the ice hockey trophy then recently won by the Boston Bruins. As filming continued atop the park's Green Monster above left field, cast and crew raced to the field's first-base line field to be photographed with the great silver trophy.
Donny and his awkward, aggressive 10-year-old son, Robert (played by The Hangover Part II's Aedin Minck), live in a house that oozes menace. According to Lineweaver: "We wanted to create a place that was incredibly creepy and weird, and we used a sense of falling-down architecture. Donny has never left the house, but his father has died or gone away. Since Donny is a different kind of creepy from his father, we updated the badly worn '80s green leather couch and some of the chrome but kept the disparate pieces made of cheap laminated wood that were his father's."
The very wealthy Rex lives in a house described by Stephen Lineweaver as "over the top." He shares of this home that serves as a setting for the film's extravagant party: "In New England, you don't see many 10,000-square-foot modernist houses on the beach." The actual house sits in a suburb north of Boston called Swampscott.
The climax at Fenway was just one of the many sequences filmed in key Boston locations. Norah Jones' concert takes place at the Hatch Shell on the Charles River, home of the Boston Pops' July 4th extravagansas; John and Ted get high and run into Donny for the first time at the beautifully manicured Boston Public Garden, home of the famous swan boats; and John tells Ted that Ted has to move out while standing amidst the great tanks in the New England Aquarium.
The exterior of John and Lori's apartment was shot on Chandler Street, a picturesque block in Boston's Back Bay. "Lori might live with a guy and his teddy bear, but she's not going to live in a frat house," says Stephen Lineweaver. "She wants the place to look nice, while John's just happy to be smoking pot with his teddy bear. The apartment is a nice, big, open space that we built on the stage-a place that hasn't been renovated, one that you could rent in a good area. The real building that we used to shoot the exterior is on a gorgeous block in Boston's Back Bay and has actually been chopped up into little apartments."
Ted cajoles Lori to meet John at Charlie's Sandwich Shoppe, also in the Back Bay, just down Columbus Avenue from the site where the Union United Methodist Church, a cornerstone of Boston's African-American community, also plays a key role.
John takes Lori to Sorellina restaurant for their anniversary dinner, and their disastrous double date with Ted and Tami-Lynn blows up at the Gaslight Brasserie. As well, John and Ted wait in a line of costumed fans at the Somerville Theatre for the opening night of Star Wars: Episode I-The Phantom Menace.
Just north of the city, John and Lori play miniature golf in the Route 1 Miniature Golf Course, with its dinosaur that is oh-so visible from the highway, and Rex's modern seaside mansion is set in the North Shore suburb of Swampscott, Massachusetts.
Less picturesque, but just as authentic, are the sites used for the exteriors of Ted's apartment building (after John kicks him out) and Donny's home in Chelsea, just over the looming Tobin Bridge. Notably, the opening scenes were filmed in Norwood, Massachusetts, a suburb south of Boston.
Design extended from production to costume. "When you're doing a story that is so funny, raunchy and out there, keeping the characters grounded in reality is the most important thing," says costumer Debra McGuire, who has designed on several Judd Apatow movies, including Knocked Up and Superbad, as well as on the iconic television series Friends. She notes: "Seth MacFarlane loved Freaks and Geeks, which was altogether reality based, so he knew that we would accomplish that with Ted. But even so, in a few instances Seth had to bring me down a bit with some of the characters, as with Rex, who we might have taken a little bit further."
Giovanni Ribisi's early take on his role was not as subtle as what ultimately appears on screen. "I started out with this insane concept," says the actor, "and we did some experimentation in wardrobe. I wanted to have a wig and a headband, as well as glasses and dolphin shorts with rainbow suspenders. It was so out there that Seth MacFarlane said, 'Let's rein it back in.' However, the mustache was part of that original concept and is the one thing that stubbornly refused to go."
Though not a creepy dresser, John still sports a distinct look. Debra McGuire describes him as a complicated guy. "From the first scene, when we see John as an adult on the couch, smoking a bong with Ted, you know that he's a bit of a slacker, so he wears T-shirts, jeans, sweatshirts and things that are in that youthful, adolescent mode but without the look being too dead-on. He also has to be attractive and interesting enough for Mila Kunis' more sophisticated character to find him attractive. So there's a fine line there: You can't grunge him up too much because you have to maintain that chemistry between them."
Lori's sense of style informed both the way she dressed and how the apartment the couple shares was designed and decorated. The costumer notes: "Lori works in a PR firm where the dress is a little upscale; her clothes are not super expensive but definitely in the designer realm, and the fit is perfect. Her wardrobe is hip and trendy but not over-the-top. Everything is believable, and Mila Kunis is so beautiful you can put almost anything on her and she looks fantastic."
Every self-respecting bear is suitably dressed for the right occasion. So, what would Ted wear? Debra McGuire concludes: "Blair Clark and I communicated early on about whether or not Ted was going to wear clothes. My feeling was that going minimal would take us a long way, and I was happy when everyone agreed to only the little jacket Ted wears to his job interview and his Star Wars costume."