Ryan Kwanten Not Suitable for Children
Cast
: Ryan Kwanten, Sarah Snook, Ryan Corr, Bojana Novakovic
Director
: Peter Templeman
Genre
: A Modern Romantic Drama
Running Time
: 91 minutes
Synopsis
: If your twenties is the party decade, then Jonah Reid (Ryan Kwanten) is one very high achiever. Impulsive and charismatic, Jonah lives in a crumbling inner-city share-house, surviving off the proceeds of the massive, anarchic house-parties he hosts every week with his best mate Gus (Ryan Corr). All financial considerations and life administration he outsources to Stevie (Sarah Snook) - house skeptic, and queen of the caustic retort.
Jonah might not have a career, a qualification or a serious relationship, but on an effort-to-pleasure ratio, he's unbeatable… Until his life takes a jarring detour.
In the wake of an unfortunate discovery during a one-night-stand, Jonah is diagnosed with testicular cancer. Assured that his life is not at risk, he is warned that his impending treatment will render him totally and permanently infertile. A shell-shocked Jonah goes directly to the sperm bank in an effort to preserve his parenting future. But when his sperm samples fail to freeze effectively, he is left with just one option for parenthood - natural conception. Within the next four weeks.
Suddenly the party maestro and sure-fire reveler has a convulsive shift in priorities. With paternal instincts firing, Jonah becomes determined to procreate before it's too late. He barrels back to his ex-girlfriends - starting with Ava (Bojana Novakovic) - but after failing to convince her to drop her life and offer her womb, Jonah contacts just about every girl he has ever known (and some he doesn't) before being given a reality check by Stevie.
Advising him to ditch the ex-girlfriend strategy and cut out the emotional complications, Stevie assesses his options with razor-sharp frankness, lining up candidates and brokering meetings. But as Stevie's efforts as a 'womb agent' stall, and time ticks away … Jonah soon realises that the perfect candidate might be closer than anyone would think.
Release Date
: July 12th, 2012
For more information please see:
Sarah Snook Not Suitable for Children Interview:
www.femail.com.au/sarah-snook-not-suitable-for-children-interview
Ryan Corr Not Suitable for Children Interview:
www.femail.com.au/ryan-corr-not-suitable-for-children-interview
About the Director
Peter Templeman's short films have won remarkable thirty-eight major festival awards between them, culminating in 2007 with an Academy Award nomination for his comedy The Saviour. That same year he also received a BAFTA nomination for his Ladder of Love episode in the Australian television series Lockie Leonard.
Notably, Peter Templeman is the only filmmaker to win the Slamdance Grand Jury Award for Best Short Film two years in a row: first in 2005 with the gritty drama Splintered, then again with The Saviour in 2006.
Peter Templeman has previously been a Finalist at the West Australian Screen Awards for acting, writing and directing, before attending the Australian Film Television and Radio School in 2003. In 2005 he completed a Masters degree in Drama Directing and won the Australian Film Commission's Award for Best Director.
In 2006 he was honoured with the IF Award for Rising Talent.
Director's Statement
Being male can be tough. About half of us know this and bravely accept it. We're hairier, not as pretty, we die young and can't bare children (yet) but I think a movie like this one strives to remind us that men still have one or two blessings to count. We are those who have nuts on the outside. And this gift from old chromosome Y offers a far greater advantage than most people realise.
According to my research, the goolies are hands down the best place to get cancer in a human body. The male testicle is sufficiently peripheral to keep most malignancies contained to that particular nut-sack, and once diagnosed the treatment is laughingly simple. I challenge any woman to get an ovary removed with anywhere near the ease it takes to snip off a gonad. Not going to happen ladies. As far as cancer goes this one is startlingly accommodating. Unless you want kids. Then it gets a little trickier.
Being a Dad
Our guy Jonah takes it on the chin when he hears he'll be losing a testicle. He's happy to be alive and he'll still be able to have sex but when he learns that his chance for paternity will soon expire a desperate desire grips him. This is the engine that drives the first half of our movie. Jonah wants to be a Dad and I hope the audience ache for him like I do. The guy has no money, no sense of responsibility and he's terrible with kids, but once we see what he's prepared to go through to find a womb that fits, I think we're all going to want him to win. Until the real currency of the story starts to bloom - true love between platonic friends.
Love
A major incentive for me has been to do justice to the chemistry, tension and payoff that this romance promises. A love borne from a long and platonic friendship is a special kind. The initial complication - housemates tripping over into something more - is delicious in itself. But two buddies negotiating being intimate to 'arrange' a pregnancy, just as their deeper desires are starting to ripple… that's where the soul of our movie is.
Characters and Tone
Mike and I worked closely together on this screenplay for five years; we love these characters and know them well. Stevie and Jonah are extremes in their own ways - eccentric and unpredictable but starkly real and underplayed. Jonah speaks before he thinks; he lives in the moment and is perpetually distracted by it. And it's the contrast between this and the sharp and sardonic Stevie that fuels what I hope will be a truly fresh and unpredictable screen romance.
There is a detail in these performances that hums with the truth and complexity of real life. The scenes exude a natural clumsiness and spontaneity, and the moments in between are as rich as the rollicking interplay. The humour is sometimes bold, painful even, but always anchored in truth.
Vision and Style
I've used detailed shot design and restrained choices to show these guys at their best and worst. The camera moves in tune with their emotions rather than their actions. With Lachlan Milne's natural lighting and Elizabeth Mary Moore's attention to realism in the design, the world prints as rich, layered and lived in. We've captured Sydney's inner west authentically and it throbs and breathes in this movie.
Personally
For me personally, the film is largely a tribute to my own experiences house-sharing in my twenties and I hope it strikes the same chord with others. I tried to capture the essence of those years: the primal pulse of the parties, the hedonism, and the strength of the bonds that grow from good times in shared spaces. Ultimately I hope it shows that the most important things in life are the people we hold closest, and that this is more vital than any ideals we have for what our lives should be.
NSFC is a raunchy romantic comedy about two opposites blasting their way through the complications of friendship and ideals to find each other. The male body-clock is a theme rarely represented in cinema so I hope at the very least the film is a fresh perspective for audiences. Jonah starts as a freewheeling hedonist cut down in the prime of his seed-sowing years. He hurls himself into this mad mission and is instantly confronted with how others see him - a great option for a good time, not so much for a Dad. The comedy teases and jangles at the stakes as they stack up, and we almost hate ourselves for laughing as our guy scrambles for an edge to cling to.
I think the cast is outstanding in this film. It was a great pleasure to work with so many of the country's eminent screen talent. And I am particularly proud of the soundtrack, which for me reflects the spirit of the film at every turn and carries the changing scope of these peoples' lives through the work of some of my favourite bands, old and new. I hope this is an Australian film we can all be proud of.
-Peter Templeman, Director
March 2012
About the Production
With Academy Award nominated director Peter Templeman (The Saviour) Not Suitable for Children was shot in Sydney, Australia over 7 weeks during the winter of 2011.
Set in the inner-city world of housemates literally living off the excesses of their generation Not Suitable for Children is a raunchy romantic comedy with two opposites blasting their way through the complications of friendship and ideals - to find each other.
Starring Ryan Kwanten as Jonah - a freewheeling guy in the prime of his life - who, after learning he will be infertile in a month, has to find someone to have a baby with before it's too late, the cast includes the winner of the 2010 IF Out of the Box Award Ryan Corr (Packed to the Rafters, Underbelly: The Golden Mile) and emerging young actress Sarah Snook (Spirited, Blood Brothers) who received the 2012 AACTA Award for Best Actress in a Television Drama for her role in the ABC mini-series Sisters of War.
Also joining the ensemble are Bojana Novakovic (Burning Man, Edge of Darkness), the AACTA Award winning Daniel Henshall (Snowtown), A Few Best Men's Laura Brent, Alice Parkinson (Bait, The Cup, Sanctum and X-Men Origins: Wolverine), Lewis Fitz-Gerald (The Cup, Crownies, Evil Angels, Breaker Morant) Andy Ryan (Tomorrow When The War Began, Reef Doctors), Tasneem Roc (Crownies, Reef Doctors) and Zoe Carides.
In development for seven years, the initial idea was sparked when writer Michael Lucas (Offspring) discovered a lump where no man wants to find one, late one Friday night, prompting him to spend an entire weekend growing increasingly paranoid that his days of fertility were numbered. Luckily Michael Lucas' lump proved to be harmless, but the genesis of the film was born!
The modern romantic comedy was shot in and around Newtown in Sydney with the hero house well known in the area as a party destination. Known as The Nunnery, the house had become a prolific share house with previous residents happy it was going to be captured on film hosting the wild parties it was famous for.
As a result, production designer Mary Elizabeth Moore and her team had little they needed to do to make it look authentic on film, other than making it camera ready with a few touches of paint and dressing of the various rooms. The location was secured weeks ahead of filming allowing the cast a generous rehearsal period alone in the actual sharehouse, allowing the characters to create that essential 'lived in' feel to their relationships.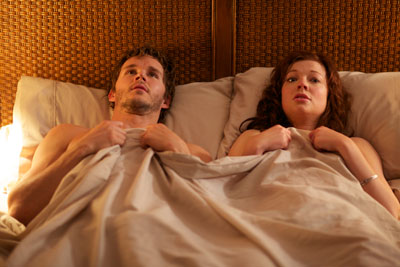 With the wardrobe designed by emerging designer Gypsy Taylor, one of the major challenges for the production was the casting and clothing of literally 100s of extras to populate the various party scenes. A call went out via various social media outlets and by word of mouth for as many people to participate in the filming, resulting in the colourful party cast seen on screen.
Shot on the Arri Alexa by up and coming director of photography Lachlan Milne, the film has a warm and rich contemporary look and feel, which beautifully captures the essence of modern inner city life.
With an urban edge, the soundtrack for the film was paramount in providing the backdrop for not only the party scenes, but also the more intimate dramatic moments.
The Black Keys, Black Joe Lewis and a fresh punk rock cover of Ian Dury's Hit Me With Your Rhythm Stick performed by Tom Spender provide the soundtrack for the wild and decadent party scenes. Playing an important role in shaping the characters' world, the other music used in the film plays as a counter to that of the house parties, and immerses the audience in the complicated inner world of the lead characters. Overall, the musical palette swings from the raw, blues-rock of The Black Keys to 70s funk with Funkedelic. Composers Matteo Zingales and Jono Ma have produced an indi-blues rock style score with a strong 70s soul influence that has rumbling tribal percussive elements.