Taye Diggs Private Practice Season 4 Interview
Interview with Taye Diggs
An established star of film, television and theater, Taye Diggs appears as Dr. Sam Bennett in the hit ABC show, Private Practice. What does the accomplished actor think of his character? What research did he undertake for the role? And what can fans look forward to in Season Four? Read on to discover all...
Question:
What can you tell us about Season Four of Private Practice?
Taye Diggs
: I am very proud of the show and I'm very proud of the writing this year. There are some remarkable storylines, including some heartbreaking scenes from KaDee Strickland. She did a tremendous job in Season Four and I'm very proud of her. Our television show is a lot of fun, but I'm always filled with pride when we get the opportunity to represent serious issues. I'm not going to say what happens because I don't want to give away a major storyline for this season - but I will tell you that you will be shocked when you see it.
Question:
What happens to Dr. Sam Bennett in Season Four? Will he finally get together with Addison Montgomery?
Taye Diggs
: There's definitely a possibility for Sam and Addison to get together in Season Four. Obviously, the sexual tension is still there. There are a lot of furtive glances, loaded looks and whispers. Will they get together? You'll just have to watch it and see for yourself.
Question:
Would you like to see Addison and Sam together as a couple?
Taye Diggs
: I think it would be interesting to see them together because they have very different personalities. In the past, Addison has always been a little freer in life - but Sam is a little more buttoned-up. I'd love to see what that chemistry could yield.
Question:
Could Sam still be holding a torch for Naomi?
Taye Diggs
: I cannot say. Naomi and Addison are both beautiful women. There's a history with between Sam and Naomi. Well, they were married. But there's a new-ness and an actual love that exists with Addison.
Question:
Is Sam ready to be a grandfather this season?
Taye Diggs
: He has no choice. He has to be ready because that's what the writing says!
Question:
How does it feel to play a grandfather when in real life, you've only recently become a father?
Taye Diggs
: It's a little strange, that's for sure. My son was born in 2009, so I'm nowhere near to becoming a grandfather.
Question:
Do you enjoy being a father?
Taye Diggs
: Fatherhood is amazing. And I'm really excited about it because it's just going to keep getting better. Fatherhood is like nothing I could have ever expected. It's wonderful.
Question:
Were the doctors in the hospital where your son was born aware of your role on Private Practice?
Taye Diggs
: I think the nurses were more aware than the doctors. They gave us a really nice care package to take home with extra blankets and diapers, which was nice. It brought to the surface the respect that I have for the people who do this as a career.
Question:
Did you always dream about becoming a father?
Taye Diggs
: Yes, I always knew I wanted a child. Or should I say, children!
Question:
Who inspired you to act when you were growing up?
Taye Diggs
: My mom was in Community Theater where I grew up in Rochester, Upstate New York. She gave me the bug. She raised me and my four brothers and sisters, and then she went back to school for theater and dance. She was a very inspiring lady.
Question:
Did you have any crazy jobs when you were starting out in the industry?
Taye Diggs
: Oh, sure! I was everything from a janitor to a sandwich maker. I worked in donut stores and even at Disneyland in Tokyo. What did I do there? The show was called Sebastian's Caribbean Carnival and I had to wear some wild outfits. I was the M.C. who'd sing Day-O and other crazy Caribbean songs.
Question:
When you first joined Private Practice, did you know Dr. Sam Bennett would be such a complex character?
Taye Diggs
: I knew that my character would be multifaceted because that's how [Private Practice Executive Producer] Shonda Rhimes works. However, I didn't know how complex he would become, and I'm not sure the writers knew either. When I started on the show, I was given some background to the character - but I had no idea where he would go from there. I only found out when I opened up my script every week.
Question:
What research did you do for the role?
Taye Diggs
: We have a great team of production staff on the show. They scheduled for me to view some actual surgeries, which was a great help. Obviously, I wasn't standing right next to the bodies during the surgeries, but I could observe what it's like to be there. I also got a few DVDs and a lot of literature on the subject. I was very well researched by the time we started shooting.
Question:
What goes through your mind when you view a surgery?
Taye Diggs
: It was a complete reality check to see what heart surgeons do for a living. It was also a reality check to see an actual body on the surgery table. To be honest, I felt a little removed because I am so desensitised from watching so many surgeries on television. In practice, it's much more boring than watching TV, although it's definitely eye opening for sure.
Question:
Do you have to learn medical jargon for your role as a doctor?
Taye Diggs
: I do, and it's tough. That's something I always struggle with, so I always have to get my scripts a couple of days in advance. I need to really memorise those words because we try to be extremely accurate on the show.
Question:
Do you think you could perform some of the medical procedures your character talks about on Private Practice?
Taye Diggs
: No way. I get extremely nervous when they set me up with the fake blood and the fake heart on set because it feels like we're really going into surgery. It feels very real. I'll be performing and I'll notice my hands are shaking because it's so nerve-wracking.
Question:
Not only are you an actor, a singer and a performer, but you're also an author. What can you tell us about your book?
Taye Diggs
: When I was a kid, I grew up in a neighborhood where nobody looked like me. I was the only black kid in my school, so when I got older I wrote a poem about what it felt like to look different. I got with my best friend, Shane Evans - a great illustrator - and we wrote a children's book about self-esteem called Chocolate Me.
Question:
Do you see yourself as a role model for other black people?
Taye Diggs
: I don't see myself as a role model, but I gladly accept and understand that I am - and I don't shy away from that. I think both of Shonda's shows - Private Practice and Grey's Anatomy - are great for representing African-American people. Shonda sets a great example for people of any color, creed or background. I like that she's setting such a strong example with having such a diverse cast. She mixes up relationships and represents things that are happening in the real world, which is what I love about working with her. She's fantastic.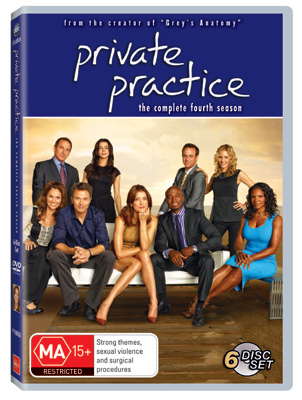 Private Practice Season Four
Full of romance, drama and heartwarming moments, dont miss the chance to revisit Season Four of Private Practice
Experience every complex romance, medical crisis and moral dilemma of ABCs Private Practice: The Complete Fourth Season. Dont miss a moment of TVs sexiest drama, from the creators of Greys Anatomy. Its a season of change and new hope for Dr. Addison Montgomery (Kate Walsh) and her colleagues at the Oceanside Wellness Group. Relive all 22 captivating episodes in this spectacular 6-disc collection, complete with never-before-seen bonus features. ABCs Private Practice is riveting drama at its best!
BONUS FEATURES
An Inside Look: The Violation of Charlotte King Bloopers Deleted Scenes
Private Practice Season Four
MA 15+ - Strong themes, sexual violence and surgical procedures
RRP: $66.95
Buy Now from Fishpond