Tamara Deverell Still Mine Interview
Cast: James Cromwell, Genevieve Bujold, Campbell Scott
Director: Michael McGowan
Genre: Drama
Rated: PG
Running Time: 102 minutes

Synopsis: Michael McGowan's Still Mine is an exquisitely mounted and deeply affecting love story about one man's determination to create a suitable home for his ailing wife. Veterans James Cromwell and Genevieve Bujold are nothing short of magnificent in the story of a couple with a deep and complicated past.

When her health begins to fail, Craig Morrison is faced with the choice of either building a new, more suitable home for Irene or leaving the farm they have lived on for decades. A skilled carpenter, he imagines the only obstacles he faces are time and the weather. That is, until he meets Rick, a government inspector who makes it his personal mission to halt construction on the new house.

In a cinematic world obsessed with youth, Still Mine is in part about the battle between heritage and modernity and a refreshing look at the value of commitment and long term relationships. Craig and Irene's relationship is far richer because of the past they've shared.

Their conversations are changed, direct, and laden with subtext – not the kind of empty, verbal jousting we might see in a contemporary romance. They need all their wits about them as Irene becomes increasingly ill. Amidst a series of stop-work orders, Craig races to finish their house. Hauled into court and facing jail, Craig takes a final stance to save his home.

Still Mine
Release Date: June 6th, 2013
Website: www.umbrellaent.com.au


Interview with Designer Tamara Deverell
Question: What kind of look did you want for the home where Craig and Irene have lived for decades? And where did you find the props?

Tamara Deverell: For the original farmhouse, we looked for something that felt charming and old but also tired and out-dated. Of course, it had to be big enough to accommodate the crew. We did a lot of aging and repainting to an old farmhouse that we found that suited our needs in terms of logistics – for the crew to work in, and size and shape for the story. The house needed to have a second story for a scene in which Irene falls down the stairs, for example. We dressed the house completely with a mix of local furniture and some of what was there. Some specialty items, such as the avocado washer and dryer from the '70s, as well as some of the east coast touches of lobster traps and small carved wooden boats, were trucked up from Toronto prop houses. Most of the dressing, however, came from local farmers and second-hand stores. We were in a relatively isolated area, nowhere near a large city centre, so set shopping was more like finding just the right sofa or chair or lamp from one of the locals... borrowing or renting from them. We became regulars at the second hand 'Trash and Treasures." The dining table that Craig built came from a century farmhouse that my husband and I own with a couple of friends in the area (both of whom ended up working on the film). When I first read Michael's script, I knew we had to use that particular table as it was actually hand built and scarred with the markings of many generations of families and children.


Question: Did you ever see photos of Craig and Irene's original home?

Tamara Deverell: I visited their original home and the new Craig Morrison house prior to our shoot during a scout in New Brunswick. The old house was in a pretty sad state as it had been left relatively unoccupied for a few years.


Question: What was involved in building the new house (which you did from scratch)? Did you need a permit – as Craig did?

Tamara Deverell: The house was designed from scratch through many conversations and research that I did going back and forth with Michael. We had to plan the build in terms of stages, filming a portion and then shooting elsewhere to allow the carpenters time to build to the next stage. Much of the design work was done well in advance of the production. At the end of production, we had the house sledded to our property across a small highway and down a long gravel road to an excellent spot on our 170- acre farm. I was prepared to leave the house on the farmer's field where we had built it, but it was actually in a harsh and uninhabitable part of a high point on his land with tremendous winds and weather. I don't believe it would survive the winter seasons. We intend to insulate and finish it, for real (not just movie real), one day. We are way too off the road to worry about anything like permits... no Royal Commission there!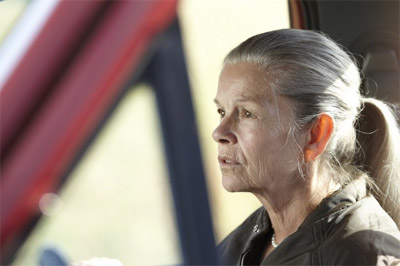 Question: Was there any production design involved in the chicken coop or cow stalls?

Tamara Deverell: The chicken coop was partially built and dressed into an existing garden shed. We sourced gentle chickens from the farm where we shot the cows (nothing was done there, cow barn was all as-is). We built the coops and chicken run and switched out the solid doors for screen. Avril Dishaw, Set Decorator and past chicken farmer, made this her special project... the show was like that, one in which you would be wearing many hats: chicken wrangler, coop supervisor, farmer and film technician.


Question: What was your greatest challenge?

Tamara Deverell: The greatest challenge was designing and building a house, in the middle of almost nowhere with a capable crew. I had the good fortune that a close friend, and one of Toronto's best Construction Coordinators, Marc Kuitenbrouwer, joined me in the capacity of Supervising Art Director to participate in and oversee the build. He knew the area and the people... brought up one film carpenter from Toronto and used local carpenters and young labourers to put the house together. Most of the wood was hand milled locally and the crew worked out of a farmer's hunting cabin just below the house. A regular morning would start with getting the farmer's cows off our wood, walls and trusses. They seemed to like licking the early morning dew from the wood and leaving us a few souvenir cow pies in the process.


Question: What was your favourite thing?

Tamara Deverell: My favourite thing was working with the local rural community – from farmers, to mill operators, to the local quilt guild ladies. They were all excited and intrigued by the filming process and they were incredibly accommodating and generous. We really became part of a community that I had been going to for years as a weekender, but this was the first time I really got to know the people in the area... many characters, many stories!