Mud
Cast: Matthew McConaughey, Reese Witherspoon, Tye Sheridan, Jacob Lofland
Director: Jeff Nichols
Genre: Drama
Rated: M
Running Time: 130 minutes

Synopsis: 14 year-old Ellis (Tye Sheridan) lives on a makeshift houseboat on the banks of a river in Arkansas with his parents, Mary Lee (Sarah Paulson) and Senior (Ray McKinnon). He sneaks out early one morning to meet his best friend, Neckbone (Jacob Lofland). Neckbone, also 14, lives with his uncle, Galen (Michael Shannon), who makes a hardscrabble living diving for oysters. The two boys set out to an island on the Mississippi River, where Neckbone has discovered an unusual sight"a boat, suspended high in the trees, a remnant of an extreme flood sometime in the past.

They climb the tree and into the boat only to find fresh bread and fresh footprints. Realising that they are not the only ones who have discovered the treehouse boat, they decide to leave. When they reach the shore, they find the same footprint in their boat. And that's when they meet Mud (Matthew McConaughey).

Mud is a gritty, superstitious character; his clothes are dirty, his tooth is cracked, and he needs help. He tells the boys he will give them the treehouse boat, his current hideout, in exchange for food. Neckbone is reluctant, but Ellis brings food to Mud, and they develop a tentative friendship. Ellis learns that Mud has killed a man in Texas, and police and bounty hunters are looking for him, but Mud is more concerned about reuniting with his longtime love, Juniper (Reese Witherspoon). Ellis, who has recently developed his own crush, agrees to help Mud escape with Juniper.

Ellis and Neckbone carry out bold schemes in an effort to protect Mud and relay messages to Juniper, who is holed up in a fleabag motel, under constant surveillance by Carver (Paul Sparks), a Texas bounty hunter. Carver and his gang are intent on capturing Mud, on orders from the cold-blooded King (Joe Don Baker). As the boys risk everything to reunite these seeming mythical lovers, Ellis's own ideas about love and romance are challenged by the strains in the relationships closest to him: his parents' marriage is dissolving while he himself falters in his efforts to impress May Pearl (Bonnie Sturdivant). Through it all, Ellis struggles to look for an example of love that he can believe in, learning about the unspoken rules and risks of love and the reality of heartbreak.

Mud
Release Date: 13th of June, 2013
Exclusive theatrical release to Cinema Nova, Carlton



About the Production
The Story

Jeff Nichols got the spark of an idea that later grew into Mud while doing research in the Arkansas Public Library. He had found a picture of a river diver with fantastical gear in a book.

The image struck his imagination. "I began thinking of what kind of character this was, where he lived, and what his life was like." Add Jeff Nichols's love of Mark Twain, his penchant for sweeping action and big themes, and the story of Mud grew from there.

Jeff Nichols had wanted to tell the story of Mud for the last decade. With the critical success of Shotgun Stories (2007) and his Cannes Grand Prize award winning film, Take Shelter (2011), he was finally able to marshal the resources to see his vision come to the screen. In that regard, says Nichols, Mud is the culmination of everything he has been working toward as a writer and filmmaker. Mud, his third film, is also his most ambitious, with the biggest budget of any of his films, and it required more time for writing and producing, with a 39-day shoot spread over eight weeks on location in Southwest Arkansas.

The film's river setting, its teenage protagonists, and its themes of sacrifice and forgiveness echo themes from the American classic The Adventures of Huckleberry Finn, (which was required reading for 14 year-old actors Tye Sheridan and Jacob Lofland on the set). In an interview prior to filming, Jeff Nichols described Mud as "kind of like if Sam Peckinpah directed a short story by Mark Twain."

In creating Mud, Jeff Nichols was influenced by writers who bring a strong sense of place to their work, including Raymond Carver, Cormac McCarthy, and Southern authors Larry Brown, Flannery O'Connor, and Harry Crews. "All of these writers made me want to learn how to become a good storyteller," he says. He also takes inspiration from the films he most admires, a list that includes The Hustler, Badlands, Hud, Tender Mercies, Cool Hand Luke, A Perfect World, Fletch, and Lawrence of Arabia. "All of these films reached an honest place in regard to the human condition while telling really entertaining stories," Jeff Nichols said in an interview with IndieWire.

Whereas Shotgun Stories was, in broad strokes, about revenge, and Take Shelter was about fear, Jeff Nichols says Mud is about love.

Mud is about two 14-year-old boys who find this man hiding out on this island in the middle of the Mississippi River, and they decide to help him out," Jeff Nichols says. "But what the film is really about is love. And it's about this boy, Ellis, searching desperately for an example of love that works, whether that is looking to his parents, or looking to his best friend's uncle, or in this case, looking to the character of Mud. Ellis wants to see love work. He desperately needs to find an example that isn't broken."

Sarah Green worked closely with Jeff Nichols to produce Mud, following their successful collaboration on Take Shelter. "Mud is a wild river adventure with an unreliable protagonist, a beautiful woman, bounty hunters and a classic quest. These young boys have to solve the obstacles that complicate their quest, and in the process they learn about life and ultimately love. It's an enormously fun story, which will pull you in, and then leave you thinking about the people in your life that you love."

"I hope audiences will walk away thinking that love, with all its pain, joy and imperfection, is a worthy goal," Sarah Green adds.

Producer Aaron Ryder describes Mud as "not your traditional love story," but about a young boy's discovery of what love really is. "He's searching for love because his parents are splitting up. He's searching for guidance and he's searching for identity. I see it as just a beautiful love story," he says.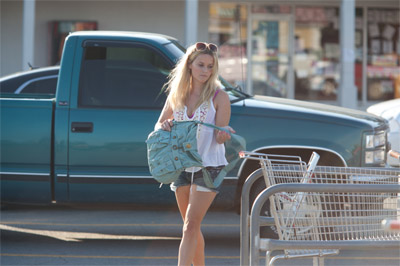 About the main character of Ellis, the 14-year-old protagonist, Jeff Nichols says, "It's a little cheesy to say, but Ellis came from a series of high school heartbreaks. I am a big believer that love, when you're a teenager, is probably more fierce than it ever will be for the rest of your life. That doesn't mean it's deeper or more sincere, it just means it's more intense. When you're in love, it's this feverish thing, and when your heart is broken, it's just as painful. And that really, for me, is what I wanted Ellis to be like. If I could express in a film that polarisation and that intensity in love out of a young kid, I feel like it's a story worth telling."

Jeff Nichols won universal respect from the Mud cast and crew, as both a writer and a director. "As I read scripts I don't like to know who's involved at first, because I don't like to be drawn to stories for any reason other than that the script is great," explains producer Lisa Maria Falcone, head of Everest Entertainment. "I saw the passion that [Jeff] had. He's one of those directors that I see is really going to be explosive. He's explosive today in such a short period of time. I can only imagine what he will become."

"Jeff Nichols is one of the more extraordinary talents working today. He's a very thoughtful writer, and structures his work thoroughly so it plays out in both a surprising and satisfying manner," says Sarah Green. "As the writer he knows the story intimately, as the director he's lived with the material long enough to have a very clear intention of how to tell that story. I hear from the actors over and over again about how clear and specific he is in his direction."

To complete Mud in under 40 days, Jeff Nichols relied on a dedicated, experienced, tightly coordinated team on the set that included Adam Stone, who has lent his expertise, visual talent, and cool hand as director of photography on all three of Jeff Nichols's films. Cas Donovan, 1st assistant director, and Hope Garrison, 2nd assistant director, kept production moving forward through rough terrain, remote locations, shootouts, stunts, snakes and explosions, and the inevitable surprises and adjustments that occur during filmmaking.

Mud was filmed in 35mm using an anamorphic lens in a 2.40 (widescreen) aspect ratio. Jeff Nichols wanted to give the film a timeless look so the story of Ellis and Mud would be the focus. Ellis's perspective is represented in the production of the film through long lenses: "This is the world seen from Ellis' eyes. So, Ellis is me. Ellis is whoever is sitting in the seat, really," says Jeff Nichols.

Jeff Nichols had a vision for how small visual cues would add dimension to his characters. In a script where spoken words are few, he knew these details would provide a path for the audience to connect with the story. Nichols had a clear sense about how things should look and feel, from the fishing gear on Senior's houseboat to the books on the bookshelves in Tom Blankenship's house (Sam Shepard had suggested to Jeff Nichols that his character was the kind of man who would read Don Quixote. Jeff Nichols rushed an original edition to the set in time for filming). He even carried out his long-held image of the oyster diver in Galen's extraordinary welded underwater gear, inspired by his initial public library research a decade earlier. Working closely with art director Richard Wright and costume designer Kari Perkins, Jeff Nichols was able to achieve a small-town, timeless look and feel and enhance the wild river setting for Mud.

Simplicity and authenticity in the set decoration, along with the natural settings on the river and in the towns in Arkansas, were the foundation upon which movement, drama and very intense scenes unfolded. "I knew it was going to be a tricky film to make because all of the stunts and effects are practical," says Jeff Nichols. "Shotgun shootouts, dirt bike scenes, snakes and water and all this craziness."

The Characters

Matthew McConaughey plays the title character, 'Mud,' a charismatic fugitive who befriends Ellis and Neckbone. "Mud is the guy that you want to hang out with on an island in the middle of a river," explains Jeff Nichols, who wrote the role with the actor in mind. "Matthew McConaughey was born to play Mud."

Matthew McConaughey joined the project because he liked the script, admired Jeff Nichols's previous films, and connected with Jeff Nichols's vision for the Mud story. He was also intrigued by the character Mud's lyrical speech and physicality. "Mud is always on the move. Mud is always doing something. I liked that," says Matthew McConaughey.

"Jeff Nichols and I have similar sensibilities about what we like about films," says Matthew McConaughey. "He's a linear thinker. If anything changes, he's able to see how it changes other things. I naturally think that way as well. A lot of directors are just about the moment and they can make these parts all work together in the editing room. Jeff Nichols as the writer and director is already making the cuts in his head. He is seeing the edit point. He's making the movie as he's going."

Matthew McConaughey didn't feel the need to embellish Mud as a character – his identity was already strong in Jeff Nichols's story. "Jeff Nichols's writing is good," continued Matthew McConaughey. "He's confident with the material. He is good communicator. He doesn't go overboard with it, either. For a young director going into his third movie you can definitely have a feeling that 'I've got to do more, direct more,' which happens with lots of young directors. He doesn't feel the need to implement himself in places that are not necessary. That may sound simple, but in reality, it is not for a lot of people."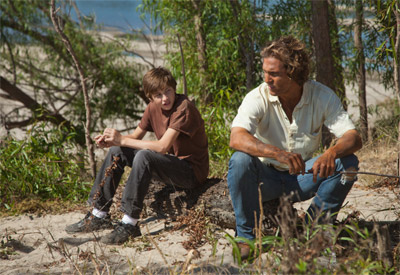 Matthew McConaughey worked closely with the two young actors on the set, Tye Sheridan and Jacob Lofland, whose characters are literally Mud's lifeline. "Ellis learns about love through Mud.

Mud is, in his romantic beliefs, very youthful. He's never grown up and become practical. For him, the honeymoon is never over."

Matthew McConaughey was impressed with the natural abilities of Tye Sheridan. "He knows what he's doing. You don't catch him 'acting' when he is in front of the camera." Matthew McConaughey and his family spent time with both Tye Sheridan and Jacob Lofland, who plays Neckbone, camping near Crockett's Bluff during the shoot. "Jacob is easy to work with"and talented," said Matthew McConaughey. "He's got a real identity and he's got the confidence to be himself. He's able to be natural in front of the camera."

Matthew McConaughey was serious about preparing for his role, practicing on a dirt bike and ultimately doing most of his stunts. He "felt comfortable with the Huck and Tom environment" and was eager to work with the young actors. Most of all, says Matthew McConaughey, he had to get inside Mud's character. He knew he could do it because he knows "how to be someone who loves with all his heart."

"Mud is an aristocrat of the heart; he's committed to this love with Juniper," says Matthew McConaughey. "The main work I needed to do was with his speech and thought process. His mind is racing all the time. He's also a guy where the reach is better than the grasp. He's always trying to get Juniper, but I think if he ever really ended up with her, part of him would die. He's a dreamer and a poet."

Matthew McConaughey was glad to finally work with his friend Reese Witherspoon, although they only spent one day of the eight-week shoot on the set together. "Reese Witherspoon was the person I pictured as Juniper before we even began. She and I have been looking to do something together, so hopefully this is the start of more work together."

During the lead-up to filming, Matthew McConaughey became particular about a key element of Mud's wardrobe: a worn yellow "lucky" shirt Mud wears throughout the story. Costume Designer Kari Perkins gave him a shirt to try, but after wearing it for a while, the usually easygoing Matthew McConaughey showed himself to be almost as superstitious as his character when he decided it just didn't feel like the right lucky shirt. Kari Perkins painstakingly washed, sanded, soiled, scratched and tore a different button-down shirt for Matthew McConaughey until it looked weathered enough to reflect Mud's personality and on-the-run way of life. Matthew McConaughey deemed it lucky, and the show was on.

Renowned actor, writer and Academy Award winner Sam Shepard plays 'Tom Blankenship,' a reclusive man whose houseboat is opposite the shore of Ellis's. For Producer Sarah Green, one of the most exciting moments in making Mud was getting a call from Sam Shepard's agent. "She said, 'This never happens, Sam Shepard's pretty particular about the work he does and usually has something to say about what his character says or does. He asked me to tell you that he would be honoured to play Tom Blankenship, and to please tell the writer not to change a word.' Jeff Nichols and I both consider Sam Shepard one of our greatest living writers, so calling Jeff with that news was pure joy."

"When I saw the script, I thought it was just amazing," Sam Shepard says. "One of the best scripts I've read in a long, long time. [Jeff Nichols] very clearly knows what he's after, and yet he is open to what presents itself in the moment, which is a great thing."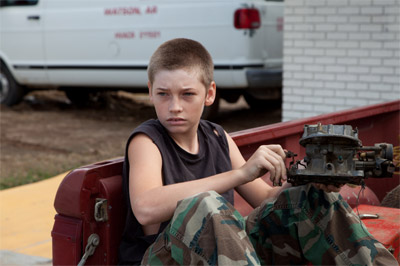 Sam Shepard also enjoyed working with his young co-stars, Tye Sheridan and Jacob Lofland. "They are, thank God, untrained!" he says. "You can't manufacture these kinds of kids in Hollywood. They are true, Southern, rural boys that hunt and fish and drive boats and do all the stuff that is written in the character. They didn't have to learn any of it. They're great kids."

Elkhart, Texas native Tye Sheridan (The Tree of Life) was cast early as 'Ellis,' having worked with producer Green on Terrence Malick's acclaimed film. Much of the story revolves around Ellis's point of view. Tye Sheridan describes Mud as a story "about a boy who misunderstands love."

"Ellis has been trying to figure out love. He hasn't really experienced anything. He's been on the river his whole life and he's living in his own world. A bunch of bad things happen, and he goes through a lot of emotional experiences," explains Tye Sheridan.

Working with Sarah Green again after his positive experience in The Tree of Life was important to Tye Sheridan. "She's friendly and she likes to get to know everybody. She creates a good vibe on the set and she really cares about what she does."

About Reese Witherspoon, Tye Sheridan says, "She is very down-to-earth on top of being a great actor who can turn on a dime and get into character very fast. It's unbelievable to watch."

To fit the look for his role, Tye Sheridan stopped washing his hair for two months at the request of Jeff Nichols. "The first week was really tough, because I'm always clean and I like to wash up and take two showers every day, one in the morning and one at night," Tye Sheridan says. "It was killing me, but I overcame it."

One of the most memorable scenes for Tye Sheridan and the crew involved covering him with snakes. Tye Sheridan wasn't afraid of snakes and, after discussing the scene with Jeff Nichols and the snake wrangler, was up for the challenge. Once the snakes were crawling all over him, however, he began to question that decision. "I'm like, 'Oh my God, there's snakes on me,' and it kind of bothered me," he says. "I don't really like snakes anymore. One of them crawled up on my chest and face, and it stunk really bad. I didn't like it too much."

"When we were shooting this little kid with serpents all over him, even though we know they are harmless, you can't help but think 'What are we doing?'" says producer Aaron Ryder. "You realise how absurd this entire business is!"

Jacob Lofland is from Yell County, Arkansas, and is making his acting debut as 'Neckbone' in Mud. "Neckbone is Ellis's sidekick," Jacob Lofland says. "He's the right-hand man of Ellis. When we meet Mud, Neckbone doesn't really like him. He thinks he's a little strange, and that he shouldn't be hanging around with him. Then towards the end Neckbone starts warming up to him and they really become friends."

Jacob Lofland has enjoyed his entrance into the filmmaking world. "The people have been really normal compared to what I expected, to what you hear about in movies. They've been really cool and nice, nice people."

"Jacob Loftland is an incredibly talented and charismatic actor. His natural abilities bring humour and comic relief to the film," said producer Lisa Maria Falcone.

Tye Sheridan and Jacob Lofland, who are the same age, spent a lot of time together both on and off the set. Both enjoy outdoor sports and video games. Jacob Lofland, who is home schooled, spent time with Sheridan studying and discussing Huckleberry Finn on the set, visiting museums and historic sites in Arkansas, and doing science projects. The on-set tutor, Joe Conway, taught both boys to play chess. But immersing the young actors in Mark Twain was a highlight of their sessions. "The boys became very animated when we started talking about how the themes of sacrifice and friendship in Huck Finn related to the story they were portraying making Mud," says Joe Conway.

Academy Award-nominated actor Michael Shannon has been in all three of Jeff Nichols's films, starring in both the critically acclaimed Shotgun Stories and Take Shelter and now in the supporting role as 'Galen,' Neckbone's uncle and guardian, in Mud. "I didn't want to break my streak [in Jeff Nichols's films]," said Michael Shannon. "Jeff Nichols is wickedly talented."

Sarah Paulson came to the project by way of Shannon, who is a longtime friend and acting colleague. In Mud, she plays Mary Lee, Ellis's mother, who has decided to break away from her husband, Senior. In Mud, Mary Lee is significantly younger than her husband, but the character is still in her early 40's. The age difference was a stretch for Sarah Paulson, but a challenge she was glad to accept.

"When I got to Arkansas, Jeff Nichols said, 'we'd like to try to age you up. How do you feel about wearing absolutely no makeup?' I'm sure I blinked at him like five times. A lot of times, you'll do a movie where they want the 'natural look,' and you'll do the 'no-makeup makeup,' which is actually a lot of makeup. I'm actually wearing, in this movie, zero makeup. Nothing on my skin, no concealer, no under-eye coverage. This is the first job I've ever had where the more exhausted I can be, the more beaten down I can look, the better for the part. I've never done that before."

Ray McKinnon, who makes his home in Little Rock, plays 'Senior,' Ellis's father. Ray McKinnon was introduced to Nichols through Nichols's father, who owns a furniture store in Little Rock and recognised Ray McKinnon when he came into the store. He convinced Ray McKinnon to attend a Little Rock screening of Jeff Nichols's Shotgun Stories. McKinnon, who had been skeptical, was won over. "In Jeff Nichols I found a very earnest, very talented young writer and director," says Ray McKinnon.

Ray McKinnon then worked with Jeff Nichols and Michael Shannon on Take Shelter, portraying Michael Shannon's older brother. In Mud, Jeff Nichols wrote the part of Ellis's father with Ray McKinnon in mind. Ray McKinnon is happy to be teaming with Jeff Nichols again in inhabiting the complex southern man, 'Senior' in Mud.

For Ray McKinnon, having a chance to work with young actors sealed the deal. "Part of the reason I do what I do is I get to pretend to be somebody else," Ray McKinnon says. "I thought this might be the last time I get to play the father of a child that age."

Ray McKinnon and Tye Sheridan bonded on the set. "I love Ray," says Tye Sheridan. "He's like a father to me, he's just a good guy. He always gives me tips and likes to talk the scene over before he does it."

Of his character, Senior, Ray McKinnon says, "He's a guy who is rooted in a place and in a belief system, and it's very difficult for him to adapt and change that belief system. That's his flaw and also in some ways his strength. He's in a place where he's not sure what to do in this society that he doesn't understand, and on top of that his wife, who is able to adapt and change, is doing just that. And he's seeing that and sees the handwriting on the wall that she's outgrown him, and something's got to give. He has sadness and he has rage, and with his son, it's one place where he feels that he can be a good father and guide his son in the right way " the way that he was taught. But that doesn't go well, either. So at the end of the day, he is forced to change too."

Like Sarah Paulson, actor Paul Sparks heard about Jeff Nichols and Mud from Michael Shannon with whom he co-starred in the HBO series Boardwalk Empire. Sparks, who plays the sinister, immaculately groomed bounty hunter 'Carver,' heard praise about Nichols and his new project from the famously low-key Shannon. "I've known Mike Shannon a long time, and so I knew Jeff Nichols and I knew his work, and I'd seen Shotgun Stories and I was a fan. I wanted to be a part of the film. Jeff Nichols was as good as advertised."

Joe Don Baker plays 'King,' the leader of the revenge-seeking headhunters. "He's a self-made man used to giving orders, and everybody following him, whatever he says. He's really hard-nosed, and he's out for revenge because Mud did something to him, and he ends up losing nearly everything because of the revenge."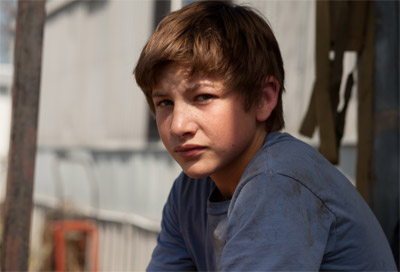 "I've played hard-noses before, but [Jeff] wanted hard-nosed with no humour, no lightness, no nothing, just stoic. So it's not really like any character I've ever played, which I liked."

Academy Award-winning actor Reese Witherspoon, a champion of Southern stories, found Mud irresistible, and looked forward to finally making a film with Matthew McConaughey. Mud marked her first trip back to Arkansas since she starred in Walk the Line. To get ready for her role as 'Juniper,' Witherspoon studied photographs of girls and women at motocross events, noticing their dress, hairstyles, tattoos, makeup, and attitude. "[Juniper's] got something magnetic about her," Reese Witherspoon says. "She is able to get things to go her way whenever she wants, so I tried to find pictures of women like that. But honestly, trying to find characters that are reflective of this character in movies or in contemporary literature is difficult. I think that is part of the reason why I was interested in making this film, because there aren't a lot of authentic Southern filmmakers. I think this will be interesting for people to see how a lot of this country lives."

Like Matthew McConaughey's Mud, Reece Witherspoon's Juniper relies heavily on the two boys in the film. Most of Reece Witherspoon's scenes include Jacob Lofland and Tye Sheridan. On working with Tye Sheridan, Reece Witherspoon says, "He is remarkably composed for such a young man. He is very thoughtful, he is very quiet, and I think he is incredibly talented. He is just very natural, and it's a pleasure to work with him. He brings a lot of dignity to the role."

On working with newcomer Jacob Lofland, she says, "He is the real deal! He is really from Arkansas and you can hear it in his voice. Him being in Mud reminds me of how I was found in Nashville when I was 14 years old to do a movie. I think he is having a very similar experience, like, 'I can't believe this is actually happening!' He brings a lot of humour to the movie because he is just so authentic and country."

On Juniper's distant romance with Mud, Reece Witherspoon says, "I think that's one of the best parts of the script, that it's a relationship that is discussed between lots of different people, but not between the two people who are having the relationship, so you don't know what the nature of it is and you're kind of left to figure it out for yourself. Most relationships, I would say, are indecipherable and really it's the perspective of the people around you that inform it. And I think that's how we piece together what's happening in their lives."

The Location

As an Arkansas native, Jeff Nichols knew he wanted to bring his third film home. The script for Mud was written for a small Southern town. After looking at locations in Arkansas and Louisiana, the filmmakers chose Dumas, Crockett's Bluff, Stuttgart, Lake Village and Eudora in Arkansas as filming locations. At first, they ran into challenges. Nichols and his team had to convince many people to support bringing the project to Arkansas, but after pitching the idea, Arkansas Governor Mike Beebe, Film Commissioner Christopher Crane, and state senators all came on board and championed the film.

Mud is the largest production ever to be filmed in Arkansas. The production crew took advantage of the talent and expertise in the state, hiring Arkansans to work on the film crew or appear as cast and extras. "The enthusiasm here for this film resembled an old-fashioned barn-raising. Everyone wanted to be a part of it, to support it," says assistant locations manager and Little Rock native David Fowlkes. Many other Arkansans contributed their cars, trucks, and homes as settings and props for the film.

About half of the 100-plus cast and crew working on the film were Arkansas residents. Sarah Tackett and Yancey Prosser of The Agency Inc. of Little Rock handled Arkansas casting, bringing on more than 11 actors and 400 extras. They held an extensive casting call in the summer of 2011 which was instrumental in casting the role of Neckbone, one of the two young boys in the film. Jacob Lofland, 15, an active teenager from Yell County, Arkansas, was chosen from more than 2,000 boys who auditioned for the role. "We knew Jacob Loftland was a very special find from the moment we saw his video, and it turned out that Jeff Nichols agreed," said Sarah Tackett.

"It was very important to us to bring this film to Arkansas," says Jeff Nichols, a native of Little Rock who made his first film, Shotgun Stories, in England, Arkansas. "The people and the river and houseboats in the region are particular to the Mud story. The Arkansas Film Commission and The Agency Inc. opened doors for us to make this happen. The people and community leaders and police in the places where we filmed really came out to help the film, and we greatly benefitted from their support. I feel very proud to have made this film in Arkansas."

"Arkansas's Delta region has been a perfect fit for this film," says Arkansas Film Commissioner Christopher Crane. "There was a team effort among the Arkansas State Police, Game and Fish Commission and Department of Finance and Administration to keep the production running smoothly, addressing all concerns in a timely and professional manner. We really appreciate the work of Jeff Nichols and his team to bring this production to Arkansas. We are proud to call Jeff Nichols one of our own and hope Arkansas is home to many more of his films over the coming years."

In Dumas, most scenes were filmed near the town's Piggly Wiggly grocery store and the Executive Inn, a '60s-era budget motel on a stretch of highway that runs through town. In September 2011, within hours of production beginning, Dumas's Wikipedia entry touted Mud's arrival, adding to its only other pop culture factoid as being the fictional hometown of 'Dewey Cox' in the John C. Reilly comedy Walk Hard: The Dewey Cox Story. Gas stations in the Dumas area soon reported an increase in sales. Several businesses along Highway 65 were used as filming locations, including The Tobacco Store, Big Banjo and El Torito parking lots. Also used were the Stimson Farm on Red Line Road, Gail's Sports Bar at Back Gate and the Pendleton Inn.

The houseboat and the woods where Mud hides out were located in the hamlet of Crockett's Bluff. Special Effects director Everett Byrom, an industry veteran, says that although he'd handled plenty of snakes, shootouts, and explosions before, working with a boat in a tree was a professional first for him. "Any time we get to play with cranes to move things around, it's such a joy," he says. Managing the boat in the tree required a 90-ton crane holding a 1958 fiberglass hull boat in the middle of a forest along a river in Arkansas. We put it in and out of the tree four times in a night of shooting, navigating through branches 50 feet up in the air. It was thrilling."

"Jeff Nichols is super smooth," says Everett Byrom. "I like his focus, I like how he communicates, he is a kind and considerate person, and he allows people who care about his projects to put their best effort forward. Jeff Nichols, along with Sarah Green, (Line Producer) Michael Flynn, (Production Supervisor) Christopher Warner, (Production Designer) Richard Wright, and all the other folks involved, gave us what we needed to succeed."

Filming in wild and remote locations posed challenges for the filmmakers, but it also gave Mud a unique quality by showing audiences a part of the country they might not be familiar with. As in the films of Terence Malick " a filmmaker Jeff Nichols admires " the natural landscape of Mud serves almost as a separate character.

"In order to be true to the story you need to be true to its sense of place. We've gone deep into Arkansas to film this movie," says producer Sarah Green. "Arkansas is an amazingly varied place and has extraordinary cities and culture, but it also has some very out-of-the-way places that take a very, very long time to get to. We've spent quite a bit of our time driving and boating and gatoring and walking and hiking. It's been a running joke that every location takes forever to get to, but then you get there and think, 'Ah, there's a reason we came all this way. I haven't seen this in a movie before. I haven't seen this landscape, this river, this wild place.' It's thrilling."

"People will walk away from this film feeling that they entered a world they didn't know much about, and that they left knowing a lot more about it," says producer Aaron Ryder. "This part of the country is amazing. There's something magical about it … this river life and these houseboats on the river, that's something I'd never heard of before. If you look around this area, you can see the way these people live on these boats, and it's a different culture and a different way of life."

The river settings in the film meant working on sets that were houseboats, and filming from the vantage point of a boat. Marine Coordinator Will White headed up a crew that handled boats, barges and pontoons used both in the film and behind the scenes to move houseboats, lighting, and otherwise support making the film. A Boston native, Mud was White's first Arkansas Delta experience. "The Mississippi River is a big river. It presented some challenges. The water is very muddy, so if anyone went in, we'd never find them again," says Will White. "The tides changed the position of the houseboats, so we were constantly on the move to get continuity."

Matthew McConaughey, who camped out near the set with his family through much of the shoot, appreciated the latitude and wide-open spaces in Southwest Arkansas and how it informs the story. "What's great about the South is there's so much room, there's less structure, not much regulation," he says. "When you're miles from civilisation and something happens, you have to just work it out. You can't always call 9-1-1 and wait for help. There's a real spirit of self-reliance. When you walk out your door, be aware. There's a comfort that comes with that."