Are your bets in for best dressed?
Spring racing means one thing – it's time to plan your outfits and place your bets… on best dressed of course!

While Derby Day calls for black and white and Oaks Day demands fun and feminine fashion, there's still the opportunity to make a statement and stand out from the crowd.


Question: What colours and styles will we see most through the Spring Racing Carnival?

Tam Wrigley: I am loving the vibrancy of this spring carnival season. We are seeing bursts of yellow, eye-catching reds and fuchsia pinks along with geometric colourful prints.


Question: What will you be wearing at this year's Melbourne Cup, Derby Day and Oaks Day events?

Tam Wrigley: Don't be afraid to clash prints this Melbourne Cup Day as Cup Day always calls for colour. It is a celebration of the jockey's bright carnival silks, hence why women should always wear colour. Be bold and think outside of the norm. I will be Emceeing the iStyle TV Fashions on the Field at the Sunshine Coast Turf club in the Poppy Bodycon Dress by Bronx & Banco It's a short sleeve floral lace mini dress with lace trim detailing.

Derby Day is always black and white and the cut of the dress more classy and structured, I'll be wearing a dress from The Night Blossom collection from Mossman. It's a rich palette of gold toned metallic and white.

Oaks Day is the time to be feminine with soft pastels and florals. Choose a flower headpiece that will reinforce the feminine mood of Oaks Day.


Question: Are there still 'races rules' in terms of fashion?

Tam Wrigley: Absolutely! Race wear is about elegance and sophistication – if you would wear it to a nightclub, it is not suitable for Fashions on the Field.

The key to looking chic on race day is much like when you dress for anything, dress to fit the occasion, you don't want to undercook your look or take it too far.

The thing I love about the racing season is that it covers all the trends of the season. Colour blocking, monochromatic, patterns, soft pastels and florals. When it comes to accessories there should only ever be two points of contrast, no more, otherwise your eyes tend to go everywhere when you look at someone. Try linking your shoes with the colour of your dress, and then make your bag or headwear the contrast.

When thinking about your headwear think of something ornate that delivers on drama. When it comes to judging Fashions on the Field the criteria is fierce. Judges look at appropriateness of outfit, originality and appreciation of trends, attention to detail and overall grooming and deportment.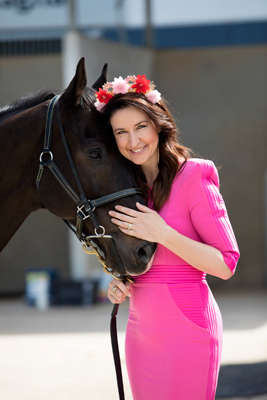 Question: How do you get race day ready?

Tam Wrigley: Being the Myer Fashion Ambassador for Brisbane City and Maroochydore, getting race day ready is easy. I have an entire department store to shop my look. I usually go down two weeks before an event and choose my outfit.


Question: Is this a week-long preparation?

Tam Wrigley: Not for me, I am pretty organised, I choose what I want to wear, how it is going to look and then lock it way. I usually have so much happening in my week and have everything mapped out in advance. For others, absolutely.


Question: Can you share a trick or two to make this spring racing season one for the memory books?

Tam Wrigley: Walk with pride and confidence and know that you look amazing in your outfit, an outfit is only as good as the person wearing it.

Be well heeled, the trick is to not wear a new pair of heels on race day, you need to know your feet are going to last the miles. Stay hydrated; there is nothing worse than walking into a race day glamorous and walking out trashed.


Question: What would we find in your clutch at the races?

Tam Wrigley: I am very minimalistic; I don't carry the kitchen sink in my bag. You will find my iPhone, car keys, debit cards, lipstick and my Cammino Shoes, they are the bomb! Every girl needs a pair of flats that fold up and fit in your purse.


Question: Who do you think will be best dressed at this year's Melbourne Cup?

Tam Wrigley: That is the million-dollar question. All I can say is I am glad that I am the Emcee and not the Fashions on the Field judges, they have a tough day ahead of them and difficult decisions to make. If I were judging I would want them all to win.

Interview by Brooke Hunter