MAXIM & GUESS' Favourite Ballerina
MAXIM's hottest overnight sensation and GUESS' favorite sultry model Shannon Dalonzo is poised and quickly becoming the new it girl to look out for. Known for her work on various modeling campaigns, dancing, as well as her fitness, sports and philanthropic work, Shannon is truly a one-of-a-kind success story.

Having graduated from high school and university early, Shannon knew from the young age that she wanted to explore the world. At the age of 16, she moved out on her own to New York City to pursue her career as a model. Having worked many odd jobs in the city to get by, Shannon finally got her big break when she was cast as a model for an international GUESS campaign. From their Shannon took off and began traveling around the world, modeling and creating a presence for herself on social media. With over 100,000K Instagram followers, Shannon is a fierce advocate for body positivity, self-love, as well as health and wellness.

When Shannon isn't busy in front of the camera, or traveling for work, she loves to devote her time to philanthropic charities, including feeding the homeless, children, animal shelters, and more. Shannon also created her own charity event through her and her other modeling and Los Angeles friends called "Give Back Gift Bag Party," where she and her friends come together and collect hundreds of food items, toiletries, hygienic products, and more to give out to the homeless on Skid Row in Downtown Los Angeles.


Interview with Shannon Dalonzo
Question: What inspired you to move to New York City at 17 years old?

Shannon Dalonzo: I always knew I'd end up leaving Montreal and making home base somewhere else, but when I returned from working for the summer in Greece I knew as soon as I was done college I was leaving.


Question: How do you keep fit? Do you have a favourite workout?

Shannon Dalonzo: I have a personal trainer. I try to be as consistent as possible. It's harder for me when I travel, but he'll send me workouts to do if we don't have a session. I also love Soul Cycle. I try and do that once a week.


Question: What are the five foods you could not live without?

Shannon Dalonzo: French fries, salmon, salad, mango and my mum's lasagna!


Question: How do you interact with your 110,000k Instagram followers, daily?

Shannon Dalonzo: When I first started out on Instagram I never really thought I'd end up with a following near that so it's really cool to see that people are interested. It means a lot! I try to answer as many DMs as I can, and engage with them in the comments or post things that I get asked about (workouts and diet etc).


Question: How does your Instagram following impact your dating life?

Shannon Dalonzo: Instagram is funny in that way. Nowadays it's become such a thing to meet someone on IG. There definitely is a steady flow of dinner invitations, but when I'm in a relationship it doesn't impact that whatsoever.


Question: Can you talk us through how you developed a self-love practice?

Shannon Dalonzo: What you tell yourself about yourself is extremely important and I work on it daily. I have better days than others. Making time for myself and the things that are important to me help. Doing things that truly bring me joy, like horseback riding. I always try to focus on what I'm grateful for.


Question: How does your self-love practice allow you to become comfortable with rejection in the modeling industry?

Shannon Dalonzo: I think what helped me with rejection is knowing that whatever you are being rejected for, too old, too young, too brunette, not brunette enough, too big, too small, whatever it is, doesn't make it good or bad it just makes it not right. But not right doesn't have to be negative. You are still beautiful for whatever the rejection was. Once I truly believed that, it made it easier to deal with. At the end of the day, its business and you can't take it personally.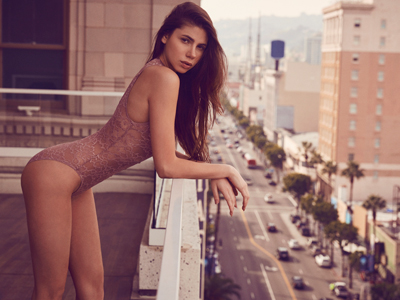 Question: Do you have a morning routine? Can you share it with us?

Shannon Dalonzo: I'll usually wake up around 8am, drink a big glass of water, check my phone, get up and wash my face, have some coffee, catch up on any emails, and usually go straight into a workout session.


Question: Can you tell us about your charity event, Give Back Gift Bag Party?

Shannon Dalonzo: So this originated when my best friend and I were thinking of a way we could help and give back around Christmas. So we decided, let's go get 50 paper bags, we'll get 3-4 items we can put in each bag. Then we'll throw a party and everyone has to bring 50 of an item to put 1 in each bag. By the end of the party the bags were so full and we had plenty of essentials that we were able to give. We handed out the 50 bags to the homeless. We definitely want to make this an annual event!


Question: What's next, for you?

Shannon Dalonzo: Continuing modeling, but definitely making more movement towards TV and Film.


Interview by Brooke Hunter
Images: Josh Ryan, Justin Macala and Kent Avery.