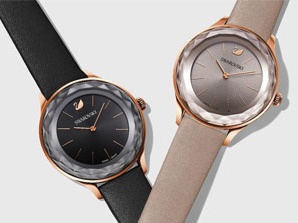 Swarovski's Fall/Winter 2017 Watch Collection
Swarovski's new Fall Winter 2017 collection of effortless yet high shine watches help the modern woman dial up the glamour and feel daring and irresistible, every moment of every day.

Infused with Swarovski's distinct DNA, the new range is composed of versatile timepieces ranging from sleek to bold and from timeless to truly on-trend. It is this combination that is proving to be crucial to the brand's success, as Swarovski CEO Robert Buchbauer explains: ""We are pleased to announce that the development of our watch business is bucking the global industry trend. While many players suffer from double digit declines, we continue to grow our watch business at a rate of more than 30%. This is due to the uniqueness of our watches which exude the Swarovski design language and renowned sparkle, Swiss made and affordable enough for an everyday style upgrade."

The FW17 watch collection features brand-new lines plus numerous colour and size variations of coveted models, favouring smaller proportions for an even more feminine look.
The collection keeps carrying a rich array of styles, as Creative Director Nathalie Colin explains: "Season after season, the success of the Swarovski watch collection is exceptional! From timeless to trendy, every woman can find a style that fits her personality. I have two favourites this season that I love to wear: the new Octea Nova watch with the faceted crystal bezel; it has a unique Swarovski signature and is easy to wear every day. My other favourite is the stunning Crystalline Hours; sparkling like a mesmerizing, starry winter sky. So Swarovski!"

It's time to shine with the Crystalline Hours Quartz. Deriving from the automatic version launched in 2016, Crystalline Hours Quartz perpetuates its features, with a similar hint of 40's design twisted with a modern take. More than just a timepiece, it's a statement accessory with around 2,000 crystals that inject Swarovski's signature at its most brilliant. The watch comes in an array of desirable colours, including white and black, plus a version featuring delicate rose gold metallic tones on black.

Alongside the variety of Crystalline options, the new and ultra-modern Octea Nova embraces contemporary aesthetic with a minimalist case that sets the stage for the luminous faceted crystal bezel, adorned with 68 brightly shining facets crafted from one piece of sapphire glass.

Sophisticated, timeless and daring, the new Era Journey is the perfect everyday chronograph, while Graceful Lady and Graceful Mini are elegant yet fashionable watches ideal for any occasion. Other examples of the trend for mini proportions are the Lovely Crystals and its 20 playful rotating Swarovski Zirconia, and the refined Aila watch featuring a dainty jewellery-like bracelet.

This season's rich and diverse collection exudes irresistible sparkle while dialling up the urban glamour to set the tone for a woman's style, any time and any place.