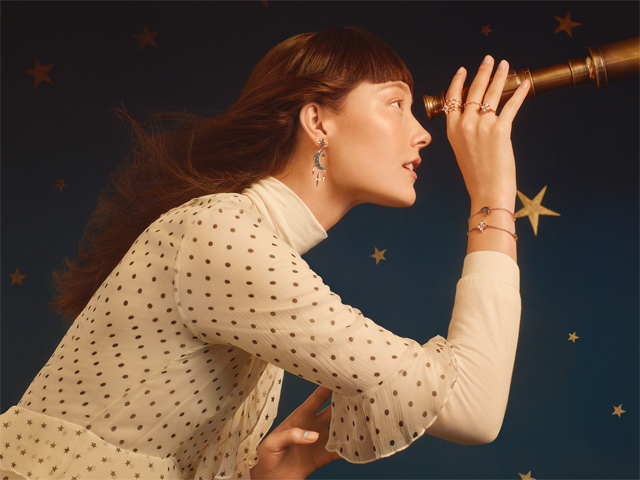 Celestial jewellery can transform outfits into something truly out of this world. For winter, Swarovski brings its signature sparkle to cosmic symbols, taking inspiration from the Nordic night skies to create a constellation of jewellery and accessories that range from subtle sparkle to all-out glamour.

Swarovski's Creative Director, Nathalie Colin, says of the new Collection; "Sometimes, the best way to disconnect from today's hectic world is to look at the stars. The Swarovski Winter Collection offers beautiful cosmic symbols that bring a touch of magic to our every day. This season we want our sparkling jewellery and accessories to make us feel special, amplifying feelings of positivity and empowering women who wear them to reach for the stars."

Stars, crescent moons and other mystical motifs shine brightly while exquisite settings, an alluring palette, modern metallic tones and versatile silhouettes call out to be mixed, matched and stacked.

Swarovski Symbolic
Mystical moon and star motifs adorn the beautifully refined Swarovski Symbolic and Swarovski Remix Collection, which look dazzling when layered together.

Moonsun by Penélope Cruz
Inspired by the magic of the night sky, the detailed, delicate and directional range captures Penélope Cruz's fascination with the galaxy and comprises a crescent-shaped ring, necklace, earring jacket and long layered necklace.

Precisely
The high-shine designs echo water drops frozen onto a spider web in timeless rose-gold tones and clear Swarovski crystal.

Vintage
This striking design dials up the glamour with its brilliant Swarovski crystal cuts and drop-pendant silhouette.

Black Baroque
Opulent and versatile designs in of-the-moment dark Swarovski crystal tones feature abstract motifs as well as more playful bow and heart-shaped symbols.

Polar Bestiary
Swarovski takes its cue from Nordic wildlife with the daring polar bear themed line that seamlessly combines arctic elegance and crystal mastery.

Pleasant
Music-inspired motifs exude sparkle on long drop earrings that lend a touch of glamour to everyday styles.

Octea Lux Moonphase
Swarovski celebrates the 50th anniversary of the first moon landing, with a new standout timepiece that features a sparkling Milky Way encased in the watchcase, surrounded by an exclusive faceted Swarovski crystal bezel and moon dial.

With the winter campaign, Swarovski empowers women to reach for the stars. Key pieces from the Collection adorn the characters as they sneak into an observatory at night to find their lucky stars. However, it's the power of Swarovski crystals that eclipse the stars and steal the show.
The Swarovski Winter Collection will be available in Swarovski boutiques and on swarovski.com from October 2019.