Your New Favourite Ethical & Sustainable Jewellery Brand From Australia
You can change the world; it's simpler than you think. Choosing to shop ethical and sustainable fashion and jewellery brands sends a strong message to the industry: be transparent, act on your values and do better.

Transparency is the first step to revolutionising the fashion industry for better conditions for workers and the planet. But there's a long way to go " the 2021 Fashion Transparency Index found that among 250 of the world's biggest fashion brands and retailers, the average transparency score was just 23%. This score is based on brands' public disclosure on human rights and environmental issues, like sustainably sourcing materials and detailing the journey of the product from start to shelf.

If you want to see change in the world, the best first step is to be the change yourself. It's time to become a conscientious consumer. This means doing your research on brands, and discovering their values and stances on key issues. While this may mean fewer impulse purchases (at least until you find your favourite ethical and sustainable brands), it supports brands doing the right thing and encourages others to change their behaviour. Because every brand can be sustainable and ethical " it just takes dedication.

And as the transparency and conscientious consumer movements gain traction, we're seeing brands rise to the challenge. In fact, we want to introduce you to one: Culturesse.

Melbourne-Born, Australian-Designed Jewellery With a Difference
Culturesse believes in empowering women. Their luxury and unique jewellery is designed to make you feel powerful " whatever that means for you. Whether you're looking to make a statement or add a touch of sophistication to your everyday look, Culturesse is there for you.

But it's not just the brilliant designs that empower Culturesse consumers; it's the transparency around how this gorgeous designer jewellery is made. Culturesse is proud to be part of the Global Fashion Agenda, championing sustainable practices in the fashion industry. It's no secret either that all materials used in Culturesse jewellery are ethically and sustainably sourced in accordance with international Responsible Jewellery Guidelines. Each piece is then handcrafted or assembled, before being carefully polished by the Culturesse artisans. Finally, it is shipped in 100% reusable and recyclable packaging to delight and dazzle for decades to come.

Culturesse is committed to style, sustainability, endurance and empowerment. These values, and their dedication to crafting handmade luxury jewellery, is what sets them apart from other Australian jewellery brands and designers. They deserve to be in your jewellery collection " and you deserve to feel as stunning, modern and capable as you truly are.

Ethical Gold Jewellery to Last a Lifetime
Culturesse achieves a deep and brilliant shine on their gold jewellery few can match. It's because you're getting at least 2–2.5 microns gold plating " when others in the industry only offer 0.7–1 microns. Additionally, all 24K gold Culturesse jewellery is hand polished five times for optimum shine and is always ethically and sustainably sourced.

Este Gold Vermeil Dainty Sleeper Earrings
Specialising in designer earrings, the Este Gold Vermeil Dainty Sleeper Earrings are a key example of the sophistication, style and shine Culturesse achieves with every piece. Dainty, on-trend and minimalist, these earrings show that ethical and sustainable luxury jewellery can exist and can be affordable.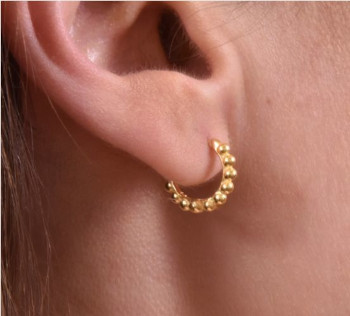 24K Gold Name Pendant Necklace
Crafted using a 'rolled gold' technique, this name necklace is a timeless piece that will last a lifetime, shining brilliantly alongside your own gorgeous glow. Imbued with deep sentimental value, this necklace is a perfect gift for loved ones or yourself, and to the planet.

Artisan 24K Gold Zodiac Pendant Necklace
Made from solid sterling silver, plated in 2.5 microns of pure 24K gold plating, Culturesse's Zodiac Pendant Necklace collection is a celebration of you. From curious Aquarians to courageous Leos, this zodiac jewellery is a unique design, stylish, simple and set to become one of your favourite guilt-free pieces.
Sustainably Sourced Australian Pearl Jewellery
Along with ethically and sustainably sourced gold, Culturesse favours only sustainably sourced freshwater pearls in their earrings, necklaces and other jewellery, including both natural and cultured pearls. Importantly, Culturesse embraces the uniqueness of each pearl " there are no uniform pearls at Culturesse, because all women are different and these differences deserve to be celebrated. This exemplifies the Culturesse commitment to both empowering women and practising sustainable jewellery crafting, finding a home for every pearl in a stunning and one-of-a-kind luxury pearl piece to suit a one-of-a-kind woman.
Holly Dainty Freshwater Pearl Drop Earrings
Marrying Culturesse's signature shining gold and sustainable pearls, the Holly Dainty Freshwater Pearl Drop earrings are plated with 18K gold and feature rice-shaped natural freshwater pearls. Gentle, beautiful and sophisticated, these earrings revere the miracle that is pearls and women alike.
Ivana Freshwater Pearl Necklace
Evoke old-world glamour in a modern way with the
Ivana Freshwater Pearl necklace
. A truly versatile piece, it is perfect for evening glamour and high-end events, as well as for casual and everyday wear. Made with smooth freshwater pearls and 18K gold-plated beads, this handmade piece is a testament to the care taken with all Culturesse jewellery.
The Time for Change Is Now
Make a change in the world and celebrate your beauty and truth with one of Australia's best ethical and sustainable designer jewellery brands. Shop Culturesse today.