22ct Gold, Luxe Linings and Pearl Shell – The New Aussie 'It' Bag Designed for Everyday Glam
While their slouchy, relaxed forms and butter-soft leather make them perfect for the everyday, the 22ct gold fittings, fine art derived custom linings and hand-carved pearl shell tassel up the luxe factor on the newly launched range of handbags by emerging Australian brand, Ocre Designs.

The embodiment of laid-back luxury, the bags bring an understated glam to any look while also ensuring hardworking functionality – a win win win for a daily use tote.

Created by artist Dr Tarn Mclean, each bag has been designed and handmade in Australia.

"Luxury handbags have long been an obsession of mine and after studying fine art I realised I wanted to share my knowledge and skills, but in such a way that my art could be used and worn. Handbags were the most obvious choice," says Tarn.

The limited-edition Josef bag for example, is a large over-shoulder bag with an adjustable strap. It is lined with one of Tarn's fine art designs and made from 100% Belgian linen. The rings are made from hand forged brass and dipped in 22ct. gold. This bag is adorned with the signature Ocre tassel and Australian Pearl Shell and is all hand-made in Australia.

"Finding the finest craftsmen on shore here in Australia has been a challenge, but I believed from the beginning, if Italy can have Louis Vuitton and Ferragamo, then Australia can have its own Ocre, and while we're at it, magnify our beautiful resources and culture of laid-back luxury."

All bags are available online at www.ocredesigns.com and retail from $250 to $2,200.


Interview with Dr Tarn Mclean
Question: Can you describe Ocre Designs handbags, to us?

Dr Tarn Mclean: Ocre handbags are practical in design, embodying a sensible yet sexy vibe. Epitomizing the laidback culture of the Australian lifestyle, they work best beyond the corporate working day routine. They're perfect for women who love to multitask; where day turns to evening and getting to work, dropping the kids off, lunching for business or pleasure, flying to new destinations and showing up for the evening event is all carried out with the Ocre bag.

What's best is their reductive aesthetic of pared back volumes is sweetly balanced with a sexy softness. Like wearing gorgeous lingerie, each bag is individually lined on the inside with beautiful fabric, designed with Tarn's signature botanical fabrics.

There's always the staple styles and always the big leather tassels, but it isn't just the colours that vary, Tarn's artistic background is at the base of each individually made bag; for the serious handbag collector wearing art goes next level, with limited editions sporting 22ct Gold dipped hardware and Opal boulder rock or Pearl Shell adornments. These bags are straight off the plinth and all embody a carefree vibe for those connected to their stealth…. a true testament to the timeless laid back luxury at the heart of the exotic Australian landscape.


Question: What originally inspired you to start designing handbags and create Ocre Designs?

Dr Tarn Mclean: When I was nearing the end of my undergraduate studies in Visual Arts, I realised my passion for utilizing learnt studio skills needed to be paramount in my future career. Knowing the choices for an artist to make her way professionally was going to be tough, I decided if I designed wares that my audience could use and connect with on a daily basis then that was a sure way forward. At the time, 2008, I was an avid user of designer handbags and wondered why they mostly hailed from Italy and Europe. The gap in the market was a calling and the establishment of Ocre became a vision. Slowly over time the vision is becoming a reality and the house of Ocre is gradually growing, client by client, bag by bag and artwork by artwork.


Question: Where do you find inspiration when designing handbags for Ocre Designs?

Dr Tarn Mclean: Inspiration for Ocre handbags comes from my love of various artists and landscapes. The current collection is named after and homage to the German Bauhaus artists Josef and Anni Albers. Together their reductive aesthetic combined with genius sense of colour is imbued in their paintings and textiles and have always been an influence on my academic practice. The colours for the linings are inspired by the Australian landscape and also the landscape of everyday living, such as interior and product design.


Question: Can you tell us about the new range of luxury Ocre Designs handbags?

Dr Tarn Mclean: The new range of luxury Ocre Handbags are an extension of a body of paintings I have just completed for the Ocre company. Each painting is representative of the botanicals associated with the Astrological Zodiac. Grouped into the four elements, Earth, Water, Air and Fire, the colourways are reflected in beautiful floral textile designs that line the bags. The theme is continued in the choice of leather colours where chocolate, blue, beige and tan are used. Like an art object, each piece is individually made and adorned with 22ct Gold ringed accessories and jeweled with pearl shell.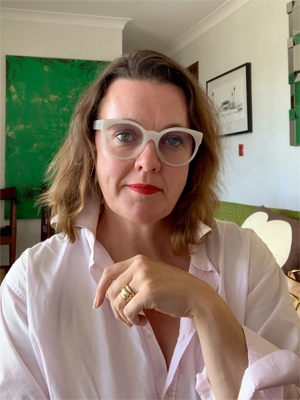 Question: Why is it important, to you, to hand make the bags in Australia?

Dr Tarn Mclean: It is important for Ocre bags to be made onshore in Australia. History reveals that luxury brands, think Hermes and Rolls Royce, are only classed as luxury when they are made in the country of origin. It's also important on a business level for me to connect with Australian industry. We have a culture of honest, hardworking and passionate people and it is my intention to be just one cog in the wheel of supporting onshore manufacturing. It's interesting to see a new culture of sustainability and circular fashion gaining momentum over the last few years and this works so well for me not only an artist, as all we do is sustainable, but also is in total alignment with a luxury label. Building a luxury label takes time, with Ocre now in it's 11th year, and that's ok, things are unfolding exactly as they should.


Question: How does doing this support your goal of a sustainable fashion brand?

Dr Tarn Mclean: At Ocre, we turn art into beautiful designs for people to wear and live with. There is a philosophy that comes from a group of Bauhaus artists and Russian Constructivists in the early 20th Century where they wanted an art for everyone. While they embraced the machine and all it could produce on an economically viable front, I embrace a combination of the hand made and the machine, but never have we mass-produced. At Ocre we print to order only and manufacture in limited editions, there is never waste and it is in this way we encourage a buy once culture, embodying all that is sustainable. I do have clients who have bought and own several Ocre bags and wares, but our market wants to be a part of a story, they want to wear and live with meaningful design that's aesthetically beautiful. Already the story is becoming heritage and we're seeing the next generation of daughters wear original Ocre bags. I'm not sure if being sustainable has ever been so much as a goal, but all that we have ever been and lovingly stand for.


Question: What's next for you and Ocre Designs?

Dr Tarn Mclean: What's next for me as a designer is to continue making new stories of art, textiles and handbags for Ocre. Travelling to new destinations and researching ideas such as the Zodiac is perfect fodder for new collections. I love for everything I do to have a story, it's a sure way of continuing the heritage of my family. My great great grandfather Adam Forster's botanical paintings are now held in the Australian National Library and I love that I can live a life as an artists and designer like him. There's inspiration all around us, but none quite like that found in Mother Nature. No painter will ever conquer colour through paint like her, but we can live a life of trying.


Interview by Brooke Hunter