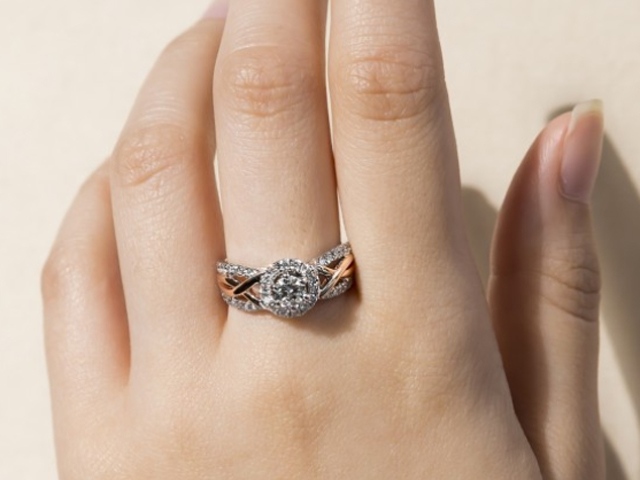 Whether you're choosing an engagement ring for your loved one, selecting a gift, or purchasing a treat for yourself, deciding between gold or silver jewellery can be tricky. Here are the some guidelines to help you decide between these stunning metals.

1. Consider skin tone
As a general rule, sterling silver jewellery suits people with cooler skin tones, in-cluding fair skin. Gold is said to suit those people with warmer skin tones, such as olive skin. However, this rule is dependent on outfit and makeup choice, as both gold and silver jewellery can suit any skin tone when paired with the right colours.

2. Consider outfit choice
If you're buying a piece of jewellery for a fair-skinned loved one and they wear a lot of earthy tones such as burnt orange and olive green, gold is a great choice. Yellow gold enhances earthy tones, and won't make them look washed out de-spite the supposed skin tone clash.

Similarly, if your loved one wears a lot of cooler colours such as blues, greys and purples, sterling silver jewellery would be the best choice regardless of their skin tone.

3. Consider makeup preferences
Specific makeup colouring helps enhance the hues of both silver and gold. After all, no one wants to be forced to wear only one kind of jewellery: Both Gold and silver jewellery pieces are exceptional and can be made to suit everyone.

If you have fair skin but want to wear yellow gold, try a coral, orange or bright pink lipstick. Add bronzer and a brown or copper smokey eye and your makeup will enhance the warm tones of your skin. This makeup style perfectly comple-ments the vibrancy of yellow gold jewellery.

Conversely, if you have warm skin and you want to wear more silver, try a silver or lilac smokey eye with a soft hued lip, paired with pink blush. This makeup style will enhance the brilliance of your silver jewellery.

4. Remember not all types of gold are the same colour
Gold jewellery is available in a number of different hues, helping you choose the best tone for your loved one, or your next favourite piece of jewellery.

• Yellow Gold
Yellow gold is one of the jewellery world's favourite metals, and can be worn by almost everyone at mostly any occasion thanks to its versatility. It requires very little maintenance, making it easy to care for. Yellow gold is very soft, and is often combined with other metals in jewellery such as copper or nickel to give it extra strength and durability.

• Rose Gold
With its gentle pink and gold hue, rose gold is a modern take on classic yellow gold jewellery. This blush coloured gold metal is made by combining yellow, gold and copper, and highlights subtle pink undertones of any skin type to create stunning and affordable gold jewellery.

• White Gold
White gold is often said to look the same as silver, but it has a slightly bright-er, fresher colour with less greyish tones. This ethereal metal is an alloy, cre-ated by blending yellow gold with other metals such as silver and palladium. White gold is usually coated with a Rhodium to add strength and shine for gorgeous fair-coloured jewellery.

5. Sterling Silver jewellery is a classic choice
While silver jewellery has only one hue compared to the many gold options, it is a classic choice for everyday jewellery pieces. It's easy to wear, and while it can tarnish over time, it is easy to clean and maintain. For an affordable yet timeless piece of jewellery, you can't go wrong with silver. Many modern jew-ellery stores now offer silver pieces combined with other metals such as cop-per to create unique designs for a standout piece.

6. Can't decide? Choose jewellery and engagement rings blending silver and gold
If you just can't decide between gold and silver when choosing a new piece of jewellery, why not choose a piece combining the two? From engagement rings to necklaces, high quality jewellers now offer a number of timeless pieces blending gold and silver to cater to all skin tones and tastes. This blending of metals is a modern yet delicate way to enjoy the tones of both gold and silver, while maintaining the classic elegance of your piece.

Silver and Gold Blended Jewellery Recommendation:
Love by Michelle 18ct White & Rose Gold 1.26ct Diamond Solitaire Ring or the 9ct Two Tone 25pts Diamond Ring

When choosing between gold or silver jewellery, you can consider skin tone, makeup and outfit choices, but essentially, gold and silver can suit anyone. By choosing a piece you love, you'll find the best ways to wear it to suit your unique style. If you really can't decide? Choose a piece of jewellery that com-bines the two.