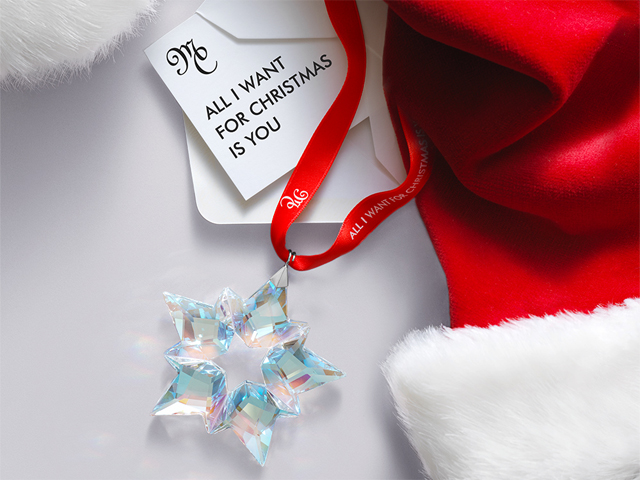 Swarovski is excited to announce the launch of the 25th Anniversary Holiday Ornament by Mariah Carey, the first product officially created and inspired by her world-renowned song "All I Want For Christmas Is You." The ornament is set to launch at the most festive time of year and is a brilliant moment to celebrate the 25th anniversary of the song, both written and performed by Mariah Carey.

Swarovski's Creative Director, Nathalie Colin, explains more about the collaboration: "The holidays wouldn't be the same without Swarovski's sparkle. We are delighted to work with Mariah Carey, such a brilliant, multi-faceted and empowering modern woman. With this unique ornament, we capture her signature style and impeccable glamour while infusing Swarovski's iconic look and exquisite craftsmanship."

25th Anniversary Holiday Ornament By Mariah Carey

Nothing sets the holiday mood like joyful, dazzling decorations. Since 1991, Swarovski Annual Edition ornaments have shone a new light on the tradition of decorating the holiday tree, bringing sparkle and celebration to homes the world over.

This new and exclusive addition to the collection is the epitome of stylish, festive décor. Ninety beautifully crafted Swarovski crystal facets shimmer with the blue Aurora Boreale color effect. Hung on a red satin ribbon, the ornament is detailed with "All I Want For Christmas Is You" and Mariah Carey's initials. The striking design will make a perfect holiday tree decoration, or gift to mark a special moment in 2019.

A brilliant gift idea for fans of Mariah Carey and Swarovski alike, the ornament comes in a beautifully designed, blue triangular Swarovski gift box complete with Mariah Carey's initials embossed on the front.

The new 25th Anniversary Holiday Ornament by Mariah Carey will be available in Swarovski boutiques and on swarovski.com from September 16th, 2019.