Cast
: Keanu Reeves, Forest Whitaker, Hugh Laurie, Chris Evans
Director
: David Ayer
Screenplay
: James Ellroy Kurt Wimmer, Jamie Moss
Genre
: Crime/Drama
Rated
: MA Strong violence, coarse language
Running Time
: 108 Minutes
Released
: 17 April 2008
Their City. Their Rules. No Prisoners.
Synopsis:

In Street Kings, a police thriller directed by David Ayer, Keanu Reeves plays Tom Ludlow, a veteran LAPD Vice Detective. Ludlow sets out on a quest to discover the killers of his former partner, Detective Terrance Washington (Terry Crews). AcademyŽ Award winner Forest Whitaker plays Captain Wander, Ludlow's supervisor, whose duties include keeping him within the confines of the law and out of the clutches of Internal Affairs Captain Biggs (Hugh Laurie). Ludlow teams up with a young Robbery Homicide Detective (Chris Evans) to track Washington's killers through the diverse communities of Los Angeles. Their determination pays off when the two Detectives track down Washington's murderers and confront them in an attempt to bring them to justice.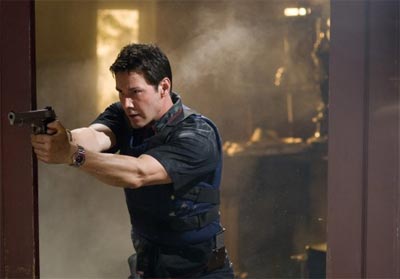 My Verdict:

The alcoholic Tom Ludlow (Keanu Reeves) begins Street Kings with a killer opening. He's a Los Angeles cop who gets the bad guys by bending the rules but ultimately believes that's ok. Acting like a man with an agenda - his wife's killer is still at large - he's on his own since his previous partner, Washington, declares him a racist amongst other things. With his superior officer Captain Wander (Forest Whitaker) backing him, Ludlow sets about to find the killer of his partner after he witnesses his killing being helped in his pursuits by Detective Paul Diskant (Chris Evans), whilst trying to keep internal affairs boss Captain James Biggs (Hugh Laurie) off his back.
Keanu Reeves is adequate as Tom Ludlow but often looked too comfortable and could have given more to the role with some greater angst and gutsiness, given his wife has recently died. He slipped too easily into a desk job after crossing the line once too often, using his spare time to pursue the dishonesty of others. Forest Whitaker is as good as always as the protective boss, an odd choice in the casting of Hugh Laurie (maybe it was deliberately odd?) and Chris Evans, like Keanu, often looks a little too comfortable.
This is not a good travelogue for Los Angeles given the level of corruption and violence presented, but if this is an indication of its real existence then perhaps there are lessons here, particularly for tourists.
Street Kings has plenty of potential but ends up becoming another good cop/bad cop battle. Somehow you just know that the characters are not what they seem and that the supposedly good guys turn out to be corrupt and it's up to a select few to reign them in. That's not a such a bad thing, it's just that it's been done before and this doesn't present anything new. Still, there's plenty of obligatory coarse language that compliments the violence and action, mandatory shoot outs and issues of right versus wrong for those who are into morals.
Rating : ***
Christina Bruce