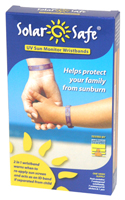 Summer is on its way and you can almost smell the sizzling beachside BBQ, but in our rush to soak up the sunshine it's easy to forget about the long term damage we are doing to our skin. Designed to change colour when you need to top up the sunscreen or hit the shade, Solarsafe Wristbands let you enjoy summer while still protecting the kids' sensitive skin from harmful UV rays.
SolarSafe takes the guess work out of just how much sun your skin can handle, check your family's UV exposure at a glance. The wristband uses photochromatic materials and compounds that change colour when exposed to UV light.
Educate your children to be sunsun with a fun new accessory, SolarSafe wristbands, kids will be able to monitor their own sun exposure, and protect themselves.
Waterproof and adjustable to fit both adults and children, SolarSafe UV Monitor Wristbands are efficient at temperatures up to 50°C and at a relative humidity of up to 100%, perfectly designed for a day at the beach. The wristband also doubles as an ID, coming with a waterproof sealed sticker where a parent or guardian can write their contact details if they get separated from their child on a day out at a crowded area such as a beach or carnival.
SolarSafe UV Monitor Wristbands are designed for one day use, and are available in packs of seven for $13.95
For more information and stockists visit:
www.solarsafe.com/au
Review: Used this on a recent holiday to Thailand, where the sun was playing deceptive games going in and out of clouds. Solarsafe, saved my children from getting burnt, pitty I didn't use it on myself....