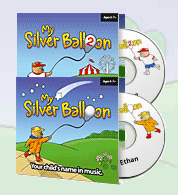 My Silver Balloon 1 and My Silver Balloon 2 are personalised music CDs that contain your childs name sung throughout the lyrics. Plus, theres a bonus bedtime story narrated by the respected broadcaster Jon Snow.
For each album, the music and lyrics have been carefully crafted to be both educational and fun, adding to you childs daily learning experience. Our aim is to provide good quality contemporary music suitable for very young children, which adults can also enjoy. All of the music and lyrics have been written by chart-topping singer/songwriters who have performed with artists such as Dodgy, Pulp, Catatonia, and Robbie Williams, and also happen to be parents of young children. The bedtime story is by a professional writer with over 20 years experience, who is a mother herself.
The CDs are aimed primarily at the under 7s (although Album Two in particular can still be appreciated by eight and nine year olds). At every stage of your childs development they will learn from and enjoy the music on the CDs. From birth, babies love the sound and rhythm of music, at 4 months they recognise their names, as toddlers they understand the lyrics, and until early school they will sing along to the songs and do all of the actions.
A songsheet is available as a free download to enable you to singalong with your child - and is a valuable reading aid as they get older.
RRP: $29.95
Each CD is professionally recorded and reproduced to the highest standards. You can check the list of names available at:
www.silverballoon.com.au/
Review: Children love 'Clowning with Sounding' the raspberry blowing clown will have them on the floor with laughter.