Finally, the stress-free solution to taming your wild childs hair - Gaia Skin Naturals has released Gaia Natural Baby Conditioning Detangler. For use on freshly-washed damp hair to condition and assist in combing, or on dry hair to loosen knots and tangles, this light-weight spray-in formula is extremely gentle on little scalps, leaving hair shiny soft and manageable.
Infused with certified organic chamomile to bring out natural highlights, wheat protein to increase strength and reduce splitting, and Pro-Vitamin B5 for its deep conditioning properties, Gaia Natural Baby Conditioning Detangler does not need to be rinsed and is your best weapon to fight unruly 'bed-head'! Simply start at the ends first, then the mid-lengths before tackling the crown, for a super soft touch.
Great for all ages and skin types, Gaia Natural Baby Conditioning Detangler can be used by those with skin affected by eczema, psoriasis, dandruff or cradle cap as it is free from artificial fragrances, soap, sulphate, petrochemicals, mineral oils, parabens, propylene glycol and other ingredients that are known irritants.
RRP: 10.95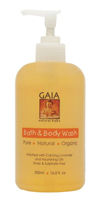 Gaia Natural Baby Bath & Body Wash
This soap and sulphate free mositurising gel that gently cleanses, nurtures and softens your baby's skin without causeing dyrness, irritation or itchiness. Great for all ages and skin types - can be used by those with skin affected by eczema.
Rich in nourishing oils like Certified Organic Avocado Oil and Certified Organic Evening Primrose Oil to keep your baby's skin soft and beautifully moisturised.
Can be used on newborns and toddlers.
RRP: $17.95
Vegan friendly and not tested on animals, Gaia Natural Baby uses only natural extracts in combination with certified organic ingredients. All the pure essential oils are Certified Organic and are of the highest quality and purity.
Available in a 250ml recyclable pump spray pack, from selected health food stores, pharmacies. For stockists phone 03 9753 2871 or visit:
www.gaiaskinnaturals.com
.