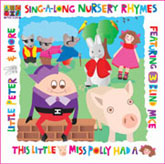 Kids love to vocalise and nursery rhymes are made specifically for kids sing along to. With this in mind ABC for Kids has produced a nursery rhymes album with brand new recordings of classic nursery rhymes. The CD is also able to be played in any karaoke machine and display lyrics.
Children find rhymes and sounds very entertaining, and many nursery rhymes are easy to learn and very rewarding to sing. From an educational point of view nursery rhymes are a great learning tool in the early recognition of the sounds of letters and words as well as the rhythms and melody of music.
The songs on Sing-a-long Nursery Rhymes have been carefully chosen to provide encouragement to the youngest listener as well as the more 'grown up' preschoolers, with short simple songs such as Three Blind Mice right through to the wordy and more challenging songs such as Maggallina Haggalina and Miss Polly.
Track Listing
Three Blind Mice
Yankee Doodle
Oh Where Has My Little Dog Gone?
Johnny Works With One Hammer
This Little Piggy
Humpty Dumpty
Black Socks
I'm A Little Teapot
Little Bo Peep
Incy Wincy
Miss Polly
Lazy Mary
Old MacDonald
Mr Frog
Little Peter Rabbit
Maggalina Haggalina
Old King Cole
Over In The Meadow
Ring-A-Ring-A-Rosie
The Crocodile Ride
RRP $14.95
Available at leading music retailers, ABC shops or
www.abcshop.com.au
Review: finally, all your children's favourites on one CD so they can sing to their hearts content.