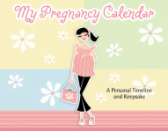 Undated calendar to record the experiences of the Mum-to-be. Includes monthly calendar pages with idea prompts, places for photos & 709 bonus personalization stickers. Ideal gift to send to congratulate the new mum to be. RRP $19.95
A personal Timeline and Keepsake including helpful tips on:
Morning Sickness Relief
Weight Gain
Nursery Preparation
Relax Yourself, Calm Baby
Partner Time
Sleeping Habits
Aching Legs & Feet
Survival Kit
5 Signs you are in Labor
Baby's Birth Story
www.babybuds.com.au
Review:
A wonderful idea for first & multiple time mothers. Keeps track of postnatal appointments and a record of your pregnancy.