Shopkins
For those not in the know, more than 100 million Shopkins have sold worldwide since their launch in late 2014, with more than 30 million views of the Shopkins YouTube webisodes and over 450 million views of the Top 5 Shopkins fan videos!! Just in time for Christmas, the Shopkins collection is getting some new friends:
Shopkins Shoppies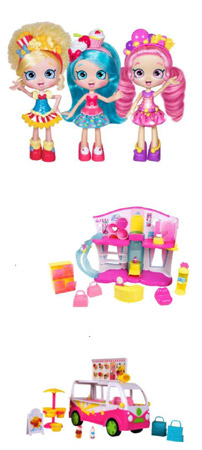 There's nothing more fun than a Girl's Day Out! With Shopkins Shoppies, bagging a bargain, café catch ups, or lunch and a movie, you can't lose whatever you choose. Discover the fun of Shopville where the Shopkins and their friends love to hang out. There's so much more in store to adore. Each Shoppies doll has a different hairstyle for you to play with, articulated arms and legs, and comes with two exclusive Shopkins characters. And you can download the free Shopkins app for even more fun.
RRP $16.99

Fashion Boutique
Going up? Spiral in style as you ride the Fashion Boutique elevator. See who's in season as you open up the change room. Then ride the slide down to the ground level. The Shopkins Fashion Boutique is the place to spree. With loads of room to store your Shopkins collection, and two exclusive characters, you can grow your Shopkins world.
RRP $44.99

Shopkins Scoops Ice Cream Truck
Want the scoop on how to beat the heat with cool things to eat? The Scoops Ice Cream Truck has arrived and it's time to chill. Relax in the shade with some cool, cool friends who are sure to melt your heart. This treat truck is icy, creamy, and totally dreamy. Chill out under the cool umbrella with some sweet friends. With two exclusive characters, this is the first vehicle in the Shopkins range. Scoop it up, now!
RRP $29.99
Moose Toys is a global toy company with the head office based in Melbourne, Australia and offices in the US, UK, Hong Kong. This award-winning company is known for designing, developing and distributing toy and lifestyle products across the globe for children of all ages. Moose has products in all toy categories including collectibles, arts and crafts, activity toys, dolls, novelty items and outdoor products, and has brought joy to kids worldwide with successful products such as Mighty Beanz, Beados, Aqua Sand and The Trash Pack™. Visit www.moosetoys.com for more information.