Seth Rogen and Evan Goldberg This Is The End
Cast: James Franco, Jonah Hill, Seth Rogen, Jay Baruchel, Danny McBride, Craig Robinson, Emma Watson, Michael Cera
Writer/Directors: Seth Rogen and Evan Goldberg
Genre: Comedy
Rated: MA

Synopsis: The comedy This Is The End follows six friends trapped in a house after a series of strange and catastrophic events devastate Los Angeles. As the world unravels outside, dwindling supplies and cabin fever threaten to tear apart the friendships inside. Eventually, they are forced to leave the house, facing their fate and the true meaning of friendship and redemption.

This is the End
Release Date: July 18th, 2013



About the Film
'What if you were stuck in a house with your friends as the world was ending outside?" says Seth Rogen, who, with his writing and directing partner Evan Goldberg, answers that question in the new comedy This Is The End.

'It was intriguing to us. We've made a lot of movies about two or three guys, but what about a whole group of friends? How do they interact with one another?" says Evan Goldberg. So even as the pair approached writing and directing a wild, outrageous comedy about the world coming to an end, they never lost sight of the core idea – six buddies and the craziness that happens when they are stuck in a house together. 'That's what this movie is really about: friendship and group dynamics, how people deal with each other in extreme circumstances. But it's also about growing up and figuring out how your old, childhood world fits in with your new, adult world."

The film would also mark Seth Rogen and Evan Goldberg's directorial debut, and they found a way to make the venture as comfortable as possible: they surrounded themselves with their own best friends. In This Is The End, six friends – who just happen to be James Franco, Jonah Hill, Seth Rogen, Jay Baruchel, Danny McBride, and Craig Robinson – are trapped in Franco's house as the end of the world begins outside. And we're not talking about any old California-slides-into-the-ocean earthquake… we're talking the fire-and-brimstone Apocalypse – the real Biblical deal.

Yes, James Franco plays James Franco, Jonah Hill plays Jonah Hill, Seth Rogen plays Seth Rogen, and so on. But of course, they're not really playing themselves. 'People think they know everything about you based on the characters you play," says Seth Rogen. 'So we thought it would be funny to play into that – to have these characters that behave in the way that everybody thinks is what we're like off-screen. There are elements of our real selves, but we all twisted them or exaggerated them to make it funny."

Playing yourself can be a challenge – even for an Academy Award® nominee, as Jonah Hill says, 'I've never slipped out of character more than when I was playing myself."

But it's more than just a joke, says Seth Rogen. It's a way of acknowledging the elephant in the room. 'Everybody knows that we're friends and we're always in movies together. It was almost weirder that the movie wouldn't acknowledge that in some way," says Seth Rogen. 'So we thought, OK, let's acknowledge it, and then let's move beyond it. We wanted the relationships to feel real. We thought that would be the element that grounded the movie if the dynamics between the characters were real and relatable. So even though the movie gets super-crazy – it's the Apocalypse – there's a simple idea at the center that I hope is very believable. We never could have written this movie if we didn't know these guys – and we definitely couldn't have directed it."

It's fertile ground for comedy, because there's nothing like an Apocalypse to tear people apart. 'The guys are all boarded up and trying to survive, but their relationships start to deteriorate," says producer James Weaver. 'Seth Rogan and Jay Baruchel are trying to figure out what their friendship is going to be like. James Franco can't stand Danny McBridge being so crazy. Jonah Hill tries to befriend Jay Baruchel, but in a way that Jay Baruchel finds very patronising. Jay Baruchel and Craig Robinson bond a bit. And Seth Rogan is acting like a referee at the center of it all."

There's only one way to survive an Apocalypse, and Evan Goldberg says it's not immediately clear if these six characters have what it takes. 'Can these guys learn how to be good people?" says Evan Goldberg. 'Good people are getting Raptured around them, and they're in denial about the fact that they were left behind. They have to figure out if they can still be redeemed, and what it will take for that to happen."

Before This was The End, there was a beginning. In 2006, Seth Rogen and Evan Goldberg's longtime pal, Jason Stone, wanted to make a short film. His friends – whose film careers were about to skyrocket – were happy to help. 'Jason Stone and I kept discussing the idea that we'd have a huge concept, but taking place in only one room," says Evan Goldberg. 'Well, what's the hugest concept there is? The end of the world. So we thought we'd do a movie about the Apocalypse, with Seth Rogan and Jay Baruchel in one room."

After two days of shooting, that project didn't quite get as far as they'd hoped. But all was not lost. 'We shot for two days, and we didn't have a lot of footage, so Jason Stone cut together what we had as a short," says Seth Rogen. 'It was never about making it into a full-length feature – that only came after, when we put it online and people really started to respond to it."

Mandate Pictures came on board to develop the concept of the end of the world comedy, and eventually, the deck was cleared for Seth Rogen and Evan Goldberg to write the screen story and screenplay with the intention that the film would mark their directorial debut.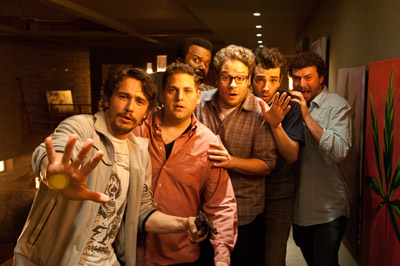 Even then, though, the writing process would not be so simple. As Seth Rogen and Evan Goldberg's producing partner James Weaver notes, inherent in writing the film would be greater-than-usual producing challenges. 'Usually, roles are castable one way or another – you identify a handful of guys who can play a part," says Weaver. 'That was never true with this one."

'Even once we sat down to write – OK, who's going to be in this movie? – we weren't sure we'd be able to get everybody, not because they didn't want to do it, but because people commit to other projects and might not be available," says Evan Goldberg. The place to start was with the ideal cast of the most close-knit group – if somebody had to drop out, they'd cross that bridge later. But that bridge never even came on the horizon. 'We never thought we'd get them all – but we got them all. It was crazy – this might be the closest group of guys ever to get to make a movie together."

'Once Seth Rogen and Evan Goldberg got in the director's chair, they made this their passion project," says executive producer Jason Stone. 'It was a real chance to get together with all of the people they've worked with before, but play off everything that came before."

The fact that all of the actors knew each other so well was certainly a plus, but it also led to an interesting dynamic on the set as Seth Rogen and Evan Goldberg – just two of the guys! – were also responsible for directing the actors. The partners were able to work out quickly how to make that work: 'We realised pretty early on how they responded to each type of direction and how best to give them that direction," says Seth Rogen.

'And it was different from actor to actor," says Evan Goldberg. 'For example, some actors felt better if direction came from Seth Rogen. Some felt it was weird if I didn't say anything. And some didn't want either of us to say anything, to let them work it out."

'You'd be in scenes with Seth Rogen, and you'd do something he liked, and right there – in the scene – he'd tell you to do it again," says Danny McBride. 'I like working that way. It's fun and it keeps things light. We'd crack up all the time in the scenes. Because we were shooting digitally, we could do 45-minute takes – the boom guy's hands would be trembling and everyone would be sweating, but we got all the jokes."

'The way Seth Rogen and Evan Goldberg do it, it's like your boys – like you're sitting in the basement with your homies at home," says Craig Robinson.

'Seth Rogen would literally direct right there in the frame," says the film's director of photography, Brandon Trost. 'He'd throw out a line for someone to throw back at him as a joke. And Evan Goldberg would be off-screen, saying something for them to say at the same time. We ran very long takes, and everyone figured out their jokes as we progressed."

Part of the reason the set worked so well was that Seth Rogen and Evan Goldberg are old friends. 'I've worked with director teams before, but Seth Rogen and Evan Goldberg might as well be brothers," Brandon Trost continues. 'They have been friends forever, and it shows. They were almost always on the same page, and when they weren't, they would bicker like brothers – it was funny to watch them hash it out and come up with the best decision."

'They're both very astute and detail-oriented," says Chris Spellman, the production designer. 'They often had clear ideas about what they wanted to see, but they were also open to collaboration. When Seth Rogen was on the set, he'd notice a lot of the details of the set dressing and the architecture and comment on them – and he did this with other departments, too. He has a keen eye."

Casting the Film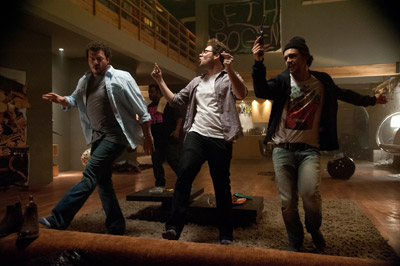 For a film about the group dynamics among a group of friends, it's no surprise that the characters in This Is The End were tailor-made for the actors playing the roles. They would all play horrible 'versions" of themselves, says Evan Goldberg. 'Seth Rogen isn't a duplicitous coward, but he plays one in this film," he says. 'Danny is a delightful sweetheart, but his character is a maniac. James Franco – the things we mock in James Franco in the movie are real, but James Franco in real life is nothing like the way he acts in the movie. He genuinely does like art and weird stuff, but it's not pretentious and he's not in-your-face about it. He doesn't care what others think about his art. He just likes art. The only exceptions are Jay, who is more like his character than anyone else in the movie, and Craig Robinson, who isn't a jerk like his character, but is a guy who carries a towel around to wipe sweat off his face."

James Franco says that he didn't hesitate to sign on for the project – even though he wouldn't have even considered the project if it had been with anyone other than Seth Rogen and Evan Goldberg. 'We're playing extreme versions of ourselves, and I would really only trust Seth Rogen and Evan Goldberg to depict me in an outrageous way," he says. 'Their take on me is funny – of course, I don't think I'm really like that, but yes, it's a version of me, it's their version, and it's funny. But going back to Superbad, through all their movies, they put in a level of heart, or emotion, that grounds the characters, and that's in this movie, too. I was game for it because the way they make movies, their sensibility is just so solid."

'The way my character is on the surface, he's a pretty shallow person," says James Franco. 'He's a guy who thinks that Seth Rogen can't be his friend and anybody else's – like sixth grade behaviour. So that's where we took the character deeper. In real life, Seth Rogen has been there at important points in my career – -Freaks and Geeks,' -Pineapple Express' – so we took that and decided that the character of James Franco would have this affection for Seth and need to connect with him. Really, he's obsessed with Seth Rogen."

One of the main attractions for Jonah Hill, like the other actors, to join in the film was the chance to work alongside his close friends. 'I trust, love, and respect Seth Rogen and Evan Goldberg, wholeheartedly," he says. 'I'm always going to be there for them, no matter what. I'd have hated myself forever if I'd missed out on their first directorial effort."

'I hope that people understand that we are taking shots at ourselves by playing such awful versions of ourselves," says Jonah Hill. 'Actors are easy targets to make fun of, so I think it's good to show an openness, a sense of humour about what you do, and try not to take yourself too seriously. My character is really is kind of a douche-y, overly pretentious version of myself. That's why I wanted to wear the big diamond earring that I wear in the movie – it's part of this famous-actor persona we're creating for ourselves."

Seth Rogen says there is more to his character than appears on the surface. 'He seems super nice, but all he does is try to make everybody happy – he's full of BS and very duplicitous," he says. 'He's spineless – he tells everybody what they want to hear and wants everyone to get along for his own benefit. He's definitely the least fun character in the movie – everybody else gets to act crazy in one way or another. I'd have rather have played a crazy dude, but it was right for me to play the emotional core."

At the heart of the film is Seth Rogen's relationship with Jay Baruchel. 'Jay Baruchel is Seth Rogen's old friend, and the other guys are his new friends," says Seth Rogen. 'He hates my new friends, and frankly, they don't like him that much. So Jay Baruchel and Seth Rogen are at odds over why they've drifted apart. It's this moment in their lives when they're trying to figure out if they're going to be friends in the future."

Danny McBridge says, 'I heard they were working on this movie, and it sounded like one of those ideas that was so crazy that you never really knew if it would come to fruition. So when I got the call that it was actually going to happen – and not only that, but they had found the time that everyone's schedules lined up – it just seemed like something you couldn't miss."

How different is the character of Danny McBride from the real Danny McBride? 'In real life, I'm married and have a kid. In the movie, I wake up in a bathtub and smoke a lot. Slightly different."

And what does Danny McBride think of his character – a completely self-involved person who begins by eating all of the supplies and ends by turning to cannibalism? 'I don't think the character of Danny McBride has any flaws at all," he says. 'He's just trying to survive. You can't fault him for that."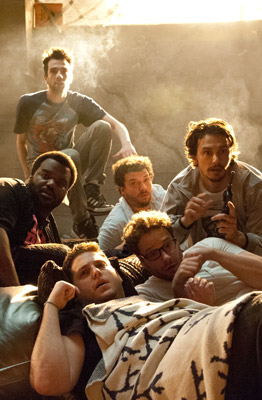 Jay Baruchel was involved in the project not only from the beginning – he was involved before the beginning, taking part in Jason Stone's short film that would precede the movie. 'Back then, we had $2,000 and two days and a neat concept of two angry Canadians stuck in an apartment together during the apocalypse and an amazing set that the film students at USC had built. It's amazing to see talented film students do their thing," he says. 'It's a thrill to have been a part of something like that years ago, and watch it come to fruition with these filmmakers."

While most of the characters are awful versions of the actors playing the roles, Jay Baruchel sees his part a little differently. 'I think I stand in for the audience," he says. 'My character has a chip on his shoulder – he rolls his eyes at all of the LA nonsense and has nothing but unpleasant things to say about show business. You could say he's the voice of reason, but he's also just a wet blanket. I wish I could say that I didn't think my character was better than the others, but I can't help it. I'm a Montréaler, we're raised to be holier than thou."

On working with his co-stars, Jay Baruchel says, 'I don't think you could find six actors with different energies and different takes on life, but because we all have a shorthand with each other, we work pretty well in concert. I think the combination leads to funny stuff."

Craig Robinson takes some exception to how his character has been drawn: 'The real me," he says, 'would be a lot smarter in this situation."

Still, there are some similarities. 'I do say the silliest, stupidest stuff," he says. 'I'm sitting at a piano and the whole party comes around singing -Take Yo Panties Off' – That's the real me."

'Craig Robinson is really the only character with a clear transition in the movie – the character starts out as kind of a jerk and gets nicer through the movie. In fact, Craig Robinson getting Raptured at the end of the second act was the key to figuring out the movie," says Seth Rogen. 'We weren't sure how to end it until we came up with the idea that Craig Robinson does something good and gets redeemed. That creates the ultimate plot of the film: you have to be a good person, and you can still get redeemed. It's not over."

Michael Cera and Emma Watson round out the cast. Like most of the other characters in the movie, Michael Cera is 'playing himself" while playing a character that is nothing like himself. But with Michael Cera, the filmmakers took the character to extremes. 'Michael Cera is nothing like that," he says. 'We thought it would be funny to see him play not only against type, but so far against what he was like in real life. And it was – he took it way beyond where we thought it could go."

Emma Watson was attracted to the project by the chance to make her first out-and-out comedy. 'My agent called me and said, -There's this movie, it's about the end of the world, Seth Rogen and Evan Goldberg are making it, everybody's playing themselves, and there's only one major female part in it, and they wrote it for you,'" Emma Watson remembers. 'I was taken aback – why did they think of me? – but then I read the script, and it was so funny. I've never done a comedy like this one, and to have the chance to work with one of the greatest lineups of comedians working right now – how could I miss out on that?"

The film begins at a party at James Franco's house, and any party at James Franco's house would – by definition – be celebrity-studded. Of course, it's here that the Apocalypse begins to go down, and most of Hollywood's best and brightest aren't long for this world. 'Martin Starr and David Krumholtz are old friends. Kevin Hart, I've known forever. Mindy Kaling. Rihanna. I loved working with them and yet we killed them all. Every last one of them. Nobody gets out alive."



About the Production
Even though This Is The End is a comedy – no question about it – Seth Rogen and Evan Goldberg sought a look for the film that would set it apart from the pack. After all, the film's subject matter – the end of the world – gave them the creative leeway to do something a little different. So, rather than give the film a light, bright look that has come to define comedies, they went in another direction.

'We were really influenced by the look of horror movies, action movies, and war movies," says Seth Rogen. 'Once we realised that the movie could be funny even if it was blown out in some parts, dark in other parts, and shaky and crazy in other parts, the more we liked the idea and the more we experimented and pushed it."

In fact, Seth Rogen and Evan Goldberg put together a book of reference materials to help give their department heads an idea of what they were looking for – and their influences were more in the vein of post-apocalyptic thrillers than the comedies they have been known for.

'Our cinematographer, Brandon Trost, was heavily suggested to us by the studio," says Evan Goldberg. 'They said, -You're going to think we're crazy, but you're going to meet this guy and we bet you anything you hire him on the spot' – and that's exactly what happened. We cancelled all of our other meetings after we met him."

Brandon Trost previously worked with studio execs on the action film Ghost Rider™ Spirit of Vengeance, and Seth Rogen and Evan Goldberg were similarly blown away by the cinematographer's daredevil camera work.

'I loved the script, but the fact that they didn't want this movie to look like a conventional comedy is what drew me in," says Brandon Trost. 'They said they wanted the movie to be darkly lit, not flatly lit, with a specific stylised look. They wanted to shoot anamorphic, with the scope and horizontal lens flares you get with those lenses. You don't get that kind of opportunity every day – I was excited that that was what they wanted."

'Seth Rogen and Evan Goldberg were really prepared," Brandon Trost continues. 'They had a book full of reference materials, paintings, film clips – they really did their homework. When we were deciding what the movie would look like, we really didn't reference any comedies – and when you come right down to it, that's one of the jokes of the movie."

The sets were designed by Chris Spellman, the film's production designer. Watching the short that Seth Rogen and Evan Goldberg had made with Jason Stone, Chris Spellman says, 'The images have this boarded-up, almost jailed-in feeling. I think we all wanted to transfer that feeling to this film."

The process began with the design of the film's major set: James Franco's house. 'We showed Chris Spellman a ton of pictures of houses that we wanted James Franco's house to look like," says Evan Goldberg. 'We gave him a rough idea of the floor plan we wanted. And then Spellman brought a lot of things to it that we never thought of. Turns out it isn't entirely dissimilar to a house he used to own and designed, so that helped – -Just do it like the house you designed already!'"

'We built the main body of the house so that it could accommodate a lot of the action that was going to happen," says Chris Spellman. 'We designed an open floor plan, not just between the living, dining, and kitchen area, but also between the upstairs and downstairs – we made an open catwalk across the upstairs, so you could see upstairs from downstairs and vice versa. For example, in the scene in which Danny McBridge has cooked a feast for himself with all of the remaining food that they were hoping to save, you wanted to reveal that with all of the other characters there."

The house – which Chris Spellman estimates at 8-to-10,000 square feet – had other requirements based on the script. 'We needed a master bedroom, master closet and bathroom, a guest bedroom, a library, a basement, and a room we called a -lookout,' which is an offshoot of a little room that the Franco character paints in."

Chris Spellman and his team found an ingenious solution to the central challenge: the film would either have to be shot in sequence – a scheduling impossibility, considering the busy schedules of the six lead actors – or find a way to have the house go back and forth between pristine state and earthquake-damaged state. It would have to be the latter, but how to do it? 'We made it so there was a giant crack from the earthquake, and the house broke at certain seams," says Chris Spellman. We could take out the -crack' section of wall and the pristine piece could go in. We did that in three different sections of the house – we'd pull out one panel and put another in, and then painters could come in and touch up. We had two sets of paintings, two sets of furniture – the pristine set and the damaged set."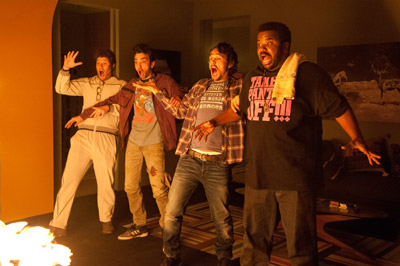 Chris Spellman and his team also designed a full-scale convenience store. 'We had to have a car crash into it, we rigged all the shelving and coolers to fall or shake in an earthquake, we cut holes in the ceiling to Rapture some of the people in the market. That was a big undertaking."

In the film, James Franco's house is filled with art. Not surprising, in a way, because the real James Franco cares deeply about art. However, the filmmakers and the real James Franco make it clear that there's a blurry line between the art he cares about and the art that the pretentious character he plays prefers. 'My first conversation with James Franco was about the fact that the character is a -version' of James Franco," says Chris Spellman.

'People know I'm interested in art," says James Franco. 'I just went to school for it and for a while I was collecting art – I sold most of it a while ago so I could go to school and not work so much. So it was kind of a funny idea that the James Franco character would be collecting art, and Seth Rogen asked me if there was any particular artist that I wanted to have in the character's house. And I thought, there's a way to take this to a different level. There's a painter that I really like named Josh Smith – his work is hard to place because a lot of it has a very humorous feel, even though it's abstract work. Josh was interested. Not only interested, but wanted to create new work, and it would be special because it would be work that was only intended for this movie. And as Josh Smith and I were talking, we came on the idea that we could do the paintings together. Josh Smith and I spent two days together and we painted a lot, through the night, ten huge paintings and a bunch of little ones."

Together, James Franco and Josh Smith created art that directly references the movie. 'The idea is that my character is somewhat obsessed with Seth Rogen," says James Franco. 'So the subjects of the paintings are shows I did with Seth Rogen – there's a Freaks painting and a Geeks painting, there's a Pineapple Express painting."

And there is also a pair of paintings with James Franco's and Seth Rogen's names. 'Josh Smith does these name paintings in which he uses his own name, Josh Smith, in a Jasper Johns kind of way – it's just a form that he can then forget about. He can just use the same form over and over again because the painting isn't about the subject of the painting, it's about the paint itself, or the application, or the execution. Still, we thought it was fun to do name paintings for the movie – a Seth Seth Rogen painting and a James Franco painting. It's almost like they're credits for a movie – for these guys, they're the stars of their own lives."
This is the End
Release Date: July 18th, 2013