Seth MacFarlane A Million Ways To Die In The West
Cast: Liam Neeson, Amanda Seyfried, Charlize Theron, Neil Patrick Harris, Seth MacFarlane, Sarah Silverman, Giovanni Ribisi
Director: Seth MacFarlane
Genre: Comedy, Western
Rated: MA
Running Time: 116 minutes

Synopsis: Seth MacFarlane (Ted, television's Family Guy) once again stretches the boundaries of comedy and propriety as writer, producer, director of and actor in A Million Ways to Die in the West. He tells the tale and plays the lead in the story of Albert Stark, a soft man in hard times who is trying to figure out how to escape this godforsaken frontier that seems to be trying to kill him"and everyone else in it"at every turn. A sheep farmer whose fickle girlfriend, Louise (Amanda Seyfried of Les Misérables, Mamma Mia!), leaves him when he backs out of a gunfight, Albert feels like a chump.

Adding to Albert's distress and feelings of inadequacy, Louise takes up with the town's most successful businessman, arrogant moustachery owner Foy (Neil Patrick Harris of TV's How I Met Your Mother, Broadway's Hedwig and the Angry Inch). And what Albert can't dream of offering in terms of financial stability and facial hirsuteness, Foy has in spades.

But when a mysterious and beautiful gunslinger named Anna (Charlize Theron of Snow White and the Huntsman, Prometheus) rides into town, she helps Albert begin to find his courage and they start to fall in unexpected love.

Nothing comes easy in the bitterly unforgiving Old West, and further trouble ensues when Anna's husband, Clinch Leatherwood (Liam Neeson of Non-Stop, Taken series)"a notorious outlaw whose name strikes fear into the hearts of the citizenry"arrives seeking revenge on the man whom he thinks has made a dishonest woman of Anna. Reluctantly, Albert must now put his newfound courage to the test in a one-man-left-standing gunfight that will earn him Anna's hand and long-denied respect in the Wild West…or another unmarked grave forgotten in the annals of history.

Joining Albert in his quest are his best friend, Edward (Giovanni Ribisi of Ted, Avatar), the unfailingly nice and extraordinarily naive town shoe repairman, and Ruth (Sarah Silverman of Wreck-It Ralph, TV's The League), Edward's girlfriend who is just as chaste with him as she is whorish with her brothel clients.
A Million Ways To Die In The West
Release Date: May 29th, 2014



About The Production
Taming the Genre: A Million Ways Begins
As Seth MacFarlane and fellow writers Alec Sulkin and Wellesley Wild were putting the final touches on their soon-to-be blockbuster feature debut, Ted, they were taking a break and watching Clint Eastwood in director Ted Post's classic Western film Hang 'Em High. The old friends and collaborators started pitching jokes and riffing on the idea of creating an unconventional Western, and they soon decided that a comedic twist on the genre should be their next project together.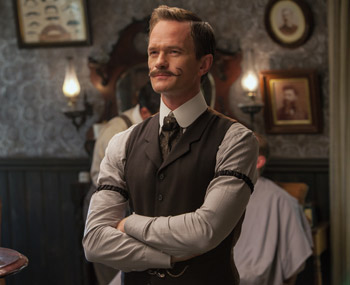 Seth MacFarlane recalls: 'We were talking about how this era is so romanticized in American film and literature, but it was actually a time and place that would have been so unbelievably depressing and dangerous to live in, particularly if you weren't an alpha male. It took off from there."
The filmmakers felt there was truly no upside to living in this place at that time, and they liked the idea of examining it through a contemporary lens. Seth MacFarlane says: 'One of the things that we have always felt about comedy, particularly with high-concept comedy, is that you get one crazy thing in your bag of tricks and then everything else has to be grounded. In the film, the high-concept element is that it takes place in the Old West. Everything else finds itself to be based in contemporary reality."
While the team wanted the setting to be the Old West, they felt the need to infuse the characters with a modern-day sensibility, especially Albert Stark, the story's protagonist. Wild offers: 'This was Seth MacFarlane's idea from the beginning: how to stick a knowing, observant guy into a world where he just doesn't belong…where everything is just terrible. Albert Stark is not suited for it. This guy is a fish out of water, and he shows what an unbelievable nightmare it would be to live in this time and place."
The more the writers riffed, the more they started to see that the concept they had was rich with possibility. Alec Sulkin adds: 'We consciously kept Seth MacFarlane's character a bit more contemporary, so he'd be the one saying to everyone, -Hey. What's up?' while everyone else says, -Howdy!' We imagined it would be annoying for him that everyone else is so into the Old West, and he hates it."
For Seth MacFarlane, it wasn't just the fact that their unlikely hero lived in the parched and dry 1880s, but it was also the kind of work with which Albert was saddled. Through his research, the filmmaker found that sheepherders were often reviled members of society. He says: 'Everybody hated the sheep farmers because the sheep would graze so close to the roots of the grass that it would ruin the land. It's just not a particularly manly animal to be raising in the first place, so this idea that the sheep farmers would be the pussies of the Old West was something that seemed like a good, funny angle to help illustrate who Albert is and put a face on what -nerdom' was on the American frontier."
As Seth MacFarlane signed up to wear many hats on this comedy, he would find that the demands of his various roles made the project most enjoyable. He explains: 'There's not one specific job that is more rewarding than another. They're all different. The writing is rewarding; the directing is rewarding. The acting is rewarding, but certainly the most terrifying because I have the least firsthand experience with it."
Assembling a team to work together again certainly helped provide the project with a sustainable familiarity. Returning producer Scott Stuber of Bluegrass Films explains the trio's detailed process and how they translate their humor: 'The Old West is often seen in movies as a time where everyone was tough and brave, and stories are told through that lens. Because it was actually a very hard time in terms of all the things that could kill you, and how young and easily you could die, Seth MacFarlane, Alec Sulkin and Wellesley Wild found the dark humor there and took it to its funniest incarnation, as only they could."
Scott Stuber appreciated the antihero the writers created and loved that they were taking a riff on a time-honored genre. About Albert, he further explains: 'He's one of those people who is miserable in the West. Albert's not macho; he's not a gunslinger; he's not looking for a fight. He's a nerd. He's the guy who's well-read and sensitive, which are attributes that aren't associated with characters from the 1880's. He's just trying to find his place in the Old West."
Fellow Ted producer Jason Clark was thrilled to reteam with Seth MacFarlane, Alec Sulkin and Wellesley Wild and Scott Stuber for a never-before-told Western. He offers: 'What I admire about working with Seth MacFarlane, Alec Sulkin and Wellesley Wild is that every story that they create with their jokes is grounded in a story that we care about. So, as an audience member, there's something to hang your hat on; there's someone that you're rooting for. The thing that Seth MacFarlane always has is the ability to bring heart and warmth, even with these outrageous jokes."
Outlaws and Townsfolk: Casting the Comedy
As the writers crafted their story, they imagined their Albert being played by one of their own. Although Seth MacFarlane has spent much time behind the camera and is familiar as the voice of animated characters from Peter Griffin to Ted, this would mark his first go of it as a live-action leading man. He was game for a new challenge. Commends Scott Stuber: 'Instead of just continuing to do what he was doing, Seth MacFarlane said, -I'm going to try something different. I want to do a comedy in the Old West, and I'm going to act in it.' He continually challenges himself, and I find that fantastic. He has to be fearless in order to do those things, and he's got such a tonal understanding and command of who he is as an entertainer."
With Seth MacFarlane on board in his first live-action feature role, the team set about searching for their female lead, Anna. In our story, Albert and Anna don't remotely fall in love at first sight. Instead, they bond over their shared hatred of the Old West and the myriad ways in which it will eventually kill you. The kindred smartasses connect as Anna helps Albert discover his strength, and Albert helps Anna find her vulnerability.
Clark explains the relationship between our star-crossed lovers: 'After he's dumped, Albert is trying to figure out what to do next when this mysterious woman comes to town. They meet in unexpected circumstances, and they bond over the fact that they are both unhappy living in the unbelievably deadly West. He begins to question who she is and where she came from, and doesn't realize that he is falling in love with her. By the third act, her past catches up with her and we have this great collision of their worlds coming together in the small town of Old Stump."
For their leading lady, Seth MacFarlane and his team loved the idea of having Charlize Theron take on the role of Anna. From the director's first meeting with her, he knew she was the perfect fit. He states: 'I love it when an actor comes in with a very strong pre-existing point of view about what they want, and it shows on screen. With Charlize Theron, from the first time we discussed the role, she got what this was. It's like she was wired into my brain. She has a great presence, and I knew that she would bring this character to life in a powerful way."
While Charlize Theron has been more recognized for her dramatic work, the Oscar®-winning actress had been eyeing a new genre to push herself as a performer. She shares: 'I've been interested in comedy for a while, but it's been tricky because audiences know me so well doing something very different. In fact, what also interests me is odd comedy. Those are very rare. The combination of this script and Seth directing was a slam dunk for me. I started begging instantly…I closed the script and started begging."
Charlize Theron explains the reason she felt a kinship with Anna: 'She is the character that I have fallen in love w
ith the fastest. We have a lot of similar traits, and I felt like I understood her straight from the beginning. Even though she hates the West, she is not jaded or cynical."
Working with Seth MacFarlane felt like a breath of fresh air to Charlize Theron. She commends: 'Seth MacFarlane makes it odd, because that's just his thing. It feels original, and it doesn't feel regurgitated. Actors say that all the time, but I really feel like this is something unique. There is something about the film that feels like a throwback to the '70s."
In fact, as both Charlize Theron and Seth MacFarlane were stepping out of their professional comfort zones, they were initially a little nervous to work together. Clark explains: 'Charlize joined us for this read-through. Seth MacFarlane was incredibly nervous because Charlize Theron is an Academy Award®-winning actress. She came in and was as nervous working with him because comedy is something that she hasn't had a lot of experience with. That instantly brought a terrific chemi
stry to the relationship."
Scott Stuber knew from the moment he watched them interact that Charlize Theron had nailed it. He offers: 'Charlize Theron is obviously beautiful and an immensely talented actor who's proven herself in dramatic roles. So when we heard she wanted to try her hand at comedy, we jumped at the chance to cast her. Luckily for us, she does comedy just as well as drama, if not better. People will really be blown away by her."
In assembling the remainder of the core cast, Seth MacFarlane felt it was important to not simply choose comedians for the sake of casting comedians in a comedy. He explains: 'The more I do this, the more I find that if you're doing your job as a comedy writer, if the jokes are there, then you want actors as opposed to comedians. The story has to have some believability, and you have to care about what's going on because, at the core, it's a dramatic story with a ton of jokes."
With Charlize Theron signed on to play Anna, the team went in search of their Louise, the woman who would break Albert's heart at the beginning of our tale. They wanted to find an actress who was right in the 'Goldilocks" zone"someone who could express that artful balance between a woman whom you don't really want the guy to end up with because she's not the nicest person, but a character who still has enough redeeming qualities that you don't think the guy is an idiot for pining after her. Someone 'just right."
Seth MacFarlane found everything the team wanted in accomplished actress Amanda Seyfried. He explains: 'Amanda Seyfried is a great example of someone who is perfectly cast. There was the scene on the log where she's talking to Albert and is about to dump him, and I remember thinking, -God, she is nailing it. She's either the world's greatest actress, or she's cut down a bunch of guys like this.' Amanda Seyfried is very sweet, so I quickly learned it wasn't the latter; she's just extremely good."
Much like Charize Theron, Amanda Seyfried was initially surprised at her casting. She advises: 'Most of my projects haven't been comedy." Discussing her character, the performer shares: 'Louise is a selfish young lady who dumps Albert in such a blunt, insensitive way because he's not getting it. She is enamored of Foy and how awesome she thinks he is that she can't quite see who he really is. Foy's very charismatic and he's got balls, while Albert has no balls at all…figuratively speaking of course. Foy's attractive to her because he has confidence and sex appeal, and his moustache is really hot."
Although Charlize Theron's and Amanda Seyfried's characters were at odds, that's where the similarities between the actresses ended. Charlize Theron explains that she struggled with the biting dialogue that was directed toward her on-screen nemesis: 'I found myself constantly looking at Seth MacFarlane and saying, -I can't say that. It's Amanda Seyfried, come on.' There is a line where I have to tell her she looks bad in this dress. I was thinking that I am just not that good of an act
or. I mean, look at her! She's like a little doll."
Thoughtful logic also went into the choosing of the actor who would portray the film's moustache-twirling ladies' man, Foy. For Seth MacFarlane, Foy was the most difficult character to cast because he had to be slightly heightened, just a bit bigger than the rest of his world. Audiences had to believe that he was a genuine threat to Albert, while still being grounded. After a great deal of thought, Seth MacFarlane and the team hit on the idea of Neil Patrick Harris.
Seth MacFarlane explains: 'As you know, Neil can act, sing and dance; he does it all beautifully. But there's a scene where his character is literally shitting in a hat. It's a crude joke, but you watch Neil Patrick Harris and he somehow manages to take this and turn it into something that you could see in a classic silent movie. With the physicality and the subtleties that he incorporates into the character, I started to see how truly colossally talented he is and how formidable he is as a performer."
Neil Patrick Harris is the first to admit that getting him on board was the easy part. The actor shares: 'I have only met Seth MacFarlane a few times prior to this movie. A couple of us from How I Met Your Mother lent our voices to a Family Guy episode in which we were openly mocked. And then this movie came along, and it fit into my hiatus between seasons of the show. I got a call from the one and only Seth MacFarlane in his own voice, which is rare. That's like Wendy Williams without the wig. He said that no one else can play this part, and that I'm the only guy for it. So here we are."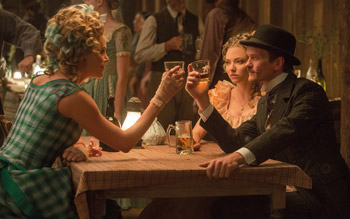 The actor supplies some background on Foy, Albert's newly formed arch-nemesis: 'Foy is the wealthiest man in town, without question, and he likes to showcase it. He dresses finer than anyone. He prides himself on his facial hair and honors others who have facial hair." Neil Patrick Harris adopted different mannerisms to make Foy anything but a stereotype. He shares: 'I don't quite know why I came up with it, but every time Foy is around, I put my arm oddly in front of me like I'm parading around."
Tasked with finding an actor to play Clinch Leatherwood, notorious outlaw and Anna's jealous husband, the filmmakers turned to undisputed blockbuster action star Liam Neeson. Scott Stuber recalls how the casting came about: 'For our ultimate foil, we sat around like little kids saying, -I hope we can get someone like Liam Neeson. Wouldn't that be amazing?'" Turns out that they didn't have to dream. 'I've been lucky enough to have worked with him before, and he was a fan of Seth MacFarlane's, so it was a terrific get."
Seth MacFarlane knew that Clinch was pivotal to A Million Ways to Die in the West because the character had to be believable. He explains that Liam Neeson was the man for the job: 'Clinch is a character that has to seem like he is in a drama for everything to work. He is a bad guy who has to be dealt with: a real situation. That's an anchor that you have to have in a comedy like this. You have to believe that the bad guy's a legitimate threat, and Liam did that masterfully."
Prior to meeting with Liam Neeson, Seth MacFarlane had an idea of what kind of accent he wanted Clinch to possess. The Irish-born actor had similar thoughts. Seth MacFarlane says: 'I love Liam Neeson's speaking voice, so when he came in I thought, -God, I hope he doesn't do a Western accent.' He just has such a resonant, powerful speaking voice. The guy can read the phone book, and you sit up and take a listen."
Recalling his rationale for playing Clinch as a Northern Irishman, Liam Neeson offers: 'A few years ago, my kids came home from school and said, -Dad, you're o
n Family Guy!' So I watch, and Seth MacFarlane lampooned me as Liam Neeson doing a Western, strangely enough, and what my accent would be like. So, when we agreed to do this, I said, -I'll only do it, Seth MacFarlane, if I can play it in my Northern Irish accent…as homage to Family Guy.' So he agreed."
Liam Neeson discusses how he brought his background to the story: 'Clinch is a classic baddie in the Western tradition; he's a gunslinger. I'm from the north of Ireland originally, and I've made him very pure and broad Northern Irish. I imagine his real name was probably Trevor McBraid, but he changed his name to Clinch Leatherwood when he came to the Wild West."
The performer found working with Seth MacFarlane to be an enjoyable experience, commending: 'Seth MacFarlane's quite a remarkable Renaissance young man. He's always up and breezy, and open to suggestions and ideas. If he doesn't like them, he'll say so, and if he does then he'll incorporate them. He's very acute at giving you a note. If a beat isn't working in a scene, he'll change a line or suggest something for you to try."
Giovanni Ribisi, who worked with the production team on Ted, was cast as Edward, Albert's best friend. Sarah Silverman, a longtime favorite of the group, was brought on to portray Ruth, Edward's long-term girlfriend. A simple man like Albert, Edward owns the town's shoe repair shop, while Ruth is Old Stump's most popular prostitute. Although Edward and Ruth are both saving themselves for marriage, they see no irony in the fact that her entire career is based upon servicing 10 to 15 men a day.
Giovanni Ribisi explains why he got involved with the comedy: 'I believe that it's the script and the director, and the company that you keep. When I read the script, I thought it was like nothing I'd ever read. It was insane and smart and a great story. And, of course, working with Seth MacFarlane is always great." Describing his character, Giovanni Ribisi says: 'Edward is someone who believes in values. He's very religious and wants to wait. He's a virgin who has been with Ruth for six years, and they're waiting for their wedding night."
Clark praises the actor for his versatility: 'Giovanni Ribisi is a genius. I've seen him do everything, including playing a comedic villain in Ted. He has grea
t timing and is a wonderful collaborator. He brings so much, and he made us laugh every day."
While her day job might suggest otherwise, Ruth has a special place in her heart for Edward, which is why she won't have sex with him until they are wed. Seth MacFarlane explains: 'This is still the American frontier in the 1800s. It's a very puritanical time, and she does not want to have sex before marriage. Edward doesn't care that she's up there banging a whole bunch of guys, because he knows that he's the one guy special enough for her not to have sex with." The character was written with Sarah Silverman in mind. 'Ruth was a character that was, right down to her cadences, written with the idea that Sarah would play her."
Sarah Silverman jokes about her casting: 'Yes, they wrote this with me in mind. But the table read was my audition. I heard there were some people not totally sold on this Jew playing a sweet Christian girl." Even though Ruth is a prostitute, Sarah Silverman finds the silver lining in her character. 'I think Ruth likes her job because she's a people pl
easer. She's not a nymphomaniac. She's just a pleaser, which is a nice quality."
Of the on-screen chemistry between Giovanni Ribisi and Sarah Silverman, Seth MacFarlane commends: 'Giovanni Ribsi and Sarah Silverman were a dynamic that you knew was going to work. He's primarily a dramatic actor who is gifted at comedy, and she is an incredibly gifted comedian who has proven to be adept at dramatic acting as well. These were just two people who were so perfect for these roles that it was just a matter of lighting the shot, turning the camera on and letting them do what they do."
Rounding out the top-notch cast, the filmmakers played around with some recognisable faces as residents of Old Stump. In addition to its multiple surprising cameos, the film features a lineup of seasoned actors including Wes Studi (Avatar) as Cochise, the Native American who guides Albert down the drug-fueled path of realization, John Aylward (Showtime's House of Lies) as the shockingly ruthless Pastor Wilson and Jay Patterson (TV's Law & Order) as Dr. Harper, the town's extremely unqualified physician.
A Stump Called Home: Creating Albert's Town
Since A Million Ways to Die in the West is set in the Old West in the 1880s, the filmmakers decided to travel to Santa Fe, New Mexico, to tell the tale. Scott Stuber offers that there were more than a few challenges: 'When you think of filming a Western, you have to realise that few of those towns exist anymore. Thankfully, there are about four in New Mexico and a few in Arizona, so they were applicable to what we wanted. We needed Albert's far
m, the town itself, Louise's house and the barn dance, and it was great luck that 80 to 90 percent of our locations were available as practical ones."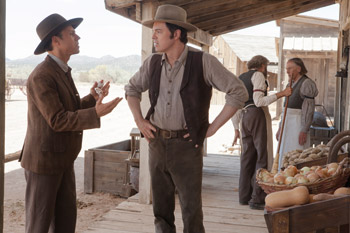 Seth MacFarlane continues that the team wanted the comedy to look and feel like a film that could stand with an old John Ford Western. He says: 'We went everywhere from Jemez Pueblo, which is gorgeous, to Monument Valley, which is legendary. Our director of photography, Michael Barrett, is an extremely talented photographer. He's an expert in lighting and knows what I mean when I said, -I want you to feel like you're shooting a drama,' that he lit and angled it as such."
The town of Old Stump was created at the Bonanza Creek Ranch, ju
st south of Santa Fe. The ranch is spread out over thousands of acres and features more than five ponds, one movie town and two home sets. More than 130 movies, as well as various videos, commercials and catalog shoots, have been filmed there. The filmmakers transformed the movie set into Old Stump: a town that is, well naturally, built around a stump.
During the scout, production designer Stephen Lineweaver looked at many of these towns and knew that there would be only one that Seth MacFarlane was going to like. When the director arrived, he said, 'Yep, this is it."
Although the area in which the filmmakers wanted to create Old Stump was small and quite dilapidated, they saw a diamond in the rough. Stephen Lineweaver and his team came in, built 3D models of th
e existing town and started to plot a façade of buildings and streets to artificially
double its size. In every direction, they placed buildings, windmills, water towers and a church. The team then went in and gutted the interiors of each building. In fact, Old Stump took nearly three and a half months to build.
Stephen Lineweaver describes the process: 'When I came here with Seth MacFarlane, the challenge was that we fell in love with the town, but it was about half the size that we wanted it to be. So, the first task was to pick what we had, illustrate how we would expand the town and create addition
s. It opened up a little too clearly to all the four exits, so we created a lot mor
e visual information and architecture to double the size. It was also a bit run-down, which is what we liked about it, so we had to put it back together."
To inform every detail in Old Stump, the filmmakers tirelessly researched the Old West so the look would be as authentic as possible. Stephen Lineweaver says: 'We wanted everything done the way it was back in the day. We have been sticklers for detail and authenticity. Seth and I collaborated on this, and our edict was to make the scenery real and make the jokes funny."
'We wanted the scope and the look to be completely in the world of an 1880s Western, but also wanted it to feel rich and colorful. Not Technicolor, but it should feel like a Western of its day, not down and d
irty and dark," Clark adds. That was down to every small building, including Foy's workplace. One of the set pieces is the moustachery, where Foy plies his wares to the successful men of Old Stump. 'Our research found that having a moustache was a show of wealth. A big moustache or muttonchops showed that you were a man of means."
A county fair was created in the middle of Old Stump, complete with shooting games, photographers, barkers selling potions and elixirs and a freak show. Oh, and death. Lineweaver laughs: 'Yes, we do have two deaths at the fair. This is A Million Ways to Die in the West. But, the fair is something that we had a lot of fun with. It's a fair set in the Old West, so we were trying to make it as cheerful as possible." He pauses, 'But people will die here."
Clark adds that much work had to be done to create the county fair, the stage for one of the biggest sequences in the script. The producer says: 'It is actually more than 10 pages with multiple story b
eats, stunts and action. So, there we were shooting exteriors with a couple of hundred extras, and we had to manage the weather every day. Added to the schedule was the fact that stunts and effects needed separate passes of camera angles. In addition, we had many animals, including a bull that had to run through the middle of the fair."
Setting the Scene: Battling the Elements in Sante Fe
Westerns are mostly written as exterior films, and that fact presented its own set of challenges. On one particular day of shooting, after the cast and crew had waited four weeks for the weather to clear up and for leaves to appear on trees, they were ready to roll. At eight o'clock in the morning, everything was brilliant. By 11 o'clock, there were 40-mph winds howling through the set. Then, the actors were visited by a swarm of bees and, finally, the cloud coverage appea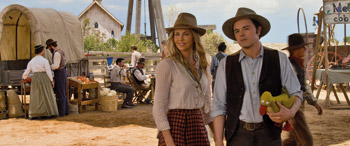 red.
Clark explains the chaos: 'Last year happened to be one of the most weather-active years they have had in a long time. We went directly from windy season into monsoon season. We had set up a sequence with Charlize Theron to shoot at night, and it was going to be her last scene of the movie. We arrived on set, we lit the scene and we got about six takes in before it started raining, continuously until three o'clock in the morning. We finally threw in the towel when the worst storm of the year came in from nowhere. After a second attempt at setting up the scene"that led to another evacuation because of flooding"we were able to regroup for one last try, and that's when we nailed it. As they say, the third time was a charm."
Despite the beautiful scenery depicted, the set of A Million Ways to Die in the West was also hit with daily dust storms"much like in the Old West. Cast and filmmakers alike felt that this was one of the most weather-active locations in which they've filmed.
Charlize Theron says: 'I have made several movies in Santa Fe, and I understand why people come here. It's incredibly beautiful to shoot. Out of all the movies, this is definitely a tricky season. We had days where there are these incredible dust storms and there is no way you can possibly shoot. But, at the end of the day, it really lends itself to the story, so I can't imagine us making this movie anywhere else."
The weather became a challenge for Stephen Lineweaver and his team, as it hampered the building of the sets. The production designer explains: 'When we were building the county fair set, we would put tents up and then they would blow down. We were hampered, hampered, hampered by the weather."
Although most of the film was shot on the Old Stump set at Bonanza Creek, the production did venture out to shoot scenes in Jemez Springs, New Mexico; at the Cumbres & Toltec Railroad at the New Mexico-Colorado border; in Shiprock, New Mexico; and in Monument Valley. Clark discusses shooting in Monument Valley: 'We wanted to have the epic scope of the classic John Ford Westerns. Monument Valley is such an icon of the West, and we hoped to create a world that feels like it has the scope of those classics"even though we were making a comedy. We didn't have to be flimsy about our choices."
Filmmakers were bold in their decisions of where to shoot, but it was worth it. Clark continues: 'It's the kind of place where every single angle you look at is great. Our second day, a windstorm swept up Monument Valley and, despite the conditions, 50 mile-per-hour winds, the fact that we had to take down all the cranes and people had to huddle under a tent, there was something incredible about being on Ford Point, where John Ford shot some of his most famous films."
In another set piece, in the scene where Albert and his horse take refuge in a railroad car after running from Clinch and his gang, Lineweaver and the filmmakers sought out an actual steam engine. So where do you find a steam engine in New Mexico? The Cumbres & Toltec Railroad. When the team first visited, the site was engulfed in 60-mph winds blowing snow. So they returned in June, while still outrageously windy, they had to power through.
The railroad engineers showed Stephen Lineweaver an 1880s model steam engine, but it was torn apart. Then they showed the design team the cars. Everything needed to be rebuilt. Stephen Lineweaver shares: 'They said they could have everything for us in four months, and they delivered. I literally shoveled coal in the steam engine to keep it running on the shoot day. It was remarkable."
A Little Barn Dancin': Choreography and Music
For the sounds of his comedy, Seth MacFarlane would select Emmy Award win
ner Joel McNeely to compose the film and Rich Breen to mix it expertly. The director had worked with both men on 'Music Is Better Than Words," an album of orchestral jazz standards, and deeply respected their work. He shares his reaction to listening to the 95-piece orchestra conducted by Joel McNeely: 'I was beyond elated upon first hearing the music that Joel McNeely had composed for A Million Ways to Die in the West. Here Joel McNeely brings us a classic, Elmer Bernstein-style Western score that presents itself as a key element in the overall tone of the movie."
Seth MacFarlane knew that his collaborators were quite serious about the assignment at hand and had nailed their work: 'The score adheres to a philosophy perhaps first set forth by the Zucker brothers: Let the music ignore the comedy, and play it straight and earnest. Joel McNeely's score is at once sincere, dramatic, playful, detailed, energetic, beautiful and thematic."
Discussing his inspiration for the score, Joel McNeely offers: 'Composing the music for A Million Ways to Die in the West has been a creatively rewarding experience. Seth MacFarlane is a director with all of the sensibilities and ideas of a trained composer, whose insights and ideas flow through the score. I was inspired to write an original score that harkens back to the glory days of the great Westerns"one that is big, bold, and thematic."
Getting into the song and dance of it all, Seth MacFarlane has long felt that there should be a song or production number of some kind in every movie. The production number utilized in A Million Ways to Die in the West was actually a reimagining of a Stephen Foster song called 'The Moustache Song," based on a song by Foster with additional lyrics by MacFarlane, Alec Sulkin and Wellesley Wild.
Seth MacFarlane offers: '-The Moustache Song' is an old Stephen Foster song from the 1860s, and it's ridiculous. It's exactly what it sounds like: You will get laid more if you have a moustache. Not to second-guess Stephen Foster, but we messed with the lyrics a bit and turned it into this big production number. That's something that, once we got into the filming of it all, occurred to me. I thought, -My God, what would we have done without Neil Patrick Harris?'"
To put together the choreography, Seth MacFarlane relied upon friend and seasoned choreographer Rob Ashford (86th Academy Awards®, upcoming Cinderella). Rob Ashford and Seth MacFarlane first worked together when Seth MacFarlane hosted the 2013 Academy Awards®, where the duo developed terrific shorthand.
Emmy Award winner Rob Ashford shares: 'When Seth MacFarlane told me that he might be having a barn dance in this movie and asked if I would be interested, I said, -Absolutely.' I love working with Seth MacFarlane, plus there was Charlize Theron and Amanda Seyfried, who I had also worked with on the Oscars®, and I've worked with Neil Patrick Harris many times. You can't say no to all that."
Seth MacFarlane knew exactly what he wanted the dance to look like. Rob Ashford explains: 'He had a real vision in his head. This is not a person who has danced all his life and is not a choreographer. But he could describe what he envisioned for the numbers in the movie."
The number featured 16 couples in the movie, including Seth MacFarlane and
Charlize Theron, Amanda Seyfried and Neil Patrick Harris and Giovanni Ribisi and Sarah Silverman. The other couples were hired locally in New Mexico, along with five dancers from New York. Of the rehearsal process, Charlize Theron shares: 'We started rehearsing maybe two or three weeks before we shot it. I think everyone had a great time with it; it was so out of the ordinary. I have never been asked to do that in a film before and I am not sure if anyone else had either, so we all just embraced it. We just became kids. And, you can tell everyone loved it."
No stranger to the bright lights of performing multiple song and dance numbers on Broadway, Neil Patrick Harris enjoyed having Rob Ashford and associate dance choreographers Chris Bailey and Sarah O'Gleby (Beyond the Sea, West End's Guys and Dolls) on set. But it didn't all come easy to the performer. Neil Patrick Harris explains: 'We had to rehearse it for multiple days and sessions. Rob Ashford and Chris are people I've worked with on the Tonys, so they really know what they're doing and made it fun to learn. The hardest part was the second half where all the guys end up in one corner of the barn and they're doing a dance toward Albert. It was physically grueling, and we filmed it for four days in a row overnight in a barn"an actual barn filled with dust."
Rob Ashford explains that, in the end, it was all worth it: 'The number tells a story. It's like a number from a musical. So you have that information on the page, which is ver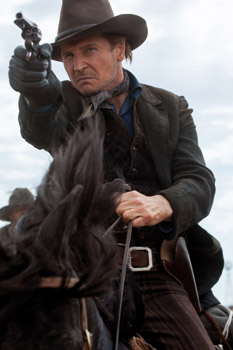 y exciting for a choreographer. It's also exciting to try and mold something, which is more like doing the opening number for the Oscars®. It's always a great challenge to use the characters to tell the story and move the film along with the dancing."
With a title song for the film performed by none other than country superstar and two-time Grammy Award winner Alan Jackson, who has sold more than 60 million albums, as well as with music by McNeely and lyrics by MacFarlane, A Million Ways to Die in the West was ready to ride into theaters.
Seth MacFarlane concludes with his hopes for the project: 'I wanted to find a way to make this period accessible to the modern day, and that's what I hope this will be and what people take away from this. If there's one thing I can say it is that we're really proud of this, and I hope that we managed to crack the period comedy puzzle."
A Million Ways To Die In The West
Release Date: May 29th, 2014