Liam Neeson Non Stop
Cast: Liam Neeson, Julianne Moore, Michelle Dockery, Scoot McNairy, Nate Parker
Director: Jaume Collet-Serra
Genre: Action Thriller
Rated: M
Running Time: 106 Minutes

Synopsis: In Non Stop, U.S. Air Marshal Bill Marks learns he has only hours to find a killer aboard a transatlantic flight. What follows is a nail-biting cat and mouse game played at 40,000 feet, with the lives of 200 passengers hanging in the balance.

Non Stop
Release Date: February 27th, 2014



About The Production
Preparing for Takeoff Non-Stop Is Greenlit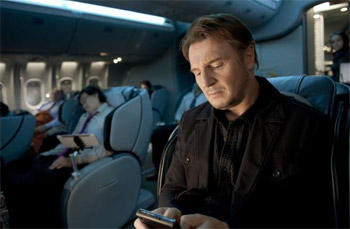 Non-Stop proved to be an apt title for the reunited team of director Jaume Collet- Serra, star Liam Neeson and producer Joel Silver, whose Unknown took the worldwide box office by storm. Their latest collaboration began with one of those instances in which a spec screenplay gained instant momentum. Although writers Chris Roach and John Richardson had not had a script produced, their high-adrenaline whodunit garnered attention from many executives among the industry… especially Joel Silver.

In this story of a man in need of redemption, we are introduced to the tortured Bill Marks, who, by all appearances, has given up on life. The ex-NYPD cop sits in his filthy car at the airport finishing off the last of his scotch…and then we realise this is actually his pre-work routine as he attempts to muster up any interest to do his job. Clearly, this is a man who is lost. As he prepares to board the 767 for what should be a routine flight, the alcoholic Marks is on edge. He just wants to punch his time card and fly to Europe and back as fast as possible without any aggravation.

During the check-in and boarding process, bleary-eyed-but-surprisingly-sharp Marks encounters some fellow passengers who will soon become quite familiar to us, and he exchanges knowing glances with flight attendant Nancy, whom he seems to know well. As the plane lifts off for London, nothing seems out of the ordinary, and he settles in for a six-hour trip.

Shortly into the flight, we discover that Marks is a U.S. Air Marshal. He begins receiving text messages over the plane's secure network, demanding that he force the airline to transfer $150 million into a secret account or a passenger will be killed every 20 minutes. When he realises that the sender is someone on board and deadly serious, the race to solve the mystery begins. The rest of the story plays out almost in real time as Marks"without the support of a ground team"wrestles with who is actually trustworthy, while the terrified crew and passengers wonder whether it is Marks who is trying to take down their plane.

Joel Silver quickly sent the script to Liam Neeson to gauge his interest, and the star had a similar reaction as his producers. Explains Joel Silver, who has produced such legendary actioners as Die Hard and Die Hard 2, as well as all of the films in the Lethal Weapon and The Matrix series: 'When Liam Neeson read the script, he said, "I couldn't put it down. Let's make this movie.. He knew that it grabs you and it doesn't let you go. It has an incredible mystery in the middle of it, and you don't know who to trust. You are left suspecting anybody and everybody."

Rona, the then-president of Silver Pictures, recalls that the script the team received was the definition of a page-turner: 'The minute you started reading it, you couldn.t stop. On every other page there was a twist you couldn't see coming. It is rare that you have a script where you sit down on the first read and say: 'This is a movie.. Non-Stop was that."

As Joel Silver offers, filmmakers have an incredible opportunity with and a unique gift in Liam Neeson: 'Liam Neeson is a phenomenon. He has been thought of as this great actor for his entire career, and suddenly, later in his life, he has become an action star. You never take your eyes off him."

The producer reflects that not only is Liam Neeson's ferocity plausible"the former boxer has an imposing physicality that matches his intense line readings"but his vulnerability makes the audience love to see him in this kind of role: 'Liam Neeson is an actor who the audience supports the second they see him. They want him to succeed and not get hurt. They want him to be okay and to get rid of the bad guys and do what he has to do. You go on this ride with his character, Marks, and sense his despair in not knowing what to do or where to go. Th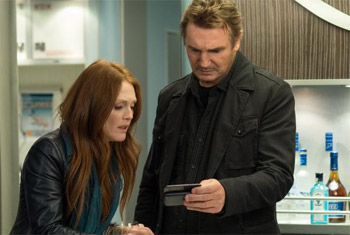 en you realise how good he is when he figures it out, which is what makes for an exceptional cinema experience."

Joel Silver appreciated the manner in which the story's puzzle elements evoked classic Hitchcock whodunits, and how writer Ryan Engle's contributions made the screenplay perfect for Liam Neeson as their leading man. The producer knew that audiences would enjoy being taken on the journey with Marks and watching as the mystery unfolds through his perspective. Indeed, the filmmakers designed the film so that there would be only a mere eight minutes from the second that Non-Stop opens until the hatch of the plane closes and our passengers are inside. When that door shuts, the audience is locked into the story alongside the characters, on a speeding bullet at 500 miles per hour.

Set against the backdrop of a claustrophobic environment"traveling at high speeds over the middle of the ocean"the killer is somewhere inside this plane with us. Indeed, although there are a number of red herrings, the discovery of who is behind the crimes is left until the very end. Joel Silver sums: 'There are a couple of scenes in the airport at the beginning of the movie, but virtually every scene takes place on this plane. The film is a heart-pumping ride and a visual spectacle that puts you on the edge of your seat. You don't know who to trust, and you.re left suspecting everyone."

Liam Neeson's transition early in his career from serious dramatic actor to global action star has been well documented by the press and marvelled at by his peers. Still, he takes nothing for granted. 'I was thrilled when Joel Silver called me up about this," the actor says. 'I literally couldn't stop turning the pages."

The performer admits that he was drawn to the role of Bill Marks because of the Character's flaws and the fact that the ex-cop has to earn the trust of the passengers and the audience at the same time. Liam Neeson observes: 'When we see Bill in the start of the film, he's a guy on the edge and someone you don't want to sit beside on a long-haul flight. The finger of suspicion points to him for quite a period. But I was drawn to him because in a very basic, cinematic, iconic-figure way, he fits that mould of someone who   does what he has to do to save the day. He's an everyday guy who rises to the challenge."

Joel Silver was certain that the combination of Jaume Collet-Serra directing and Liam Neeson starring would make for the perfect pairing to tell this type of pulse-pounding story. 'Jaume Collet-Serra's talent is his ability to create tension and delve into character," commends the producer. 'He knows how to create those moments of tension, and he puts us into a plane in a way that we.ve never seen before. He's becoming a very important director, and I'm proud that we.ve been able to do these four movies with him."

For Jaume Collet-Serra, who has worked with Joel Silver on three previous films"House of Wax, Orphan and Unknown"the fast-paced mystery of Non-Stop was quite appealing, as was the chance to conquer his own fears. Says the director: 'I'm terrified of flying, and this is one of the reasons why I did this movie. I wanted to explore my fear of flying and, as a director, my fear of doing a movie in one location."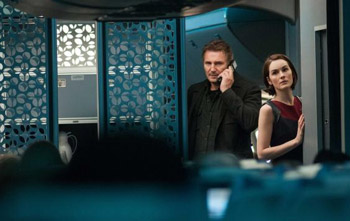 He appreciated the psychological elements of the script that explore human behaviour in a confined space. Says the director: 'I'm a big fan of movies like Murder on the Orient Express, where there's a number of people traveling and everybody has an agenda. This is a movie like that where you meet a bunch of people and you don't know who they are. You know what they appear to be, but in this movie they reveal who they really are. When you.re in the plane and things go wrong, that forces you to reveal your true personality. Who are you going to choose to be? Are you going to be the hero? Are you going to confront the problem?"

Jaume Collet-Serra was also thrilled to have another chance to work with his Unknown leading man. In fact, their third film together, Run All Night, recently wrapped production. The filmmaker shares: 'When I read the script, I couldn't imagine anybody but Liam Neeson playing this part. We had such a great creative partnership on Unknown. Liam Neeson brings a lot of credibility to the characters that he plays, and he has this gift that you just believe him. You like him right away, and in the kind of movies that I like to do"fast- paced and energetic ones"we don't have a lot of time for extended character development at the film's beginning. It's important to have an actor who can speak to the audience emotionally from the start. Liam Neeson is the perfect actor for these types of movies." Liam Neeson appreciates all that the Spanish-born director brings to a set. He explains:

'Jaume Collet-Serra's a passionate filmmaker. His knowledge of cameras and the accoutrements of shooting a movie is phenomenal." In addition to his director's technical expertise, what Liam Neeson appreciates is Jaume Collet-Serra's sensitivity to performances. 'Jaume Collet-Serra has an innate sense of the truth in front of the camera with his actors. He knows if something is too much or too little and can convey that information in a very concise way. It's always very comfortable working with him."

Non-Stop marks producer Alex Heineman's third project with Joel Silver. He agrees that the intensity of Roach, Richardson and Engle's screenplay is enhanced by the ticking clock and confined space of the situation in which Marks finds himself. Indeed, the idea of being trapped on a flight-gone-wrong is a very tangible one for the audience. He shares: 'Many people have fears about going on a plane and something happening during the flight. This taps right into that." In this thriller, as Alex Heineman says, 'Jaume Collet-Serra puts you in the mind of Marks. From the opening frame, you feel like you.re in his head and experiencing this ride with him."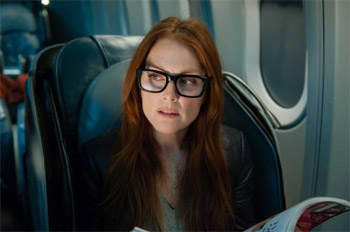 Passenger Manifest: Supporting Cast

With their leading man set, it was time for the filmmakers to find the supporting cast. The first stop on the search would be for Non-Stop's leading lady, Jen Summers, played by incomparable Golden Globe Award winner Julianne Moore.

After boarding the plane, Marks is soon seated next to Summers, and Jaume Collet-Serra explains the character's role in the thriller: 'Normally, when you get on a flight you.re sitting next to a person who you.re probably never going to see again. Sometimes a conversation happens, sometimes not. In this movie, Liam Neeson and Julianne Moore play two strangers who are forced to work together because of the events on the flight." Jaume Collet-Serra was thrilled to have Julianne Moore, who had previously co-starred with Liam Neeson as his wife in Chloe, portray Marks. seatmate: 'They have incredible chemistry."

Having a performer of Julianne Moore's caliber play opposite Liam Neeson elevated the scenes, suggests Joel Silver, who had first worked with the actress years ago: 'Julianne Moore's an incredible person. She's funny, beautiful and a phenomenal actress. She has known Liam Neeson for some time, and it was his idea to go after her for the part. They.re perfectly paired together in the film, and she loved the role. For a period of time, you actually believe her character might be responsible for what's going on."

Julianne Moore feels as if the script for Non-Stop is reminiscent of disaster films like The Towering Inferno, thrillers in which the characters are trapped in high-stakes peril. She explains: 'I like the idea of everybody in a tight space experiencing the drama at the same time. It reminded me of a .70s movie where you have all these people in a dangerous situation, and it moves very quickly. You don't know what's going to happen; you don't know who the bad guy is. There's a high level of suspense."

Discussing her draw to the character, Julieanne Moore offers that she was curious about Jen's mysteriousness: 'She is someone who comes on with a lot of presence and is actively seeking a window seat, but you don't know why. You get to know her as the movie unfolds, but you don't know what her complete backstory is because she's elusive in telling it."

For Julieanne Moore, Jaume Collet-Serra's commitment to specificity and respect for his team permeated the production: 'Jaume Collet-Serra is a wonderful director, and he clearly put a lot of time and effort into the direction of this film. He knows exactly where his edit points are, and he shoots to that. He's not somebody who shoots and shoots and says, 'I'll figure out where this goes later... He's editing as he goes, and he knows how each shot cuts to the next. Because of that there's very little time wasted. He's a master at building suspense and drama and was absolutely delightful to work with."

She extends those sentiments to her fellow lead. Julieanne Moore reflects on Liam Neeson's draw: 'Liam Neeson is a tremendous actor, a wonderful talent and a great person. In a piece like this, where he's this big action hero, you need to believe him. You believe him as this character"somebody with integrity and a desire to solve the problem."

In Non-Stop, Liam Neeson and Julianne Moore are supported by a stellar troupe of fellow performers, known for their work in film and television alike. Producer Silver, an admitted fan of Downton Abbey, was excited to have Emmy-nominated Michelle Dockery aboard the production. For the actress, now famous for the role of the sometimes-haughty Lady Mary, playing a less-patrician flight attendant was refreshing. The character, Nancy, she explains, 'is this very tough, working-class northern girl who seemingly is fresh and smiley, as most flight attendants are. But from her background, she has a real toughness underneath."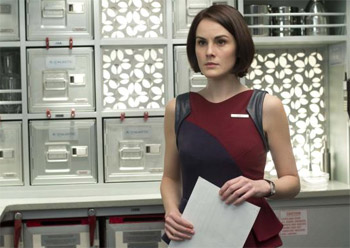 As for Nancy's connection to the air marshal, it's at first unclear what their relationship entails. Michelle Dockery explains: 'Nancy and Bill have a familiarity. They.ve been on the same flights together, and she has witnessed a few of his drunken states during those times. She's aware of his issues, and that's why she becomes someone that he reaches out to as an ally; she knows him so well."

Although the actress has not previously appeared in a thriller, she admired Jaume Collet-Serra's ability to juggle multiple technical challenges while still keeping his primary focus on his actors. Michelle Dockery notes: 'Jaume Collet-Serra gives you the freedom to play around with a scene. He encouraged us all to have fun with it, even if it was an intense, serious scene or moment. I was impressed with how he dealt with the constraints and the technical challenges that were set in his way."

Several of the supporting cast members"and potential terrorists"aboard the harrowing flight add to the tension and provide what producer Silver commends to be 'a fantastic ensemble." The key cast include Corey Stoll, who has received critical praise as a drug-addicted politician on the Netflix original series House of Cards (and will soon star in Guillermo del Toro's television series The Strain), as the flight's NYPD cop Austin; Scoot McNairy, the stellar character actor in such films as 12 Years a Slave and Argo, as the nebbish Tom; and another rising star, Nate Parker of The Great Debaters and Arbitrage, as technology expert Zack.

Tony-nominated New York-based performer Omar Metwally portrays passenger Dr. Fahim Nasir, a role that plays upon audience expectations. Omar Metwally shares: 'Fahim is a doctor from England and an observant religious Muslim, so he starts to attract the suspicion of some of the other passengers. Rather than shying away from the stereotype, Non-Stop explores it. I imagine the audience will be thinking, 'It can't be him because he's too stereotypical, but then maybe it's so obvious that it is…. The film is cool in the way in which it sets up these different passengers, and we get to know them piece-by- piece. Jaume Collet-Serra takes us on a journey with each character so that we're going back and forth. We trust them, and then we don't."

Anson Mount, star of the popular television series Hell on Wheels, plays Jack Hammond, the flight's second air marshal, and the thorn in Marks' side. Anson Mount enjoyed the chance not only to act opposite Liam Neeson, but to engage in stunts on set: 'It's great to work with Liam Neeson in an action capacity, because he's infinitely patient and likes nailing all the physical stuff. You have to be willing to work when you do action. You have to be willing to rehearse and deal with the choreography and prepare for some slow, slow days."

As for those slow days, Scoot McNairy, who plays passenger Tom Bowen, jokes that spending 12 hours a day on the plane set was akin to 'waking up every morning and flying to Australia." But he was grateful for the opportunity to work with the filmmakers and his fellow cast, who developed a solid rapport with one another. Truly, on technical days, they would spend downtime together in the trailers watching such comedies as Airplane!.

Wrapping the supporting cast are Oscar® nominee and Screen Actors Guild Award winner Lupita Nyong'o, who has received many additional critical lauds for her work in 12 Years a Slave, as Nancy.s fellow flight attendant Gwen, as well as her crewmen: English performer Linus Roache as David, the pilot of the 767; American actor Jason Butler Harner as Kyle, his co-pilot; and Silver Linings Playbook's Shea Whigham as Agent Marenick, Marks. TSA contact at headquarters who refuses to allow a paranoid alcoholic to run his show.

Terror at 500 MPH: Designing and Filming the Thriller

Shooting on an accurately sized airplane was a potential hardship for both the cast and crew, but production designer Alexander Hammond explains that it helped that the director understood how it would affect everyone's work"in front of and behind the camera: 'Jaume Collet-Serra is wonderfully straightforward about story and action; he is a great director for saying, "This has to be a space that works for me and the actors.. He was most concerned with where, physically, all the people on the plane would go. He needed to see how the blocking worked and if the space was conducive to the action that's written in the script. In addition, he wanted to know how you create this thing."

From Die Hard and Die Hard 2 to Executive Decision, Joel Silver has a long history of lensing blockbuster thrillers set partially or mostly on aircraft. The producer believes Jaume Collet-Serra and his team"led by cinematographer Flavio Labiano"have broken new ground with the techniques they used to lens Non-Stop. He compliments: 'Jaume Collet-Serra puts us into the story and characters"as well as into the plane"in a way we.ve never seen before. Because of the manner in which the team has built cameras into the plane, they.ve given us a unique way of showing this kind of story. They are supported by a top-notch visual effects team led by Prime Focus World, allowing us to believe everything we're seeing is real."

As well, Jaume Collet-Serra's use of modern cameras supports the decision to have the audience stay on the craft the majority of the time, as opposed to intercutting back and forth with the outside world. That was a choice that set well with Joel Silver. He says: 'Usually in these types of thrillers, the director is always cutting away. We don't cut to mission control. There are people who communicate with our crew and Marks, but you rarely leave the people that we.re dealing with on the flight. Although we start the film outside and it ends outside the plane, the rest of the movie we don't leave it. That confines the audience, and you realise that everything that's happening is in this space."


The director was not intimidated by the idea of creating action scenes on a small set. He envisioned that the contained environment would actually make for a more visceral film experience. Says Jaume Collet-Serra: 'Shooting action in tight places presents a technical challenge, but ultimately that pays off exponentially because people feel they are much closer to the action. The audience is going to feel like they're on this plane, and the action involves them and feels like it's happening all around them. You can do a lot of car chases and motorcycle chases, but having fights happen around you in a tight space is much more intense than your regular action movie."

Aside from a few scenes lensed at JFK Airport and an airport runway on eastern Long Island, Non-Stop was filmed entirely at a soundstage in Brooklyn, New York, that was just large enough to house the airplane set. For the design team, it was a bit like building a ship in a bottle. The 158-foot-long movie aircraft, modelled on a 767, had 29 first-class seats and 159 coach seats, and was constructed so that the sides of the plane could be raised up for a variety of camera placements. As Hammond, the production designer behind Flightplan, sums, 'just like an old Gullwing Mercedes."

Although it was a vessel that would never have to take off, the Non-Stop plane needed to be able to move. A thrilling sequence involved tilting and shaking the plane, and suspending the actors on cables to simulate their being thrown around the cabin. All of this work, done at the end of the shoot, had to be well-planned in advance, says the production designer. 'The back third of the aircraft was on a teeter-totter rig, so it could go up and down and jerk. It went about 13 degrees because of how big our stage was and how much rigging we had up on top of the set."

The special effects department attached shakers to multiple places around the perimeter of the plane that moved out of sync with one another, resulting in a harmonic vibration. Reflects Alexandar Hammond: 'Between that and camera shake, and even some visual effects shake at the end, the special effects rig shook this set as hard as I'd want a set to be shaken."

In building the plane, Alexandar Hammond and his team made modifications to the standard airplane aisle width to allow for film equipment and to the ceiling height to allow for the film's quite tall leading man. As Alexandar Hammond explains, 'You're dealing with an actor who's in shoes, 6 foot 5, in an airplane…which is a very small set. You don't want him right at the ceiling. You have to set up the volume of the space so you can film him and the other actors without getting crazy eye lines, but also so you feel every shot isn.t claustrophobic for him."

After giving the crew and the cast extra room to breathe, Alexandar Hammond used a bit of design trickery to visually shrink the plane to standard size. He explains: 'We put lights on the floor that were always illuminated, which gives you a visual compression of space in the aisle. So when you're thinking about how big the aisle is, your eye actually picks up the lighted floor strip, and it makes it feel smaller."

From the beginning of preproduction, it was important to the design team to incorporate elements of a plane that an average flier wouldn.t know were there but would definitely experience. Continues the production designer: 'We wanted to do this in a way that's a bit similar to what Virgin Airlines does now. With new international aircraft, there's a different kind of thought put into lighting systems. There are moods for when you first enter the aircraft: when you.re all bright and announcements are on, and then when it is night and people are sleeping."

The lighting incorporated into the plane was also a way for Jaume Collet-Serra's crew to expedite moving smoothly from scene to scene during the course of a shoot day. Shares Hammond: 'We had about 3,000 practicals [lights] on the plane, if you include all the LED strips. The built-in light was basically controlled by the DP and the gaffer, so we didn.t have to do a lot of lighting of the environment. You still had to light actors, but the environment lit itself once all of those systems were in place. It made it fairly quick to go from setup to setup: night in one and day in the other and dawn in the next."

There was one small piece of the set that was separate from the body of the plane: a duplicate of the airplane bathroom, in which a key fight scene occurs between our hero and another passenger. To shoot the sequence, the filmmakers used both the bathroom on the plane and the duplicate, which resembled a wooden box the size of a phone booth, to enable better camera positions for DP Labiano's crew.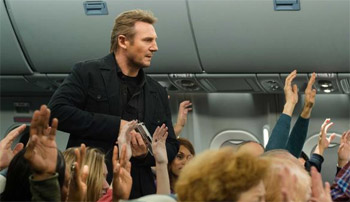 Alexandra Hammond explains that the script had unique opportunities and took advantage of the plane's character: 'That made it fun to design the actual plane with surprising choices. One of the biggest fights in the film takes place in an airplane bathroom with Liam Neeson and another guy who is not a small guy, either. They put two large men in that tiny bathroom and Jaume Collet-Serra wanted to go for it. The idea of a fight in a small space was something he very much embraced, and instead of saying, 'No, let's make a really large bathroom, he said, 'Let's make it real. because it gave an energy to that fight and a different kind of choreography than would have happened otherwise."

Joel Silver knew that the technical accuracy would only add to the believability of the story and worked with Jaume Collet-Serra's team to ensure authenticity. The filmmakers took great pains to make sure that what the audience sees is authentic. By drawing upon professional relationships and consulting with TSA officials, flight attendants, pilots and former U.S. Air Marshals, they were able to get into the minds of those who have served on board an aircraft and find out exactly the manner in which they would behave if a terroristic threat came about mid-flight.

Experts were also on hand to advise the key cast on how to handle weapons on an aircraft and how they could be deadly in a quick, confined way. Stunt coordinator Mark Vanselow, who has worked on many films with Liam Neeson, shares how he worked with Alexandra Hammond's set: 'We reverse-engineered the bathroom scene from what those characters would be able to do and what their skill set would be. They aren.t necessarily martial-art experts, but the airplane is their home and where they train, so we created a scenario where you have two evenly matched people and we demonstrated how surprising that would be. Then you take into consideration the space. A lot of techniques work great in open space, but when you.re confined, they don't work at all because your elbow doesn't work this way or the force of a hit is different in tight quarters."

The special training extended to the film's in-flight crew, says Michelle Dockery: 'We had a flight attendant who came in to do a seminar with us. We were taken through various things"mainly safety procedures, how you present yourself, how you would deal with someone who was being aggressive and the things that you would and wouldn.t know. I learned a lot about protecting the cockpit. Actually, the flight attendants are very wary of anyone getting close to the cockpit door, and there are various methods in how they deal with that."


Non Stop
Release Date: February 27th, 2014