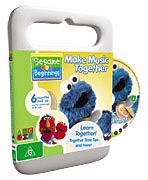 As you share this DVD with your young child, you can explore language, rhythm, and sound with your favourite Sesame Street friends as babies. Be there when Elmo's daddy swings and sings with Baby Elmo to "Swing Baby Swing!"
Shake along as Baby Prairie Dawn and her mummy make music and sing to "Shake Baby Shake!" Make Music Together is filled with delightful, easy-to-sing songs, and great ways to share the joy of music and dance with your baby throughout the day.
With Sesame Beginnings, every time you and your baby laugh and connect over a silly song or a funny game, you encourage your child's curiosity and interest in learning. Special appearance by Wayne Brady and his daughter, Maile.
Rated: G
Duration: 31 mins.
RRP: $19.95
Order Now from Chaos
Order Now from Sanity