Season of Salt and Honey
From the author of The Colour of Tea comes a heart-warming novel of love, grief and antipasto. Set in the idyllic Washington forest and accompanied with gorgeous Sicilian-American recipes, Season of Salt and Honey takes us on an inspirational, mouth-watering journey of the senses. This is one of those rare books that warms you from the inside out, a delightful read that will inspire all foodies.

Francesca 'Frankie' Caputo has it all figured out. She's finally going to marry the man she loves and then they will live happily ever after. But when a freak accident cuts her fiancé Alex's life tragically short all of Frankie's future plans suddenly disintegrate. Drowning in grief, Frankie flees from her overbearing Italian-American family, and escapes to an abandoned cabin owned by Alex's parents in a remote part of Washington forest.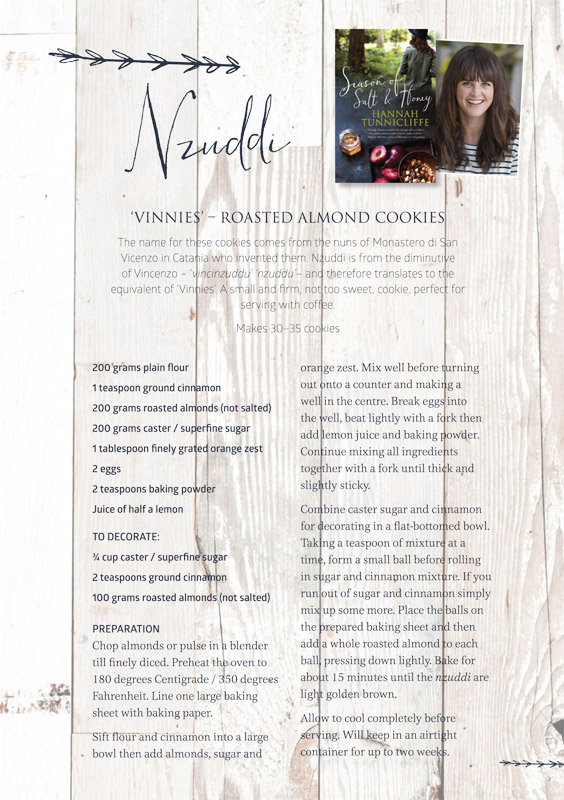 While seeking comfort in solitude, Frankie reluctantly connects with her forest neighbours - the effervescent, flame-haired Merriem, kind and handsome Jack and his sprite-like daughter, Huia. As her heart slowly begins to heal, Frankie discovers a freedom that's both exhilarating and unsettling to everything she has always known for sure.

So when secrets she's buried and her old life come crashing back in, Frankie is faced with a life-altering decision. Will she slip quietly back into her safe, former existence? Or will a new and stronger Frankie Caputo stand up and claim her new life?

Born in New Zealand, Hannah Tunnicliffe is a self-confessed nomad. She has previously lived in Canada, Australia, England, Macau and, while travelling Europe, a campervan named Fred. She currently lives in New Zealand with her husband and two daughters, having happily ditched a career in Human Resources to become an author. When she is not writing or reading she can usually be found baking or eating and sometimes all four at the same time (which is probably somewhat hazardous). She is founder and co-author of the blog Fork and Fiction, which, unsurprisingly, explores her twin loves - books and food. Season of Salt and Honey is her second novel.

Season of Salt and Honey
Pan Macmillan
Author: Hannah Tunnicliffe
ISBN: 9781447244479
RRP: $29.99



Interview with Hannah Tunnicliffe
Question: What inspired you to write Season of Salt and Honey?

Hannah Tunnicliffe: Two things inspired me to write Season of Salt and Honey - firstly, the persistent idea of the protagonist, Francesca "Frankie" Caputo, who is grieving the loss of her high-school sweetheart and secondly, the beautiful Pacific NorthWest Coastal rainforest, which is where the novel is set. I lived in Vancouver for a few years where I fell in love with the giant trees and rain and grey skies. My eldest daughter was born in Vancouver so that part of North America holds a very special place in my heart. As for Frankie, she kept waking me up at night. I used to turn to my husband and tell him - "I've got to help this girl" (Yup, writers are completely mad!)


Question: Which of the Sicilian-American recipes holds the most memories, for you?

Hannah Tunnicliffe: "Polpette" (meatballs) are simple and standard Sicilian fare and the food Frankie's Aunty sends to give her sustenance and reassurance. Of all the recipes in Season of Salt and Honey this is the one I'll be using again and again and getting sauce spots on the pages! I worked on the recipe with the help of Aussie-Italian, Alfie Spina, Head Chef of Gusto restaurant, learning tips and tricks to make the polpette juicy and the sauce tasty. This is comfort food at its best.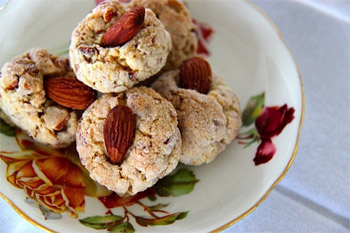 Question: What was the best thing about creating the character of Francesca 'Frankie' Caputo?

Hannah Tunnicliffe: The best thing about creating any character is helping them along on their journey. It's painful to lead them into confusion and heartache but hugely satisfying when you can lead them out again - towards love and hope. Frankie is like a good friend to me - she's loving and loyal and baffled and simply trying her best. I really hope readers love her as much as I loved writing her.


Question: Why did you decide to begin writing novels?

Hannah Tunnicliffe: I began writing novels after a decision to press pause on my career in Human Resources. I was living in China at the time and was burnt out after six day weeks and twelve hour days. I had studied career counselling, so I had the idea that I would take a break and explore my "natural curiosities". I spent a year going down any rabbit hole that looked appealing! I travelled part of the old Silk road in China, learned how to make macarons, helped fundraise for a local orphanage and wrote 1,000 words a day. My first novel, The Colour of Tea, was born from those explorations and now I'm both thrilled and stunned to call writing my job.


Question: What's next, for you?

Hannah Tunnicliffe: I'm very excited about two new manuscripts I am currently working on which are both set in gorgeous locations featuring delicious food. Did I mention I love my job?! Aside from writing novels I co-author the blog - www.forkandfiction.com - with my friend and fellow author, Ria Voros and care for my two little girls. I bake and eat and dream a lot so there is always food and news to share. I will keep you updated!


Interview by Brooke Hunter