SARAH POLLEY TAKES ON DIFFICULT SUBJECT AS FILMMAKER.
EXCLUSIVE Interview by Paul Fischer
Canadian born Sarah Polley has had more than a distinguished career as an actress in both Hollywood and Canada. A professional actress since the age of four, Sarah Polley's diverse career took her from child star in her native Canada, to an acclaimed adult performer whose fiercely independent streak applied to both her demeanor and her choice of films. Along the way, she impressed audiences in features ranging from Atom Egoyan's heart-rending drama "The Sweet Hereafter" (1997), to Zach Snyder's "Dawn of the Dead" (2005) - even finding time to make her directorial debut with "Away From Her," which earned rave reviews from critics around the globe.
Born Jan. 8, 1979 in Toronto, Canada, Polley's parents were both involved in show business - British-born father Michael and older brother Mark were actors, while mother Diane and half-brother John Buchan were casting directors (both also acted, and Buchan produced several films). Polley's interest in acting was sparked at age four after seeing her brother's work, and despite her parents' protests, landed her first role on the Canadian crime series "Night Heat" (CTV/CBS, 1985-89) in 1985. That same year, Polley had a small but memorable role as a young girl whose family is too poor to buy presents in the light-hearted Disney fantasy "One Magic Christmas" (1985). The modest success of that film lead to more television work and features in Canada and the United States, most of which - "Hands of a Stranger" (1987) and "The Big Town" (1987) with Matt Dillon - were largely forgettable. In 1988, Polley starred as children's novelist Beverly Cleary's precocious heroine, Ramona Quimby, in the PBS series "Ramona" (1988), which, despite running for only 10 episodes, attracted a devoted following.
That same year, Polley landed a starring role in Terry Gilliam's epic fantasy "The Adventures of Baron Munchausen" (1988). Though visually impressive, the film ran perilously over budget and schedule, and Polley herself recalled being placed in harm's way throughout the production. The experience was so traumatic, that Polley swore to never appear in another big-budget Hollywood film, prompting her in 2006 to write an e-mail to Gilliam (which was printed in Toronto newspapers) that asked him to show more concern for the welfare of a young Canadian actress whom he had cast in his film "Tideland" (2006).
After the "Munchausen" ordeal, Polley returned to Canada and found consistent work on television. She earned a Gemini for her performance in the Disney Channel feature "Lantern Hill" (1990), which was based on a book by popular Canadian young adult author, Lucy Maud Montgomery. Polley's connection to Montgomery's work continued with the Canadian/U.S.-produced TV series, "Road to Avonlea" (Disney Channel, 1989-1996). As an 11-year-old heiress who is sent to live with her mother's family on Prince Edward Island at the turn of the century, Polley was top-billed in the period drama and both she and the series received overwhelming acclaim by its primary audience of pre-teen girls.
But a pair of tragic events in Polley's personal life helped to turn her away from the warm, apple-cheeked world of "Avonlea" and mainstream entertainment on the whole. First, Polley's mother passed away two days after her 11th birthday; later that same year, she underwent painful treatment for a case of scoliosis (which was corrected with surgery when she was 15), a malady that forced her to drop out of a stage production of "Alice Through the Looking Glass." Both situations opened Polley's eyes to a world beyond acting. She began growing interested in politics and culture instead - and this newfound curiosity did not sit well with her employers. After refusing to remove a necklace with a peace symbol at an event, Disney executives soured on her, and she eventually left "Avonlea" in 1994.
After "Avonlea," Polley departed from secondary school and pursued political activism with a vengeance - to the point that a police officer knocked out her front teeth during a rally in 1995 - only dabbling in acting. But a small role in a Canadian arthouse filmmaker's "Exotica" (1990) lead to a film that would reinvigorate her career and recast her as a mature leading lady with limitless potential and talent. Egoyan's "The Sweet Hereafter" (1997) told the story of a fatal school bus crash and the effect a court case has on its survivors and the families of the deceased. Polley riveted critics and audiences as a wheelchair-bound survivor whose horrific family life has a dramatic impact on her testimony. The film also featured four songs performed by Polley and its composer, Mychael Danna. For her efforts, Polley won the National Board of Review's award for Best Acting by an Ensemble - which she shared with the entire cast - among other laurels.
Meanwhile, Polley was winning more accolades for her performance as a Goth-styled teen in the much-loved but short-lived Canadian TV series, "Straight Up" (CBC, 1996-98). Polley took home her second Gemini for her work on the show in 1998. Its early demise opened the door for the actress to make more features. From 1998 on, she appeared in a string of critically acclaimed independent features in her native country and the United States, including David Cronenberg's "eXistenZ" (1999), Doug Liman's sleeper hit "Go" (1999), and Audrey Wells' bittersweet romance "Guinevere" (1999) - the latter about the relationship between a middle-aged photographer (Stephen Rea) and a younger woman (Polley). Allegedly, both actors imitated their on-screen affair in real life for a brief period of time.
But the attention garnered by these films was not to Polley's liking - she famously vomited after being barraged by photographers at the premiere of "The Sweet Hereafter" - and turned her back on bigger fame by quitting Cameron Crowe's "Almost Famous" (2000) after three months of rehearsal. Polley, who was cast as super groupie Penny Lane, returned to Canada and contemplated her future for several months, before exorcising her creative demons with her first effort as a writer-director - a short film called "Don't Think Twice" (1999). Pleased with the experience, she made several more shorts, including 2001's "I Shout Love." She also began a relationship with her "Don't Think Twice" editor, David Wharmby, whom she married in 2003.
Meanwhile, Polley's acting career continued to yield impressive results. She remained rooted in independent features from 2000 on, working with such noteworthy directors as Michael Winterbottom on the period drama "The Claim" (2000) and Hal Hartley in "No Such Thing" (2001), a curious updating of "Beauty and the Beast." Polley received some of the best reviews of her career as a low-income mother dying of cancer in the heart-rending "My Life Without Me" (2003) for director Isabel Coixet, with whom she reunited in 2005 to play a deaf factory worker who cares for a severely burned oil rig worker (Tim Robbins) in "The Secret Life of Words."
Polley made her most commercial film to date in 2004, starring in the colossal horror hit, "Dawn of the Dead," but in typical fashion, she returned almost immediately to the comforts of Canada and the independent world. In 2006, she appeared on five episodes of the much-loved Canadian TV comedy "Slings and Arrows" (TMN, 2003- ), which also starred her father Michael. That same year, she and husband Wharmby teamed for her feature directorial debut, "Away From Her" which finally begins iys theatrical run. This difficult, complex and moving film is based on a short story by Alice Munro. Polley skillfully directed her exceptional cast, which includes Julie Christie, Olympia Dukakis, Michael Murphy, and Canadian actor Gordon Pinsent, through a story about a man who struggles to care for his Alzheimer's afflicted wife, even after she falls for another man at her nursing home. The picture generated largely positive reviews and brought awards from several international film festivals - plus a lot of light on Polley as the whole package.
In this exclusive interview, the gifted actress and director talked to Paul Fischer.
Paul Fischer
: How personal a film was this for you to make? I mean did you come upon it through personal experience or was it just, you know, the story of this woman that you just loved so much?
Sarah Polley
: Yeah I think it was really being, you know, completely taken and moved by the story. And it's a profound portrait of what unconditional love can mean in a long marriage and I think it. maybe it was personal in the sense that I was at the beginning of a long relationship and looking forward to what it was like at the end was really, really fascinating to me. And I think also the fact that, you know, I watched my father losing my mother to cancer when I was eleven and watching a man lose the love of his life I think was something that really spoke to me.
Paul Fischer
: Was it a difficult film for you to get made? I mean even though you've already got this extraordinary track record as an actor, how challenging was this for you?
Sarah Polley
: This film actually happened relatively easily. I had actually been trying to make another film for about three or four years before this one which never happened and that one wasn't easy and then this script really, you know, I think there were people who helped finance the film who were really affected by their experiences with their aging parents or by Alzheimer's disease so they had a personal urge or need to see it made.
Paul Fischer
: You had worked with Julie just prior to doing this as actors. Was that the impetus for getting her involved as an actor for this movie?
Sarah Polley
: It was in the sense that I wrote the story, or I mean I wrote the script based on the story really based on imaging her in this part and we had worked together actually before that even on a Hal Hartley film about six years ago. And it was right after I had worked with her the first time that I came across this short story and I think one of the main reasons for wanting to make it into a film was to see Julie play this part so it was pretty hard for me to imagine the film without her.
Paul Fischer
: How close to the short story is the screenplay?
Sarah Polley
: It's very close actually. I mean there are things that are adapted, you know, structural changes and the relationship with Marian is very much more fleshed out in the screenplay than it is in the short story and there's also a lot of things I've added in the retirement home.
Paul Fischer
: Clearly being an actress must give you so much insight into directing, particularly the women in this and Julie obviously is a key. How vital was your background as an actor in getting her performance perfect?
Sarah Polley
: You know I don't have anything else to compare it to but I do know that the best directors that I've worked with develop very specific languages to communicate with each actor and each actor needs something so fundamentally different from them. So I found it was a matter of getting to know what each actor really needed and it helped that I knew Julie already, I knew Olympia already in terms of, you know, finding out what our language was going to be.
Paul Fischer
: This is such an emotionally complex film. Was it hard to leave it behind when you were done?
Sarah Polley
: It was. It's strange, especially now that it's getting released, it really is over. And that's odd because it's really defined the last few years of my life. But I feel like I've learned a lot and I feel like, you know, a lot of the reason I wanted to make this film was just to walk around inside this short story that I loved so much and yes, it was very hard to let it go. It was the best experience of my life.
Paul Fischer
: Has it inspired you now to focus your attention on directing?
Sarah Polley
: I think ideally I'd do both equally. I mean I feel like I have so much to learn from each about the other so ideally I'd juggle both equally. But I'm very anxious to make another film, absolutely.
Paul Fischer
: You're married now right?
Sarah Polley
: Yes I am.
Paul Fischer
: So has that impacted the way that you're going to look at what you're going to do. Because, you know, you've got this, I guess this whole new relationship and your family and all the rest of it. I mean, what are you looking for now that is different as an actor than you might have been when you were single or just dating?
Sarah Polley
: I don't know if it's changed so much. I think the only thing that's changed is, you know, David is someone who really knows film and I think he's one of the main reasons I wanted to be a filmmaker. He really introduced me to a lot of the films I love and so if anything, it makes me more excited about what I'm doing.
Paul Fischer
: What are you looking for as an actress, now that you've put this baby behind you?
Sarah Polley
: I think it's generally to work with filmmakers who I really admire and who I have something to learn from.
Paul Fischer
: Have you got anything in the offing?
Sarah Polley
: I do. I'm doing Jaco van Dormael. He directed Toto the Hero. He's an amazing Belgian director. It's a movie called Mr Nobody and I'm really excited about that.
Paul Fischer
: Where is that going to be showing?
Sarah Polley
: In Belgium and in Montreal.
Paul Fischer
: Is it going to be in French?
Sarah Polley
: No, it's in English.
Paul Fischer
: Who do you play in that?
Sarah Polley
: I play this character named Elyse who is very depressive.
Paul Fischer
: Oh it sounds like a barrel of laughs.
Sarah Polley
: (laughs) Yeah it really does doesn't it?
Paul Fischer
: Would you like to do a comedy? I mean you seem to have a sense of humour about yourself.
Sarah Polley
: I would at some point I think, if it was the right thing, absolutely.
Paul Fischer
: Are you pursuing something as a filmmaker? Are you actively pursuing ...
Sarah Polley
: I'm in the process of working on two screenplays. I'm just seeing which one makes sense.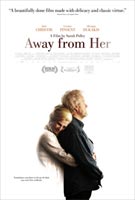 Away From Her
Starring: Julie Christie, Olympia Dukakis, Gordon Pinsent, Michael Murphy, Wendy Crewson, Kristen Thomson, Alberta Watson
Director: Sarah Polley
Canadian actress Sarah Polley makes an impressive directorial debut with AWAY FROM HER, a film adapted from the Alice Munro story "The Bear Came Over The Mountain." The plot concerns the way in which the 50-year marriage of Grant (Gordon Pinsent) and Fiona (Julie Christie) deteriorates with the progression of Fionas Alzheimers disease. Rich scenery, intimate cinematography, and familiar songs like Neil Youngs "Helpless" create a private world of two people enviably in love. Fiona and Grant have carved out a piece of the world for themselves, and have lived together happily in their later years until Fionas memory started to wane. The harmony in their lives is lost when Fiona decides shes reached the point of no return and enters a retirement home in order to take the burden off Grant, though he can think of nothing worse than being away from her. After dropping Fiona off, Grant is forced to not visit for 30 days, which, as he fears, ends up feeling much longer in the mind of a person who is losing her memory.
AWAY FROM HER features stunning performances from its leads as well as from Michael Murphy as Aubrey (a patient Fiona forms a close bond with), Olympia Dukakis as Aubreys wife, and Kristen Thomson as a nurse at the facility. Instead of treating old age as the winding down of life, this film portrays it as a potentially rich, enjoyable period. Grant and Fiona never yearn for the days of their youth, but rather for the later years when their intimacy had reached a higher peak. While so many films portray older characters in a one-dimensional way, Polleys film portrays its characters as multifaceted people filled with wisdom and true beauty, thanks to their age and not in spite of it.