Patrick Brammall Ruben Guthrie
Cast: Patrick Brammall, Alex Dimitriades, Abbey Lee, Brenton Thwaites, Jack Thompson, Robyn Nevin
Director: Brendan Cowell
Running Time: 94 minutes

Synopsis: Life is good for ad man Ruben Guthrie - he leads a party boy lifestyle, has a model fiancée and lives in a house on the water. He's at the top of his game, until some drunken skylarking lands Ruben at the bottom of his infinity pool, lucky to be alive. His mum hits the panic button, and then his fiancée leaves him, but not before issuing him one final challenge: If Ruben can do one year without a drink, she'll give him another chance…

Ruben Guthrie is the story of one man not only battling the bottle, but the city that won't let him put it down.

Ruben Guthrie
Release Date: July 16th, 2015



About the Production
From The Director – Brendan Cowell

Years ago, as a social experiment, and possibly because I was drinking like a mad fish, I decided to take a year off from the grog. What followed was a rollercoaster 12 months of personal discovery. I had no idea that this simple act of -drying out' would have such a dramatic effect on not only my life, but also the lives of those around me. The drinking culture of which I was such a part of and for so long, now seemed so alien to me, and all the behavior associated with drinking deep into the night...was coming back to haunt me...

Within weeks of this pursuit all my comforts had shifted, as well as my relationship with others, my body, and the world. It was profound, hilarious, and terrifying all at once. I lost whole friendships, started brand new ones, and most importantly saw my country, and my family and friends within it, in a whole new light. It dawned on me (in a very Wake In Fright fashion) that saying no to a drink in this country was an insult to all involved.

Luckily, I had kept a -Year Without Beer' diary, which would become the raw materials for the stage play Ruben Guthrie. A play that not only sold out it's first two productions at the Belvoir Street theatre in 2008/2009; but went on to shake up audiences all over the world. The diary consisted of any thought, uttering, or alarming behavior that arose from my year off. And let it be known, the people in my life were justified in their reactions, for I had shown them nothing but the party boy until now, how dare I switch to Earl Grey.

The thing is, binge drinking is not only a major national issue in Australia, but a favorite pastime. The reason no one does anything about it is because that would mean they'd have to look at their own consumption and possibly make an alteration. This is the issue that faces Ruben; his own sobriety inadvertently places a mirror in front of everyone he comes into contact with, whether he likes it nor not. He is a renegade, an evangelical, a social upstart. What Ruben set out to do was stop, save a relationship, and possibly, grow up a little, but instead he is forced to choose friends, a way of life, and a new definition of self.

Ruben Guthrie is also the tale of a city. Sydney is possibly the most beautiful city in the world. The beaches, the people, the weather, are heartbreakingly attractive. But beauty is not cinematic, it is obvious. What is so cinematic to me is the ugliness underneath the beauty. The aspiration behind the Sydney culture, the vanity, the need to be -the guy', the most popular, the one with the house on the water and the A-list friends. This is the kingdom to which Ruben is King, but now, he has to hand in his keys.

Ruben Guthrie is the great untold Australian bingedrinking comedy. I hope this movie will start a national conversation that will change the way we look at booze forever. I hope it will make people laugh, make people cry, and at the same time save lives and families. For as funny as this movie is, the issue it laughs at is as serious as any other down under.

And so here it is: Ruben Guthrie...a thirsty comedy about a man on the rocks...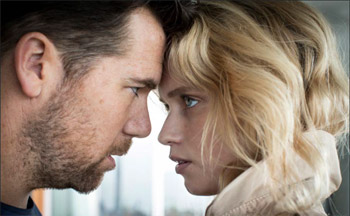 From The Producer – Kath Shelper

Brendan and I had gotten to know each other over the past few years after I approached him to see if he had any ideas we could develop together. He did and we had been working on another script and hanging out occasionally.

Toward the end of 2013 we had a drink (ironically) in an Erskineville pub and he asked me to produce a low-budget version of Ruben Guthrie, after it had been knocked back for conventional funding. We discussed a particular production methodology, which was actually how he always envisioned making the film. Small crew, scoot around Sydney, contained. I asked him to write the script he wanted to shoot and here we are.

His enthusiasm is infectious. It is his lived experience and his understanding of the characters, the plot, the themes, the subtext, the humour is alive. As the director, he always had a vision that was crystal clear. And we had the most stunning, supportive team around us. I loved the opportunity to make a funny, entertaining film in contemporary Sydney but one that also has a message.

I love Brendan's writing. It has a rawness and directness that cuts through. But always entertains.

Ruben Guthrie
Release Date: July 16th, 2015