Samantha Barks Les Misérables DVD Interview
Cast
: Hugh Jackman, Russell Crowe, Anne Hathaway, Amanda Seyfried, Eddie Redmayne, Aaron Tveit, Samantha Barks, Helena Bonham Carter, Sacha Baron Cohen
Director
: Tom Hooper
Genre
: Drama, Musical
Rated
: M
Running Time
: 151 minutes
The sweeping and spectacular musical extravaganza, Les Misérables has been seen by more than 60 million people in 42 countries around the globe and now, the motion picture adaptation that has currently grossed more than $395 million worldwide arrives on Blu-ray and DVD.
Dominating the 2013 awards season Les Misérables won three Oscars at the Academy Awards including Best Supporting Actress, Best Makeup and Hairstyling and Best Sound Mixing. Sweeping the Golden Globes with awards for Hugh Jackman and Anne Hathaway, as well as the award for Best Motion Picture - Musical or Comedy, Les Misérables is a stunningly realised interpretation of Victor Hugo's epic tale of broken dreams, passion, sacrifice and redemption - a timeless testament to the endurance of the human spirit.
Directed by Academy Award winning Tom Hooper, Les Misérables is set against the backdrop of 19th-century France and tells the story of ex-prisoner Jean Valjean hunted for decades by the ruthless policeman Javert, after he breaks parole. When Valjean agrees to care for factory worker Fantine's young daughter, Cosette, their lives change forever.
This Oscar and BAFTA winning cinematic event can now be treasured at home forever with more than an hour of bonus footage including a behind-the-scenes look at the making of Les Misérables and feature commentary with Director, Tom Hooper.
Special Features
:
Feature Commentary with Director Tom Hooper
Blu-ray Special Features
:
Les Misérables: A Revolutionary Approach
The Stars of Les Misérables
The West End Connection
Les Misérables on Location
Creating the Perfect Paris
Battle at the Barricade
Les Misérables Singing Live
The Original Masterwork: Victor Hugo's Les Misérables
Feature Commentary with Director Tom Hooper
Les Misérables
RRP: $39.95
Blu-ray: $44.95
Limited Collector's Edition: $54.95
Buy Now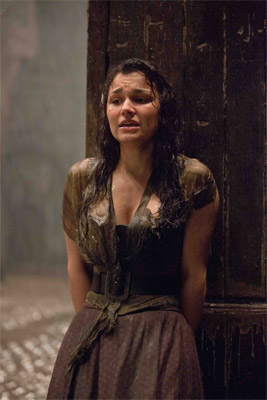 Interview with Samantha Barks
Question:
You performed at the Les Misérables 25th anniversary concert. Was it a sort of dress rehearsal in a way for this?
Samantha Barks
: Yes, but I played it in the West End as well for a year, so I did that and the concert. Both were very different. It was with one character that I have this connection with, but then three completely different experiences.
Question:
How did each one vary?
Samantha Barks
: In the theatre, you have to really fill the room with your vocals and your emotions. Everything is got to be slightly heightened because you have got to hit the back of the theatre as much as you do the front. The thing that was interesting about the concert was although you were singing to like 20,000 people -so you really had to fill that kind of room with your voice - you had to be fairly intimate with your acting because there was a big screen behind you, and it was all filmed so close. For me, it was a combination of the two but still heightened and theatrical. This film was utterly about stripping all that away and allowing the voice to be soft and not allowing those intimate details to show because the camera's right there, so it picks up on every decision you make. We went back to the novel and added some more depth to these characters, to see more of the background of where they have come from, and therefore you can pick up on more interesting truths.
Question:
People talk about Romeo and Juliet being a tragedy, but Éponine's story is more tragic actually because the only brief moment of love she gets is when [she dies].
Samantha Barks
: That's the thing. It's tragically beautiful because actually what you could see as the saddest moment in her life, she's dying, is actually the best moment in her life. It is the only moment she has ever felt genuine love, even though he doesn't love her. It is tragic, but I feel like her love for him in a way redeems her and in the end makes her do the right thing. She has a conflict whether to actually do the right thing and give him (Marius; Eddie Redmayne) the letter from Cosette (Amanda Seyfried) or steal it, which means he is going to go to war. She has got this twisted martyr [thing] going on, but in the end I think she's redeemed by her love for him.
Question:
This is your first film. How much pressure was there? It was a huge production.
Samantha Barks
: It is a big pressure because these roles are so iconic, the songs are iconic and one has a lot of ideas about how the songs should be played. We all felt that. It was great the way people interpreted these roles before, and Tom encouraged us to look at it with fresh eyes. We changed some of the lyrics around to make it more accurate to the novel, and that was exciting. It was exciting to really put a fresh stamp on the roles. You hope that you are doing the character justice.
Question:
Did more experienced actors like Hugh give you advice?
Samantha Barks
: Yes, I think everyone was so supportive, and that is what was so exciting. I had never done film before, and Eddie had never done a musical before. Hugh has done both. He is absolutely the master, so I looked to him. He is actually very inspiring to me on every level. I think he is a phenomenal person, and having him as your leading man is a phenomenal thing for a cast to have.
Les Misérables
Buy Now