Rachel Korine Spring Breakers Interview
Cast
: James Franco, Selena Gomez, Vanessa Hudgens, Ashley Benson, Rachel Korine, Gucci Mane
Director
: Harmony Korine
Genre
: Comedy, Crime, Drama
Rated
: MA
Running Time
: 92 minutes
Synopsis
: Four sexy college girls plan to fund their spring break getaway by burglarizing a fast food shack. But that's only the beginning...
At a motel room rager, fun reaches its legal limit and the girls are arrested and taken to jail. Hung-over and clad only in bikinis, the girls appear before a judge but are bailed out unexpectedly by Alien (James Franco), an infamous local thug who takes them under his wing and leads them on the wildest Spring Break trip in history. Rough on the outside but with a soft spot inside, Alien wins over the hearts of the young Spring Breakers, and leads them on a Spring Break they never could have imagined.
Release Date
: May 9th, 2013
Interview with Rachel Korine
Question:
Rachel, do you remember the moment your husband Harmony Korine first told you about this project?
Rachel Korine
: I remember him talking about doing a spring breakers movie. That was about a year ago, spring break was actually just taking place, so I told him, "You know, you should fly to Florida and not come back until you've finished the script." And that's what he did.
Question:
Harmony said he likes to hire family members for his movies because he needs people he can rely on for his creative process. You have worked with Harmony repeatedly…
Rachel Korine
: Since we've been together, I've been involved in every project. If there's not a part for me, sometimes I'll take photographs. So he definitely likes to work with friends and family. We even have some friends from Nashville working on this film.
Question:
You are acting alongside James Franco and some well-known Hollywood actresses. What has that experience been like?
Rachel Korine
: It just seemed to come out naturally. He was doing such a good job as Alien that I was not thinking about James Franco in the least. So I was good there. And I was really lucky that all the other girls were so sweet and fun, we've developed a real friendship, so it was easy to act with your best friends.
Question:
Do you have to find a different way to interact with your husband when on set?
Rachel Korine
: It just happens sort of naturally, I guess. When we're on set we're both pretty much focused. He is the director and I do whatever he says. It's not always like that at home.
Question:
Was it clear from the beginning which part you were going to play?
Rachel Korine
: Yes, it was. I'm not exactly sure why, it just felt right. And Selena really wanted to play Faith. I'm glad it worked out that way.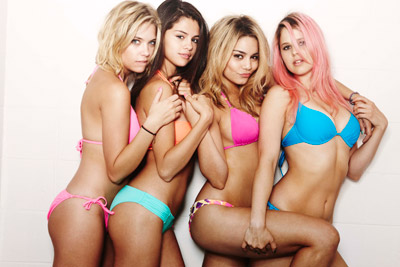 Question:
This is the first time that Harmony Korine has paired up independent filmmaking with a mainstream cast. He is working with girls who are icons of pop culture. Usually, Harmony directs non-actors. Has this changed his way of working?
Rachel Korine
: His directing has not changed at all. He has to deal with a lot more, with all the elements involved, which is interesting to watch, but he's just taking it as it comes. It's a transition for him, and I think it's also a transition for these Disney girls. It's really fun to watch them meet in the middle.
Question:
It seems to be a liberating experience for the girls to let go of their image for once…
Rachel Korine
: Yes, he gives his actors a lot of freedom and lets them create their characters. He encourages involvement from the actors, so it's probably pretty different than anything the girls have experienced.
Question:
What do you think Harmony's fans will think of this film?
Rachel Korine
: It certainly has a different approach than his previous movies. Very different, yes. I think Harmony's fan base will still be able to see some of his original trademarks.
Question:
Such as the improvising…
Rachel Korine
: There always will be scenes where things happen organically. I don't know what it is about Harmony, but anytime he is making a film, amazing characters literally just walk into the scene and it ends up working out. In Mister Lonely there was a scene with Herzog and this drunk man at the airport just wandered into the scene. It always happens on his movies, so it's nice to see that will make it into this film, too.
Question:
How would you describe your experience shooting here in St. Petersburg, Florida?
Rachel Korine
: I really love it. If you've got to be somewhere for six weeks, Florida is nice. And it's good to have a little bit of everything. It's never good if it's too generic and there's too much of just one type of person. It's good to get into the ghetto once in a while.
Question:
What was your perception of real spring breakers and how do you relate your impression of that very specific and accentuated American culture to Harmony's vision?
Rachel Korine
: Definitely the girls and the interaction between the cast seem pretty true to a group of friends that would go on spring break - girls that are thirsty for that debauchery and the attention. It makes sense in that world. And then meeting someone like the Alien character, that's when the fantasy starts to happen.
Interview by Johannes Bonke.