Salt Review
Cast
: Angelina Jolie, Liev Schreiber, Chiwetel Ejiofor, Andre Braugher
Director
: Phillip Noyce
Genre
: Drama, Action
Rated
: M
Running Time
: 100 minutes
Synopsis
: Angelina Jolie stars in Salt, a contemporary action thriller from Sony Pictures.
As a CIA officer, Evelyn Salt (Jolie) swore an oath to duty, honor and country. Her loyalty will be tested when a defector accuses her of being a Russian spy. Salt goes on the run, using all her skills and years of experience as a covert operative to elude capture. Salt's efforts to prove her innocence only serve to cast doubt on her motives, as the hunt to uncover the truth behind her identity continues and the question remains: "Who Is Salt?"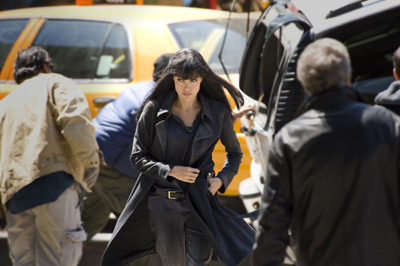 Verdict
: Angelina Jolie shines in her role as CIA agent, Evelyn Salt, who is accused of being a trained Russian spy. After the accusation Salt runs for her home to grab supplies and to give her gorgeous Terrier to a neighbour as she begins a search to find her missing husband. Even though we know Salt is worried that her husband has been taken, we are unsure how she really feels about her partner after a flashback.
From the beginning of Salt's escape we are intrigued as to whether she is guilty or innocent of being a Russian spy. Is she just running to save her husband? Or is she running because she is genuinely guilty? Audiences will not know what is coming next as nothing is predictable in this suspense-filled action film.
I thoroughly enjoyed the various changes in Salt's appearance; her hair from long and blonde, to black and then short as well as the use of beanies, contacts and stick on eyebrows.
We've seen men in this role countless times, but Jolie shows she is a prominent female action star providing a fresh take on this twist-and-turns film. Jolie is able to hold audience's attention whilst jumping from bridges to trucks and running in heels and skirts. Only a female would think to use a pad to stop the blood from a bullet wound...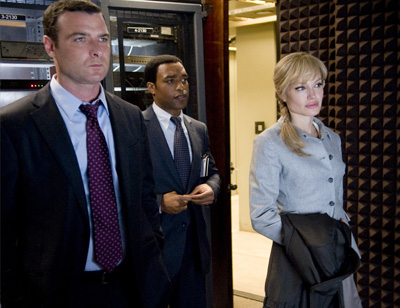 Salt is a strong action film with extremely clever scenes and convincing action-packed stunts that will appeal to all audiences.
Rating: ****
Brooke Hunter
Release Date
: August 19th, 2010
Website
:
www.whoissalt.com
Cast talk on Salt- www.femail.com.au/salt.htm