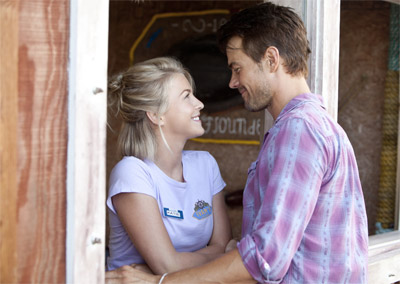 Safe Haven Review
Cast: Julianne Hough, Josh Duhamel, Cobie Smulders, David Lyons
Director: Lasse Hallstrom
Genre: Romance, Drama
Rated: M
Running Time: 115 minutes

Synopsis: A mysterious young woman arrives in a small North Carolina town and reluctantly finds new love with a lonely widower in Safe Haven, a deeply moving romantic thriller from Nicholas Sparks, the best-selling author whose novels inspired the beloved films The Notebook and Dear John.

Katie Feldman (Julianne Hough) arrives in the tiny coastal town of Southport, North Carolina, looking to make a new, quiet life for herself. She rents a rundown cabin and takes a job waiting on tables in the local café, hoping to keep a low profile. But despite the almost impenetrable emotional walls she has built to protect herself, she is drawn in by the genuine warmth and caring of the tight-knit community, especially the town's grocery-store owner, Alex (Josh Duhamel), and his two young children.

As Katie gradually learns to trust again, Alex and his little brood teach her to experience the joys of love once more. But nothing is as simple as it seems and her newfound happiness is threatened by the terrifying secrets that still haunt her. When a mysterious stranger arrives in town asking questions about Katie, her past threatens to reclaim her. Although every instinct tells her to run, Katie decides to do whatever she must to protect her new life, as she rediscovers the meaning of sacrifice and commitment in a gripping and suspenseful story of hope, survival, and the power of true love.

Verdict: Having thoroughly enjoyed Safe Haven, the Nicholas Sparks novel, I had high hopes for the film directed by Lasse Hallstrom and they were all captured in this heavy themed film adaption. The film adapts more than Nicholas Sparks' romantic story; it takes the suspense of the book and creates a thrilling mystery, from the very beginning of the film…

Julianne Hough is an outstanding actress and excels as Katie Feldman, a role quiet different to her previous. Whilst Josh Duhamel has the ability to fit perfectly into the mould of the widower, Alex a charismatic character who jumped out of the pages in the book. The chemistry between Katie and Alex is undeniable and the subtle development of their relationship is pleasant and mature which comforts the audience.

As the intense story developed I found myself on the edge of my seat, even though I had read the book, I was affected by the numerous ups and downs the couple and their families experience. I was ready for the spiritual twist but the rest of the audience wasn't as they gasped in the last seconds of the film.

In typical Nicholas Sparks form the film showcases the breathtaking romance of a couple finding their way in life on their own and together with the Lasse Hallstrom touch of suspense and secretiveness. Don't forget the tissues!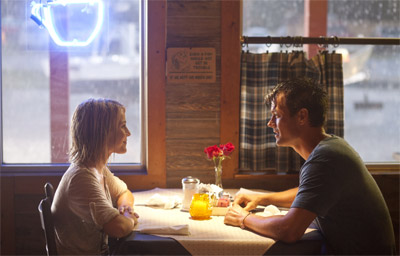 Rating: ****
-Brooke Hunter

Release Date: February 14th, 2013