Ryan Kwanten Blinky Bill The Movie Interview
Cast: Ryan Kwanten, Toni Collette, Robin McLeavy, Rufus Sewell, Barry Humphries, Richard Roxburgh, Deborah Mailman
Director: Deane Taylor
Genre: Family
Rated: G
Running Time: 90 minutes

Synopsis: An adventurer at heart, he dreams of leaving the little town of Green Patch and following in his missing father's footsteps. When Blinky discovers a mysterious marker that hints at his Dad's whereabouts, he embarks on a journey that takes him beyond the boundary of Green Patch and into the wild and dangerous Outback. He quickly makes friends with Nutsy, a zoo koala, and Jacko, a nervous frill-necked lizard. Pursued relentlessly by a vengeful Cat who has a personal score to settle with Blinky, the trio must learn to work together if they ever want to survive the rugged Australian landscape and find Blinky's father!

Blinky Bill The Movie
Release Date: 17th September (NSW/VIC/QLD) and 24th September (ACT/WA/SA/NT)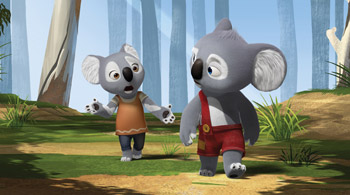 Interview with Ryan Kwanten
Question: What are your first memories of Blinky Bill?

Ryan Kwanten: My first memories of Blinky Bill are probably like many Australians my age: Mum and Dad reading the books to me and my younger brothers at bedtime. I'd never be able to fall asleep during the story and would always have to wait till the very end. Blinky's roguish nature always appealed to me. The mere fact that Blinky's story has lasted throughout the generations is testament to the fact that this is both a story and a character that is timeless in every sense of the word. I'm hugely honoured to have the ability to recreate Blinky for a modern day audience.


Question: What do you love most about the Blinky Bill character?

Ryan Kwanten: I've always had the opinion that life is better lived as an adventure. Blinky is that guy who lives and breathes adventure, although he really doesn't know the true sense of the word yet. He looks up to his Dad with this sweet reverence, as any young boy does. Blinky's Dad is a great explorer and a great man, so Blinky definitely wants to follow in his footsteps. That level of respect and inspiration that Blinky has for his Dad is also something I have for my own Dad. It drives Blinky throughout the whole film, the search to find his Dad and be just like him.


Question: Tell us about the Blinky Bill story.

Ryan Kwanten: This is the story of Blinky and the whole host of characters he interacts with, but when we first find him, his Dad has been missing for the last year. He left on this epic voyage with the promise of coming back, but hasn't returned. Blinky misses his father and wants to figure out exactly what's happened. The story is really this epic adventure about Blinky, and soon after Nutsy and a whole host of characters, travelling across the outback in the hopes of finding his father. We have really revolutionized the way we look at Blinky and I think audiences are going to be very surprised with his nature and the personalities of characters he meets in this story. As much as it is an Australian story, the film very much has universal appeal. Everyone knows what it's like to search for something, to feel love and loss. Blinky is that guy who wears his heart on his sleeve and it's a story that I think we are all going to be in tears by, inspired by and have a laugh at the same time.


Question: Do you think that throughout Blinky's journey, there is a connection with Blinky's mum and there is a realisation that being an adventurer is one thing but being a hero also comes with responsibility?

Ryan Kwanten: The first time Blinky steps outside of Greenpatch, the bravado eventually gives way to the true sense of who he is. I've always loved the quote, 'What lies before us and what lies behind us is nothing compared to what lies within us". I think up until that point, Blinky has been living in this very sheltered environment, and his Dad's been the one coming back with these amazing stories of adventure and travel. Now that his Dad's been gone for a year, Blinky and his mum have forged this relationship and she's trying to make up for the fact that Dad's not there. They have this beautiful relationship, but there's this undying need in Blinky who wants to get out of town and find out where he is. When he does eventually get out, there comes a point in time where, like any son, he misses his Mum. I think it's that he's torn between searching for his Dad and coming back and making his Mum happy.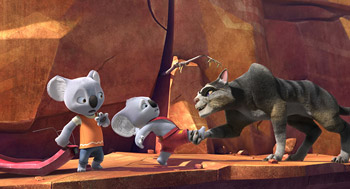 Question: Can you describe the relationship between Blinky and Nutsy?

Ryan Kwanten: Blinky and Nutsy have a beautiful but rocky relationship. Nutsy is a caged Koala and Blinky is a wild koala, and that doesn't really seem like much of a difference, but it really is. Blinky has lived his entire life out there in the wild: he's climbed trees and eaten gum leaves where as Nutsy has been the exact opposite as her life has been lived entirely in a zoo. As we find out later, her family was ravaged in a fire, so she's lived her own version of a sheltered life. They've both got to learn a bit about each other and a bit about how they have grown up in order to get through the journey.


Question: Why do you think parents should take their kids to see this new Blinky Bill?

Ryan Kwanten: I think you take one look at this guy and think it's going to be a really fun film, which it is. I had a little reservation at first, because Blinky has such sweet reverence with me from my childhood memories. When I read the script, I was in tears of laughter. It really is an extraordinarily funny film. At the end of the day, there are some great morals in the film and some great life lessons to be learned. For 90 minutes, you're going to be strapped in for a pretty big adventure yourself.


Blinky Bill The Movie
Release Date: 17th September (NSW/VIC/QLD) and 24th September (ACT/WA/SA/NT)