Robert Pattinson Maps To The Stars
Cast: Julianne Moore, Mia Wasikowska, John Cusack, Robert Pattinson
Director: David Cronenberg
Rated: MA
Running Time: 111 minutes

Synopsis: With this tale of a dysfunctional Hollywood family on the verge of implosion, acclaimed director David Cronenberg forges a brilliant, scathing and darkly comic satire of our celebrityobsessed culture, starring Julianne Moore, Mia Wasikowska, John Cusack and Robert Pattinson. The Weiss family is making their way in a sun-soaked Los Angeles, driven by all the wrong values and rife with money, dreams, fame, envy, yearning and angst. We witness the desperate world of shallow celebrities and their minions, all of whom are about to be manipulated and destroyed by one of their twisted own. As much as it is a sharp, wicked look at a vacant and corrupt society, Map To The Stars is also a very human ghost story and a claustrophobic nightmare.

Maps To The Stars
Release Date: 20th November, 2014


'What we name, we can tame."
– Advice of Dr. Stafford Weiss, Celebrity Self-Help Guru

Maps To The Starsconnects the savage beauty of writer Bruce Wagner's Los Angeles with the riveting filmmaking of director David Cronenberg and a stellar ensemble cast to take a tour into the darkly comic heart of a Hollywood family chasing celebrity, one another and the relentless ghosts of their pasts. The result is a modern Hollywood Gothic at once about the ravenous 21st Century need for fame and validation – and the yearning, loss and fragility that lurk in the shadows underneath.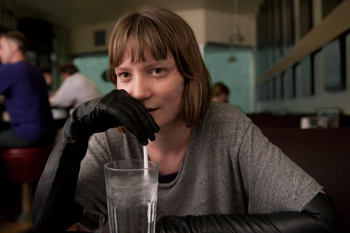 The incendiary mix of Bruce Wagner and David Cronenberg has been two decades in the making. The origins of the story go back to the 1990s when Wagner – then a struggling actor/writer working as a limo driver, not unlike Robert Pattinson's character in Maps To The Stars– began a screenplay encapsulating his experience of Hollywood. In what would become a major career theme, he dove headlong into all its roiling contradictions: the glory and the wickedness, the ambition and the delusions, the soaring excess and the spectacular falls. The story took many turns over the years, as Bruce Wagner developed into an acclaimed novelist and screenwriter, but after a decade, Wagner decided to show it to David Cronenberg, since the two had long talked about working together. 'With its themes of the dark side of ambition and fame, I felt only David Cronenberg could make this movie," says Bruce Wagner.

Indeed, though it would take several more years before the project would come together with the right cast and financing, David Cronenberg was immediately intrigued by the fearlessness of Bruce Wagner's screenplay, which balanced on a razor-sharp line between comedy, horror and invigorating honesty.

'It's a story that is really of the moment and it also ferociously attacks the moment we are living in, culturally, pop-culturally, technologically and in every way, which I really admire. I think that is Bruce Wagner's strength. He is not afraid," says the director. 'The force of Bruce Wagner's script was so compelling and so charismatic, I felt I had to do it."

David Cronenberg is equally known for not flinching from any subject, and for making films that are as challenging and substantial as they are suspenseful and visually compelling. Early in his career, he made a series of vivid, fantastical thrillers including Scanners, Videodrome, The Fly, Dead Ringers, Naked Lunch, eXistenZ and Spider. More recently, his filmmaking has become even more expansive with the high-style crime thrillers A History of Violence and Eastern Promises, the psychological, sex-infused historical drama about Freud and Jung, A Dangerous Method, and his adaptation of Cosmopolis which takes place almost entirely in a billionaire's limousine on one fateful trip through the city.

For David Cronenberg, Maps To The Starswas another chance to switch gears entirely – into what he calls 'a family drama, just not the usual kind of family drama."

Indeed the Weiss family at the center of the story includes a self-help guru father, a teen heartthrob son fresh from rehab, a manager mother intent on keeping her son's price in the stratosphere, and a mysteriously scarred, banished daughter dangerously obsessed with trying to re-enter the family circle. Living amidst the insatiably rich-and-famous, they are neverthless driven and haunted by dark forces they can't seem to escape.

'Of course a family in Hollywood that has eaten of the Hollywood apple – that has eaten of the desire for celebrity and achievement in the public eye – is not going to be a normal family," David Cronenberg notes. 'Bruce Wagner's father was in the business and he grew up with all of that, so I think he really is able to evoke the distortion and the pressure on a family trying to play the game."

As outrageously extreme as the Weiss family is, David Cronenberg saw Bruce Wagner's script as having more than just satirical bite and he took a performance-based approach to exploring the complex depths of the characters.

'The interesting thing about Bruce Wagner's script to me is the tension that he creates between satire and a very intense kind of reality," the director explains. 'We could have gone in an exaggeratedly comic way with the Weiss family – but I wanted to mute that a bit. I wanted to see each character played as realistically and as low-key as possible under their very pressured circumstances."

Over the years and even during production, Bruce Wagner and David Cronenberg continued to update the script so that it would feel a part of the immediate now. 'Every time we had another goround at trying to get the movie made, Bruce Wagner and I would go through the script and say, -Oh, man, we better forget that reference, that's obsolete now,'" explains David Cronenberg.

Throughout, Bruce Wagner says he trusted David Cronenberg implicitly. 'There was no compromise in writing this script, for better or for worse. It really came from a place of darkness that I hope becomes light in the end," comments the writer. 'I knew that David Cronenberg understood both the darkness and the light of it, because I think those qualities suffuse all his work. So I felt very grateful and fortunate."

Meanwhile, in 2011 David Cronenberg introduced the script to producer Martin Katz, while they were making Cosmopolis, and soon after, the project began taking off in earnest. Says Martin Katz: 'I've read a lot of Bruce Wagner's novels and I've enjoyed reading him in The New Yorker – so I was drawn to the tone of the film. It also marks the very first time David Cronenberg has filmed in the U.S., and since it's a film about celebrity obsession in Western culture, to have the chance to film in Hollywood was both poignant and exciting. It's fundamental to the story of how this family was formed."

Once the film got off the ground, Bruce Wagner continued to stay close to the creative process, with Cronenberg inviting him to stay on the set and write on-the-fly. Day by day David Cronenberg turned to Wagner with queries about subtleties in the dialogue, even pronunciation. 'Bruce Wagner was a perfect validity check," says the director. Bruce Wagner in turn says: 'David Cronenberg was gracious letting me be part of the production, but I really felt that whatever I wrote was, in the best sense, in his hands. And he brought something so mysterious to what I had done."

Mystery is indeed elemental to Bruce Wagner's screenplay, which is as rife with the undead as any haunted house or Shakespearean tragedy. David Cronenberg says finding his way into the ghost story was one of his biggest challenges, for though he has been known to push the edges of sci-fi and horror, he has never been one for the supernaturally numinous.

'I've never really been that into the idea of ghosts, because I don't believe in them," he explains. 'But the idea of being haunted by memories… that is very real for me. I understand that completely. I lost my parents many years ago, and I can say that, yes, I'm haunted by them and I can hear them and I can see them and I can feel them. I don't think of them as ghosts who actually exist somewhere, but they do exist in my memory and my mind. And so to have characters haunted by ghostly memories made perfect sense to me, psychologically and emotionally."

Bruce Wagner notes that ghosts have always been part of the Hollywood landscape – which is a realm of the uncanny, the hidden and the emptied out; and which is itself constructed atop a dense, intangible plasma of mixed-up memories, fleeting hopes and unresolved needs. 'There are ghosts of course in Sunset Boulevard," he says, referring to the Billy Wilder noir classic that was one of several inspirations, 'and there are ghosts in this movie, which I think gets to some of the same themes of death, depravity and resurrection, but in a very contemporary way."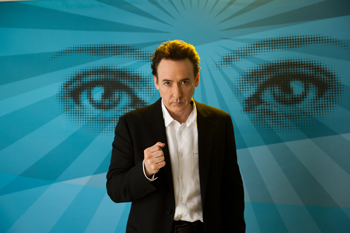 Those themes and the heady mixture of David Cronenberg and Bruce Wagner was soon attracting an Alist cast, who would embody the excess of their characters with no limits.

The Actresses: Havana Segrand & Clarice Taggart
'Don't make me into Mommy Dearest."

At the heart of the story of the Weiss family is one of Stafford Weiss's biggest celebrity clients: the famous but all-too-quickly fading Havana Segrand, who has long existed in the shadow of her even more legendary mother, classic Hollywood star Clarice Taggart, who perished in a mystifying fire. Taking the roles of Havana and her ghostly matriarch are 4-time Oscar® nominee Julianne Moore and award-winning Canadian actress Sarah Gadon. Moore was subsequently awarded the Best Actress Award at the 2014 Cannes Film Festival for her incredible performance.

Julianne Moore was the first cast member to sign onto Maps To The Stars, several years before it was made, and she stayed committed to the role. 'There were two big attractions: David Cronenberg and Bruce Wagner," she explains. 'I've always wanted to work with David, his work is so assured, so interesting. And Bruce Wagner is so imaginative in his writing, so creative, and he really knows how to blend the ridiculous with the sublime. You'll have a moment of high comedy and then it skids right into something dark and dramatic. So to have that kind of material in the hands of a director like David Cronenberg was exciting."

She saw the story as being partly about Hollywood but also transcending Hollywood to touch on human ambition and hubris in all walks of life. 'It's a commentary on how we live our lives today, but one refracted through the lens of celebrity," she says. 'It's really more about human nature, about what people want out of the short span of life we have and how blind we are to our mortality."

David Cronenberg was gratified by Julianne Moore's complex, poignant take on Havana and her mounting neuroses. 'Julie Moore's so funny, so capable, so adept and nimble," comments the director, 'and once she had her hooks into this character, she required just the slightest bit of guidance here and there. It's not really a given that an actress can play an actress – actually, many actors don't like to play actors – but Julie had such great enthusiasm for this role."

He continues: 'She's created a kind of glorious monster, an earthy, unashamed monster. She was never intimidated by Havana and was completely unafraid."

Julianne Moore says that her portrait of Havana is based on 'an amalgam of people I've known and observed. She is someone who lives completely isolated in this make-believe world. She doesn't really have a family and she's still very angry with her mother because she feels she was abused. She's always lived in her mother's shadow, and in her mind, it's all a kind of mixed-up, Freudian mess."

That psychic chaos takes an even darker turn when Havana goes after the part her mother once played in a hot new movie heading into production – but seems to lose ground to a younger, more sizzling actresses. In the midst of all this unspeakable dread, Havana starts to see Clarice's taunting ghost at the most inopportune moments, which gave Sarah Gadon an intriguing part.

Sarah Gadon previously worked with David Cronenberg on A Dangerous Method and Cosmopolis and he was keen to work with her again. 'Sarah Gadon is a rising star and we've done two movies together," he says. 'This may be the smallest role of the three that we've done – but the idea of her playing Julianne Moore's mother was completely irresistible. And it's such a lovely, unusual role, because she's simply this ghostly memory."

Soon, Havana Segrand's spectral memories and ultimate fate become unsuspectingly tied up with the Weiss family – especially when Stafford Weiss's long-lost daughter becomes her latest personal assistant in a long line of unsuccessful partnerships.

The Family Weiss
'For a disfigured schizophrenic, you've got the town pretty wired."

At first glance, the family Weiss would seem to have conquered modern life. They certainly have attained fame, material wealth and brand-name recognition, but they also are beset by doubts, bitterness and deep, dark secrets that threaten to uproot their whole lifestyle. Those come to the fore in the person of long-lost, locked-away Agatha.

On the heels of a tragic accident that left her terribly scarred, she has been safely kept at bay in a psychiatric asylum… until now. Recently released, she returns to Los Angeles, where she lies low, taking a job with Havana Segrand while scoping out her family from a distance, waiting for the chance to make her move.

Mia Wasikowska – the rising star who has come to the fore in a series of bold roles ranging from the disturbed gymnast of HBO's In Treatment to a daughter of artificial insemination in The Kids Are All Right to the title role of Cary Joji Fukunaga's Jane Eyre – takes the role. Cronenberg notes that it was not an easy part to cast. 'With Agatha, there are many gradually revealed twists and turns, so you need an actress who is extremely subtle. You need someone who feels extremely open and not sinister, who seems innocent, until she reveals the depths of her dangerousness," he says. 'Agatha keeps saying, -I just want to make amends' – and you have to believe it when she says it, which requires a really wonderful actress like Mia Wasikowska. She is someone I've been watching for years, even though she's very young, and has already done so many beautiful things. When that sinister side comes out of her as Agatha, it's pretty staggering." Mia Wasikowska herself first arrived in Hollywood as a teenager, recalling it as a 'completely alien world like nowhere else, with a very specific light and a strong sort of feeling."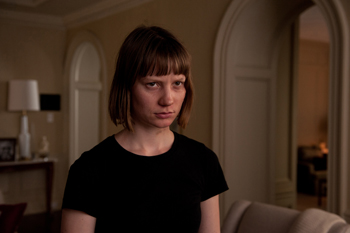 Reading Bruce Wagner's script, she felt he had captured that conflation of the strange and the alluring. 'The story is an exaggerated version of life here, but I found it really unsettling," she says. 'The people who seem to have it the most together in the story are also the people who are the most messed up and vice versa. It's very much a City of Lost Angels." Mia Wasikowska was especially attracted to the pendulum dualities of her character. 'I love Agatha because she's dark inside but at the same time in a lot of ways she has this very positive outlook. There's something very sweet and sad about this girl who, in the midst of these celebrity-obsessed parents, and this troubled past, really just wants to connect with them," she observes. 'They've totally rejected her, but in a way, she's desperately trying to mimic their lives. She's desperately trying to find her identity."

Diving deeper into Agatha meant exploring her first from her physicality, notes Mia Wasikowska, who spent several hours in the chair with Academy Award® winning makeup artist Stephen Dupuis (The Fly) each day to build up Agatha's charred skin.

'She has the gloves she wears over her burns, the facial scar, and all these rituals with the poem and the pills she takes," the actress explains. 'It's all very distinct to who she is."

This film marks Mia Wasikowska's first time working with David Cronenberg. It was trial by fire on her opening day on the set as they shot the scene in which Agatha is beaten by her father, played by John Cusack, after trying to make amends with her mother. 'It was a typical sort of initiation for a David Cronenberg film," Mia Wasikowska laughs. 'But working with David Cronenberg was wonderful. He's really kind of soft-spoken and he really trusts you in the character. It's always interesting that the people who make the most psychologically disturbing films are often the sweetest, kindest people."

The last person who ever hoped to see Agatha again is the head of the family Weiss: Stafford, a TV psychologist whose 'Hour of Personal Power" offers New Age platitudes and watered-down analysis for the masses, while he performs intimate, psychodynamic bodywork on his celebrity clients, including Havana Segrand.

Leaping with full intensity into the role is Golden Globe nominated John Cusack in an intriguing departure. John Cusack himself grew from a child actor to a young heartthrob to an acclaimed actor on the public stage, so he has perhaps a unique insight into the dynamics of celebrity life that starts in childhood. On top of that, David Cronenberg says John Cusack 'was not afraid to go right to the darkest depths of this character and yet, somehow, also be very charming and seductive."

John Cusack had met Bruce Wagner decades before when they were both in the film One Crazy Summer, but his script for Maps To The Stars took John Cusack by surprise. 'It was the most savage deconstruction of Hollywood fame and secrets and that whole toxic brew that I'd ever seen," he says.

Though John Cusack says that Hollywood has always brought the mix of 'dreams and fantasy" into the realm of moneymaking, he has noticed that things have shifted even more in the last few years. 'Back when I was starting out, things were different. It never seemed to be about who was the highest paid or what films grossed over the weekend. People weren't that interested in stalking celebrities to the level of what they had for breakfast or what mean things they said to someone else. That kind of celebrity-obsessed culture was only born ten, fifteen years ago. If you wanted to know things about an actor, you would look into his work, the films he had made – the admiration was a reflection of an actor's work, not his status."

Stafford Weiss senses this deep, unmet emotional need all around him and takes it as opportunity. 'He sees himself as a healer," John Cusack observes. 'He's part Tony Robbins, part Reiki Master, part shrink. But his son is the real star – he's a massive teen star of Beiberesque proportions." In creating Stafford's fraught relationship with his son – not to mention with the daughter he has tried to keep far from their lives – John Cusack especially enjoyed working with David Cronenberg for the first time. 'There is a fierceness to how David explores things, and it's exhilarating to be part of that," John Cusack comments. 'He tries to reduce everything to its purest essence. Like some others I've worked with, Woody Allen and Clint Eastwood, he doesn't use rehearsal, so you have to really trust your first instincts and try to black everything else out to just let it happen for the camera."

Producer Martin Katz was thrilled to see what happened when John Cusack did that. 'As the patriarch of the Weiss family, John Cusack is this larger-than-life character, a celebrity guru and author of best-selling self-help books. I find him evil in a very profound way, and yet, there's a charm and fascination behind that makes Stafford Weiss very human and compelling." A large part of Stafford's ego is wrapped up in the lucrative success of his son, teen sensation, star of Bad Babysitter and tabloid bad-boy, Benjie Weiss. Not only is 13 year-old Benjie trying to right the ship of his career after a stint at rehab, he is being chased by his own guilt-induced teen ghost.

David Cronenberg was unsure if he could find an actor Benjie's age who would be capable of tapping into the sharp wit of Bruce Wagner's dialogue, but he found that quality in Canadian Evan Bird, whom he had seen in the American version of the TV series The Killing.

'There needed in Benjie to be a kind of strange gravitas," David Cronenberg explains. 'Amazingly, Evan, when we cast him, was only 12 and he just turned 13 the month before we started shooting and yet he had that gravity, that irony and sarcasm, while at same time, you still sense his boyishness and vulnerability."

Evan Bird was instantly attracted to the challenges of the role. 'I love complex stories with deep characters, or it's just not that fun to do," he explains. 'What interested me about Benjie is that he doesn't really have love and yet he doesn't really have limitations, either. So he's searching for both of those things. He's making way too much money, he's being taken advantage of by his parents, and he's really screwed up."

Working with John Cusack as Benjie's exploitative father was also a thrill for Evan Bird. 'I was really nervous to meet him because he's such a big star, but he was so down to earth, not like some people you hear about, but that's what this movie is about, isn't it?" Bird muses. He also was intrigued by playing someone who is quite literally haunted – in Benjie's case by a sick girl he visits in the hospital purely for the publicity boost. 'Benjie has this ghost who will not leave him alone," Bird explains. 'It pisses him off because he wants to be normal. He doesn't want to be crazy like his sister. And yet he keeps seeing this girl."


No matter what Benjie does the one person who will always defend him as a hot Hollywood commodity is his manager mother, Cristina. To play her, Cronenberg long had in mind Olivia Williams, known for a wide range of roles from the now-classic ghost story The Sixth Sense to Wes Anderson's Rushmore and Roman Polanski's Ghost Writer. He knew he needed a very versatile actress who could not only embody a relentless stage-mom but a woman with a particularly secretive relationship with her husband.

'I've had my eye on Olivia Williams for years," says the director. 'She's fantastic and completely different in each movie. I jumped at the chance to cast her in this role because I felt that she could really evoke the kind of character who's come to L.A. from somewhere else, but is ready to ferociously play the Hollywood game, the celebrity mother game. And she and John make for a very charismatic couple. They needed to have a sort of a heat that has gone wrong, a destructive magnetism between them."

On first read, Olivia Williams found the script both hilarious and terrifying. 'It's dangerously funny as satire," she describes. 'But it's also about some serious things – the subconscious, madness, paranoia, suppressing the truth – and I found that it was incredibly moving and heartfelt at the same time as being absurd."

Olivia Williams was also drawn to Cristina's plummeting trajectory. 'She is a very ambitious woman and we get to see her downfall from the very heights of her power," she says. 'She operates in a world where someone could be the nastiest person on earth and make your life hell, but you might still want them in your movie because they'll make you make money."

Certainly, Benjie Weiss is no dream to work with – hurling invectives at agents and executives when he's not all-out partying, despite his tender years – but Cristina is more concerned with his future than his psyche. Yet there are even deeper family issues roiling beneath Cristina's aggressive focus on her son. Williams coyly notes, 'Let's just say that John Cusack and I have a very complicated on-screen relationship that is – what's the word? – incendiary."

The Limo Driver
'Plus we're both dual-disorder"

When Agatha Weiss returns to Los Angeles, she makes an instant connection with the first person she encounters: her limo driver, a would-be screenwriter who chauffeurs the far more successful, and who becomes increasingly entangled in her larger-than-life drama. Taking the role of Jerome is leading star Robert Pattinson, who wanted to work with Cronenberg again on the heels of taking the lead role in Cosmopolis (coincidentally, Pattinson played a billionaire who is a limo passenger throughout that film).

He was one of the first cast members to sign on, which Martin Katz says helped buoy the project. 'Robert Pattinson's enthusiasm for Maps To The Starsis one of the things that really got us underway. Jerome is not a large role but it's very significant in the story and his joining the cast gave us a terrific amount of momentum," recalls the producer. 'In a sense he is playing Bruce Wagner, who was himself at one time a limo driver and unemployed writer." David Cronenbergwas thrilled to reunite with Robert Pattinson, and in such a different kind of role. 'I think Rob was really happy to be part of an ensemble," he says. 'But Jerome is also a critical character, a lovely character and it was a chance for Robert Pattinson to give a more naturalistic performance. I knew he would be fabulous and he was."

Robert Pattinson's experience working on Cosmopolis with David Cronenberg was so profound that he agreed to the role of Jerome before reading the script. But when he finally sat down to read it, he recalls, 'Within two pages I was thinking wow, this is so unbelievably different and hilarious. I don't even know what people are going to make of this, but it feels dangerous. It's sort of satirical but it's also a ghost story and it's also a kind of thriller. It defies genre." He came to see Maps To The Starsas more than just another L.A. story. 'It's really about people who lie to themselves – right up until the end," he summarises.

Yet within all that, Robert Pattinson sees Jerome as the most ordinary of the film's roster of outrageously deluded and desperate characters – typical of a certain kind of everyday L.A. dreamer, a regular guy with a regular job who nevertheless always believes he is just one move away from becoming a major actor and writer.

'Jerome would never accept that he is just a limo driver. I think he feels he's just waiting for his break," Robert Pattinson observes. 'And yet, he's seemingly the only one in this story who's not going insane – or who isn't a ghost. He's a fairly normal guy, which is slightly odd for me, as well."

Working with his fellow cast members was another big draw for Robert Pattison. Of Julianne Moore, he says: 'She's hilarious and also very sane, which is kind of ironic given who Havana Segrand is. And she shifts so subtly into character, you barely notice what she is doing. It's kind of amazing."

He worked most closely with Mia Wasikowska as Agatha, who comes to rely on Jerome as her sole friend in the city. 'I knew Mia Wasikowska was going to be wonderful in this," he says. 'She's so lovely that it was horrible for me to watch Agatha be bullied by her entire family." For David Cronenberg, the chance to work with cast members like Robert Pattinson and Sarah Gadon multiple times is one of the most gratifying aspects of his career. 'It's really beautiful for me to see that blossoming and the evolution of actors as I work with them," he concludes.

Maps To Los Angeles
'That kind of money would f*#k up Mother Theresa."

While many interiors of Maps To The Starswere shot in Toronto, there was little doubt that the production would shoot in Los Angeles, to capture that very specific psychosphere – that strange brew of glamour and decay, creative highs and desperate lows – that cannot be imitated.

Says Martin Katz, 'Los Angeles really is another main character in this film. This is a film about the way people's perspective on success is distorted by celebrity culture – and there's nowhere in the world where that's more significant, or more poignantly visible, than in Los Angeles."

Shooting for the first time in the city – indeed for the first time in the United States at all – was an inspiration for David Cronenberg. 'We only shot five days in LA, but we really made those days count. I mean, my mantra was, -I won't do any shot without a palm tree in it,' and I almost achieved that," he remarks.

He worked with a crew of long-time, award-winning collaborators to bring to life a realm bursting not only with hustlers and lost dreamers, but also with dead spirits and searing flames. The team included cinematographer Peter Suschitzky, who has been working with Cronenberg since Dead Ringers; production designer Carol Spier, who has worked with Cronenberg throughout his career and most recently designed Guillermo Del Toro's Pacific Rim; costume designer Denise Cronenberg, who has worked with her brother since 1986's The Fly; editor Ron Sanders, who makes his 17th feature film with Cronenberg with Maps To The Stars; Oscar® winning make-up artist Stephen Dupuis; and three-time Academy Award® winning composer Howard Shore.

His mandate to the crew was to let the atmosphere of L.A. permeate the story. 'Here, the city is like a dense rain forest from which you can hardly escape," he describes. 'It grabs the characters, it magnetizes them, it sucks them in. Partly they can't escape because it doesn't let them think they want to escape. And yet, you can see in all the characters there's desperation and a desire to get away. But they can't. They can't." Contrary to his usual instincts, Cronenberg maximized his use of tourist hotspots. 'Unlike Eastern Promises, where we shot in London but deliberately avoided all the iconic London spots, Maps To The Starsis very much about iconic Hollywood. Therefore, we shot on Rodeo Drive, at the Chateau Marmont, under the Hollywood sign and on Hollywood Boulevard. It was hitting the high spots. And, honestly, it was the first time in my life that I've ever shot anything in the US. Even though many of my movies are set in the US, I've never shot a foot of film in the US until Maps To The Stars."

Throughout, even when the production was shooting in Toronto, Bruce Wagner served as a Hollywood tour guide for David Cronenberg. I could always ask him -would they do this in L.A.?' or -would a street look like that in L.A.?' And that led to subtle, but crucial, moments of authenticity," he describes.

Ultimately, David Cronenberg's map of modern Los Angeles – and perhaps of contemporary culture itself – is lined with psychic pitfalls and shadows but also lit up by human vibrancy. 'The city in the film is a deadly beauty," he concludes. 'It's like a Venus fly trap, where each of these characters is swallowed up by their obsessions with success, celebrity and money."

Maps To The Stars
Release Date: 20th November, 2014