Jennifer Lawrence and Liam Hemsworth The Hunger Games: Mockingjay Part 1
Cast: Jennifer Lawrence, Josh Hutcherson, Liam Hemsworth, Woody Harrelson, Elizabeth Banks, Julianne Moore, Philip Seymour Hoffman, Natalie Dormer
Director: Francis Lawrence
Genre: Adventure, Sci-Fi, Drama
Rated: M
Running Time: 123 minutes

Synopsis: The worldwide phenomenon of The Hunger Games continues to set the world on fire with The Hunger Games: Mockingjay - Part 1, which finds Katniss Everdeen (Jennifer Lawrence) in District 13 after she literally shatters the games forever. Under the leadership of President Coin (Julianne Moore) and the advice of her trusted friends, Katniss spreads her wings as she fights to save Peeta (Josh Hutcherson) and a nation moved by her courage. The Hunger Games: Mockingjay - Part 1 is directed by Francis Lawrence from a screenplay by Danny Strong and Peter Craig and produced by Nina Jacobson's Color Force in tandem with producer Jon Kilik. The novel on which the film is based is the third in a trilogy written by Suzanne Collins that has over 65 million copies in print in the U.S. alone.

The Hunger Games: Mockingjay Part 1
Release Date: November 20th, 2014


About The Production
'Fire is catching. If we burn, you burn with us." - Katniss Everdeen

Our Leader The Mockingjay

The Hunger Games: Mockingjay - Part 1 is the highly-anticipated third installment of the blockbuster phenomenon that blazed across movie screens around the globe. The story now accelerates to new, exhilarating levels as the futuristic chronicle of Katniss Everdeen enters into a new realm. The Games may have been obliterated for good, but the fight to survive is about to intensify. Faced with the most daunting odds - and watched by the eyes of a hopeful nation - Katniss must put into motion courage, strength and empowerment against the all-powerful Capitol. This is the moment when she realises she has no choice but to open her wings and fully embody the Mockingjay symbol. If only to save Peeta, she must become a leader.

The story begins again as Katniss has just been rescued from the destruction of the Quarter Quell. She awakens in a shocking world she didn't even know existed: the deep, dark underground of supposedly annihilated District 13. She quickly learns of the devastating reality she must face: District 12 has been turned to rubble; and Peeta is being held, manipulated and brainwashed by President Snow in The Capitol. At the same time, Katniss's eyes are opened to a secret rebellion rapidly spreading from District 13 throughout all of Panem – a rebellion that will place her at the center of a daring plot to hack into The Capitol and turn the tables on President Snow.

The Hunger Games: Mockingjay – Part 1 dives further into the fabric of Panem and into the story's most powerful emotions as Katniss and the nation enter a harrowing but transformative time. Explains returning director Francis Lawrence: 'Emotionally, Katniss is like a foreigner in a strange land as this story begins. This is the time when she realizes she can't stand by and do nothing. There has been too much deception and the people Katniss loves are in danger. She will do whatever it takes to keep them safe."

The director continues: 'The stakes have always been high in The Hunger Games but now the entire world opens up. The Games themselves are gone, but threat of oppression now permeates all of Panem. This chapter gave us a chance to reveal entirely new locations with amazing action sequences. It's a gigantic movie."

In her third and most poignant turn as Katniss, Academy Award® winner Jennifer Lawrence relished the chance to portray the character at this heightened juncture as she emerges from distress to take her first steps into leadership. 'I was excited for Katniss to come into her own as a leader, but she's still a very reluctant hero," Lawrence observes. 'In the first movie she wanted to save her family. In the second, she tried to save her friends and herself. Now, she starts to realise the impact she has on the wider world and that she has a choice to lead this battle for what is right."

That choice does not come easily for Katniss, who recoils at nearly every element of her new life: the militaristic order of District 13, the pressure to perform on cue, and the heart-wrenching reality of war. Katniss remains hopeful that becoming the Mockingjay might truly change things. 'As an actor, the challenge was having Katniss wake up in a brand new environment, where she has to rebuild herself from nothing. Katniss has not only left behind her old life as a District 12 victor, she has entered a world unlike any other. Says Lawrence: 'She has to get used to a new way of life in District 13. Everything is deeply unfamiliar and it's all underground, so she can't even go outside or hunt."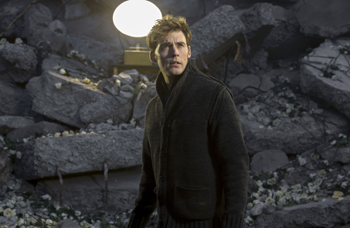 Francis Lawrence continues about approaching Katniss: 'She felt almost like an entirely different character because she is so stripped down and feeling so empty. It's something that truly does happen to people after traumatic events like she's been through. Katniss still has the same core, but she's in a completely different place inside and out."

As Katniss takes on the public role of the Mockingjay, she is asked by President Coin [Julianne Moore] to appear in a series of 'propos" – viral propaganda videos that District 13 uses to communicate with and inspire rebels across Panem.

'She goes into the propos feeling like a pawn, like the Mockingjay is just a symbol she's not connected to or passionate about," Lawrence says. 'The whole idea of the propos is to get people fired up, to band together – so Katniss faking at being something that she's not doesn't work. It's only when she sees the human cost in District 8 that a true spark is ignited. The more she sees, the more it becomes a personal fight for her."

Francis Lawrence was thrilled to have the opportunity to work with Julianne Moore in the role of President Coin. 'When I heard she was going to play Coin, it was the most exciting, unbelievable news in the world. I think Julianne is one of the greatest actresses of all time, just absolutely phenomenal. She was even more impressive in person. She is such a sweet family woman and also hilarious. Working with her was a dream come true."

While Francis Lawrence and Julianne Moore got along, their characters have a cool tension between them. 'Their relationship is complicated. They share similar ideals, but with all she's been through, Katniss feels she cannot fully trust her," Francis Lawrence comments. 'President Coin can see how important Katniss is to leading this rebellion, but she also doesn't believe Katniss can actually do it. She's still suffering from post-traumatic stress and President Coin is skeptical that using Katniss is something that she can actually control."

Also rewarding to Francis Lawrence was the chance for deeper interaction with Liam Hemsworth as Gale, who remains Katniss's devoted friend and strongest link to her past. 'Katniss and Gale have such a rich history," she acknowledges. 'There are so many complexities to it because before Katniss went into the Games, Gale was the only person who really understood her. Following the games, she and Peeta had this experience together that no one else, including Gale, could ever understand. She and Gale are in a very interesting place and it was nice to explore more of that."

For Francis Lawrence, one of the highlights of the entire Hunger Games series has been watching Jennifer take Katniss through a vast range of experiences, each one internalised into a character who is now thick with many layers. 'It's incredibly complex to track somebody who is going through so much emotionally," he says. 'Katniss has incurred a lot of damage, and now here she is trying to figure out where she stands in the world, whether or not she trusts the people in District 13, and whether she wants the responsibility of becoming a part of the rebellion. Jen has done the most amazing job with every nuance."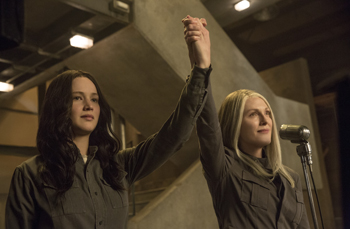 In thinking about Katniss and reflecting on one of her favorite scenes, producer Nina Jacobson notes: 'When Katniss goes to District 8 and says, -If we burn, you burn with us,' for the first time she sees the impact that she has on people. Those moments – where Katniss owns what and who she is – really give me the chills."

Nina Jacobson says the films biggest astonishment may be how emotionally resonant it is – not just because the story is entering a time of war, with all its accompanying sorrow for the lost and hopes for the future, but because it is also a time when Katniss must change faster than ever. 'It's a very tense and powerful story and the emotions on screen are surprisingly deep," concludes the producer. 'It takes you to places you will not expect to be taken. It's provocative, thoughtful and up to the last minutes of the film, the way it unfolds is shocking."

'The Hunger Games: Mockingjay – Part 1 is such a fantastic epic," she summarises. 'This part of the story is important to tell -- about how powerful a person's voice can be. It is always easier to follow the person in front of you, but I think we all have a Mockingjay in us. We all have the ability to make a stand and do the right thing."

District 13 Vs. The Capitol

The Hunger Games: Mockingjay – Part 1 reveals for the first time the most covert place in all of Panem: secretive District 13, where Panem's rebels have carved out their own rigidly ordered society miles underground.

District 13 and The Capitol are mirror opposites in every way. The Capitol is sensationalist spectacles, over-the-top garish hues and gleaming lights. District 13 is steeped in shades of gray, claustrophobia, conformity and the stark reality of what's happening in the Districts. While The Capitol has been living high on the hog off the people, District 13 has been biding its time, preparing for the day when they would finally take a stand.

Up until now, only The Capitol knew about District 13, having carved out a non-aggression treaty that allowed it to exist so long as it stayed underground. As rumblings of war begin in earnest, District 13 and The Capitol are pitted against each other in a battle of images designed to win support – and key to it all is the ultimate District 13 symbol and foe of The Capitol: the Mockingjay.

Francis Lawrence notes that the history of District 13 makes it unique even in dystopian Panem. 'What we discover is that 13 was bombed in the Dark Days 75 years earlier. It was a graphite mine with old nuclear facilities. There were survivors, and instead of giving up, they moved underground and created an alternative civilization outside The Capitol, hidden from view. They've created a very ordered, militarized civilization, where people are trained as soldiers from a very early age. All this time, they've been waiting for a rebellion to start so they could take back The Capitol."

Creating this clash of two cultures – and dueling visions for the future of Panem – was one of the biggest and most exhilarating tasks of the film.

'There's really nothing in this movie that you've seen before of Panem," notes producer Jon Kilik. 'You're immersed into District 13 – the one place no one outside has seen, the place no one except The Capitol even knew still existed. It's a whole new journey for the audience. We've been through jungles and plagues in the Games but now to be living miles underground, things are even more intense and it puts an even greater pressure on the characters. It was also an incredible design challenge, and the result is a tribute to the skills of Francis Lawrence and our production designer Phil Messina."

Katniss might not much like District 13, but she is their long-awaited ideal of a people's hero, someone who isn't in it for glory but is motivated by her own pure sense of right and wrong. 'She is a simple girl from the lowest of the Districts, so the message of District 13 is that if she can stand up to The Capitol, anybody can do it," Francis explains. 'That's why they want to use her in the propos. The hope is that if she stirs enough people up and all the Districts begin to unify; they could actually defeat The Capitol.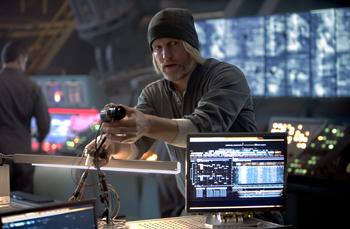 Who's Who: Returning Characters

Peeta Mellark:
Peeta Mellark is now The Capitol's precious prisoner. As he comes forth in a series of tell-all interviews with Caesar Flickerman about what happened in the disastrous Quarter Quell, questions arise about his true loyalties. Is Peeta a victim or a traitor and just what does he know? Returning in the role of Peeta Mellark is Josh Hutcherson, who knew this film would be different. 'Where Peeta goes as a character is really dark and really intense," he says. 'It's actually what I was most looking forward to as an actor from reading the books."

Josh Hutcherson notes that when Katniss first sees Peeta on TV, she has no way of knowing what is going on with him, which only leaves her feeling even more unanchored and unhinged. 'Now that she knows he's alive, but seeing the state he's in, and she hears what he is saying - she doesn't know if he's a good guy anymore or if he's completely turned and now believes the words he's saying in support of the Capitol."

While Josh Hutcherson is circumspect about where his character is headed, he says what he loves about the entire Hunger Games series is the way it brings of-the-moment themes together with epic, visual entertainment. 'They are really smart movies," he says. 'They go to many interesting places with this story of a girl from a small village who is seemingly just fighting to survive and then becomes swept up in this huge uprising, becoming its leader. Francis Lawrence has done a great job telling Suzanne Collins' stories with a thrillingly large scope but making it relatable and grounded so that people connect with it."

Gale Hawthorne:
From the moment Katniss wakes up in District 13, Gale is there – one of her only touchstones to the world she left behind. But he, too, is no longer the same. A hero who saved hundreds during the destruction of their home in District 12, he is now becoming a dedicated soldier in the rebellion and yet his heart is as unsettled by Katniss as ever.

Returning in the role is Liam Hemsworth, who says that in the wake of Catching Fire events, Gale 'has reached the tipping point." Liam Hemsworth explains: 'He's had enough as far as The Capitol's abuse goes, so he's not scared to stand up to it. He feels ready to go to war, in spite of the costs, to try to take down The Capitol. He sees the biggest part of his job as being the one to give Katniss the support and courage to become the Mockingjay. He's now kind of her right-hand man."

Gale becomes a driving force behind Katniss consenting to appear in the propos films for District 13. 'He knows that they have to spread the word that the Mockingjay is alive and that only she can bring people together to stand up to The Capitol," Liam Hemsworth explains. At the same time, he notes that there is a distance between them. 'Gale and Katniss have known each other their whole lives and have a lot of love for each other . . . but the difference between them is that Gale now sees anyone who has anything to do with the Capitol as guilty. Katniss doesn't have those blinders."

Liam Hemsworth couldn't wait to work with Jennifer Lawrence and Josh Hutcherson again. 'You couldn't ask for better people to work with. Jen & Josh are both amazingly talented and working with them is a blessing and so much fun. We've now all known each other for a few years and together we've experienced a lot of pivotal points in our lives."

He also found great enjoyment in working with Francis Lawrence on the nuances of Gale's development over time and his increasingly complicated feelings for Katniss. 'Francis Lawrence is the consummate director. He is great at all the big action stuff as well as working intimately with actors. He is one of the most well-prepared directors I've had the good fortune of working with. He knows the ins and outs of the story and everyone's character. When you ask him a question, he knows the answer. He's always willing to listen and collaborate with you on your input and ideas."

Haymitch Abernathy:
Woody Harrelson returns as a very different Haymitch – one who has not only been changed by recent events but taken some time to recover with a stint in rehab. It gives him a clearer view of what matters. 'Haymitch's thing before was always to emotionally detach himself from the people he was mentoring," explains Harrelson. 'He truly sees how much he loves Katniss and Peeta, and he realises they've become a kind of family to him, in a very real sense."

Haymitch feels a need to continue to drive Katniss to what he sees as her destiny, no matter how difficult it is to watch her in her anguished state of mind. He is the one who suggests putting her into real peril in the propos videos, knowing the degree to which she can inspire others by her authentic reactions to the world. 'He knows exactly how to let the world see Katniss at her best," Woody Harrelson explains.

Plutarch Heavensbee:
Once the Capitol's Head Gamemaker, now Plutarch Heavensbee is one of the masterminds behind the rebellion – and he's also become Katniss's champion, trying to convince President Coin that Katniss alone can fulfill the Mockingjay role with the passion of the Girl on Fire. 'Plutarch has been trying to sell this idea that one of the ways to unite all the districts is through not just propaganda, but through the sheer power of the Mockingjay image – through this one irreplaceable symbol that can unite and inspire everybody in Panem to come together and fight for this cause," explains Jon Kilik.

Philip Seymour Hoffman, in whose loving memory the film is dedicated, took the key role to new depths. He reveals a Plutarch who finds himself in a dizzyingly different world from The Capitol where he once thrived – and must now try to transform his well-honed skills of manipulation and strategic gamesmanship into weapons against his former boss, President Snow.

Everyone on set was exhilarated by his performance as a man trying to re-imagine the future anew in District 13. 'This is the movie where we really get to see who Plutarch is," says Francis Lawrence, 'and Phillip Seymour Hoffman was so great, hitting both on Plutarch's sense of humor and his political maneuvering."
Effie Trinket:
Elizabeth Banks returns as Effie Trinket in a greatly expanded role. Effie's presence is one of few departures from the book. With Suzanne Collins as enamored about Banks' bubbling-over portrait of Effie as movie fans, it was a change that came with the author's blessing. Recalls Francis Lawrence: 'When Suzanne saw Catching Fire she called and said -There's no way Effie Trinket cannot be in the Mockingjay films.' Effie brings such warmth, fun and levity to these dark stories – and fans will love how she has adapted to life in District 13."

Placing Effie in such a contrasting environment allowed the filmmakers to further develop the character's complicated relationship with The Capitol. 'What makes Effie so interesting in this film is that she does not want to be in District 13," Nina Jacobson says. 'Unlike Plutarch, she does not want to be part of any revolution. She has to be convinced to help, and she helps for personal reasons, not political reasons."

Elizabeth Banks was as surprised as anyone to return as Effie. 'I was just so flattered that people enjoy this character as much as they do," she says. The actress was thrilled by the chance to take Effie into unexpected territory, carving glamour out of the stark, grey-shaded conformity of District 13. 'Effie is a true fish out of water in District 13, without her Capitol comforts," Banks muses. 'But of course, she needs to feel fabulous wherever she is, so she applies her style to District 13 and has a little fun with it." It's an act of courage for Effie. 'In her own way, Effie rebels against the stringency of District 13 by showing her individuality. That's important to her and an important theme for the movie, because it goes to show that the people in The Capitol are not all evil. Effie might disdain District 13, but she is also grateful to be there rather than feeling the wrath of President Snow."

If the contours of Effie's life have changed, her devotion to Katniss remains unsinkable. 'Her new job is to ensure Katniss is the ultimate celebrity face of the rebellion, the perfect Mockingjay. Her job hasn't really changed from the Games. Effie also remains one of the few people who's never lied to Katniss. She never had to, because she truly didn't know what was going on, and now she still has Katniss's trust," Elizabeth Banks points out.

Beetee:
Tech-savvy former tribute Beetee, having barely survived the Quarter Quell, now pushes his master hacking skills to the edge as he becomes a vital part of the rebellion's plans to breach the mega-security of The Capitol. Jeffrey Wright takes on the character he describes as 'resisting injustice."

Jeffrey Wright explains where Beetee is now that he is recovering from the Games in District 13. 'You really get to see Beetee in action working in his laboratory designing systems and weapons and trying to hack into The Capitol's communications," says the actor. 'He has a very critical role in the advancement of the rebellion."

Although, Beetee has his own reservations. 'He has a lot of outrage at the conditions in the Districts but, like Katniss, he also is struggling not to become the very thing he is fighting against," says Jeffrey Wright.

Jeffrey Wright especially loved having the chance to work with Julianne Moore as President Coin. 'She is terrific as this very forceful but somewhat mysterious leader in the deep, dark recesses of District 13," he says. 'She came in and just drove into Coin's personality in a way that was incredibly impressive."

Finnick Odair:
The Hunger Games: Mockingjay - Part 1 also finds former tribute Finnick Odair in an unstable state following the events of the Quarter Quell. Once renown across Panem for his gleaming smile and high-spirits, Finnick now collides with ghastly news at the start of the film. 'Finnick finds out that the love of his life, Annie Cresta, has been kidnapped alongside Peeta and Johanna," Sam Claflin, who debuted in the charismatic role in Catching Fire, explains. 'That puts him in a very, very vulnerable position, and he doesn't really know how to deal with that loss."

Sam Claflin goes on: 'What's incredible about Mockingjay is that it picks up at a point when everything has changed drastically, and every character you care about has seemingly gone to hell and back. They hoped that they had escaped from their lives as tributes, but they're actually confined even tighter. Now, they're in this very regimented, new world of District 13 and it is quite disorienting. I see Finnick as being very broken at the beginning of Mockingjay, but he starts to find his feet again."

For Sam Claflin, Finnick's turmoil was a chance to dig deeper and expose more shadings inside the character. 'You find out that everything you knew about Finnick, all his bravado and verve, has been largely for show," he comments. 'I think for any actor, playing the underside of a beloved character is incredibly interesting. There are moments where he flashes a smile where you'll remember he's still the old Finnick, with all those elements everyone knows and loves, but at the same time, there's a new side I get to reveal."

Primrose Everdeen:
If there is one person Katniss can trust implicitly it has always been her little sister Primrose. She is no longer a child but an unusually courageous teenager living in District 13 and nurturing her dream of becoming a doctor even in the midst of chaos and wartime. 'My character has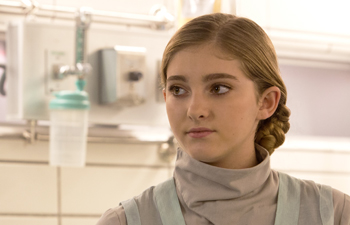 evolved so much," observes Willow Shields.

'Prim started out a scared child afraid to lose her sister and best friend but now she has become her own strong person who can really be there for Katniss." Nina Jacobson notes that Willow Shields plays an essential part in Katniss's evolution. 'It's Prim who reminds Katniss of her power and tells her that she can make her own demands when she agrees to be the Mockingjay."

More than ever, Prim is also a confidante for Katniss as she grapples with becoming a leader – helping her through her darkest nights. 'Prim knows that Katniss feels responsible for all the people who have lost their lives, that she's struggling with post-traumatic stress from the Games, and with the fact that she still wants to take care of Prim and their mom as war is breaking out. But I feel like Prim now has a unique ability to stand behind Katniss, and you get to see almost a kind of role reversal between them."

For Willow Shields getting a chance to do all that with Jennifer Lawrence was truly exciting. 'With each movie, I feel like we have connected more and more," she says. 'It's always so fun to be around her, but she is also so smart and sophisticated. She's constantly teaching me."

President Snow:
The Hunger Games: Mockingjay - Part 1 finds Panem's authoritarian leader, President Snow, trying to close his grip on a nation that is suddenly rebelling against him and to get to Katniss in the most deviously personal way. Donald Sutherland takes the character into some of his darkest moments as he tries to stay one step ahead of his enemies.

Snow also knows just how to get to Katniss. He knows that she, who has always just wanted to live her life in peace, will be devastated to be the cause of violence. He knows that she will be deeply wounded by seeing a malnourished Peeta on television. 'Katniss never wanted a war, with all its suffering, and yet that is what her character appears to have started," explains Donald Sutherland. 'Snow understands the effect that will have on her, just as he knows that he can get to her emotions through Peeta."

Donald Sutherland sees Snow as playing a game with Katniss, although one with very real consequences for the entirety of Panem. The Golden Globe® Award-winning star observes. 'He loves being able to play a shifting chess game with that rare opponent who is truly his match. He doesn't want her to succeed, of course, but he so enjoys her spirit, he enjoys the game."

Donald Sutherland especially enjoyed working with Francis on the third installment of the series. 'He's an extraordinarily gifted man, yet so balanced, so comfortable. The way he works is almost like the old days when the director used to squat right beside the camera, and you knew he was right there with you. It's been a glorious experience."

Caesar Flickerman:
President Snow enlists the slick impresario Caesar Flickerman to aid him. Only this time he's not an MC, but a propagandistic talk-show host, leading Peeta through questions designed to repress the rebellion. Taking the character into talk show territory is once again Stanley Tucci, who explains: 'Caesar is now very clearly a puppet for The Capitol regime, which I think is really interesting. People like him have existed forever in every political administration, no matter what the administration, but he is as bold as they come."

Stanley Tucci has loved portraying Flickerman's flamboyance, 'It is the kind of thing that you don't often get to do as actor, this kind of very theatrical performance on film. Caesar is at once horrifying and charming and funny and repellant and it's great."

Who's Who: District 13

President Coin:
District 13's steely leader is the enigmatic Alma Coin, a major new role taken to its full potential by one of today's most sought-after dramatic actresses: Award-winning actress Julianne Moore. 'What amazed me about what Suzanne Collins did with the books is that she wrote a story that has so many substantive things to say about who we are as human beings, how we relate to one another and what standing up for what's right means," says Julianne Moore. 'I was intrigued by Coin because I was very interested in her evolution as a leader."

Like so many Hunger Games fans, Moore has come to feel a deep connection with Katniss. 'What everyone responds to in Katniss is that she carries this moral ambiguity. She doesn't always know what the right thing to do is, so she must act more from her impulses," she observes. 'She's very much about the idea that you can change your destiny – and other people's destinies – through your actions."

Katniss and President Coin start off on shaky ground. Katniss doesn't trust anyone in authority anymore, but Coin is equally skeptical of Katniss. 'Coin is reluctant," Julianne Moore explains. 'In the beginning, she's reluctant to use her as a mouthpiece because she believes that Katniss is too damaged as a person to be able to do the things that they need her to do, but she also identifies this girl as someone who's done quite heroic things and has galvanized the revolution."

Because Coin is largely seen through Katniss's eyes in the books, Julianne Moore had the freedom to create much of her interior from scratch. 'In The Hunger Games: Mockingjay – Part 1, Coin sees herself as a very practical revolutionary, someone who is focused on making the best decisions for her people and for the people in the other Districts. Francis and I talked and while we wanted Coin to feel very real, we also wanted her to be someone who is really hard to get to know."

Francis Lawrence was thrilled with how Moore fused with Coin in her performance. 'Coin's singular vision to unite all of the districts in a massive rebellion is no small undertaking, especially when most of the districts have no idea that District 13 still exists. She has to be a tough leader," the director notes. 'Her relationship with Katniss is very complicated as well. Julianne has done an amazing job shaping the character."

Adds Kilik: 'With Julianne you can really see President Coin's wheels moving – the way she sizes up Katniss, the way she listens to Plutarch. You can see that she has her own plans, but she doesn't give anything away. Just like with Katniss, there are so many layers to what she's thinking. It takes a very sophisticated, well-tuned instrument of an actor to be able to pull that off."

Boggs:
President Coin's right-hand man, Boggs, has lived all his life in District 13 and never known anything other than the rigid life of an underground soldier. Jumping into the character is Mahershala Ali, known best for his film and television roles in The Curious Case of Benjamin Button, The Place Beyond the Pines and the critically acclaimed series House of Cards.

Ali sees Boggs as someone shaped by his environment, and someone who isn't sure if Katniss can truly become the Mockingjay, though his sworn duty is to protect her. 'Boggs is someone who has never lived above ground, and the only thing he's heard about and trained for his entire life is the coming revolution against The Capitol," the actor explains. 'At first he's a bit skeptical of Katniss because she's just this young girl who seems caught in something she knows is much bigger than her. Over time, as he gets to know her and see her in action, he really grows to love and respect her."

Ali says his role felt organic thanks to Jennifer Lawrence. 'I don't know if you can play a character any better than Jennifer plays Katniss," he says. 'I never saw her strike one false note. Being around actors of the caliber of Julianne Moore, Philip Seymour Hoffman and Woody Harrelson, it was all such an education. I was so moved and excited watching people so committed to telling a great story."

Cressida and Messalla, Castor and Pollux – Squad 451:
As Katniss takes on the role of the Mockingjay, her every public move is followed by a quartet of media-savvy rebels who produce 'propos," a mix of viral advertising, on-the-fly news clips and inspirational messages that are the only way for the rebels to communicate to the outside world. Playing the sharp propos director Cressida is Natalie Dormer of Game of Thrones. She was enthralled by Cressida's journey in Mockingjay. 'When Cressida first starts filming Katniss with the propos, she's got quite a cynical idea of what she's trying to create – she just wants to paste the symbol of the Mockingjay onto Katniss," Dormer explains. 'As she spends time with Katniss, and as the story develops, you see Cressida starting to really believe in Katniss as that galvanizing icon who can unite an oppressed people."

She also loved bringing in a whole different side of media power from the sensationalised Games. 'I think one really interesting thing about Mockingjay is that you see how battles can also be fought in the media. For Cressida and her crew, this is all about winning over hearts and minds," explains Natalie Dormer.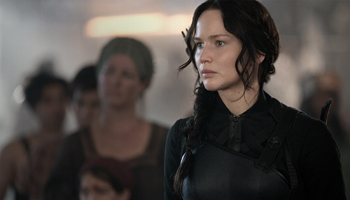 Francis Lawrence loved the spirit Dormer brought to the role. He says: 'Natalie Dormer has such an interesting approach to all her characters, I was so excited when she was interested in the part. We talked about Cressida as a sort of war journalist who escaped The Capitol. Natalie has those strong, tough, smart girl qualities that work so well for Cressida, who has to coax a very fragile and damaged Katniss to give the natural performances they need for these propaganda films. She was able to do it in such a compelling way." Joining Natalie Dormer is rising star Evan Ross. He takes on the role of Cressida's assistant director, Messalla. Evan Ross says of the character: 'He and Cressida have come of age together fighting against The Capitol by putting out information about what's really going on. They were becoming really big directors in The Capitol but they went against the Capitol by following Katniss. They've stuck together to fight for what they believe is right."

He goes on: 'And now their mission is to go to all the different districts and give hope to the people by showing that Katniss has made it through. We've got a really incredibly cool squad who know how important it is to get that footage."

Evan Ross especially loved having the chance to work with Jennifer Lawrence. 'It's incredible to see her disappearing into Katniss," he says. 'Her performance in this film was so emotional. She really sets the tone for everyone else by making it about hard work while at the same time having fun."

Wes Chatham, recently seen in The Help, also immersed himself into District 13 as the fearless cameraman Castor. He was thrilled by the turns the story is now taking. 'What I think is so inspiring about The Hunger Games is how it all started with a person from District 12 who outsmarts President Snow and from that one person has come this huge uprising, this challenge to power, in Mockingjay. Castor is part of the movement hoping to unite all the districts into a rebellion."

Completing the propos crew is Elden Henson in the unusual role of Pollux, Castor's twin, who is also an Avox, a Panem rebel who has had his tongue cut as punishment for treason. Henson says playing a mute character was a revelation: 'It's actually been amazing, because just really concentrating on emotions alone is so liberating," he says. As for what sets Mockingjay - Part 1 apart, he sums up: 'It's really a departure from the other movies in every way. It's been building up but now Katniss and everyone else really has to step up."

The Unseen Panem: Design

Bringing District 13 to life – and giving audiences glimpses into the turmoil catching like fire across Panem was one of the most intriguing tasks faced by Francis and his design team, headed by production designer Phil Messina, who also designed The Hunger Games and Catching Fire. The two envisioned taking the scale of the third film beyond anything they had done while relying largely on real locations rather than digital ones. In addition to shooting on soundstages in Atlanta the production went further afield to luxury chateaus and apartment complexes in Paris.

Messina began by turning Suzanne Collins' flights of imagination into a detailed vision of District 13. He illustrated a series of shadowy, claustrophobic, bunker-style sets for this brave new world amid the rubble. A combination of factory locations and intricate soundstage sets produced the final results. 'Our inspiration for the design came from 1960s and 1970s nuclear facilities," he explains. 'The idea is that District 13 has developed as a kind of closed-loop society. They have been completely cut off from The Capitol, so they've been adding on new technology on top of old technology. You will see analog push buttons next to high tech – and that mix was very intentional on our part."

The set designs for District 13 were as desolate as the designs for The Capitol were lavish, transporting the actors into this very raw, austere reality. Says Julianne Moore: 'It was rendered so incredibly beautifully. It made me think of what you imagine East Germany was like before the wall came down – very militaristic, really grey with people waiting for the moment of change." The underground city is laid out as a kind of multi-level maze that culminates in President Coin's Command Center. 'The Command Center is the brains of the entire operation where all the systems like water, oxygen and power are controlled. We organized it like a military hierarchy where above it all, Coin is at her post kind of overlooking everything," Messina explains.

Another highlight of District 13's design is purloined hovercrafts. 'We liked the idea that the rebel hovercrafts would be an older generation of The Capitol hovercrafts, maybe something they had stolen previously. We had already seen a Capitol hovercraft previously so it was fun to generate something that was its antecedent and has a lot more texture," says Messina. 'The aesthetic was taken from WWII Russian planes, as well as some submarines and helicopters for cockpit configurations."

The hovercrafts were hung off of huge cranes to simulate flight. 'When we first started designing pieces of the hovercraft, we thought how much fun it would be to fly. It took a lot of calculations to make sure the crane would be safe. The Atlanta special effects department built a steel structure that they were confident about. It had to be rehung at different places and it was a huge pain," laughs Messina, 'but it really paid off with some fantastic footage that looks like a real craft landing from the inside."

The idea was to use as many practical locations as possible. 'Our practical locations give the movie a sense of scope and at the same time a groundedness so that it feels like it readily could be our future," says Nina Jacobson. 'If you tried to do that purely through digital magic you couldn't get that sense of authenticity we wanted, where you see a real hovercraft land and your characters get out of it and interact with a real environment." The actors also loved the sense of immersion. 'Using locations that were so grounded in a sense of reality only made things that much more truthful," says Ali.

The Hunger Games: Mockingjay - Part 1 also hones in on the other Districts as unrest grows. 'We wanted to show the consequences of Katniss joining the rebellion and how the propos start to inspire people in different Districts. So you see the lumber District start to rebel by propelling up trees and then you see the hydroelectric dam getting blown up in an extraordinary sequence. I think like you're really able to see things in the Districts we haven't seen before but in a way that is always connected to Katniss," Nina Jacobson comments.

Change Of Fashion: Costumes & Makeup

Just as the atmosphere in District 13 is a complete turn-around, so too is the fashion. To encourage communal spirit, everyone in District 13 follows strict rules: no colors, wigs or other stylistic statements, resulting in a look that couldn't clash more with The Capitol. To create those contrasting looks – along with costumes from the other Districts – newcomers Kurt and Bart came aboard. The duo had just the right pedigree, having gained renown for their work with music and style icons, and making their mark in movies on such films as Dallas Buyer's Club and Stoker.

They were thrilled to join the franchise but knew this film would be very different. 'You don't have the fanfare of the Games in this film," says Kurt, 'but what was so exciting for us was that this time all of the characters are stripped down to their most basic level and the challenge was to do that while also letting their personalities shine."

District 13's grey uniforms have their own distinctive flatness, reminiscent of 1940s-era coveralls. 'We did a lot of research," says Bart. 'We looked at Futurist and Socialist design concepts but what we really wanted was clothing that has the feeling of having real utility. Francis wanted there to be a kind of realism and familiarity."

Adds Kurt: 'Francis responded to designs that were inspired by classic American work wear, so that is the direction we went. It makes sense that they're living in austere times when there are not a lot of resources, there's certainly not a lot of fabric, so they've worked with what they had in District 13." The one person who is not at all pleased with what she has to wear there is, naturally, Effie Trinket, who feels naked without her baubles and bubble skirts – but learns, albeit with no shortage of complaints, to make the best of it. 'Effie's been the most fun to dress because you get to ask: what would this woman do with just five pieces of clothing? How would she still maintain that level of style and flare that she's used to? That was exciting for us as an approach," Kurt says.

Elizabeth Banks enjoyed the results. 'I loved working with Kurt and Bart," she says. 'They are very rebellious and they've seen and done it all. They come from rock 'n roll so they have playful imaginations. And with Effie, you get to play. We called her outfits the Project Runway of District 13, taking the standard issue stuff people wear and turning it inside out. You get a sweater, some tights and a shirt. And it was like, okay, well, the shirt's now going to be a dress and the tights are going to be sleeves and the sweater's going to go on my head."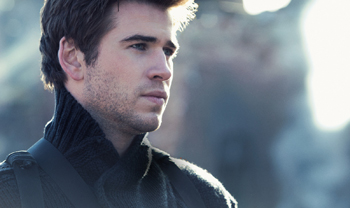 Though it is still utilitarian, perhaps the most elaborate costume in all of District 13 is Katniss's special Mockingjay outfit, which was designed by Cinna before his demise. 'When we shared references with Francis in the beginning, we were looking at famous woman warriors like Joan of Arc," explains Bart. 'Then we went to the Metropolitan Museum of Art and looked at their fantastic armor collection for further inspiration. Francis brought up the idea that Cinna was so smart, and he was thinking of her as the leader of this real army, so we should use what the soldiers wear as a starting point and we loved that direction." Kurt adds: 'It was important to us and to Francis that Katniss not look like a superhero but more like a real woman soldier. Both the soldiers and Katniss have protective breast plates, but hers is a little fancier while still being functional."

President Coin's outfits, though severe and drab in keeping with District 13, shift subtly through the film. 'When Coin first meets Katniss she's in a shirt and pants, too, so there's this kind of common equality at that moment," points out Kurt. 'As we go on, you start to see Coin in more of a military suit."

The Americana theme was continued into the other Districts. 'It goes back to Francis saying everything should be relatable even though this is the future. We found that classic American clothing really worked. It's not a crazy, wild future in the Districts, so we hearken back instead to this classic, simple way of living," Kurt says.

Kurt and Bart especially had fun working with the propos team of Cressida, Messalla, Castor and Pollux – designing functional gear including camera packs and video-enabled helmets. 'We wanted to keep everything light, lean, and really mobile so they can move really fast in the extreme situations which they get their fair share of," notes Bart. Natalie Dormer was impressed. 'They've taken the design to a whole other level, with designs that work with that sense of stuffy discipline in District 13," Natalie Dormer says of the duo's work.

Makeup department heads Ve Neill and Nikoletta Skarlatos returned to the franchise for the third time – but faced their own set of fresh challenges in creating a totally new look. 'This movie was a completely different animal from the first two," says Skarlatos. 'It was very exciting from a makeup perspective, because now we're getting to see more about what Panem is. We get to see the districts. There's more rawness to the look and the emotions. Before we were focusing on The Capitol and all of its opulence, now we're seeing the people from The Capitol who have come into District 13."

Adds Neill: 'We started out talking with Francis about having a very utilitarian look in this film. We're mostly in the Districts, and we don't have all those beautiful, lavish colors of The Capitol to work with, so we really had to rethink the approach. Everything is very natural and subtle, but you still want it to have the feel of a Hunger Games world."

The two looked at a variety of references for inspiration, from Depression Era photographs to current photojournalism. 'The people of District 13 have been living in a very homogenous society, so we looked at examples of those kinds of societies from our own history – from Quakers to Soviet Russia," explains Skarlatos.

The one tiny glimmer of Capitol glitter left in District 13 is Effie, who retains as much glamour as she can pull together with spit and string. Although Neill had done her makeup in The Capitol she had the idea of now passing the baton to Skarlatos to get a whole new perspective. 'I thought it would be a really interesting change to have Nikoletta do Effie because I knew she would bring her own different spin – and she wouldn't look anything like she has before," Neil says. 'Nikoletta created a look that is more somber but still very -Effie-esque.' She still has more flair than anyone else in District 13."

'She's a more austere, toned-down Effie," describes Skarlatos. 'She's in a place where she's really had to redefine herself. Most of what you see on her face now is just residual tattooing that she would have had done in the Capitol as a base for the rest of her makeup. She still has that white pallor with a bit of a pink sheen, but she's definitely a different entity."

Katniss is also different; she wakes up in District 13 stripped bare of everything, including any semblance of her Capitol colorfulness. 'We wanted Jennifer's look to be even more natural than ever at the start of the film," comments Neill. 'We wanted her to look raw and distressed -- and no makeup at all was the best way to do that. Then you see her as the glammed-out Mockingjay for the first propos, and finally you start to see her again as the beautiful young woman she was becoming in Catching Fire."

The team also had fun with new characters, from Julianne Moore's coolly refined President Coin to Cressida and Messalla, The Capitol dissidents who have retained some of their punky style in District 13.

'For President Coin, we wanted to break down Julianne's look into very small, incremental changes –very subtly highlighting her awareness that she is beginning to gain more power," Neill explains. 'Towards the end, there's a little more eye-liner or shadow, but the changes are almost imperceptible unless you see the looks side-by-side. And Julianne has such beautiful coloring that when I put any makeup at all on her, she very quickly looked too glamorous! So we kept her very au naturel. The only thing she has on at the start is a little bit of foundation."

For Natalie Dormer's look as Cressida, the hot young propos director, Neill faced more intricate work. 'Since Natalie was coming off Game Of Thrones, we really wanted to give her a completely different look than people are used to," says Neill. 'In the book she is described as having a shaved head and being tattooed with green vines, which could mean a number of different things, so we began to explore from there."

Ultimately, Dormer partially shaved her own hair... on one side. 'Natalie was kind of freaked out about the hair at first, but then she said, -You know what? I'm rocking it.' And she did," muses Neill. Says Dormer: 'We all felt that shaving just half the head was more Capitol -- funkier, edgier, and it gave insight into Cressida's personality."

For Cressida's full-body tattoos, Neill worked with special effects makeup artist Glenn Hetrick. 'We wanted the vines to be delicate and decorative, with lots of swirls and beautiful patterns, and Glenn designed the tattoos specifically to fit Natalie's body, to curve around her," she explains. 'It was actually very difficult to put the tattoos on because you had to make all the curves fit together just the right way. It was a learning process, but I got it down to about an hour in the chair with Natalie each day."

Likewise, Evan Ross wore prosthetic ears for the prodigiously pierced Messalla. 'Messalla has notches cut out of one of his ears, implant piercings and he has quite a bit of Capitol jewelry that would have been typical of someone in his line of work," Neill points out. 'And Evan was actually willing to get all those piercings but we would have had to wait for them to heal, so instead, we used prosthetics that Glenn built – and the result was really cool looking."

The Music

The sweeping emotions and volatile moods of The Hunger Games: Mockingjay – Part 1 are evoked not only in the performances and visual designs but in the music, which once again is driven by an original orchestral score from eight time Oscar® nominee James Newton Howard. The music covers the whole breadth of experience from scenes of epic action to moments of epic heartache and intimate poignancy. 'James has given us another fantastic, sensitive score that elevates every element of the film," says Francis.

Having worked with Coldplay on Catching Fire, this time the filmmakers invited another of today's hottest artists to bring her own personal musical vision to the story: Lorde, the 17 year-old New Zealand sensation whose quadruple platinum selling single 'Royals" has earned two Billboard Music Awards, two GRAMMY® awards and the record for the longest standing #1 for any female artist in the Billboard Alternative Chart history. Ultimately, Lorde not only wrote the moving end-credit song but has also curated the entire soundtrack, hand-picking the artists she felt most reflected the story's overarching themes.

Kismet brought Lorde into the sphere of the franchise. Recalls Francis: 'I was already interested in her doing a song for the end of the film – and funnily enough she was performing in Berlin when we were shooting there. She was actually performing right across the street from our set. So she visited with us, met Jen and we all talked."

The director goes on: 'Right away, I was struck by how much she really connected to the ideas in the movies, to the story and its themes. We had a long conversation about all the emotions that are involved, we talked about the kinds of sounds that I imagined for the end of the movie, and she had some great references right away. Then she created the most beautiful song for the end of the movie. She such did an amazing job that we also asked her to curate the soundtrack. She understood the series so well; we thought it would result in something very special if she picked the artists. That way we have one voice for this, somebody who really gets it, and I'm really excited about it."

"Curating the soundtrack for such a hotly-anticipated film was a challenge, but I jumped at the chance," says Lorde. 'The cast and story are an inspiration for all musicians participating and, as someone with cinematic leanings, being privy to a different creative process has been a unique experience. I think the soundtrack is definitely going to surprise people."


The Hunger Games: Mockingjay Part 1
Release Date: November 20th, 2014