Robert Downey Jr. Iron Man 3 Interview
Cast: Robert Downey Jr., Gwyneth Paltrow, Don Cheadle, Guy Pearce, Rebecca Hall, Stephanie Szostak, James Badge Dale, Jon Favreaud, Ben Kingsley
Director: Shane Black
Genre: Action, Adventure, Sci-Fi

Synopsis: Marvel's 'Iron Man 3" pits brash-but-brilliant industrialist Tony Stark/Iron Man against an enemy whose reach knows no bounds. When Stark finds his personal world destroyed at his enemy's hands, he embarks on a harrowing quest to find those responsible. This journey, at every turn, will test his mettle. With his back against the wall, Stark is left to survive by his own devices, relying on his ingenuity and instincts to protect those closest to him. As he fights his way back, Stark discovers the answer to the question that has secretly haunted him: does the man make the suit or does the suit make the man?

'I'm Tony Stark. I build neat stuff. I've got a great girl and occasionally I save the world."

Iron Man 3
Release Date: April 25th, 2013



The Story
In developing the story for Marvel's 'Iron Man 3," producer Kevin Feige wanted to make sure that it was not only a natural overreaching arc for Tony Stark, but also in alignment with previous events in the Marvel Cinematic Universe.

'The exciting thing about -Iron Man 3,' is that it's not only the culmination of the first two films, but it's also a follow-up to -Marvel's The Avengers,'" says Kevin Feige. 'It's one of the first situations where you have a movie that is the sequel to two different films and in a way that liberates it to be more unique than anything that has come before it, which is what we're most excited about."

Kevin Feige continues, 'Tony Stark is a man who is all about the journey and character arc. When we first met him in -Iron Man,' he was a pompous fellow, building weapons, and almost immediately he suffers a life-changing accident when he is blown up by one of his own missiles in Afghanistan. It galvanises him into building the Iron Man suit and to get out of the weapons game. -Iron Man 2' tests that resolve as he has some health problems and then in -Marvel's The Avengers' he faces a world-changing event that not only includes seeing the powers of other Super Heroes, but also having a portal to another world opened above his head."

For the storyline of Marvel's 'Iron Man 3," the filmmakers decided on a 'back-to-basics" tone where they could explore what Tony Stark would do if all of his money and toys were stripped away from him and he was forced to find a way back to being a Super Hero.

'Early on in the development, we talked about this notion of taking Tony Stark back to basics because we wanted to see him just use his brain," explains executive producer Louis D'Esposito. 'You want to see what he can do when the odds are against him and it makes you wonder, -How is he going to get out of this one?'"

Executive producer Stephen Broussard explains the filmmakers' decision to blend two different storylines together for the film. 'There are two classic stories that have appeared in the -Iron Man' comics"one is older and the other is more modern," explains Stephen Broussard. 'The older is the character called The Mandarin, and he is one of the most famous villains in the franchise. The character dates back to the 1960s and we wanted Shane [Black] and Drew [Pearce] to take that idea and make it contemporary for present-day audiences."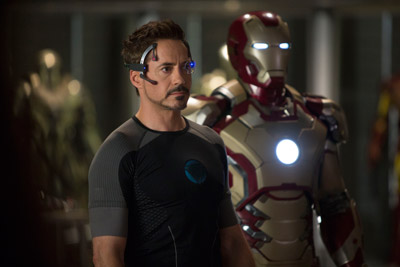 Stephen Broussard adds, 'We also wanted to combine that with another storyline in the comic called Extremis, which came out not too long before the first -Iron Man' film in 2008. It deals with the biological enhancement of humans and Tony must face super-powered humans in that. So we just thought, wouldn't that be interesting if we tried to combine these two stories into one for -Iron Man 3'?"

An early believer in the Extremis storyline, Robert Downey Jr. recalls, 'I remember when we were getting ready to shoot -Iron Man,' I started reading -Iron Man' comics and there was this one called -Extremis.' I thought it was really interesting and cool. Shane [Black] really latched onto the Extremis idea and thought about how we could bring it into play in -Iron Man 3.' So, in the story, Extremis is what brings Maya into play and it's what brings Killian into play."

'The thing about the Extremis storyline that always interested me in the comic books was that you had a sense that Tony Stark puts on an iron suit and hides inside it in a way," says director Shane Black. 'The character wouldn't call it that, but that's kind of the case. With the Extremis people, you always got a sense that they're burning up from the inside. So one of them could actually say to Tony, for instance, -You drive a car, I am the car.'"

There is plenty of angst from 'Marvel's The Avengers" to fuel Tony Stark's arc, too. Before 'Marvel's The Avengers," Tony Stark thought he was the only Super Hero in the world, and in 'Iron Man 3" he must deal with the revelation that he is not the only one out there.

'Tony Stark is a very scientifically minded guy who thought he was at the cutting-edge of science and suddenly he learns in those brief moments at the end of -Marvel's The Avengers' that there is an infinite amount that he doesn't know," says executive producer Stephen Broussard. 'That makes him feel small in a certain way and I think even encountering those other characters in -The Avengers' made him feel like he may not be the most powerful person in the world, which he doesn't like. He may be the smartest person in the world, but not necessarily the most powerful."

For Robert Downey Jr., the journey of Tony Stark in Marvel's 'Iron Man" franchise is one that is very relatable to audiences. 'The great thing about -Iron Man 3' is that we really are going back to kind of an extension and continuation of some of the things that made the franchise fly to begin with," says Downey Jr. 'With the execution and incredible success of -Marvel's The Avengers,' we're afforded the opportunity to not have to set up another film and can really explore the character of Tony Stark in ways that are very organic and connectable and play to the strength of the franchise."

Director On Board

While Robert Downey Jr. and Marvel were both on board for the third instalment of the franchise, one of the big questions that needed to be answered was who was going to take over the directorial reigns from Jon Favreau, the director who put Marvel's 'Iron Man" franchise on the map and delivered two worldwide blockbuster hits.

'All of our films are defined by the filmmakers we collaborate with to bring these stories to the big screen," says producer Kevin Feige. 'What Jon Favreau was able to do on the first two films was ground-breaking and astounding. So, when we realised we needed to bring in a new director, it was a daunting task. We needed somebody who had the experience, taste and ability to make a big action movie, but was grounded at the same time."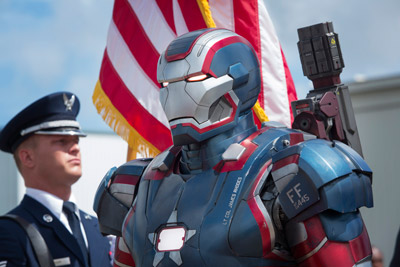 The filmmakers turned to Shane Black, who serendipitously directed Robert Downey Jr. in 'Kiss Kiss Bang Bang," the film that was a big factor in propelling the actor into the running for the role of Tony Stark in 'Iron Man."

'Shane Black has written some of the most iconic action movies that really redefined the genre in the '80s and '90s," says producer Louis D'Esposito. 'He took that success and flipped the script with his directorial debut, -Kiss Kiss Bang Bang.'"

'-Kiss Kiss Bang Bang' is really a fun, film noir, action movie, but at the same time it completely embraces all of the clichés that come with that and spins them on their heads," says executive producer Stephen Broussard. 'That's what an -Iron Man' movie needs to be. As we started discussing the film with Shane Black, we soon realised that he was on the same page with the get-back-to-basics tone that we wanted. Coming off of -Marvel's The Avengers,' we wanted to put Tony Stark back into his own world and Shane just had so many great ideas. Not just character arcs, but fun action beats and how to flip it on its head."

For Robert Downey Jr., hiring Shane Black to write and direct the film brought the franchise full circle and was a little bit of karmic payback for the director's behind-the-scenes help on 'Iron Man." 'During the pre-production of -Iron Man,' Jon Favreau and I used to call Shane and ask him for advice about scenes and he would give us these metaphors and sometimes direct comments, but it was always great advice and he would never take a penny for it"although he did once ask for a piece of well-done salmon and some blueberries," laughs the actor. 'Shane Black has been so instrumental in shaping the buddy comedy/action genre. I was delighted when Marvel brought his name up and obviously very much in favour of him directing -Iron Man 3.'"

For director Shane Black, a lifelong 'Iron Man" fan and self-proclaimed fanboy, reteaming with Robert Downey Jr. was one opportunity that he couldn't pass up. 'Having the opportunity to direct and write -Iron Man 3' was just the greatest opportunity, and Robert Downey Jr. always seems to elevate the material"that's what's great about him," says Shane Black.

'We wanted -Iron Man 3' to have a fresh tone and Shane Black has an incredibly unique style to his writing," concludes executive producer Louis D'Esposito. 'He does action very well, but he also does twisted black comedy with heart and emotion very well, too. What's amazing about Shane Black is he finds ways to do all that in one scene. It's always been his trademark that his scripts are kind of quirky and off-kilter, but with big emotion and a lot of heart."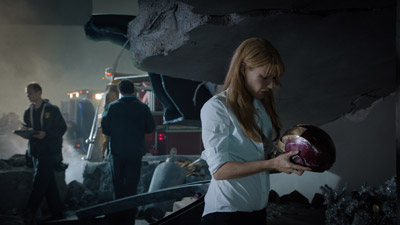 After locking in their director/screenwriter, the filmmakers also brought on screenwriter Drew Pearce to collaborate with director Shane Black in writing the screenplay. The decision was initially met by a little resistance from both individuals but ultimately proved to be a perfect pairing.

Producer Kevin Feige recalls the process. 'We had developed another film that Drew Pearce had written and we were finishing up post-production on -Thor' and I was in London and so I wanted to meet with him because he had just been told that we were not going to move forward and make the film," says Kevin Feige. 'He was understandably disappointed but very gracious and I asked him what he thought about -Iron Man 3.' We talked for a little bit and then days later, on his own accord, he wrote a 25-page outline and treatment that was an essay of ideas about where he saw the character going. While we didn't go with everything he had in that document, there was so much great stuff and so much passion that we decided to ask him to come on board and team up with Shane Black."

The producer continues, 'To be honest, there was a little bit of initial hesitancy on Drew Pearce's part because he was suddenly being asked to write with Shane Black, who is one of the biggest screenwriters in Hollywood. And at the same time, Shane Black naturally was feeling, -I'm one of the biggest screenwriters in Hollywood, why are you giving me somebody else to work with?' But within a matter of a week they became great friends, and most importantly, great collaborative writing partners."

Cast and Character

In the Marvel Cinematic Universe, all events that happen within each film have a direct influence and consequence on future films and franchises. For Robert Downey Jr.'s Tony Stark, the events and encounters he faced in 'Marvel's The Avengers" may be behind him, but he is still working hard to balance the demands of his own personal life.

'Even though the world knows and loves Tony Stark, he is still learning and struggling to define where Iron Man ends and his own life begins, which has made him increasingly dependent on his Iron Man armors," explains executive producer Stephen Broussard. 'They have become such a big part of him that they're affecting every aspect of his life, including those closest to him"Pepper Potts, Rhodey and Happy Hogan."

'How do you take a billionaire, industrialist playboy and make him relatable and somebody that you can root for?" questions producer Kevin Feige. 'One way is to have Robert Downey Jr., who just makes Tony Stark so likable and a great hero. The other way is to take everything away from the character, which then makes you root for the guy."

'From the beginning with Jon Favreau, there was this sense of including the point of view of the fans as well as the audience coming in off the street who knew nothing about the character," says Robert Downey Jr. 'We would ask ourselves, -What do they expect?' -What do they not expect?' and -How do we meet both of those requirements?'"

Growing up as an actor and being in the public eye, there is this incredible hubris and ego that occurs and then for any and all of us there is always an activating event in our lives that cuts us down to size. The nice thing about Tony Stark is that he doesn't even take his own arc that seriously because he falls so far from where he was. He really needed to, and I think people have always related to that life-lesson part of the character."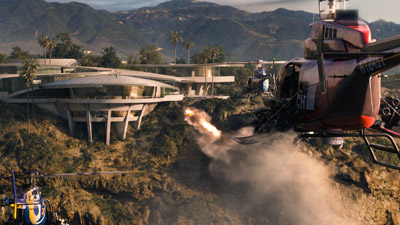 Further explaining Tony Stark/Iron Man, Robert Downey Jr. delineates the character's evolution over the course of the previous films. 'Tony Stark has been through a real emotional journey leading up to this film," says Robert Downey Jr. 'We first met Tony Stark in -Iron Man' and he had shrapnel in his heart. Yinsen helps him build an RT to keep it from puncturing his heart. So then he built and put in his own RT. And what has that done? That's powered everything, but it started poisoning him in -Iron Man 2.' So then what happened? His father posthumously led him through a mysterious initiation into how to perfect his own heart."

The actor continues, 'But in -Iron Man 3,' although Tony Stark has now fixed his heart problem, he has not actually dealt with the wound. So once you have all those things in play you go, -Okay, with all of those plates spinning at the same time, what is he supposed to do?' That's the direction we've chosen for the character and it is absolutely delightful."

'The reason we cast Robert Downey Jr. in -Iron Man' was because he's a spectacular actor and, since then, he's obviously become the biggest movie star in the world and he has shown us in each -Iron Man' film and -Marvel's The Avengers' why that is," says Kevin Feige. 'He doesn't rest on his laurels. He doesn't come in and say, -I'm the biggest star in the world.' He comes in and shows you why he's the biggest star in the world. So when we began the initial talks about where we wanted to take Tony Stark in -Iron Man 3,' Robert Downey Jr., as always, had a very definitive passion and drive to put in the time and effort to up the stakes and make this film the best of the franchise."

If there is one person you can count on to be at Tony Stark's side, it's the CEO of Stark Enterprises and live-in girlfriend Pepper Potts, reprised by Oscar®-winning actress Gwyneth Paltrow.

Marvel's 'Iron Man 3" finds Pepper Potts comfortable in her position as the CEO of Stark Enterprises. She is quite powerful in the corporate world but at the same time she maintains a very close relationship with Tony Stark.

'Tony Stark and Pepper Potts are very much in a relationship," relates Gwyneth Paltrow. 'They're living together, as she's moved into his house in Malibu, and there's a lot of comfort between them now, so it's not the kind of tentative relationship they had in the first two films. It's very nice to have the relationship evolve over the course of a few pictures. Robert Downey Jr. and I have always had a really great working relationship and it's nice to phase it into something new. There is still a lot of playful banter between the two, but it's less tenuous."

'There are scenes in the story between Pepper and Tony that are very emotional and loving in a fun way," adds Kevin Feige. 'It was important to us that the relationship between Tony and Pepper carry through all four movies, including -Marvel's The Avengers,' and it sort of reaches its pinnacle in -Iron Man 3' in a very memorable way."

'Tony Stark is the only Super Hero who has cultivated and maintained a long-term relationship with one woman that doesn't go entirely south," concludes Robert Downey Jr. 'It's more like a real relationship and that's what keeps this film interesting for Gwyneth Paltrow. We address that elephant in the room this time and she has a pretty incredible arc, which is one of the things that I am most excited about."

While Pepper has become Tony's leading lady, Colonel James Rhodes (Rhodey) is still his best friend and biggest ally. At the conclusion of 'Iron Man 2," Rhodey was seen flying away from Tony's house wearing the Mark 2 suit.

'In the beginning of -Iron Man 3,' we learn that Tony has let Rhodey have the Mark 2 suit and he's using it in conjunction with the U.S. government," explains Kevin Feige. 'The Avengers is considered to be its own independent group and S.H.I.E.L.D. is an organisation that is also separate from the U.S. military and the U.S. government. The president has asked the military to make over the War Machine armour with a new paint job and moniker called the Iron Patriot. Rhodey, being a military man, steps into the Iron Patriot proudly, but he's still best friends with Tony, so he's always giving information to him behind the scenes since he got the suit in -Iron Man 2.'"

'In all of the -Iron Man' films, Rhodey has always been Tony's conscience," says executive producer Broussard. 'He's been the guy who warns Tony about things and helps him from the sidelines. In -Iron Man 3' we're embracing more of their friendship and you get to see why they've been best friends for so long. That new dynamic makes it more of a buddy action film when they team up together."

For Academy Award® nominee Don Cheadle, the deeper exploration of his character's relationship with Tony was something he was happy to see. 'It's great to be in a movie that has a lot of action, but the relationship between Tony and Rhodey is deepening and we're getting more of a glimpse into who each of these men really are," says Don Cheadle. 'In -Iron Man 3' you get to see how they deal with the challenges they face."

'We really wanted the character of Rhodey to be more dynamic and have his own suit or gun and really be able to match Tony's bravado and quick wit," says Robert Downey Jr. 'I think Shane Black and Drew Pearce did a great job with infusing that into the script and it's great that Don Cheadle gets to bring the character out of its shell and have some fun with it."

'Neither Tony or Rhodey have access to their armour at a certain point in the film and so they really team up in a great, old-fashioned action movie kind of way," adds executive producer Louis D'Esposito. 'Having Don Cheadle back is such a pleasure as he brings a level of authority to the character that makes you just believe everything he says…and he can keep up with Tony." With the Extremis being one of the main storylines in the film, some new characters enter the cinematic world of 'Iron Man," the first being Aldrich Killian, founder of the brain-trust organisation AIM, played by Guy Pearce.

'We've been fans of Guy Pearce for years and wanted to cast him in almost every movie we've done," reveals producer Kevin Feige. 'Aldrich Killian is a character from the comics. It was a smaller character that we have expanded in a very big way. What we always want to do in these films is to have a character that represents a certain aspect of the Tony Stark persona. Aldrich Killian wants to be a mover, a shaker and a leader of industry like Tony Stark."

The producer continues, 'When we meet Killian for the first time, it's a very different Killian than we see in the modern day. He's transformed himself into a refined, attractive, polished businessman. He's been able to pull this off because of an invention called Extremis. It could change the world, which is what Killian intends to do."

'Killian is an interesting character as he's somebody who came into this world with a number of physical disabilities," says Guy Pearce. 'He's never been able to accept those limitations, though, and has spent most of his life trying to overcome them in any way he can. His tenacity and blind determination in fighting for a better life are seen by some as irritating as he often comes across as obnoxious. He just won't accept the cards he was dealt, and being as intelligent as he is, has real drive to change and become a different person."

In the beginning of Marvel's 'Iron Man 3," we see Killian as an annoying, ambitious man who tries to latch onto people like Tony Stark and is often rejected. But while Killian can be very harsh and demanding to the people who never gave him a chance when he was just starting out, he still has a soft spot for Pepper Potts.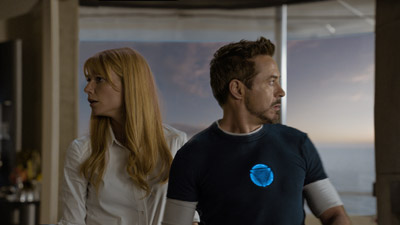 'Many years ago, when Killian started his organisation AIM, Pepper was somebody who worked there and he has always been very keen on her," says Guy Pearce. 'She's smart and attractive and he is somebody that she was never interested in; she's always kept him at arm's length. Then years later when he goes to her for funding and to get her involved again, she's completely taken aback by how charming and wonderful he looks. She is kind of taken by him and doesn't quite know what's happening or why she is having this reaction to him. Tony sees this and it causes a little rift between the two."

Gwyneth Paltrow elaborates on the two characters' past history and relationship. 'Killian's always carried a little bit of a flame for Pepper and Tony has become very preoccupied dealing with his issues since the -The Avengers,' so she keeps finding herself being drawn a bit to Killian's charm. It turns out to be a very complex layer of the plot because these unrequited feelings that he has for Pepper motivate him to do some very scary things."

'When you have Guy Pearce in scenes with Gwyneth Paltrow and Robert Downey Jr., the level of acting is just so high and is really fun to watch," says director Shane Black. 'Guy Pearce is such an amazing and dedicated actor across the board. I really feel like Killian is going to surprise people because of what Guy Pearce has brought to the character."

Another new character that is entangled in the web of Aldrich Killian is Maya Hansen, played by Rebecca Hall. Maya is a brilliant scientist whose new technology and discoveries are a great asset to Killian and his AIM organisation.

'Maya Hansen is an incredibly smart scientist," explains Rebecca Hall. 'Some would say she is sort of a genius scientist who's developed some very cutting-edge technology that is one of the principal components of the story."

Rebecca Hall continues, 'Maya gets recruited by Killian because she's one of the most intelligent and brightest biochemical scientists, who is well on her way to creating what she thinks is going to be the single most revolutionary discovery of mankind that will essentially cure human beings of all illness. She needs the funding to complete it and so she sells it to the highest bidder, which is Killian, and he funds her research."

For producer Kevin Feige, landing a talented actress like Rebecca Hall was essential for the complex character. 'We saw Rebecca Hall in a Woody Allen movie and we also saw her in -The Town,' and she was fantastic in both films," says Kevin Feige. 'She's one of the best actresses working today and it is always tough casting these movies because we have to find great actors who are willing to jump into a great ensemble of actors in our cast. Rebecca Hall has done an amazing job bringing out all the different layers and pathos of the character."

While Maya's past includes a romantic night with Tony, when she resurfaces in his life, it doesn't have the effect on Pepper that one would logically think and it takes an unexpected turn at Tony's expense. 'The thing I like about this storyline is that everyone assumes, -Oh, this is going to be some sort of love triangle and get ready to see some massive catfight between Pepper and Maya," comments Rebecca Hall. 'It was never that on the page and what the -Iron Man' franchise has always done so well is to subvert expectations and stereotypes. It really is about two very smart women who understand this rather eccentric man Tony Stark. I think it is much more true to life and refreshing."

One friend that Tony has always trusted implicitly is his longtime driver/bodyguard and friend Happy Hogan, played by Jon Favreau. Jon Favreau explains how his character's relationship with Tony Stark has evolved over the course of the films: 'Where we last left it in -Iron Man 2,' Happy was working for Pepper. He wasn't Tony's right-hand man anymore. So that's affected things for these two guys who were once very close. Before Tony was Iron Man, he was just some rich kid who was smart but really relied upon Happy to organise his life, keep him safe and keep him out of trouble. By the time present day is happening, why does Iron Man need a bodyguard? He can build robots to do anything and he's got a suit to protect himself, so the job that Happy took so much pride in is no longer relevant."

Jon Favreau admits, 'It's really fun to come back as Happy. It's fun to be here as I get to work with Robert Downey Jr., Gwyneth Paltrow and Don Cheadle again as well as all the guys at Marvel and crew members from the first two films. It feels like going back to a place that I'm familiar with and we share a sense of humour and a nice history."

For Robert Downey Jr., having Jon Favreau back to play Happy Hogan was essential in keeping the film rooted in the rich and beloved history of Marvel's 'Iron Man" franchise. 'I think the fans and all of us who love Jon Favreau so much understand how much he has meant to the franchise and is a big reason why we're all here anyway," praises Robert Downey Jr. 'He also is a real scene stealer and when he came into work, he just took everyone to school because, on this one, he had the freedom of not worrying about setting up the next shot or what's on the call sheet tomorrow. He's just someone coming in to play a part and have a good time. I think he will probably wind up with some of the most touching and definitely most entertaining moments in the film."

Having Jon Favreau on board the project as an executive producer also proved very beneficial for director Shane Black. 'Having Jon Favreau involved is a tremendous asset for Shane Black and the film," says producer Kevin Feige. 'He's not only playing Happy Hogan, which is as big a role as the character has ever had in the franchise, but he is also helping out behind-the-scenes as executive producer. Throughout the entire process, he has been very gracious and generous in the way that he helped Shane Black. During both pre-production and production, Jon was always willing to answer Shane's Black questions about the script, story points, technical things, setting up a character or just getting the best out of any of the cast members."

As with all Marvel films, there is always a tremendous amount of anticipation about what character or characters will be revealed as the villain and Marvel's 'Iron Man 3" continues the tradition. With so much source material to choose from, the filmmakers were happy to confirm, to the delight of the fans, that the highly anticipated character of The Mandarin would finally make his appearance after years of speculation.

'The Mandarin is unquestionably Tony Stark's greatest enemy," says executive producer Louis D'Esposito. 'The reason for that, frankly, is not because he's appeared in a lot of great stories; he's just appeared in a large number of stories going back to the early 1960s. If you asked who Iron Man's greatest foe is, odds are most people would say The Mandarin because he has been around for a long time and is in so many storylines."

'Throughout the years The Mandarin has been updated, but never in a way that we thought would work for a film, and then Shane Black had an idea of how to make him a Colonel Kurtz [from 'Apocalypse Now"] type of character," says producer Kevin Feige. 'Meaning, a character that you don't know what his background is at first, but he seems to be some kind of military officer that has gone off the reservation. Was he in the Pakistan military, the Queen's Royal Army or was he part of the U.S. military? You're not sure, but he's someone who is starting to pull all of this iconography and symbolism from other cultures and use them as symbols to pervert the symbol of the United States." 'We also wanted to utilise the moniker of The Mandarin to create this aura of fear," adds Louis D'Esposito. 'He is a very frightening, modern-day terrorist who has taken motifs from all over the world. It was a very cool, relevant and scary idea. So when we were casting the role, we wanted somebody whose ethnicity was not specific, and we also needed somebody who was a spectacular actor."

The filmmakers got their wish when they cast Academy Award®–winning actor Ben Kingsley as The Mandarin and for Ben Kingsley, the Marvel Universe was a completely new world that he was excited to explore as the iconic character of The Mandarin.

'When I first spoke to Shane Black, I had not seen the previous films, so he very kindly sent me a wonderful package of drawings, graphics, -Iron Man' Marvel comics, and of course, the two films," recalls Ben Kingsley. 'I watched the films, which were both very enjoyable and I really liked how the characters are not stereotypical and were really layered. I was very inspired by Robert Downey Jr. and Gwyneth Paltrow as that relationship is sort of the spine of the film. Then also Don Cheadle, of course, is wonderful, and it's not your usual type of film in the genre as there is something original about the franchise. So when I read the script, I felt it was an intelligent approach to this film." Explaining his character's drive and motivation, Ben Kingsley says, 'The Mandarin's motivation is to turn the pyramid of civilisation as we know it on its head by referring quite accurately to iconography, history and ironies that are contained in any civilised state. He picks at them quite viciously and remorselessly to justify the correctness of his desire to destroy this particular civilisation, which he considers absurd. It's a sense of rightness, not of evil, that motivates him and he wishes to basically turn all our landmarks and the things we cling to as emblems on their heads."

'The best thing about The Mandarin in the comics is how relentless he is in trying to destroy Tony Stark," explains Louis D'Esposito. 'Tony goes on national television and says, -I'm going to come after you, Mandarin' and within a day, The Mandarin has decimated Tony's house. Obadiah Stane didn't do that, Whiplash didn't do that and Loki didn't do that. The Mandarin does it in the first act, which really raises the stakes and sets the tone for the rest of the film."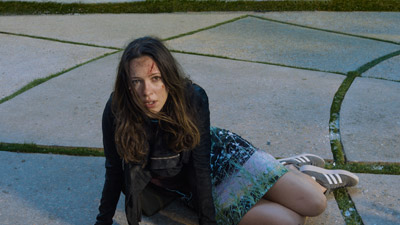 In Marvel's 'Iron Man 3," The Mandarin isn't the only one causing problems for Tony Stark as two new Extremis characters, Ellen Brandt played by Stephanie Szostak and Eric Savin played by James Badge Dale, make their debut in the franchise.

For Stephanie Szostak, her initial meeting with director Shane Black proved to be very fruitful in helping the actress define her character in the film. 'Initially, Shane Black talked about the role and character and we had a long discussion about bad chicks," recalls Stephanie Szostak. 'We were both on the same page and we didn't want Brandt to be this sexy, leathery type."

'We wanted to make sure that the Extremis agents in the film, who are basically street-level, muscle villains, were all interesting, fleshed-out characters," explains executive producer Stephen Broussard. 'We wanted them to have qualities about them that make them interesting to watch. We gave them histories, so they don't just show up and punch people."

Stephen Broussard continues, 'I think Stephanie Szostak is absolutely that type of person and she brings quirky qualities to the character that were very interesting and watchable. Brandt also pairs very well with Savin and they're great together as they hunt Tony through the small town of Rose Hill."

James Badge Dale expands upon the dynamic between the characters of Brandt and Savin. 'There's a competitive nature between them but they also look out for each other," explains James Badge Dale. 'Once you become an Extremis, you're removed from the general population, and they bond over that. It also is much more fun when you get to wreck things and cause mayhem with a partner."

Describing his character, the actor continues, 'Eric Savin is Killian's personal project and in a way his younger prodigy. With the Extremis, I think there's a lack of fear and consequences. You can do whatever you want and be as self-destructive as you want, but things will always continue. For me, that was a fascinating aspect of the character to play with"the idea that there are no repercussions to your actions anymore."

'We wanted the character of Savin to be interesting and dynamic and we all felt in casting James Badge Dale we would definitely get that," says Kevin Feige. 'He's a guy who has this sort of nervous energy and manic quality to him that is a little unsettling. That's what we wanted for the character and when he's on-screen you're really drawn to him and his mannerisms. He brought a lot to the character that wasn't on the page and elevated it. He is one of the best actors working today and was able to hold his own with this cast from day one. He proved that he could be very funny when he wanted to be and he can be very scary when he wanted to be."

With the filmmakers wanting to include a back-to-basics storyline for Tony Stark, the question becomes, how can you make a man who has access to everything get back to the basics? The filmmakers found their answer in the character of Harley, an 8-year-old boy who discovers Tony Stark in the small town of Rose Hill, Tennessee.

'In the first draft of the script, Shane Black and Drew Pearce had written a character named Harley, who spends a good amount of time with Tony over the course of the second half of the film," says producer Kevin Feige. 'We haven't done a lot of films with kids and we were a little nervous about casting a kid that was too Hollywood who you could tell was acting cute or was pretending to be emotional. The whole storyline fails if we had a young actor that you didn't believe."

continued.....
www.girl.com.au/robert-downey-jr-iron-man-3-interview.htm