Oz The Great and Powerful
Cast: James Franco, Mila Kunix, Rachel Weisz, Michelle Williams
Director: Sam Raimi
Genre: Fantasy

Synopsis: When Oscar Diggs, a small-time circus magician with dubious ethics, is hurled away from dusty Kansas to the vibrant Land of Oz, he thinks he's hit the jackpot - fame and fortunate are his for the taking - that is until he meets three witches, Theodora, Evanora and Glinda, who are not convinced he is the great wizard everyone's been expecting.

Reluctantly drawn into the epic problems facing the Land Of Oz and its inhabitants, Oscar must find out who is good and who is evil before it is too late. Putting his magical arts to use through illusion, ingenuity- and even a bit of wizardry - Oscar transforms himself not only into the great and powerful Wizard of Oz but into a better man as well.

Oz The Great and Powerful
Release Date: March 7th, 2013



Production Notes
From Disney comes the Sam Raimi---helmed, 3D---fantastical adventure "Oz The Great and Powerful," which imagines the origins of the beloved wizard character first brought to life in author L. Frank Baum's book "The Wonderful Wizard of Oz." As a cinematic prequel to the book, "Oz The Great and Powerful" explores the backstory of the wizard, offering audiences both a unique and amazing movie---going experience.

"Oz The Great and Powerful" boasts a stellar cast that includes Academy Award® nominee James Franco ("127 Hours") as Oscar Diggs, the predestined Wizard; Golden Globe® nominee Mila Kunis ("Black Swan") as the tormented young witch Theodora; Academy Award® winner Rachel Weisz ("The Constant Gardener") as Theodora's older sister, Evanora, the witch who rules over the Emerald City; and three---time Oscar®---nominated actress Michelle Williams ("Brokeback Mountain," "Blue Valentine," "My Week with Marilyn") as Glinda, the Good Witch.

The cast also includes Emmy® and Golden Globe® nominee Zach Braff ("Scrubs," "Garden State"), who plays Franco's circus assistant, while also lending his vocal talents to one of the CGI creatures in the story-Finley, the winged monkey who accompanies the magician on his journey through Oz, serving as his sounding board and the magician's conscience; and 13-year-old actress Joey King ("Ramona and Beezus"), who voices another CGI character in the story, China Girl, the porcelain child who also joins the future Wizard on his fateful excursion through Oz.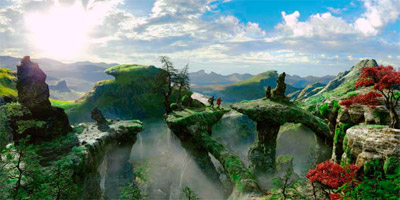 The film was produced by industry veteran Joe Roth ("Snow White and the Huntsman," "Alice in Wonderland"), along with a quartet of executive producers-Grant Curtis (Raimi's longtime colleague who has produced or co---produced the director's last five projects), Roth associate Palak Patel ("Snow White and the Huntsman"), Philip Steuer ("The Chronicles of Narnia" series) and another longtime Raimi associate, Josh Donen ("The Quick and the Dead," "Priest").

Mitchell Kapner ("The Whole Nine Yards") is credited with the screen story for "Oz The Great and Powerful" and both Kapner and David Lindsay---Abaire ("Rabbit Hole," "Robots") wrote the screenplay.

The Story

L. Frank Baum, who wrote 14 novels between 1900-1920, all set in the Land of Oz he so vividly created, never fully portrayed the wizard character's background in any of his books. Producer Joe Roth found that fact fascinating. "I love origin stories and I liked the idea of how the wizard came to be," says Joe Roth. "So, going back to L. Frank Baum's books to research and imagine his beginnings seemed like a great idea."

"This is the story of how the wizard came to be the wizard," states director Sam Raimi, who helmed the "Spider-Man" trilogy. "It's a story of how a small---time carnival magician, a faker, a charlatan, a selfish man, comes to a fantastic world just in time to save the day. It's the story of how an average, selfish man becomes a great and selfless wizard."

Mitchell Kapner and David Lindsay-Abaire's imaginative story follows Oscar Diggs, a small---time circus magician with dubious ethics, who is hurled away from dusty Kansas to the vibrant Land of Oz. There, Oscar thinks he's hit the jackpot-fame and fortune are his for the taking-that is until he meets three witches, Theodora, Evanora and Glinda, who are not convinced he is the great wizard everyone's been expecting. Reluctantly drawn into the epic problems facing the Land of Oz and its inhabitants, Oscar must find out who is good and who is evil before it is too late. Putting his magical arts to use through illusion, ingenuity-and even a bit of wizardry-Oscar transforms himself not only into the great wizard but into a better man as well.

"This film explains how all the characters became who they are and explains their origins so you understand them a little more," actress Mila Kunis (Theodora) observes. "It brings a little more sincerity and truth to all the characters. And, while being funny 3 and endearing; it very much stays true to the original concepts that L. Frank Baum created."

James Franco adds his take on the film, saying, "In some ways, the story in our film is a metaphor and an analogy to what we all do as filmmakers. Oz is a magician. He puts on shows. In the Land of Oz, he creates illusions for different reasons. And that's basically what a movie is; it's creating an illusion. It's creating an imaginary world for an audience."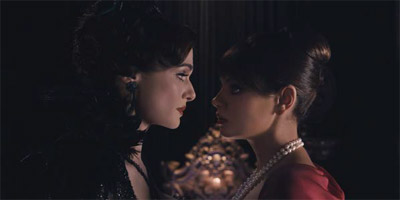 The Cast

The filmmakers had a distinct look in mind when they cast the five main characters in the film. "I thought we should find a young, cutting---edge cast," says producer Joe Roth. "James Franco had been nominated for an Academy Award®. Michelle Williams had been nominated three times. Rachel Weisz won the Academy Award®. Zach Braff is a very talented actor/writer/stage and movie director. And, last but not least, Mila Kunis is one the hottest actress in Hollywood. This film is populated by a very hot, young cast."

"James Franco is a very sensitive guy and we really needed that for this character," says director Sam Raimi. "We needed somebody who's in touch with his emotions because he plays a character with a good heart. I really needed an actor who had that quality within him. James Franco, while funny and loving, has got real heart that he shares with the audience."

James Franco enjoyed taking on the part of Oscar Diggs and exploring the origins of the wizard. He describes Oscar by saying, "He starts off a little bit rakish. He's a magician in a traveling circus. When he ends up in Oz, all of the issues that he wrestled with in the real world are now, in some ways, made more extreme but also transformative."

Once James Franco's magician character Oscar Diggs arrives in Oz, he encounters three beautiful witches, immediately becoming smitten with Glinda, the Good Witch, played by Michelle Williams. She tries to convince Diggs that the Land of Oz is in trouble at the hands of the evil Evanora, while at the same time hoping he is the answer to the land's prophecy-that a wizard will someday come and restore order.

"Michelle Williams has a real depth of spirit and soul," says Sam Raimi. "She's a very good person and I needed that in the actress that was going to play Glinda because when the camera gets really close and you look into their eyes, you can see if they've got a good soul or not. Michelle Williams has a good soul. She doesn't have to fake that. I'm not saying that's easy, but she has the goodness I needed for the character to work."

Michelle Williams herself found the project "to be a dream on a couple of levels. For me, to work every day with Sam and this cast while existing in the space of Glinda the Good Witch was such fun. I was excited to be there every day."

Michelle Williams' co-star and nemesis in the film, Oscar® winner Rachel Weisz ("The Constant Gardener"), also raves about her time on Sam Raimi's project, saying, "What really appealed to me about playing Evanora was that I got to be a bad girl. She's rotten to her core. She has a lot of fun being bad and I think that's what appealed to me about the character. I loved the script. I thought it was a great imagining of the origin story of the wizard and the witches."

Commenting on Rachel Weisz as Evanora, director Sam Raimi says, "Rachel Weisz is just wonderful and beautiful as the wicked witch. It's very understandable the way she plays it as far as what she wants. She wants to be young and beautiful and she's a little vain. She also brings a great sense of humour. She's very funny and filled with life."

Mila Kunis plays Evanora's beautiful, innocent sister Theodora. Theodora has the good will of the people at heart, but is easily manipulated by both her powerful sister and the ever so charming Oscar Diggs.

"Theodora is a really nice, sweet, naive witch who truly wants to bring peace to the land," Mila Kunis elaborates. "She is a girl who desperately wants to believe in good and believe in the betterment of society, the betterment of the people and betterment of the world. She is also in so much denial of the bad that she doesn't even think it exists."

One reason that Mila Kunis was drawn to the project was the opportunity to work with Sam Raimi. "Sam Raimi's brilliant," says Mila Kunis. "I have never worked with anybody as passionate as him. He believes in the project and he believes in the actors that he hires."

As Oscar travels through Oz, he meets a lot of different characters along the way. One of them is the winged monkey, Finley, voiced by Zach Braff. Zach Braff also plays Finley's alter ego back in Kansas, in the character of Frank, the magician's assistant.

"Finley is the Wizard's conscience," director Sam Raimi explains. "When he gets to Oz, Finley reminds the Wizard in so many different ways about right and wrong. At first, Oz doesn't listen but eventually begins to respect the monkey. The goodness of his wisdom gets through to Oz. His most important affect on Oz is that of a good friend who reminds you that you're not living up to your expectations and have to do a lot better."

"I wanted to try and take on something different," Zach Braff admits about his fascination of playing a computer-generated character. "The idea of doing a character generated within a movie with real people was an interesting challenge. Every single thing about it interested me."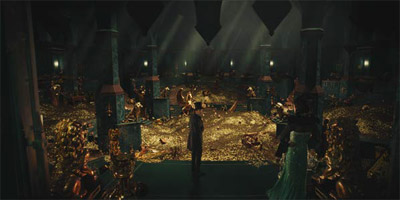 The Making Of

With "Oz The Great and Powerful," director Sam Raimi tackles the biggest directorial project of his career. "This is a very big picture, gigantic in scale," Sam Raimi explains. "The world of Oz as Frank Baum created it has so many different countries and lands. It's an entire, fabricated world. As large as the 'Spider-Man' films were, that was a fantastic character in a city we knew, Manhattan. It wasn't a created world. That's what Baum has done in his books. He's created this entire world of Oz."

To help bring the enchanting Land of Oz to life, Sam Raimi assembled his own band of technical wizards and movie magicians, including award---winning cinematographer Peter Deming, A.S.C. ("Drag Me to Hell," "Mulholland Dr.," "Evil Dead II"), two---time Academy Award®-winning production designer Robert Stromberg ("Alice in Wonderland," "Avatar"), Oscar®--winning film editor Bob Murawski ("The Hurt Locker," the "Spider--- 6 Man" trilogy), costume designers Gary Jones ("Spider--Man 2," "The Talented Mr. Ripley," for which he was Oscar---nominated) and Michael Kutsche ("Thor," Alice in Wonderland"), four---time Oscar---nominated composer Danny Elfman ("Spider--Man," "Spider--Man 2," "A Simple Plan," "Milk"), visual effects Oscar-winner Scott Stokdyk ("Spider-Man" trilogy) and special effects makeup artists Greg Nicotero ("Seven Psychopaths," "The Grey"), who has garnered five Emmys®, and Academy Award-winner Howard Berger ("The Chronicles of Narnia" series), both of whom created the looks of several of the unique denizens of Oz.

Sam Raimi brought in Academy Award®-winning production designer Robert Stromberg to spearhead his vision for "Oz The Great and Powerful." Robert Stromberg went on to create such iconic sets as the famed Yellow Brick Road and Emerald City, all freshly designed and imagined, along with such highly anticipated, new designs as the witch's Throne Room, the Whimsie Woods (where Oz meets Theodora), the Dark Forest, which introduces Glinda the Good Witch in the story, and China Town, whose inhabitants are made up entirely of porcelain. In all, Robert Stromberg designed and oversaw the building of 24 sets.

"The other projects I've done have been much more virtual," Robert Stromberg admits. "For this particular film, I wanted to define a theatrical stage quality. I don't think that you can get that from completely digital worlds. So, the only way to achieve that theatrical stage feeling was to build large sets on sound stages. Then extend those using visual effects in a supportive role rather than a dominant role that takes over all aspects of the filmmaking process."

Sam Raimi adds another plus for practical sets: "It was important for me to have a lot of sets for the actors. I really wanted them to have something to touch and see that was real. Out of a window in Oz, I didn't mind if they would imagine the world beyond our sets. But, I wanted Oz to be a real place as much as possible."

This effort was not lost on the actors. "It was thrilling to be on set because the magical world was no longer just in our heads," actress Michelle Williams (Glinda) notes about the advantage of working in a practical environment to bring not only Sam Raimi's story to life, but the cast's individual characters as well.

"With the Yellow Brick Road and Glinda's castle in front of my eyes, I didn't have to imagine my surroundings. Sam Raimi and Robert really made the actors feel at home in the sets they built for us to work on." In addition to the detail resplendent in all the fantastical sets, the same level of detail went into costumes, makeup and visual effects and even extended to preparing actors for their roles.

In Franco's case, it was learning magic. He explains, "I actually came out here two weeks early to work with the great Las Vegas magician Lance Burton. We worked every day. I learned dove tricks and fire tricks as well as pulling things out of hats and making things levitate. And I think I got pretty good!"

Costume designers Gary Jones and Michael Kutsche had their jobs cut out for them, as there were hundreds of original costumes to design for every type of fantasy character from Witches to Munchkins. A trip to the wardrobe room reveals a vast space filled with rack upon rack of clothes and shelves of handmade hats and other accessories.

Gary Jones and Michael Kutsche's designs for the three witches were carefully worked out, using concept illustrations as a preliminary guide before designing the costumes and choosing the fabrics. In defining the opposing enchantresses through his wardrobe designs, Jones describes his approach by saying, "The witches are very clearly light and dark to contrast good and evil. We used a mercury green colour, all having to do with Robert Stromberg's Emerald City design, to portray the wicked witch. Glinda, of course, is basically a pristine kind of girl in the story, so we created three separate white dresses or gowns for that character."

Commenting on the costumes, Rachel Weisz says, "The costumes are very fantastical and very heightened. Mine for Evanora is very glittery with a lot of feathers. It's complete transformation; it's just high---concept, high---fantasy. It's really fun."

There are a lot of different characters in "Oz The Great and Powerful," including over one hundred characters that required prosthetic enhancement. Makeup artists Howard 8 Berger and Greg Nicotero were involved in the design and execution of all of the specialty characters needed for the film, such as the witches, China Girl, Munchkins, Winkies and Tinkers.

Academy Award®-winner Howard Berger talks about the team's approach to the process: "We had to take the concepts from the book and re---envision them to fit into the world that Sam Raimi was turning into a whole new universe, which needed to be fresh and different, yet familiar. They're fantasy characters, but they're reality---based to some degree. We wanted to make them feel alive and real."

The Experience

"Oz The Great and Powerful" promises to be a film that will delight all ages for many years to come. It is a wonderful ride that soars on the wings of imagination, immersing the audiences in a beautifully realized fantastical world populated by intriguing and relatable characters.

Producer Joe Roth expects audiences to enjoy "the exhilaration of the ride" and relate to the notion that "Oz The Great and Powerful" is a movie about second chances. But most of all, Joe Roth says, "I hope they will enjoy the wonderment of what it's like to visit Oz."

Director Sam Raimi would like moviegoers to come to the theater expecting a big adventure and a story that they can connect with. "I hope they laugh and fall in love with the Wizard," says Sam Raimi. "I hope they're terrorised by the Wicked Witch and the winged baboons. I think there are some surprises waiting for them down the Yellow Brick Road."

Oz The Great and Powerful
Release Date: March 7th, 2013