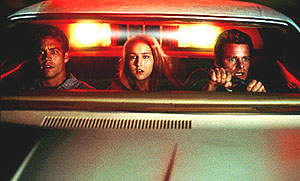 Release Date:
25 July, 2002
Starring:
Paul Walker, Steve Zahn, Leelee Sobieski
Directed By:
John Dahl
Produced By:
Jeffrey Abrams & Chris Moore
Written By:
Clay Tarver & Jeffrey Abrams
Genre:
Thriller
Rated:
MA
Running Time:
97 mins
Synopsis:
It's summer vacation and college freshman Lewis Thomas (Walker) is ready to embark on a cross country road trip with the girl of his dreams, Venna (Sobieski). But Lewis' romantic plans are detoured when he stops to rescue his never-do-well older brother, Fuller (Zahn). Fuller, notorious for causing trouble, goads Lewis into playing a practical joke on a lonely truck driver over a CB radio. The truckie, an unseen and terrifying force known only by his handle, "Rusty Nail", wants the last laugh...and revenge.