Resident Evil: Retribution
Cast
: Milla Jovovich, Michelle Rodriguez, Sienna Guillory, Kevin Durand, Shawn Roberts, Colin Salmon, Johann Urb, Boris Kodjoe, Li Bing Bing
Director
: Paul W.S. Anderson
Genre
: Action, Horror
Rated
: MA
Running Time
: 96 minutes
Synopsis
: The wildly successful film franchise adaptation that has grossed nearly $700 million worldwide to the popular video game series, Resident Evil, returns in its highly anticipated fifth installment, Resident Evil: Retribution in state-of-the-art 3D.
The Umbrella Corporation's deadly T-virus continues to ravage the Earth, transforming the global population into legions of the flesh eating Undead. The human race's last and only hope, Alice (Milla Jovovich), awakens in the heart of Umbrella's most clandestine operations facility and unveils more of her mysterious past as she delves further into the complex. Without a safe haven, Alice continues to hunt those responsible for the outbreak; a chase that takes her from Tokyo to New York, Washington, D.C. and Moscow, culminating in a mind-blowing revelation that will force her to rethink everything that she once thought to be true. Aided by newfound allies and familiar friends, Alice must fight to survive long enough to escape a hostile world on the brink of oblivion. The countdown has begun.
Release Date
: September 13th, 2012
Website
:
www.ResidentEvilRetribution.com.au
About the Production
From its breathtaking opening sequence to its shocking panoramic conclusion, Resident Evil: Retribution dazzles audiences with a stunning combination of the unique action sequences that have made the franchise a global hit and some new and unexpected twists. Director, writer and producer Paul W.S. Anderson has imagined a terrifying future world devastated by an unthinkable plague and realised in state-of-the-art 3-D.
Resident Evil: Retribution finds iconic action heroine Alice (indelibly portrayed in all five films by Milla Jovovich) right where she was last seen at the end Resident Evil: Afterlife-on the deck of the mysterious ship Arcadia, where she hoped to find more survivors of the plague. Instead, Alice is in the fight of her life as her former ally Jill Valentine (Sienna Guillory) and a fleet of the nefarious Umbrella Corporation's V-22 helicopters swoop in with orders to shoot to kill.
"We start where the last film left off," Paul W.S. Anderson says. "The end of that film was an epic cliffhanger and we really wanted to make it pay off at the start of this one, then go somewhere completely different. We have taken a huge conceptual leap with this movie. It's got global scope and the action is bigger than ever."
Jeremy Bolt, Paul W.S. Anderson's longtime producing partner, notes that the director has to some extent reinvented the franchise with each installment. "As a filmmaker, Paul W.S. Anderson keeps pushing himself further each time out to make it as entertaining as possible with new elements that surprise the audience. This film has even more twists and turns than ever before. We tried to give it a video-game spirit that will engage fans more."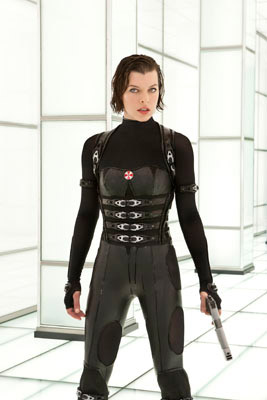 According to Paul W.S. Anderson, the films give him an opportunity to indulge his own fan-boy obsessions. "I love making Resident Evil movies," he says. "They're everything I loved about movies growing up-sexy girls, big action, cool sets. They're fun films to watch and fun films to make. We've become more adventurous with each movie, but with this one we've done something really spectacular."
As always, Paul W.S. Anderson includes references to the Resident Evil games, while at the same time developing entirely original story lines and characters. "The movies have borrowed very freely from the games," he says. "Some of our sets were taken from the video game, so players will recognise those and get a kick out of them. And there has been some reverse influence as well. For example, the Laser corridor from the first film and the Red Queen have found their way into the gaming franchise."
Moviegoers new to the saga won't feel left out, however, assures the director. "This is a stand-alone movie. We try and tell a self-contained story each time. Certainly you get more out of it by seeing the others, but even a first-timer will enjoy it. Resident Evil: Afterlife set records for the franchise in terms of audience around the world and many of those people really enjoyed the film without having seen the previous movies."
According to the filmmakers, Resident Evil: Retribution makes a bold genre crossover, staking its claim squarely in the world of science fiction, rather than the straight horror-action of the earlier installments. "The last movie was pure action-survival," says producer Robert Kulzer. "This time we felt that we had to try something narratively that would make it more of a mindbender for the audience. You go through the movie with Alice and question everything. In this ongoing battle for the survival of humanity, you might find humanity in the least likely places, even in your enemies."
The army of zombies created when the Umbrella Corporation lost control of the T-virus has become larger and even more dangerous as time has passed. "The Undead are constantly mutating," says Paul W.S. Anderson. "Their evolution is one of the strengths of both the video game and the movie franchise. The Undead from the first movie were slow, shambling zombies. They were horrific, but they have evolved into something even more terrifying.
"Now there are a lot of different kinds of Undead," he continues. "The Majini Undead, which were introduced in the last movie, are back. They have huge, tentacular mandibles that come out of their mouths. The Lickers make a return but they've evolved, as well. We called them the Uber-Lickers because they're so big."
And as Alice is about to discover, there are worse things afoot. "The Undead that are infected with the Las Plagas virus maintain motor skills and some degree of intelligence," Paul W.S. Anderson explains. "Some of them can ride motorbikes and shoot machine guns. That gives a whole new level of threat to the Undead and I think that keeps the franchise fresh."
Producer Don Carmody adds, "The goal was to keep the audience on the edge of their seats, not only with scary things, but by creating unforgettable sequences that thrill and exhilarate and stay with them long after they've left the theater."
Says Robert Kulzer: "We were constantly throwing around ideas to come up with fresh and original ways to ramp up the action, the adventure and the intensity."
"Everything is coming to a climax," Paul W.S. Anderson says. "The days when humanity could just sit behind the walls of a fortress and keep the Undead back with machine-gun fire and superior technology are dwindling. This really is the beginning of the end."
Alice Unchained
As always, the central figure in this gritty and gripping tale is Alice, played once again with implacable ferocity by Milla Jovovich. "Milla Jovovich is a huge factor in the success of the films," says Jeremy Bolt. "One of the things that makes Resident Evil interesting is that we present a woman as a convincing action hero. She's tough as hell. She's a leader; she's determined. If anybody's going to beat Umbrella, it's Alice."
Alice has evolved with each chapter of the ongoing saga, transforming from naïve amnesiac to superhumanly gifted warrior and, now, a battered foot soldier in the ongoing war against the ultimate evil. After playing the character for a decade, Milla Jovovich has come to know her more intimately and care more deeply about her action-hero alter ego.
"Doing this series has been such an adventure," the actress says. "It's always amazing to come back to this incredible, fantastical, magical world and to Alice. I know her so well now. I know how she will react, what she will and won't do. She's become a huge part of my life, and as I grow, she grows. I'm always excited to see where she's going next."
"Milla Jovovich as Alice is a force to be reckoned with," says producer Don Carmody. "She is not only beautiful, she's also genuine and funny. People think of her as 'Milla Jovovich, the Russian supermodel,' but she's very down-to-earth, very accomplished and very dedicated. And nobody knows Alice better than she does, not even Paul W.S. Anderson."
Alice was stripped of her superpowers in Resident Evil: Afterlife, a move that Milla Jovovich believes was critical to the development of the character. "We've moved closer to the original Alice, who was a little more vulnerable," she says. "When she's in danger, the audience can be scared for her because she can't just make everything explode. She's still a badass, just not a superhero badass."
As Alice becomes acclimated to being human again, she has to learn to trust and depend on those around her, adds Milla Jovovich. "Without her superpowers, she doesn't feel as isolated. She feels more in touch with other people, and she has to be much more of a team player. And she has been able to acquire bit of a sense of humor about it all. If all you do is go around killing zombies and being chased by Umbrella storm troopers, you may as well take it with a wink and a smile."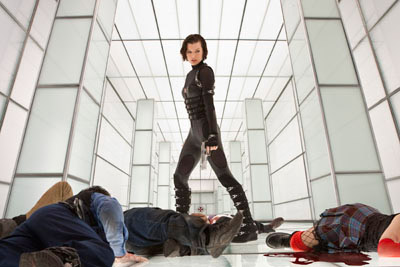 When Paul W.S. Anderson talks about the actress, who is also his wife, it's clear she is his muse for the film series. "Over the last ten years, as this character has developed, we've had the opportunity to see her grow as Milla Jovovich has," he says. "Alice was a blank slate in the first film because she had memory loss and knew nothing about herself. She has slowly gathered around her this family made up of other survivors of the apocalypse.
"This is a big step for her," he adds. "You see a lot of conflict come out of that because she is a hardened warrior who has sacrificed for the battle she's chosen to fight. She has given up family, friends and a future. Now, she is a slightly more complex character."
The cast of Resident Evil: Retribution includes many faces that will be familiar to fans of the franchise. The filmmakers devised an ingenious way to bring back characters who have met with brutal fates in earlier films, including Michelle Rodriguez's Rain and Colin Salmon's One from Resident Evil; Sienna Guillory's Jill Valentine from Resident Evil: Apocalypse and Resident Evil: Afterlife; Oded Fehr's Carlos from Resident Evil: Apocalypse and Resident Evil: Extinction; as well as Boris Kodjoe's Luther West and Shawn Roberts' Albert Wesker from Resident Evil: Afterlife.
"It's exciting for us and, we hope, for the fans to have these actors and their characters back," says Paul W.S. Anderson. "It was a unique opportunity to work with everyone again. For instance, I've always wanted to work with Michelle Rodriguez again, but we shot her in the head in the first movie, which seemed to preclude bringing her back."
But anything can and often does happen in the Resident Evil universe. "The world of the Umbrella Corporation is constantly evolving," says Don Carmody, "Just as you think you've stopped them, another tentacle emerges."
Paul W.S. Anderson kicked off Resident Evil: Afterlife with an army of Alice clones, which provided him with the inspiration he needed to bring back favorite characters. "Once we introduced cloning, it really kick-started the idea of characters returning," Paul W.S. Anderson says.
But the cloning concept also adds a new layer of intrigue to the storyline. "The audience will wonder, 'is that person really Carlos? Is that person really Rain?' It's very much in keeping with the world of gaming, where everything can change in a heartbeat."
Milla Jovovich relished the idea of her character reuniting with so many of her friends and foes from the previous films. "People really became invested in these characters," she says. "When Paul W.S. Anderson figured out how to bring everyone back, we all got really excited. There's a lot of illusion versus reality in this movie and it will take people by surprise. It was amazing to have everyone back together again."
In Resident Evil, Rain Ocampo, played by Michelle Rodriguez, was a member of the Umbrella special commando unit. A skilled marksman, Rain Ocampo and her team were dispatched to contain the infection after the outbreak by any means possible. But after Rain Ocampo was infected with the deadly T-virus and transformed into a zombie, she was killed.
Michelle Rodriquez was thrilled when Paul W.S. Anderson called to say they had found a way to bring her character back to life. "I'm really happy to be back," she says. "I didn't think there'd ever be a possibility of bringing back my character. But there's always an open window when you're dealing with science fiction. The possibilities are endless. I'm really happy we have a director who is so creative."
In the film, Michelle Rodriguez portrays two characters, a hard-as-nails weapons specialist working for the Umbrella Corporation, and a Prius-driving, tree-hugging student with a fondness for high heels. Known for playing strong female characters who operate in traditionally male fields, the actress loved playing against type. "I'm avid about guns and a bit of a tomboy," she says. "Much of my career has been defined by that. It was a nice shift into playing someone a little laid back and sexy for a change. It was cool and fun to play someone who is quirky and doesn't know how to handle a gun."
Says Paul W.S. Anderson of the actress, "I've never met a woman who feels more at home wearing a pair of combat pants and carrying a heavy machine gun. But when I talked to Michelle Rodriguez about returning for this movie, she said she was really interested in exploring different aspects of herself as a woman in her movie persona. We developed a character for her that is more traditionally feminine. The biggest challenge for her was wearing a pair of high heels. It was fun to see Michelle Rodriguez navigate in stilettos. She was unsteady on them, which shows a completely fresh side of her."
Also returning is the character of Jill Valentine, played once again by British actress Sienna Guillory. A former police officer who aligned with Alice against the Umbrella Corporation in Resident Evil: Apocalypse, Sienna Guillory was last seen ordering the killing of all remaining survivors-including Alice-at the end of Resident Evil: Afterlife. "Jill is being controlled by Umbrella now," explains Sienna Guillory. "She's a good girl trapped in a bad body. And she's a real baddie in this film."
Sienna Guillory was delighted to return to the world of Resident Evil, as well as to work with Milla Jovovich and Paul W.S. Anderson once again. "On these films, you're part of a team and the support is incredible," she says. "Milla Jovoich is the most giving actress to work with and Paul W.S. Anderson has a limitless imagination. I felt like I had come home."
Oded Fehr, familiar to audiences as Carlos Olivera, a member of the Umbrella forces special commando unit in Resident Evil: Apocalypse and Resident Evil: Extinction, also plays dual roles in the film. Fehr says that his return to the franchise makes perfect sense.
"If you can have a hundred Alices, why not have more Carloses, Ones and Rains?" he asks. "There are so many twists and turns that it's going to be a blast. And it was great to be reunited with the 'family' from the films I did earlier."
Boris Kodjoe is also back as Luther West, a strong, confident ex-pro athlete discovered barricaded inside a prison with a small group of survivors in Resident Evil: Afterlife. Luther and Alice shared an immediate connection, forging an allegiance based on mutual respect. During their escape from the prison, Luther West was attacked by zombies and is presumed dead by Alice and the others. "They had an amazing partnership in the last movie," the actor says. "But she believes that he's gone and it's a nice surprise for her to find out he's not. When they meet again, there's obvious relief on both sides, as well as excitement that they are going to embark on a new adventure."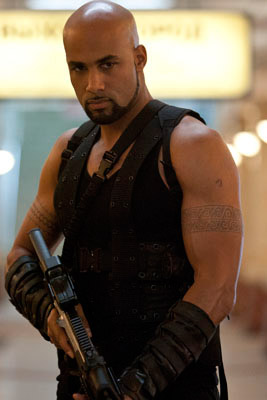 For Boris Kodjoe, one of the biggest reasons for returning to the series was the opportunity to act alongside Milla Jovovich again. "Working with Milla Jovovich is an absolute pleasure," says the actor. "She is the perfect hero for this franchise. She brings everything to the table. She's a team player and her energy influences everyone else."
Returning as the film's larger-than-life villain, Umbrella Corporation chairman Albert Wesker, is Shawn Roberts. Virtually indestructible as a result of being infected with the T-virus, Albert Wesker seems to be evil incarnate. "Wesker is probably the biggest villain from the games and definitely a fan favorite," says Paul W.S. Anderson. "We blew him up with an atom bomb in the last movie, but even that was not enough to keep him down."
Playing an unrepentant scoundrel is an actor's dream, according to Shawn Roberts. "Albert Wesker will not to stay in the background. He's decided to take top position. I rule the world and it feels pretty good to be sitting at the top."
In his first appearance, Shawn Roberts took part in some of the film's most demanding and thrilling action sequences. "He didn't do much talking last time," says Paul W.S. Anderson. "But Shawn Roberts is a terrific actor, so in this movie, we turn that on its head. Sometimes Albert Wesker seems like a James Bond type of villain, talking when he should just be killing people, and it was fun to use Shawn Roberts that way."
According to Shawn Roberts, the latest chapter outdoes the last four on every level. "There's more gun play, more fights. The entire movie is action on top of action on top of action. I think it's going to be a nonstop ride that people will want to take time and time again."
British actor Colin Salmon rounds out the slate of returning characters as James "One" Shade. Sliced into pieces with a laser in the first Resident Evil, Colin Salmon says it was a great surprise and pleasure to be asked to return to the franchise.
"In the first movie, it looked like my character was going to be the hero of the piece," says Colin Salmon. "Then he became sashimi and Alice became the hero. But One is the archetypal soldier who just keeps coming back, so, without going into too much detail, he's reinvigorated here."
It has been 10 years since Colin Salmon first played the character and he has watched in awe as what he calls "for all intents and purposes an indie film" became a blockbuster franchise. He gives full credit for that success to Paul W.S. Anderson. "Paul W.S. Anderson is one of the most industrious, generous and intelligent guys I've ever worked with. His attention to detail and his knowledge of every department are unique. If he weren't a director, he'd be an architect, no question."
In each incarnation of Resident Evil, the filmmakers introduce elements of the games that are most popular with hardcore gamers. "We pay a lot of attention to what they say," says Paul W.S. Anderson. "We listen to their feedback. That's why the dogs and the Lickers are in the franchise. It's why Jill joined the franchise. This time out, we have added the characters of Leon Kennedy, Barry Burton and Ada Wong. People were clamoring for them."
The gamers' enthusiasm for those characters meant the filmmakers had to be especially meticulous in selecting the actors who would embody them on screen. "We took a long time with the casting process," Paul W.S. Anderson adds. "We found actors who brought these characters to life in a way that is as close to the video game as possible. You have no idea how difficult it is to find someone who could carry off Leon Kennedy's hair. He had to be to be manly and have those long bangs."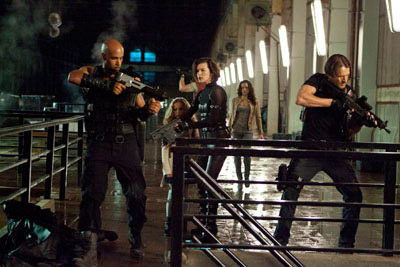 "I think the parts of Barry, Leon and Ada are perfectly cast," says producer Robert Kulzer. "The actors have captured the essence of what people love about their videogame characters, but at the same time, have made the roles completely their own."
Paul W.S. Anderson chose Estonian-born actor Johann Urb to bring the key character of Leon S. Kennedy to life. Johann Urb calls his character "a zombie-killing machine. He is a survivor and the leader of the resistance. Things have gotten really dire and we all have to team up to survive."
Johann Urb says he loved the idea of playing an action hero. "The character is a real dream for me. He's strong, confident, a great leader, and he gets to shoot zombies. He's lot of fun and it makes it easy to wake up each morning and step into his shoes."
To bring the role of Barry Burton to the screen, the filmmakers tapped Canadian-born actor Kevin Durand. Familiar to audiences for such roles as Little John in Robin Hood and Martin Keamy in the hit television series "Lost," Kevin Durand embraced the opportunity to play the cigar-chomping zombie fighter. "It really wasn't a difficult decision," says Kevin Durand. "Barry Burton's kind of a Dirty Harry type of character that carries a big .44 Magnum and is really good at killing zombies. How much fun is that?"
In the film, Barry Burton, Leon S. Kennedy and Luther West are a tight team. From their first meeting, the chemistry between the three actors was strong both off and on the screen. "We joke around a lot," says Johann Urb. "Boris Kodjoe and I go way back, and Kevin Durand and I clicked immediately. It's just a naturally wonderful camaraderie. We're having a great time and I think it shows up on screen."
Kevin Durand, Johann Urb and Boris Kodjoe each stand well over six feet tall, making them a visually imposing team. "This is the first movie I've worked on where my size doesn't make me feel like I've escaped from the circus," says Kevin Durand. "Boris Kodjoe is six-five, Johann Urb is six-four and I'm six-six. When we walked around Toronto together, people thought we were part of the Raptors basketball team and asked us to sign hats and jerseys."
Another character drawn directly from the game is the mysterious and deadly Ada Wong. The filmmakers selected award-winning Chinese actress Li Bingbing to embody Ada Wong's strength and intelligence, as well her ambiguous loyalties.
"We knew as soon as we saw her audition that Li Bingbing was the perfect choice for the role," says Bolt. "In addition to being an extremely talented actor, she's sharp, sexy and smart-all qualities that the Ada Wong character had to have."
Li Bingbing was honored to be chosen to play the alluring assassin. "Resident Evil is a well-known game in China and Ada Wong has a lot of fans there," she says. "When Paul W.S. Anderson invited me to play the part, I think the fans were as excited as I was."
The most daunting component for Li Bingbing was not the extensive stunt work, but having to speak her lines in English. "At the beginning, I was very self-conscious," she admits. "I thought that if I just didn't open my mouth, I wouldn't make any mistakes. But as I got to know everyone better, I became more comfortable. And I was relieved to find that nobody laughed. In fact, they said 'oh your English is amazing!' They made me feel like I was part of a very cozy family."
Also new to the film is the character of Becky, a young deaf girl who forges a strong bond with Alice. She is played by 11-year-old Aryana Engineer, who is hearing impaired in real life. "The character was written as deaf," says Paul W.S. Anderson. "I wanted to cast a deaf actress to play her, even though that meant that Milla Jovovich had to learn sign language to be able to communicate with her in the film. Aryana Engineer had only done one movie before this, but she really achieved a lot. She grew as an actress and delivered a terrific performance."
Adding a child to Alice's already complicated existence allowed them to explore a previously hidden side of Alice, Paul W.S. Anderson says. "Now that Milla Jovovich herself has a child, I felt it was the right time," he adds. "To see how a hardened warrior deals with it brought a very interesting aspect to Milla Jovovich's performance in this movie. It brings something fresh and different to the franchise."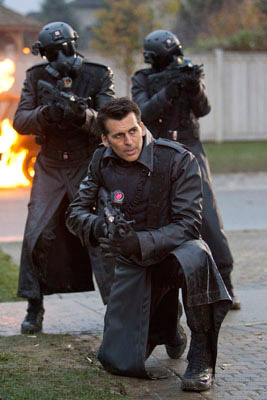 Around the World in 3D
Through four previous outings, the Resident Evil saga has taken audiences around the world and deep inside the mysterious Umbrella Corporation, but never before on such a vast scale. "Resident Evil has always been a global franchise," says Paul W.S. Anderson. "I don't mean just in the way it's shot, but also in the locations. In the first movie, it was the claustrophobia of the Hive; in the second, the nighttime streets of Raccoon City. The third movie moved to the desert and the fourth movie had post-apocalyptic Los Angeles burning to a crisp. This time we've made what is effectively a road movie, because we go from one country to another to another in a novel way."
The film's script called for 74 sets as the action swiftly shifts from North America to Japan to Moscow to Kamchatka in northernmost Russia, all shot in Toronto on studio sets and location. "We used some astonishing visual effects to create the illusion that we were traveling the world," says Paul W.S. Anderson. "Moscow and Tokyo would have been very difficult locations to shoot in. Even if we had gone to Japan, we would never have been able to close down the center of Shibuya and have that kind of carnage and devastation, so we built a huge chunk of the district on a back lot. We did send a unit to Moscow and shut down parts of Red Square for two days in order to create background plates for a very detailed recreation, including the Gum Store, which is the Harrods of Moscow."
Production designer Kevin Phipps conceptualised each of the movie's disparate settings, both replicated and invented. "There are tons of fantastic visual contrasts in the film, which made it very exciting to work on," says Kevin Phipps. "The world of Resident Evil is like no other. We were designing for an imagined world, the high-tech futuristic world of the Umbrella Corporation, but fitting it into the already existing world. It was a very broad canvas.
"When Paul W.S. Anderson wrote the scene set in Red Square, we had to figure out the most visually interesting yet economical way to shoot it," he adds. "It required a very fine balance of physical and virtual sets. We were meticulous in the detailing. I found a lot of joy in the interface between reality and illusion."
Kevin Phipps' most compelling innovation is the interior of the Umbrella Corporation's ingeniously hidden fortress. To represent the corporation's nerve center, he designed a world made out of glass: corridors, interrogation rooms and a control center, all filled with light and stretching into chilly infinity. "We ended up designing a modular system of floor panels and wall panels, which were repurposed for our different looks," he says. "It turned out to be more of a technical challenge than we anticipated. Quite a bit of research and development went into to coming up with a coherent design philosophy for doors and panels, as well as finding the best way to light the sets. There's a lot of super-high-speed photography, as well as 3-D in the film. When you are shooting at 216 frames a second, you need a lot of light."
For his third feature film in 3-D, Paul W.S. Anderson and his longtime collaborator, director of photography Glen MacPherson, utilised the most up-to-date equipment, some of it specifically developed for Resident Evil: Retribution. "When we made Resident Evil: Afterlife, we used what was then the leading edge of technology," Paul W.S. Anderson says. "It has evolved enormously since then and Glen brought his own ingenuity to bear.
"Glen MacPherson was tired of me complaining that I couldn't do certain things with 3-D rigs, so he built one for me," Paul W.S. Anderson continues. "I was frustrated because I could never use a big wide-angle lens. And you had to bring in a different camera if you wanted to do slow motion. The new rigs are smaller and more mobile than the rigs we used on the last film, so we could do more Steadicam work. They are built to my specifications for the way I like to shoot, and as a result the camera work on this movie is the most adventurous I've ever shot in 3-D."
The rigs Glen MacPherson and second-unit director of photography Vern Nobles put together gave the photography team freedom that was previously unprecedented in the 3-D realm. "For the first time, we had a camera rig that we could stick on a car without tethering it to any recording towers," says Glen MacPherson. "We could shoot in slow motion without having a whole bunch of equipment following us. And all of the cameras had the flexibility to shoot at both high and low speeds. We are able to take a whole different approach to shooting."
With audiences more used to 3-D, Paul W.S. Anderson felt freer in other ways as well. "I think we can cut faster. We can do more hand-held and tolerate more camera shake, which we stayed away from just two years ago. So I think the film will have a much more kinetic feel than you're used to seeing in a 3-D film. Hopefully people's eyes won't explode. But if they do, they'll be having a good time, because we've put some pretty amazing stuff on screen on this film."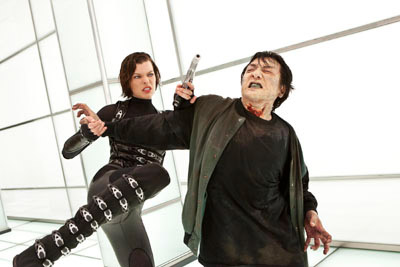 And the director finally got his yearned-for wide-angle lenses. "We like to say that the 'W.S.' in his name stands for 'wide shot,'" says Glen MacPherson. "Paul W.S. Anderson rarely does over-shoulder or master shots. We usually push the camera as far back as we can into a corner and shoot from crazy angles. We have environments in this movie that seem to go on and on forever."
Resident Evil: Retribution also contains some of the biggest visual effects ever created by Toronto-based Mr. X, according to the film's special effects supervisor, Dennis Berardi. "We've got creatures the size of dinosaurs," Dennis Berardi says. "We've got a rockin' car chase with a Rolls Royce that basically gets destroyed. We've got tidal waves running through Red Square and taking out New York. Every scene, every sequence we made, we were looking for opportunities to take it to the next level. It's epic stuff."
Dennis Berardi-whose previous collaborations with Anderson include Resident Evil: Apocalypse, Resident Evil: Afterlife and The Three Musketeers-and his team were in charge of seamlessly integrating the more than 900 computer-generated shots into the heart and action of the film. "Special effects are very important in the Resident Evil series," says Jeremy Bolt. "They are the glue that brings everything together. They are the essence of the film, taking us into the Umbrella Corporation world in a way that otherwise would be impossible."
But visual effects are irrelevant if they can't be realistically integrated into a movie, says Dennis Berardi. "Audiences spot them in a second and it cheapens the experience. We knew we had to do a photo-real version of Red Square, so we went to Moscow. We did the same for New York. Because we got involved from the script level, we are able to work out all the bugs early. By the end of principal photography, we'd already been working on the movie for about six months."
Dennis Berardi is looking forward to fan reaction to the shocking final scene of the film. "In keeping with tradition, it is a cliffhanger ending that hints at what will happen in the next movie," he says. "It's as big as any I've ever seen. It probably was the most complicated shot we ever did."
The Resident Evil franchise has become synonymous with high-octane action from beginning to end, and Resident Evil: Retribution is packed with heart-pounding, adrenaline-charged sequences. In a nod to the fifth game, Paul W.S. Anderson builds on a chase in the game to create one of the films standout scenes.
"The characters are driving in a Hummer though the desert and they're being chased by zombies shooting machine guns on motorbikes," he says. "We've taken that and we've run with it. Instead of a Hummer, we're using a Rolls Royce Phantom because no one's ever done a car chase with a Rolls Royce before."
Paul W.S. Anderson amps up the scene even further by relocating it to the streets of Moscow. "There are zombies coming at us and they're not the regular ones," says Johann Urb, who spent five days filming the hair-raising sequence along with Milla Jovovich, Kevin Durand and Boris Kodjoe. "They're firing weapons and bazookas. We run out of bullets and I have to take them out hand-to-hand, which was fun. There are also Uber-Lickers coming at us at the same time. It's pretty unbelievable."
Veteran stunt-coordinator Nick Powell, whose credits include The Bourne Identity, Gladiator and The Last Samurai, previously worked with Paul W.S. Anderson and Milla Jovovich on The Three Musketeers. The complexity and scope of the stunts required two full crews to work simultaneously, with Nick Powell helming the stunt unit while Anderson shot with the film's principals.
"Resident Evil has a signature style that Paul W.S. Anderson has established over the years," saysNick Powell, "The audience expects there to be a lot of over-the-top action sequences, but I was amazed at the number in the film. Action-wise, this is the most ambitious Resident Evil yet."
The fight sequences in Resident Evil: Retribution are by far the biggest in the history of the franchise. Milla Jovovich and the rest of the cast spent long hours training in order to meet the physical demands of the film. The intricately choreographed fight sequences meant that everyone had to be at the top of their game, according to Nick Powell, who employed a number of styles of martial arts as well as kick-boxing and wire work. "It takes many hours of practice to learn the movements," he explains. "Nothing should look rehearsed. All the movements should be controlled with a smooth and continuous rhythm."
Nick Powell has high praise for the fighting skills of the film's leading lady. "Milla Jovovich is very capable," says Nick Powell. "She is extremely well coordinated and has done this for such a long time that she picks up choreography very quickly. So with her, it's always how big can we go before it gets too big? To what point can we physically take it without it getting too crazy?"
Milla Jovovich says that working on Resident Evil: Retribution was her biggest physical undertaking to date. "With each Resident Evil film, we've raised the bar. I don't want to keep repeating myself and neither does Paul W.S. Anderson. Our audience doesn't want to go see the same movie over and over again. These are definitely some of the most challenging fight sequences I've ever done in any movie."
One of the film's most complicated sequences is the climactic fight between Milla Jovovich's Alice and Guillory's Jill Valentine. The pair put hours of work into preparing and filming the action. "The fight has almost 200 moves," says Guillory. "It's immense and brilliant. Milla Jovovich and I worked on it every day. It's actually a very beautiful fight. It incorporates things that we had never done before with weapons and lots of aerial moves."
As a former athlete, Boris Kodjoe enjoyed the discipline and challenges of the fight scenes. "A big part of being in Resident Evil is the training," he says. "It was been an amazing experience working with Nick Powell and his team. I love to get in there and get physical. It's fun for me to sell it and to make the audience really believe that we're engaging in a true battle."
Filming in 3-D also had to be taken into consideration as far as stunts were concerned. "3-D is definitely a challenge, not only for the actors but for the stunt people as well," says Milla Jovovich. "I've been trained to punch and miss so that it sells to camera, but with 3-D, you almost have to make contact to sell a fight. It takes it into dangerous territory and makes it quite exhilarating."
All of this adds up to what Paul W.S. Anderson intends to be "a bigger and better Resident Evil." "I wanted to make the first epic post-apocalyptic movie," he says. "I wanted it to have many dramatic, international locations. I wanted to show for the first time that this is a global infection. I also wanted it to be a huge action movie. I think the movie delivers all of that. These films have become bigger as they go along, but I think this is definitely a step into new territory."