Renee Zellweger Bridget Jones's Baby
Cast: Colin Firth, Jim Broadbent, Renee Zellweger, Patrick Dempsey
Director: Sharon Maguire
Genre: Romantic Comedy
Rated: M
Running Time: 122 minutes

Synopsis: Oscar® winners Renée Zellweger (Chicago, Cold Mountain) and Colin Firth (The King's Speech, Kingsman: The Secret Service) are joined by Patrick Dempsey (TV's Grey's Anatomy, Sweet Home Alabama) for the next chapter of the world's favorite singleton in Bridget Jones's Baby. Directed by Sharon Maguire (Bridget Jones's Diary, Incendiary), the new film in the beloved comedy series based on creator Helen Fielding's heroine finds Bridget unexpectedly expecting.

After breaking up with Mark Darcy (Firth), Bridget Jones's (Zellweger) 'happily ever after" hasn't quite gone according to plan. Fortysomething and single again, she decides to focus on her job as top news producer and surround herself with old friends and new. For once, Bridget has everything completely under control. What could possibly go wrong?

Then Bridget's fortune takes a turn and she meets a dashing American named Jack Qwant (Dempsey), the suitor who is everything Mr Darcy is not. In an unlikely twist she finds herself pregnant, but with one hitch: Bridget's uncertain if the baby's father is her longtime love…or the newfound one from just across the pond.

The much-anticipated third installment of the Bridget Jones franchise welcomes fellow Academy Award® winner Emma Thompson (Saving Mr Banks, Nanny McPhee series) to the cast that also stars the returning Oscar® winner Jim Broadbent (Iris, Harry Potter series) and Gemma Jones (BBC's Marvelous, Sense and Sensibility) as Bridget's Mum and Dad.

Longtime collaborators Tim Bevan and Eric Fellner (Les Misérables, The Theory of Everything, Bridget Jones series) of Working Title Films produce alongside Debra Hayward (Pride & Prejudice, Bridget Jones series).

The production team is led by an accomplished behind-the-scenes crew, which include cinematographer Andrew Dunn (Precious, Hitch), production designer John Paul Kelly (The Theory of Everything, Bloody Sunday), editor Melanie Ann Oliver (Les Misérables, The Danish Girl), costume designer Steven Noble (The Theory of Everything, Bridget Jones's Diary), hair and makeup designer Jan Sewell (X-Men: First Class, The Danish Girl) and composer Craig Armstrong (Moulin Rouge!, Love Actually).

The comedy is executive produced by Amelia Granger (About Time), Liza Chasin (Everest) and Fielding. It is based on the characters and story created by Helen Fielding (Bridget Jones's Diary, Bridget Jones: The Edge of Reason), from a screenplay by Fielding and Dan Mazer (Borat, I Give It a Year) and Emma Thompson (Sense and Sensibility, Nanny McPhee series).

Bridget Jones's Baby
Release Date: September 15th, 2016



About The Production
Jones Comes of Age: Assembling the Production

On 28 February 1995, a small, unassuming column by then-unknown author Helen Fielding appeared in the British newspaper The Independent. It was written from the point of view of a single young woman by the name of Bridget Jones (age: 32, weight: nine stone, three pounds) who lived and worked in London. The columns quickly gained popularity, and as Bridget became a household name, in rolled offers for her creator. Within 10 years of Helen Fielding's first words on her appearing, Bridget Jones had found herself in two international best-selling books and two global box-office hits.

Helen Fielding never set out to create a role model, and yet in our heroine she crafted someone who had been overlooked by popular culture. This was a woman who, in spite of her independence, was not afraid to reveal her flaws and insecurities.

Save the author, no one knows Jones better than the performer who's embodied her all these years. 'Bridget is eternally optimistic, self-effacing and finds humour whenever facing adversity," reflects Renée Zellweger. 'Tenacious and determined, she will not be defeated. She's perfectly imperfect, and that's what people relate to in her."

Producers Tim Bevan and Eric Fellner of Working Title Films shepherded the team in bringing Bridget back to the screen. Helen Fellner discusses the character's longtime resonance with audiences: 'Bridget is constitutionally optimistic and is able to take anything that is thrown at her life with a positive stride. She has a sense of humour that engages, and people love her because they identify with her travails. Bridget does everything with such great style and humour that it's a pleasure to spend time with her. Whatever is thrown at her, she comes back stoic, solidly, and usually with a laugh."

'She's aspirational, isn't she?" adds fellow producer Debra Hayward, who also has been with the series since well before the first film began production. 'Bridget still has to be this sort of every woman and you've got to recognise yourself in her, even if the dilemma is not something you could ever see yourself in."

At the heart of our protagonist's quandary is her fear of ending up alone; that translates into independence at a cost. 'One of the reasons the first film worked was not just because of the comedy but because people identified with Bridget's fear of loneliness," says Sharon Maguire, who bookends the trilogy with her directorial work on this chapter. 'It's a universal fear, and one that's still a prominent theme in the character's journey. This is an integral point of access for the audience to empathise with Bridget. The universal undercurrent is that everyone is afraid of being lonely."

Helen Fellner offers that Sharon Maguire was the only choice for a director when they began this journey: 'Sharon Maguire knows this world and these characters better than most. When the opportunity arose to work with her again, we leapt at the chance. She understands the scenarios that the actors play out, and there is no one better to have made this film."

When Bridget was imagined, singletons around the globe realised they were not alone with conflicting aspirations and insecurities. Calorie obsessing, the rules of makeup and shaving, conflicts of the heart and mind, nothing was hidden. 'I'm having a Bridget moment" became part of the vernacular, along with 'F**kwittage" and 'wanton sex goddess." Bridget optimised a new breed of woman.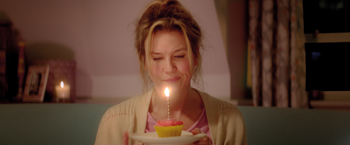 So why the long wait to bring Bridget back? 'After the first and second film, we always hoped that there would be another chapter for Bridget," Debra Hayward continues. 'We started talking about it some years ago with Helen Fellner, and it took a few years to evolve the story. It was quite some time in the making, but we wanted to get it right."

Bridget is now an award-winning producer of a major news show. She's given up cigarettes, cut down on chardonnay, doesn't obsess about her weight, and her self-help books have been replaced with political literature. 'We've given Bridget a much better job," says Debra Hayward. 'It's a quite relevant show that she is determined to keep important and serious, yet increasingly she's under pressure to make it more populist."

When audiences first met Bridget she was 32 years old, and in Edge of Reason, she was 34. In Bridget Jones's Baby, she celebrates her 43rd birthday. When the producers brought Sharon Maguire onto the project, one of the things that was important for the director was that the story reflect what happens to adults in these key transitional years, both emotionally and professionally.

Despite her success, in the new story, Bridget maintains that wonderful awkwardness that has made her so appealing. 'Everybody's hoped for something and been disappointed. The way that Bridget manages to persevere"despite circumstances that might bring her down"inspires people," says Renee Zellweger. 'She's suffering the same things we all do and, especially in her private moments, you're able to connect to her."

'Bridget can be ditsy and clumsy, but she is very clever; she's erudite, smart and well educated, yet she fluffs things," Debra Hayward adds. 'Bridget's characterization is always delicate, because if you go too far one way she can become stupid. It's getting that balance right, and that balance is the trickiest thing in the film actually. She's human and certainly makes mistakes in love; still, she is unique and idiosyncratic."

Despite her independence, Bridget remains fiercely single. 'We wanted to isolate her," explains Debra Hayward. 'Every single one of her friends has moved on, even Tom [James Callis], her gay best friend, has settled down and adopted a baby. She is the last one standing."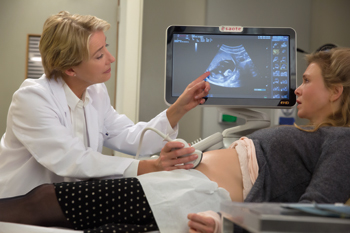 'Bridget is still dealing with some of the same issues," says Sharon Maguire. 'She still has a fear of loneliness and is floundering around looking for meaning in her life. She's so imperfect and so flawed. Things are never all neatly sewed up with a bow on top."

As her close friend Miranda [Sarah Solemani], points out, Bridget 'made us award-winning, and as a result she has no life, because everyone mercilessly abused the fact she is a lonely, single, childless SPILF [Spinster I'd Like to F**k] who works all hours." 'That said, she's still the same Bridget we know and love," insists Debra Hayward. 'She'd love to down a bottle of Chardonnay, but she's a bit more sensible now."

Despite Bridget's denials, dreams of romance and children are ever present. 'We discussed why that is and it's partly because she never quite got over Mark Darcy, even though that is not where you find her at the beginning of the film," explains Debra Hayward.

'From the beginning we thought it was going be the story of Bridget finding herself pregnant and not knowing who the father was," confirms Debra Hayward.

Whilst Helen Fielding was very involved with the development, owing to her increasing commitments, she agreed to have another writer join the project. 'Originally this was developed with Helen Fielding, and then writer Dan Mazer," explains Debra Hayward. 'With Helen Fielding's approval, we brought Emma Thompson on board."

Helen Fellner discusses how the multihyphenate was folded into the production: 'Emma Thompson is an actress and writer who we have been incredibly fortunate to work with quite a lot over the years"memorably in Love Actually and in two Nanny McPhee movies. We were looking for a writer to come on board and help us with the screenplay, and she seemed a natural choice. She did an incredible job, and in the process she built up a character called Dr Rawlings. We then turned it around and told her she'd made that character, she now needed to play her. She did so brilliantly."

Sharon Maguire appreciated that Emma Thompson brought in more obstacles and more laughs. 'Bridget's world is familiar, so we had to give audiences twists turns and surprises," says the director. 'I also wanted to bring in fresh and younger blood. I was keen we made her friends at work, like Miranda, part of the new generation of Bridget, who have a slightly different outlook on relationships"a lot more free and amoral. I thought there was much fun to be had with Miranda and Cathy, the makeup lady [Joanna Scanlan]."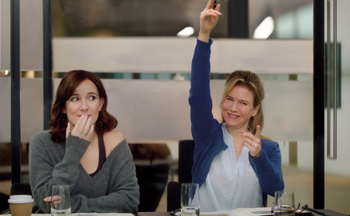 Whilst humour was imperative, so too was truth. 'I wanted the story to be plausible, but funny," Sharon Maguire continues. 'I know people who have been faced with this predicament, so I was intrigued how Bridget would handle it." Having had no successive men in her life, now they are turning up like buses, both wanting to be the father. 'When I came on board we took that part of the story and ran with it, putting her in more awkward situations, like going to two scans and drawing her doctor into the subterfuge."

'I like to think of it as a coming-of-age film that's set at a later point in the character's life," muses Renee Zellweger. 'As you go through life, you realize that there isn't a point that you reach where you have it all figured out. This chapter in Bridget's story explores the differences between what you imagine your life is going to be versus the reality of where you find yourself."

One of the most powerful perspectives that Sharon Maguire brought to the production was that she could relate to today's Bridget as much as she did to the first incarnation. In fact, after Bridget Jones's Diary wrapped, Sharon Maguire moved to Los Angeles to work and, as it turns out, become a mother. It was upon returning to London in 2014 that the producers approached her. 'I was scared, but also curious as I wanted to see what had happened to all the characters 11 years on," says the director. 'I wanted to know whether their fantasies had come true. It felt strange for me to read it because I had to go back 15 years to my life and look at my own fantasies and whether they had come true."

'Bringing Sharon Maguire back was key," says Debra Hayward. 'More than anybody, Sharon Maguire embodies the spirit of Bridget and all the qualities that made the first film so relatable. We were quite pleased with ourselves when she was agreeable. Sharon Maguire was so responsible for the success of the first film"the feeling, tone, humour, laughter, tears and the romance"and of course she is one of the characters in Helen Fielding's original book."

In addition to Sharon Maguire's connection with Bridget, she came to motherhood late in life, so she speaks directly to some of the themes in the story. 'She inspired the character of Shazza/Sharon," reveals Renee Zellweger. 'But I always felt she was more like Bridget. When she's laughing at what we're filming that day, that's when Bridget comes to life in the room. She's somewhere between Sharon Maguire and myself. I can't imagine a more fun and exciting collaboration than the one that we shared."

As a documentarian, the filmmaker takes a sharp eye toward comedy. 'Directing comedy is a hard thing to do as it's so subjective," says Sharon Maguire. 'I have to trust my instincts on what is funny. If I read something or I think of an idea that makes me laugh, it's worth pursuing. Similarly, if the actors experiment, and I laugh, we go with it."

Finding a window when the cast would be available was one of the great challenges. Still, he stars aligned in September 2015 and the cameras started rolling on Bridget Jones's Baby. Any fears that in the 21st century Jones might not be relevant were instantly quashed. The crew were followed by packs of photographers whose pictures were splashed across front pages and discussed at length by an eager fan base.


An American in England: Zellweger Is Jones

Once upon a time, before Bridget Jones the movie became such a global success, fans of the book were aghast when the role was given to an American actress with an incumbent southern drawl. Today, it is unthinkable to imagine anyone else playing Bridget. Quite simply, no Renee Zellweger, no Bridget. 'Renée Zellweger, more than anybody, knows what Bridget would say or do," lauds Hayward. 'She has an innate understanding of this character, how she would behave, what she would say, what she wouldn't say."

'You simply can't make Bridget without Renée Zellweger!" exclaims Sharon Maguire.

When it comes to fans, Renee Zellweger has as many fans behind the scenes as she does in front of it. Lauds Fellner: 'Renée is the greatest comedienne of her generation. On top of that she's also a brilliant actress; we've seen that through her dramatic work.

Although we admired her enormously from afar when we were casting Bridget Jones 15 years ago, we never considered Renée Zellweger should play Bridget Jones because she's American. When we met with her, she blew us away. Now she owns this character, and it's impossible to envisage anyone else playing her."

It was with Sharon Maguire that Renee Zellweger first embarked on Bridget's cinematic journey 15 years ago, and their coming together for the third installment felt like a fait accompli. 'Renée Zellwegger has always loved the role and she, like us, was keen to revisit Bridget," explains Debra Hayward. 'It's a brilliant evocation of a literary character. Together, Renée Zellwegger and Sharon Maguire have created that character on screen. It's a complete collaboration."

'Renée Zellwegger has the ability to totally inhabit Bridget and also bring a softer side and emotion to that character," continues Sharon Maguire. 'She doesn't just do comedy. It's everything about her; the way she acts brings an extra layer of emotion and heart. She's not afraid to project and unvarnished version of herself and has no vanity whatsoever. Combine that with a kind of Lucille Ball physical comedy that she has and loves. If there's anything physical, she will wholly get behind it."

'I can't imagine a more exciting collaboration than the one that Sharon Maguire and I have shared," agrees Renee Zellweger. In the time that the performer has been playing Bridget, she has developed a deep fondness for the character. 'I love her humanity" she says. 'I love how authentic she is, how awkward her experiences can be. People relate to her because she is so imperfect, and somehow still manages to triumph in challenging situations. She refuses to give up. She's self-effacing and faces her dilemmas with humour."

For Renee Zellweger much of the joy of returning to the world of Bridget was in revisiting not only Bridget herself, but the characters around her. 'I wanted to know what happened to all of her friends and what Mum and Dad are doing, as well as where Bridget would be at this time in her life."

Renee Zellweger simply embodies Bridget, down to her impeccably genuine Home Counties accent. It is only when you see the performers at work that you appreciate how much work goes into becoming the character. The art of being Bridget lies in the subtle physical comedy, of which Renee Zellweger is a master.

What first gave the performer the method to inhabit Bridget was the idea that her character's thighs rub together and made a swishing noise when she wore tights. For Renee Zellweger, that was a big cue for getting in character and getting her Bridget's walk"slightly splay footed"down. It came with all sorts of clues as to how she would react.

'Clumsiness comes naturally to me for some reason," laughs Renee Zellweger. 'The intentional clumsiness that is scripted is a lot of fun to play, especially when Sharon Maguire is around the corner laughing and shouting out how I might make it clumsier."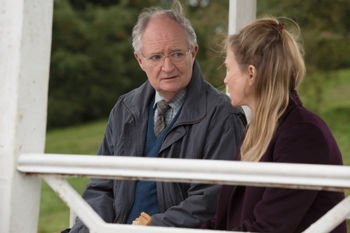 She rightfully earned that respect from her co-stars. 'Renée Zellweger is possibly, more than any other actor I've ever known, a trouper," says Colin Firth. 'She's perpetually buoyant, indefatigable. She's got long monologues, difficult bits of physical comedy and yet her preparedness is astounding. You're not supposed to review what your fellow actor has just done; there's a danger it can throw them off their game. But sometimes I was itching to tell her that what I just saw was genius."

Becoming Bridget, however, is not an overnight transformation. Aside from weeks of rehearsals, Renee Zellweger had intense vocal practice with her voice coach, Barbara Berkery. 'She talks like Bridget, while she's on set all the time," shares Colin Firth. 'It's very confusing at times to talk to Renée Zellweger about anything from her own life back home. When she starts talking about life in Texas, with an accent as if she comes from Surrey it's very hard to process…"

'A lot of work went into developing my accent with Barbara," says Renee Zellweger," and I had to gain a little weight, but not as much as before. Sharon Maguire and the producers felt that it would be good to see Bridget having achieved one of her goals in life and also having evolved. She might not have it together in other areas of her life, but she's making healthy lifestyle choices."

Darcy and Jack: Completing the Love Triangle

In essence, our heroine is the perfect contradiction. On the one hand a self-possessed, independent career woman, and on the other a hopeless romantic in search of the perfect man. Bridget has often thought that the man of her dreams is one Mark Darcy, whom Helen Fielding based on a literary character who is more than 200 years old. 'He is an archetypal gorgeous Englishman who's funny, clever and repressed," says Debra Hayward. 'It's hard to think of anybody else that could be a better Darcy than Colin Firth."

'I love Mark Darcy, and I love Colin Firth," praises Sharon Maguire. 'It's easy for me to direct this character and to direct Colin Firth because he's such a heartthrob. It's just everything about Mr Darcy"his haughtiness, the fact he's prickly, brainy, obviously a tiger in the sack and he looks like Colin Firth…"

As with Renee Zellweger, for Colin Firth to come back, timing had to be right. 'After we did the second film, I remember saying that the only way I could contemplate a third was after I've deteriorated a bit and can actually tell a story about people at a completely different time of their life," laughs Colin Firth. 'I wanted to visit the same people, but to have moved to the next generation to see what life has dealt them." Still, trickier than he expected. 'I know that sounds strange, because I've played this guy a hundred times now. Perhaps I was afraid he might feel a parody."

Actually, that was precisely how Colin Firth tackled the first film. 'Bridget Jones was obviously a deliberate and self-conscious parody of Pride and Prejudice, and I approached it in that spirit. I thought I'm going to do a sort of pastiche of somebody that I was known to have played on the BBC. It's like a hall of mirrors. I existed in Helen Fielding's books as myself, and Mr Darcy existed in the books as Mr Darcy. Then there's the Mr Darcy of Bridget Jones's own fantasy. You could get lost in it all. Yet I had to inhabit the role, so I thought, well I'm just going to send up Mr Darcy a little bit. But once we were on set, you find that it becomes more specific and much more human than that."

It was the faith Colin Firth had in her to navigate the production that reassured the actor. 'It is a luxury to feel enough trust in your director to be able to submit to any her requests. I have that in abundance with Sharon Maguire. She's not just about comedy; she's not just about romance. She knows what is funny in this particular convention. It's not only her skill at directing this material and the way she connects with the actors. She is of this world. Her heart is so much at the centre of it."

'Colin Firth was extremely conscientious about the role," lauds Sharon Maguire. 'Even though he's played Mr Darcy from so many angles and this is of course the third time he's playing Mr Darcy in this movie, he's still conscientious. Comedy is not integral to the character and that in itself makes it a challenge to play, but someone who is socially inept is in itself funny. He plays Mark very seriously and it works."

In preparation for the role, Colin Firth revisited the first film and found something unexpected. 'I was struck by how substantial they were. I thought it was a very human, affectionate and sympathetic look at loneliness and people's foibles and the kind of silliness that our desperation leads us to. Fifteen years on, and I found there to be much more life in it than I had imagined. It's like coming back to an old friend and the familiarity is a part of it now. Time has added dimension to what we're doing."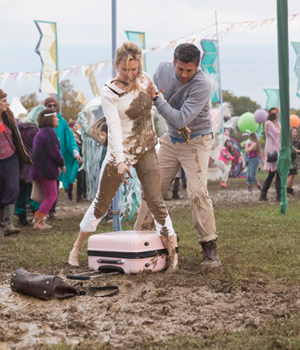 When we meet Mark Darcy he is still a respected human rights lawyer at the top of his game, but a bit jaded, prickly and most certainly romantically disappointed. 'We find him at the end of a marriage which clearly has not worked," says Colin Firth. 'Still, he clearly hasn't forgotten Bridget."

'He doesn't do polite conversations; he behaves like he's got a poker up his arse and always makes Bridget feel verbally incontinent, even when they were together," says Sharon Maguire. 'He's taken emotional withdrawal to the next level, but she still loves him."

'The advantage of leaving a genuine time gap since we last saw these characters, is that it tells a story," continues Colin Firth. 'If someone's still thinking about the same girl after 15 years, then that feels like love. Despite the time that's past, despite the knowledge of each other's shortcomings and foibles and all the disappointments that they've experienced, they're still longing for each other. The premise is: Can they resolve their differences and find each other again after all this time?"

Whether they can or not is of course hindered by a new love interest in Bridget's life, the ludicrously rich author and internet-savant named Jack Qwant. The pattern of the last two films followed the premise that in love there is a choice between a good guy and bad guy disguised as a good guy, with Bridget invariably making the wrong choice. 'We invented Jack as an American in a very English setting. He's charming, funny and very American," says Sharon Maguire. 'He's found the algorithm for love, and thinks he knows what works when it comes to love. He and Bridget match up 97 percent, so they should be together, whereas Bridget and Mark match up only 8 percent."

Very much so, Jack is the antithesis of Daniel Cleaver. 'Whatever we think about either of these guys, Jack's actually a lovely guy," offers Colin Firth. 'We may not like algorithms for love and the way he goes about what he does, but he's charming, adores Bridget and he seems to like Mark. This is quite infuriating: to have as an adversary someone that you can't bust on having terrible ulterior motives."

Patrick Dempsey's name had always been in the mix for Jack, having first come to the producer's attention as Dr Derek Shepherd on Grey's Anatomy. 'Patrick Dempsey was the choice very early on, because he's a credible alternative," says Debra Hayward. 'He's the right age, devastatingly handsome and he's American, all of which rings the changes from Daniel. We wanted it to be someone different but somebody equally gorgeous, and he's a great actor. He's an American equivalent to Colin Firth."

So, all roads led to Patrick Dempsey for Jack, but it was the race track that potentially jeopardised his being able to board the project, because Patrick Dempsey was in the middle of a racing season (his other job is racing driver). 'I was right in the middle of a season racing," explains Patrick Dempsey. 'So we had to work around the race dates to make it possible for me to do the film. It's the first production that's ever worked around my race dates! The first race with this contract, I ended up winning in Japan, so it was a good omen."

In much the same way that Jack is the new character on an established scene, similarly Patrick Dempsey was coming into a dynamic that was long established. 'I'm the new kid on the block. I was very nervous because they've had all this experience together and have a dialogue and a relationship that works well. That's what Jack brings into this dynamic; he's stirring it all up in many ways."

'Patrick Dempsey is lovely as Jack," enthuses Renee Zellweger. 'He is dashing and handsome and charming and he's funny and naughty and fun, like the Daniel Cleaver character. Still, he is the polar opposite of Daniel in so many other respects."

'Darcy's the quintessential English one, and Jack is the quintessential American," says Patrick Dempsey. 'It's been fun trying to find that. How we make these characters sympathetic, vulnerable, but yet strong at the same time, and what their wants and aspirations are for Bridget and for the baby. While the other characters are much more established, for Jack it's been a case of finding that out as we go along."

The scene that often gets the biggest laugh is when the men carry Bridget to the hospital. 'It's the broadest scene, and I was quite worried about it," says Sharon Maguire. 'But we went for it and looked for the truthful moment in it. Poor old Mark Darcy offers to carry her, but the truth is she is this enormous weight and you can see that on his face. She checks if he's ok and through a pained face he says, -It's best if I don't talk!' It's just so English, people trying to be polite to each other in extreme circumstances. Then Jack comes to the rescue being all American, but not being able to carry her either."

On reaching the hospital the men are faced with a revolving door. 'When we were working out how to do that we hadn't quite worked out where they were going to put her once they were inside," laughs Sharon Maguire. 'But because the wheelchair wasn't there they dumped her on the desk. Renée Zellweger plays it so truthfully; the look of horror captures the comedy of the moment. It has a feel of The Three Stooges about it."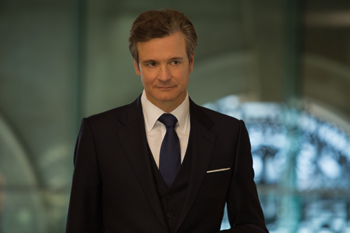 Belonging to London: Design and Locations

Synonymous with Bridget Jones is the city of London itself, and as production began the shoot, Renee Zellweger arrived in the UK for 8 weeks leading up to filming. Not only would she rehearse and spend time channelling her inner 'Bridge," she would embrace all that is her character's home. Helen Fellner discusses the city's role: 'London is complicated, confused, gorgeous and complex; that's the joy of it. Hopefully, we've been able to portray that beauty, as well as the contemporary and the period architecture"all wound in with Bridget's story, her friends' stories and the comedy of the film."

Creating the physical backdrops to Bridget's world and putting her in context was the work of a committed art team, led by production designer John Paul 'JP" Kelly.

'Bridget's success was important," he says. 'Hence why we put a lot of effort into not just changing her home environment but also her work environment. By putting her in quite a high flying job, hopefully we have a set that gives that perception."

Nowhere reflects Bridget's delightful flaws more than her apartment, the small flat above The Globe pub. 'Obviously, tastes have changed," says John Paul Kelly. 'Bridget would now find herself living in a contemporary home. I liked the idea of the colours becoming much lighter around her, which was, in part, reflecting her maturity."

The process was a collaborative one, with ideas being fed in by set decorator Sara Wan, Sharon Maguire and Renee Zellweger. 'It's been quite a lot of time with Renée Zellweger working through how the character might have changed and what the colours and ideas and dressing would be like in her world," says John Paul Kelly. 'She was keen that a lot of the original details in Bridget's character remained. So we did things like knocking through walls where she'd come up with this idea of having an open-plan kitchen, had the builders in, had it plastered and repaired, but never got around to painting it."

To the astute they will notice little details that point to Bridget's imperfections"a knickers left on the floor, a coat hanging over the door, shelves cluttered with a mess of books, letters and postcards, a discarded chocolate wrapper on her bedside table.

The good intentions are there, the aspirations to be a designer flat, but not quite making it. Her world may have changed successfully, but not flawlessly. 'The comic aspects of Bridget's character where on one side of the bed you've got political books that she's researching for work and on the other side it's diet books and self-help books and Kit Kat wrappers and that kind of split personality of her actually being a very accomplished and credible person versus the stumbling, bumbling Bridget that everybody loves. We wanted to reflect that in how the flat looked. It was important to try and get a sense of comedy in the set."

In imagining walls had been knocked through, the design team was able to increase the light in the flat, transforming what was originally a dark flat into a very cool residence in the heart of Borough Market. Of course to buy Bridget's flat in real time you would pay millions for it, because Borough has become so boutique. Ironically, however, in the intervening years another train line was built passing right by the window on one side of the flat, so the building was now hemmed in by two train lines.

For the filmmakers, it was perfect. 'It seemed like quite a Bridget situation to find yourself in," John Paul Kelly notes. 'Buying a flat in the up-and-coming, affluent Borough Market, to suddenly realise that you were going to have a train line, no matter which way you looked out. It worked out neatly to show aspiration and advance, but at the same time everything not working out as you would have liked it."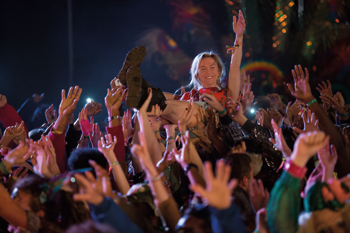 There was a fair bit of discussion as to whether Bridget would remain in the same flat. In the last 10 years Borough Market has changed dramatically, in ways that reflect both how London life and Bridget have grown. 'Almost exactly, it mirrored her changes," says John Paul Kelly. 'That it still has humility and a fun side to it, but actually has become prosperous. It was interesting to keep her in a world that had changed so much."

Since Bridget's debut, Borough Market has become a destination for fans paying homage to our heroine. In fact, despite the changes to the market since 2001, her home remains intact, even down to the same colour of its blue door. 'One of the iconic images was Bridget's flat above the pub," says Debra Hayward. 'It represents old, Georgian London.

When we made the first film, Borough Market was not a great area. Cut to 15 years later and the pub is still there, but the area has immeasurably improved. Right behind it is the Shard, which wasn't there five years ago. That became quite symbolic of the film…that it contained both the old and the new London, the old and the new Bridget."

The film shot over two days at Borough, with one of the scenes requiring that the market be transformed into a Christmas bonanza, in the middle of summer. Camilla Stephenson, location manager on Bridget Jones, says: 'Early on, we decided to not change anything about the market; that included the stallholders. Artisan producer and organic butchers came in on their day off to be a part of the filming. We bought the entire market for the day, so everything you see on film is genuine."

From her Home Counties accent to her unique eccentricities, Jones is quintessentially English. Whilst Edge of Reason took her out of her comfort zone and into Thailand, Bridget Jones's Baby explores her roots in England, using some of the country's most iconic locales.

Debra Hayward shares that England's capital is decidedly a character for Sharon Maguire: 'I always thought the great illustration of that were the first shots we took of Bridget's flat over the pub. That location was quite skanky on the first film, and now there is the Shard soaring as a symbol of all the area's regeneration. It's about the old and the new, cheek by jowl in London, and that was important to Sharon Maguire."

'Because I had been living away for several years, when I came back, which coincided with the script landing with me, it was exciting to tackle London again," explains Sharon Maguire. 'When I left it in 2010 it was recession time, and things were bleak. When I came back, everything was bling and cosmopolitan. There was new architecture that made the most of the fact that London was an ancient city. It combined ancient brick with amazing glass and steel and allowed me to put the modern and the ancient on film."

'Sharon Maguire and I spent a lot of time discussing the mirroring in London," says John Paul Kelly. 'This big passage of time made for quite a nice challenge as to how Bridget's life has changed. It was a nice opportunity to show a change in London and a change in the world surrounding Bridget."

The filmmakers embraced London to the point that not only did they shoot in some if the city's most poignant spots, but as much as they could, they did so without closing the areas down. The message was loud and clear, Bridget Jones belongs to Londoners. 'That's always been the way," muses Debra Hayward. 'We've long shot in iconic locations, whether Primrose Hill or the Supreme Court or places like Market."

Fortunately for Stephenson, most organisations she approached were more than happy to accommodate Bridget Jones. She continues: 'Not a single person asked us what the story was about. Just the mere mention of Bridget, and they said, -That would be lovely!' Usually, you have to drop the name of an actor or a director just to get through the door. She's has done very well for people visiting London."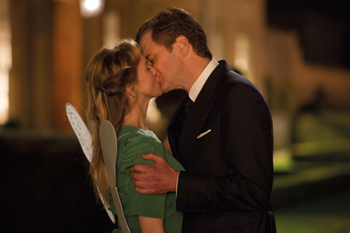 Other locations of note included The Supreme Court and The London Aquatics Centre at Queen Elizabeth Olympic Park, both of which opened their doors to filmmakers for the first time. As did, The Old Bailey, Islington, Highbury, Gatwick Airport, Cornbury Estate in Oxfordshire, Swinbrook village, Southwark and Albert Bridge, the list goes on. 'If you've never experienced working in a location department, this is the film to experience it in, just for the sheer variety," says Stephenson.

'From building a big set in a field, to a stately home, major train stations, the Olympic Pool, closing major London bridges, closing roads in London and creating a big traffic jam, using a major hospital, you name it we've done it. It's got every type of location you can imagine, from rural to urban."

In direct contrast to Bridget's world is the world inhabited by Mark, where, aside from his career ascension, little has changed. 'We updated him to a degree, but his is a conservative world that doesn't change very much," notes John Paul Kelly. 'The times when we see Mark's world are in his office in Lincoln Fields, and at the Supreme Court. The Supreme Court sits in the beating heart of political power in Parliament Square.

This is Mark Darcy's world, a world of order, establishment and conservative propriety. This is the world that makes sense to Darcy, and is light years from Bridget's world. Thanks to Stephenson, Bridget Jones's Baby was the first film to use the Supreme Court. 'Overlooking Parliament Square it's a really interesting space that felt right for Mark, having moved his career up to a stage where he was no longer High Court barrister but a Supreme Court QC," explains John Paul Kelly.

The Supreme Court is a working building so filming could only take place on the weekend. With only one day to dress the set and one day to shoot, some clever dressing was required. Stacks of papers and files dressed the tables. The courtroom was meticulously brought to life by the expertise of the props and arts team. Legal papers and files hired in props houses were stacked high on desks with more detailed papers that related to Poonani created by the design team.

It wasn't all location work on the production. In addition to the interior of Bridget's flat, which was built at Pinewood, the film has two big set pieces: the festival and the Hard News studios. The festival represents a moment in the story where Bridget is taken completely out of her comfort zone, when taken unsuspectingly to a Festival with her friend Miranda. Thinking she's off for a weekend in the country at a boutique hotel, she is shocked when they arrive at a muddy, crowded, sensory assaulting festival.

'We wanted the festival to feel a bit like Glastonbury at its worst," says John Paul Kelly. 'As the story progresses, for Bridget it's like arriving at Hell on Earth. There's mud and kids on drugs and it's just, why am I here? Yet a couple of drinks later and some prancing around in dance tents and it all starts to get a little bit rosier"until eventually she's having the best weekend of her entire life. It was obviously a muddy quagmire that she could be dumped into at the beginning, but we liked the idea of the colours increasing as her visit progressed, becoming more fabulous and psychedelic."

The festival site was built in Great Windsor Park and whilst the team drew inspiration from a variety of sources from the UK's rich festival scene, it was Bestival that played a more significant role. 'We thought the music aspect of the festival that they attend would be more the scale of Bestival, so we spent time down there with Rob Da Bank and his wife Josie, who is the creative director," says John Paul Kelly.

Just as the stallholders in Borough Market were genuine, so too were many of the festival vendors, bringing their own stalls and bars to Great Windsor Park. The icing on the cake was shooting a sequence with Ed Sheeran, live on stage at Croke Park in Dublin, to be cut into the film alongside scenes from Bestival and a practical shoot.

In that it conveyed her success, Hard News was another important set for Bridget. When we last met Bridget she was working at the lower end of TV production, and yet here she is today producing a serious news show for a major broadcaster. Drawing inspiration from BBC and ITN news shows, the team built an entire news room, including studio gallery, studio floor and offices, designed to be filmed 360 degrees"so that from whatever angle they were shooting from, the frame would show all aspects of a working newsroom. Explains John Paul Kelly: 'This set was fairly unique because the whole thing was always in shot. We filmed the filming of the show."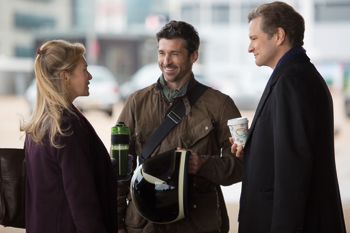 They actually were filming the show, in real time, live with a setup that could have broadcast live to the nation, had the filmmakers decreed. The team turned to ITV's Good Morning Britain to authenticate the Hard News production. Zellweger spent considerable time shadowing the team there when researching her character, and it was out of those meetings that the idea was born to use ITV's team to produce Hard News. Led by Good Morning Britain's series director Erron Gordon, who plays Ryan Cooper in the film, what you see on screen is the genuine article: a real camera crew shooting Hard News as live with the actual gallery team delivering it.

Erron Gordon explains his role: 'Sharon Maguire and Renée Zellwegger came to ITV for research, and they watched editions of Good Morning Britain go out live. I got a phone call the next day asking if I would be in the film, as they wanted Hard News to be authentic. So myself, my vision mixer, John Webb, and a PA from This Morning on ITV came along with two camera guys from ITV. Because we shot Hard News as it was happening in the film, I was miming directions, but at the same time, directing the cameras on the studio floor."

Christenings to Funerals: Costumes of the Film

Costume designer Steven Noble first collaborated with Zellweger and Maguire on Bridget Jones's Diary as an assistant costumer. Having helped to create the original on-screen look, there was synergy in bringing him back to dress a more mature Bridget. In her forties now, Bridget is slimmer, successful and has more of a disposable income"all of which affected her look. 'I started off by doing a timeline of both films. We put the iconic looks of Bridget from the two previous films together on a storyboard, so I had an essence of the character," offers the designer. 'We then set about making her a bit chicer, a little more -put together', although as the story unravels, she slightly loses it."

Drawing on the colour palette from the first chapter, specifically burgundy mixed with pastel pink, Noble conveyed a sense of continuity and progression, bridging the gap between the younger and older Bridget. Likewise, he brought into 2016 some staples. 'She still has a couple of old pieces in her wardrobe. The iconic lace-trimmed jersey vest from Jigsaw and cardigan from Brora are still a staple in Bridget's wardrobe.

Bridget's wardrobe is defined by three key pieces"short skirts, heeled boots and tights"but it is how she puts together her Weisel, Jimi Choo, Jigsaw, Brora and H&M that makes her look more eclectic. 'The outfit that symbolises Bridget most is a black corduroy skirt with a hand-printed Nina Ricci blouse"the high-street skirt with a designer top and crop cardigan. As soon as Renée Zellwegger puts something on, she goes into Bridget's world. It's her mannerisms, the way she moves, her body language."

Of course that would suggest Bridget is fashion savvy, stylish and skilled at creating looks for the right situations, all of which Bridget is not. To remain true to the essence of her character, Steven Noble added or detracted small changes, designed to put the finished look off kilter in subtle ways. 'She wants to express this positive, together woman with a look that she's seen and loves, but she gets it ever so slightly wrong," Noble explains. 'She might wear the wrong pair of shoes, or put a blouse on that's slightly see through, a skirt that's back to front, or wear tights with a peep-toe shoe."

With more than 60 costume changes representing a timeline covering 18 months, from career woman to mum to be, there are many looks that Steven Noble and his team had to craft for Bridget, but of those looks, what for him are the key pieces that define Bridget?

'Firstly there's the opening dress, which is the memorial dress. We didn't want it to look too heavy and too memorial looking. I had a Spanish widow in my head, which is where the lace comes from. It's the first time we see Bridget after all these years, and whilst it's such a beautiful dress, it's slightly inappropriate because there's too much cleavage showing for a memorial, which is yet another Bridget faux pas.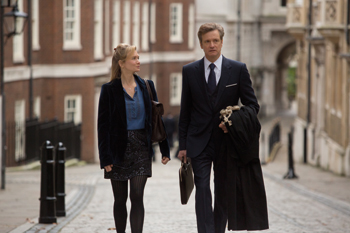 'The other look is the Christening dress, which I designed based on a 1930s/'40s piece," he continues, 'because we wanted the covered buttons with the button loops down the back, which Mark Darcy can't undo. Then there's the wedding dress. I decided to keep it simple, iconic and timeless. She looks absolutely stunningly beautiful in it. It's the one and only time where everything comes together"her hair, makeup, accessories and dress"and she gets it right for her walk down the aisle."

Steven Noble collaborated with his longtime friend and costume designer Giles Deacon to create the exquisite outfit. Drawing on the bridal gowns of Julie Andrews as Maria von Trapp and Grace Kelly, the dress is made from double-faced silk duchess satin, chosen for its elegance and its light reflective qualities. 'I'd designed a bolero jacket over the strapless dress to give the silhouette of those two dresses, but updating it whilst still making it timeless. It is slightly removed from Bridget's world in that she may not have chosen something as chic, but it's a stunning, timeless piece."

With a wedding comes a ring and for Bridget, the team looked to Tiffany. Known as the Tiffany setting [eight-pronged and with a raised dome], her ring is designed to lift the diamond off the band, maximizing the stone's natural radiance. The Tiffany ring is the genuine article, valued at £55,000.00, and appropriate as it connected Bridget's to her younger self as one of the items to have survived the 15-year absence was her heart shaped Tiffany necklace. 'We established the Tiffany heart in the first film, and it was taken through the second," says Steven Noble. 'It's a timeless piece. It's the Paloma Picasso design, perhaps an 18th birthday present from Mum and Dad. It's something that's iconic to Bridget. Besides which, Renée Zellwegger was adamant that she wear it."

Fifteen years on and, like Bridget, Mark's style has become more sophisticated as well. Gone are the oversized suits of the late '90s in favour of a more tailored look. 'Then it was all Burberry, whereas now he's in a mixture of Tom Ford and Gieves & Hawkes," explains Steven Noble. 'It's just a sharper silhouette."

Steven Noble's brief was to give him more sex appeal, if that was at all possible in a man who, this year alone, has been voted sexiest man alive by the British public. 'He's a handsome man," agrees Steven Noble. 'And he's got a great figure to dress. It's just the cut of the suit. That's all it is. He's a 40/32 classic man's shape, and it is as subtle as the suits. It's just the cut of the suit that can make it or break it. How much you nip in the waist or how narrow to go on the trouser leg to give a beautiful silhouette."

Mark's world is of course more conservative than the one Bridget inhabits, and costume plays a big role in defining those comparisons. 'His world is safer, more formulaic," says Steven Noble, 'so we convey that with a well put together, groomed look. It's all in that fine detail: the cut of the suit, the accessories."

Conversely, the audience is never invited into Jack's life in the same way that they are brought into Bridget and Mark's world. More so than any other character, therefore, everything about Jack had to be conveyed through costume. 'Patrick wanted Jack to look and feel more Anglicized," says Steven Noble. 'There's some Paul Smith, Private White, Folk, Sunspel"beautiful, well-made, English clothing. Jack and Mark are wearing similar pieces, but put together differently. Jack wears two pieces with jeans rather than a three-piece suit. He may wear the jacket and the waistcoat with a T-shirt."

In creating Jack's look, Steven Noble made references to the dot-com world the American inhabits, one of Hoxton and Shoreditch influence. 'Jack is the classic lumbersexual, which is a professional, fashionable man with a beard who wears checked shirts," laughs Steven Noble. 'He comes from that world, but we've made it more classic. We've toned it down and made it look more expensive and well put together."

Production wrapped, producer Fellner sums what it was like for the filmmakers to revisit old friends. He concludes: 'There is something extraordinarily pleasurable about delivering a Bridget Jones film into the market place. I feel emotionally very engaged with these characters, and I love spending time being in their world"just seeing what they're up to, enjoying their ups and their downs. I hope the audience will feel the same way, and at the end, they'll feel we got it right."


Bridget Jones's Baby
Release Date: September 15th, 2016