Red Riding Hood Movie
Cast
: Amanda Seyfried, Gary Oldman, Billy Burke, Shiloh Fernandez, Max Irons, Virginia Madsen, Lukas Haas, Julie Christie
Director
: Catherine Hardwicke
Genre
: Suspenseful Thriller
Synopsis
: A dark and riveting new version of the classic fairy tale, Red Riding Hood is the story of a young woman caught in a love triangle. Valerie is in love with the dangerous and unlikable Peter (a handsome, orphaned woodcutter) but is betrothed to the rich, hot blacksmith in town, Henry. Their town has been terrorised by a wolf, a wolf that appears only at the full moon, and when Valerie's sister is brutally murdered the message is clear: she's next. As the death toll rises with each moon, Valerie begins to suspect that the werewolf could be someone she loves. As panic grips the town, Valerie discovers that she has a unique connection to the beast - making her both suspect and bait...
The novel Red Riding Hood, written by Sarah Blakley-Cartwright and published by Little, Brown Books, debuted at number one on the New York Times' Paperback Kids/Young Adult list. The book's immediate success demonstrates that young audiences are eagerly anticipating the opening of the new film from director Catherine Hardwicke, who also provided the book's introduction.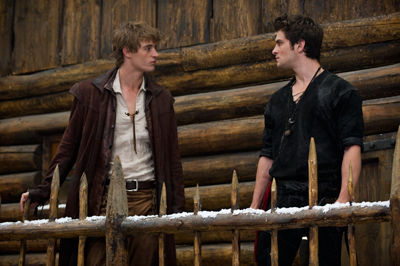 Blakley-Cartwright was on the set every day during the production of the film. From her vantage point, the author was able to weave in details of the atmosphere created by the filmmakers and cast, capturing the story's suspense and romance as she created a stand-alone reading experience.
In conjunction with the paperback book's release, Little, Brown Books for Young Readers also created a spectacular enhanced eBook that features exclusive behind-the-scenes content from the film. The final revelations of will be unveiled to readers at the time of the film's US release on March 11, 2011. A bonus final chapter will be available for download at
www.redridinghoodbook.com
on March 14, 2011 at 9 o'clock AM (US eastern time).
Release Date
: March 24th, 2011
Website
:
www.redridinghoodmovie.co.uk