Here I Am
Cast
: Shai Pittman, Marcia Langton, Quinaiha Scott, Bruce Carter, Pauline Whyman, Vanessa Worrall, Tanith Glynn-Maloney
Director
: Beck Cole
Genre
: Drama
Rated
: M
Running Time
: 91 minutes
Synopsis
: Karen is a beautiful young woman with a dark past, but she's got potential and she knows it. Fresh out of prison, she finds herself on the streets with a burning desire to turn her life around but no one to call for help. Eventually she finds a haven at a shelter for women like herself. With the support of her new community of friends, Karen begins the journey of reconnecting with her estranged mother and her young daughter, and she is soon propelled to face the most difficult truths of her life. But she's determined to never give up. Set and shot in and around Port Adelaide, Here I Am is a moving and hopeful story about the strength and resilience of women.
Website
:
www.hereiamfilm.com
Beck Cole - writer and director
:
Hope and Forgiveness
:
For the past five years a character named Karen has lived in my head - she is in her mid-twenties, is a daughter and a mother and has just been released from prison. Yet the film is not about prison and I've never wanted it to be. It is a film about a young woman who has made mistakes and is in a very fragile place - on the outside, unwanted, alone and trying in her own way to make the right choices.
Here I Am has been a long journey for me but the reason for wanting to tell this story has always been the same - I strongly wanted to make a film about a family of women on the brink of no return. A family that had suffered loss, grief, anger and resentment but was glued together by love - and in this story love is a child.
I started writing the script soon after I'd had my first daughter. So I was drawn to making a film about mothers and their children. And I also thought that I wanted to deal with some of the difficulties that women have and experience throughout life - particularly women that live an underprivileged sort of life. And I wanted to create a story with a character that showed the difficult side of life but also a journey toward hope and the possibilities of a brighter future.
There are also many reasons why I needed to tell this story: politically I am concerned about the disproportionate number of Aboriginal people incarcerated in our country; personally I continue to consider my own life as an Aboriginal woman and my role as a mother; and creatively I am driven to create interesting roles and characters for Aboriginal women to play in a story that speaks beyond the realms of race and hopefully resonates with us all as people capable and worthy of love and forgiveness.
Kath Shelper - producer
:
Humour, Friendship and the Third Wheel
:
Beck and I have been working together on this film during the past five years - intensively in production for the last year and intermittently developing the script prior to that. Whilst the various permutations of the story have changed over the years, there has always been the central character of Karen as the strong protagonist. Beck's previous two short dramas (Flat and Plains Empty) have also featured strong female characters in isolation. Without dipping into amateur psychology, it's not hard to see her fascination with the place of women in the world and I'm sure this is a theme she will continue to pursue.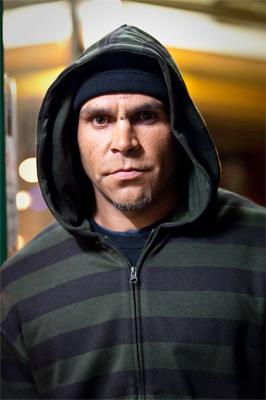 We share a great friendship as well as a working relationship, both of which have developed over the past seven or so years we have been a team - along with our third wheel Warwick Thornton (cinematographer, husband, collaborator, drinking partner). Together we have a terrible sense of humour, which often gets us into trouble. Laughing has got us through many trying times and I hope that audiences can appreciate the humour and joy in the film.
To my knowledge, this is the first feature film that has concentrated on urban Aboriginal women in a contemporary setting. Most films that have come before have been about blokes, set in the past or set in the regions. Here I Am is a rare insight into a world of women most people know little about, but which has a universality about it by the fact that they are all just getting on with their lives in the best way that they know how, hoping for a better future. And in some cases getting it.
Location: Sailors and Inmates
The film was written specifically for a Port Adelaide setting. It was shot entirely on location in Port Adelaide and the surrounding areas for six weeks during May/June 2010. Beck grew up spending half her time between Adelaide and Alice Springs and has many family members, including her mother, who reside in Adelaide, so she knows it well.
Filming in Adelaide was a pleasure and meant we were able to work with most of our usual favourite crew, who reside in Adelaide and have in the past come up to Coober Pedy or Alice Springs or wherever we are filming for Beck or Warwick's projects. This time they were able to stay at home and we came to them.
Temple House
The main location of the women's shelter was an old vacant building we discovered by walking around the streets of Port Adelaide. We took over the premises for the entire duration of pre-production and the shoot and used the old house as our production office as well as the location. This worked well most of the time, but some shoot days it got a bit much when we had a full house of eight women actors, a crew of approximately 24, stray kids of cast/crew whose childcare had fallen through (some in tears), a few attachments, curious family members and sometimes Marcia Langton's large, energetic dog.
We're not entirely sure of the history of the 1868 building, but passers-by told us it was anything from the rectory for the nearby church or a house for sailors. This century it has been a drop-in women's health centre and offices for a financial institution. It had been vacant for several years before we dusted away the cobwebs, but it was in such good condition that our scenic artist worked overtime to grubby it up for the screen. It has since been sold to a group of filmmakers who are making it a home as well as studios and offices.
The Prison
We shot the opening scenes of the film inside the Adelaide Women's Prison on our first shoot day, which was a great reality check for the cast and crew. We are very grateful to the Prison for allowing us to film there. The inmates also painted the mural that appears on the wall in the counselling session scene at Temple House. Based on a design by production designer Sam Wilde, on completion of filming it was donated to the Prison.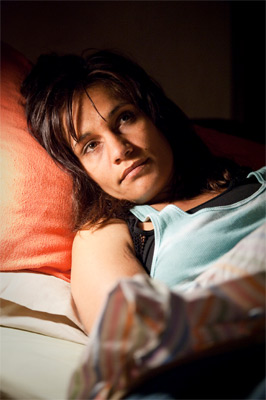 Casting: Fresh Faces
Beck: I wanted to cast women who I believed had qualities that the characters actually had or owned. So I was generally looking for women who hadn't acted before because I wanted there to be a real edge and rawness to the performances. I wanted fresh faces. I wanted to give women the opportunity to act. I had a number of people in mind that I auditioned. We spent a lot of time in Port Adelaide and through the Aboriginal community there we put out a big call and had hundreds of women come and meet us. Everyone was really keen and very supportive. And so from there we just began to compile a shortlist to get people back to re-test. We cast a number of people out of the Port Adelaide community and then of course Shai Pittman (Karen) is.