RAIN DANCES AS 'ASSASSIN'.
EXCLUSIVE Rain, Ninja Assassin Interview by Paul Fischer
Rain is a musician and martial arts superstar as well as a self-confessed shoe collector and now he is starring in the action packed Ninja Assassin. Rain was born in Seoul, South Korea, on June 25, 1982 with the birth name Jung Jihoon. He was extremely shy in elementary school, stating in interviews that he barely spoke a word. He caught the desire to become a dancer when, at a school talent show in sixth grade, no one from his school stepped forward to dance so he gave it a try, imitating the moves he saw on TV.
The applause was extremely gratifying and he decided on the spot to become a professional dancer. In order to learn, he sought out older street dancers, who sometimes helped him, sometimes bullied and beat him up. Rain and his younger sister, Hana, enjoyed a comfortable life until the Korean recession of 1997, when his father's mill and bakery businesses failed. Bankrupt, his father left for Brazil to pursue economic opportunities, leaving Rain's mother to try to support the family as a food vendor.
Rain's mother was ailing from diabetes due to lack of money for medical care and insulin. Rain got a start in the entertainment business briefly as part of a six-member boy-band called Fanclub. Revealing abuses in the Korean entertainment industry, Rain described the Fanclub members as "caged animals" locked in the rehearsal room for up to ten hours without food. After Fanclub released only two CDs, the company promoting the band failed and Rain was back to square one. During his junior year of high school Rain lived with some of his dance group members, subsisting mostly on cups of ramen noodles. He auditioned eighteen times for entertainment companies but was told that, although he was talented, he was too ugly to become a star. He was told that he should have plastic surgery to create "double eyelids", a common Korean practice to obtain more western-looking eyes.
Finally in 2000, he was accepted by JYP Entertainment as a trainee. CEO Park Jin Young, who put Rain through a grueling 3-4 hour audition, described Rain as "desperate" and "like a tiger who was about to starve to death" (2008 Discovery Channel documentary "Hip Korea"). JYP stipulated that Rain had to attend college so, after studying "ferociously," Rain got accepted to Kyunghee University and became a music major. Rain spent three years as a trainee and back-up dancer for JYP, who has stated that he was particularly critical of Rain in order to push him to be the best and keep him from "getting a swelled head."
During Rain's time as a trainee, his family was living in poverty and his mother was becoming increasingly ill due to lack of money for medicine. Rain drove himself hard in order to prove himself ready to make his debut, but did not achieve success in time to save her life. She died from complications of diabetes a year before his debut. This event had a huge impact on Rain. He has said in interviews that he regrets having had conflict with her over skipping school to go to dance practice, and that he believes she is in heaven where she can see him. He says that a major motivation in his life is to make her proud and he still visits her grave before embarking on each new project.
Another motivator Rain has mentioned is remembering what it was like to be hungry. He is a self-professed workaholic and after acting alongside him in Speed Racer, John Goodman called him "the hardest working man in show business."
In Ninja Assassin, Rain stars as a mysterious trained ninja who turns his back on orphanage that raised him, leading to a confrontation with a fellow ninja from the clan.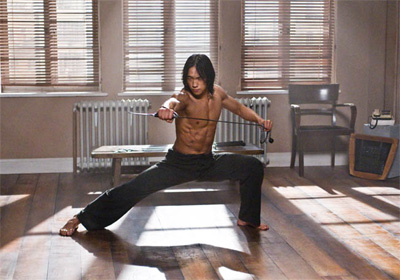 Rain talked to Paul Fischer in this exclusive interview.



QUESTION: Let me start off by asking you, what was the main attraction for doing this movie, for you?
RAIN: When I first saw the script it was amazing plkus the Wachowskis producing, Joel Silver, and James McTeigue directing. And, same thing from 200 and Matrix. We're a good team.
QUESTION: Was this a character that you found easy to relate to, in some way? A character you found easy to understand?
RAIN: You know because I really wanted to be a super-action hero, when I was young. So, yeah, I loved my character and Raizo was the most incredible character. I loved that.
QUESTION: You have a dance background. Does that help you in training for some of the difficult action sequences that this movie demanded from you?
RAIN: Yes, it helped. You know, dancing and martial art is very similar. Son when I was doing stunts, it helped.
QUESTION: What was the most difficult part of making this movie, for you, if anything?
RAIN: Training. You know, I had to make my body fit, like Bruce Lee. So, I trained for eight months, five days a week, and eight hours a day eating only chicken breasts and vegetables. Never sugar, no salt, no sauce. You know, I really love chocolate which I had to give up. And I learned a lot of martial arts.
QUESTION: No wyou are heavily involved in music. Is music still a very important part of your life?
RAIN: Yes, music is my life. I love singing and acting, so I will concentrate on both singing and acting. I want to focus on the Ninja Assassin for now, but after this film, I will release in the US, about my album.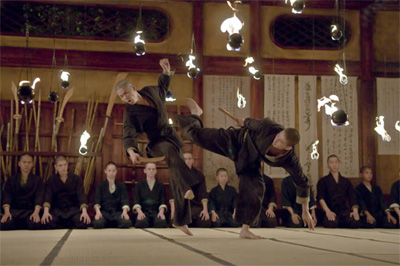 QUESTION: And what kind of music is going to be included?
RAIN: My music is - you know, based on rap music, and R&B. Hip-hop, pop, you know. Everything.
QUESTION: What are the challenges for you to do an album in English?
RAIN: I just enjoy it. You know, I love music, and music-making process. You know, so easy! Because I love singing and acting. I love singing and dancing. Yeah, I enjoyed it. Always.
QUESTION: When you were a young boy, growing up in South Korea, I understand you were very shy.
RAIN: [LAUGHTER]
QUESTION: Was dance a way of expressing yourself, and getting out of that shyness?
RAIN: Yes. Yes.
QUESTION: And was it easy for you to perform for the first time? Do you remember the first time you performed in public?
RAIN: Yeah, yeah. In Asia, on the stage.
QUESTION: And how was that for you?
RAIN: Oh, so amazing. And so shy!
QUESTION: Did you ever think that when you won that talent show at school, that you would actually do this for a living? That this would be something you would do as a profession?
RAIN: Yeah.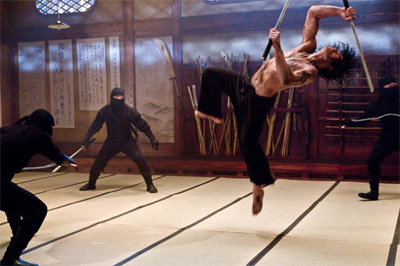 QUESTION: How did you know that?
RAIN: I don't know. You know, my body knows.
QUESTION: Just knew?
RAIN: Yeah.
QUESTION: You've performed at Madison Square Garden.
RAIN: Yeah. Four years ago.
QUESTION: Is that one of the most difficult things you ever had to do?
RAIN: It is fantastic. You know. I love to perform.
QUESTION: And I also understand that you collect shoes, as a hobby.
RAIN: Yeah, right. Right. I have a lot of shoes. [LAUGHTER]
QUESTION: Where did that come from?
RAIN: Since-you know, when I was young. So, I just like shoes. That is the reason.
QUESTION: What kinds of shoes? Any shoes?
RAIN: Oh, no, no, no, no. Just - do you know Air Force?
QUESTION: Yeah.
RAIN: Yeah. I love Air Force Nike. And - yeah, just Nike. Jordan series, Air Force series. I just like them.
QUESTION: Now, you mentioned earlier a little bit about - you mentioned Bruce Lee.
RAIN: Yeah.
QUESTION: Is Bruce Lee an influence in your work at all?
RAIN: Yeah. He's my role model. But - yeah, I have another role model - you know, Al Pacino. He's my hero. He's my acting hero. And Bruce Lee, and Jackie Chan, he's my - just, super-action hero. But - you know, I'm so powerful, I'm so young, I'm so handsome, then - you know, Bruce Lee, and Jackie. [LAUGHTER] You know, Jackie is my brother. Like brother. He is a mentor. You know, he's a good person.
QUESTION: Would you like to work with him?
RAIN: Yeah.
QUESTION: Is that something that you're trying to do?
RAIN: Yeah, why not?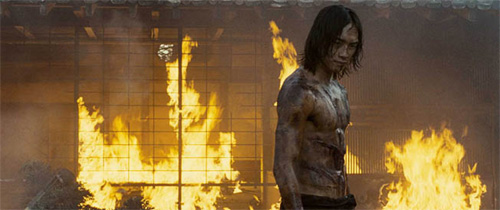 QUESTION: I also understand that you might be doing a kind of remake of Bruce Lee's Enter the Dragon.
RAIN: Ah, Enter the Dragon. You know, not really. So, I haven't decided yet.
QUESTION: How challenging would it be for you to step into Bruce Lee's shoes?
RAIN: Yes. There's - you know, there's no stressful and pressure. So, you know, yeah, he's my hero. But, I haven't decided yet about Enter the Dragon.
QUESTION: What do you hope to do next then?
RAIN: Next? I don't know. I want to challenge myself to see where my limit is. That is my goal. But I have scripts. The first one is another action film. Second one is, too, another action film. And third one is romance.
QUESTION: A romance? Really?
RAIN: Yeah.
QUESTION: And are they all American films, or are they Asian films?
RAIN: Yeah, Hollywood films.
QUESTION: And if you could pick out one leading lady to be in the romantic film, who would it be?
RAIN: You know, I can't tell you, because - yeah. I want to work with - you know, actress, Megan. How about Megan?
QUESTION: Oh, Megan Fox?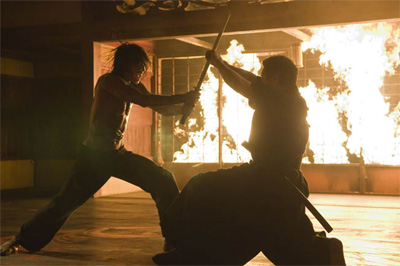 RAIN: Yeah. She's lovely.
QUESTION: She's not bad.
RAIN: Yeah.
QUESTION: What about directing? Do you have any desire? Do you want to direct?
RAIN: Yeah. I want to - not yet. You know, I'm not interested in directing.
QUESTION: And after you've released your English language album, are you going to go on tour?
RAIN: Yeah. Sure, why not? You know, I want to focus on Ninja Assassin for now. And after this film, I will release in the US market, about my album. English album. And then I want to do concert tour in the US.
QUESTION: Do you think Ninja Assassin will lead to a sequel? Are you signed on for another one?
RAIN: Yes, why not if people like it.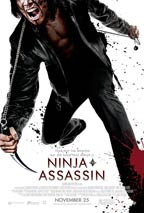 Ninja Assassin
Starring
: Rain, Naomie Harris, Ben Miles, Sho Kosugi, Rick Yune
Director
: James McTeigue
Genre
: Action/Adventure
Raizo is one of the deadliest assassins in the world. Taken from the streets as a child, he was transformed into a trained killer by the Ozunu Clan, a secret society whose very existence is considered a myth. But haunted by the merciless execution of his friend by the Clan, Raizo breaks free from them... and vanishes. Now he waits, preparing to exact his revenge.
In Berlin, Europol agent Mika Coretti has stumbled upon a money trail linking several political murders to an underground network of untraceable assassins from the Far East. Defying the orders of her superior, Ryan Maslow, Mika digs into top secret agency files to learn the truth behind the murders. Her investigation makes her a target, and the Ozunu Clan sends a team of killers, led by the lethal Takeshi, to silence her forever. Raizo saves Mika from her attackers, but he knows that the Clan will not rest until they are both eliminated. Now, entangled in a deadly game of cat and mouse through the streets of Europe, Raizo and Mika must trust one another if they hope to survive…and finally bring down the elusive Ozunu Clan.
Rick Yume Ninja Assassin Interview
www.femail.com.au/rick-yume-ninja-assassin-interview.htm