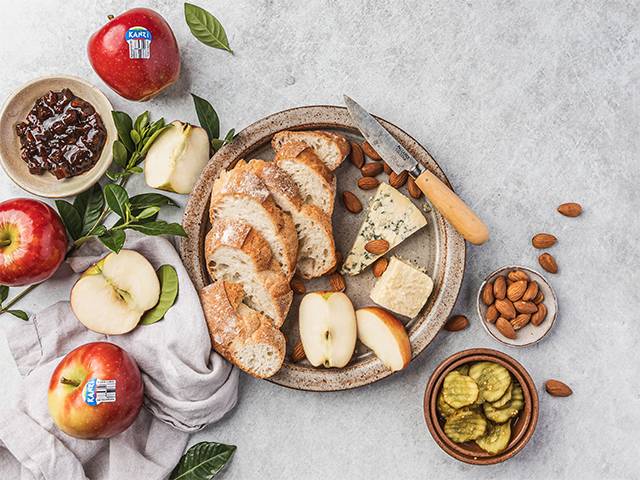 Serves 2
"The Ploughman's lunch was originally a British farm worker's cold packed lunch. The sweet, juicy KANZI® apple perfectly cuts through the salty, creaminess of the cheese." –Marie Duong, Eats with Marie
INGREDIENTS:
1⁄2 crusty sourdough baguette, sliced
100g blue stilton cheese
100g crumbly cheddar cheese
1 KANZI® apple, sliced
1⁄3 cup sliced bread and butter pickles
1⁄4 cup pickled relish
1 tbsp raw almonds
METHOD:
Arrange all ingredients on aserving platter.
Enjoy slices of crusty bread with a little relish, topped with small wedges of cheese, a slice of KANZI® apple and a couple of pickles.
NOTES:The fleshof a KANZI®is naturally slow to oxidise, making them theperfect choice of apple to slice up on cheese platters and grazing boards as the slices staywhite for longer than other varietiesof apple.
Recipe created by Eats with Marie for KANZI® Apple Australia.