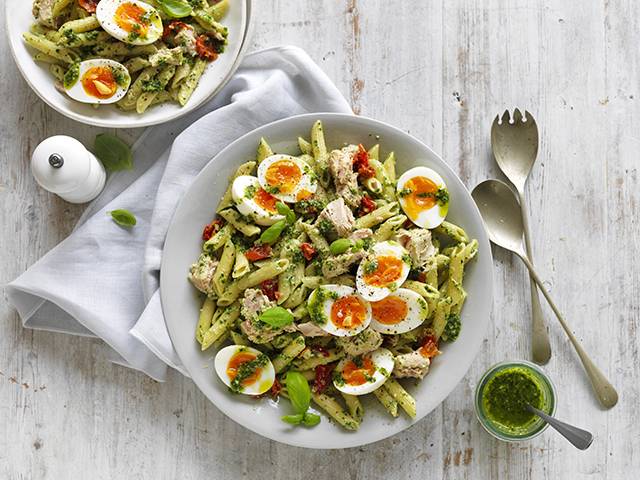 'Cheap Eats' Recipes Courtesy of Australian Eggs
With the cost-of-living crisis continuing to squeeze household budgets and no end in sight, being able to feed the family well, but for less, has never been more important.
With a mix of meal time recipes to choose from Australian Eggs has suggestions to feed the whole family on a budget.
Pesto Tuna Egg and Pasta Salad  
COST PER SERVE: $3.20
Serves: 4
Prep time: 10 minutes
Cook time: 15 minutes
Ingredients:
6 eggs, medium boiled, peeled and halved (see tips)
350g dry pasta of choice
⅓ cup (85g) whole egg mayonnaise
½ cup (120g) basil pesto
185g can tuna in oil, drained
½ cup (75g) semi-dried tomatoes in oil, drained and chopped
Salt and pepper to taste
Method:
Cook pasta according to packet instructions. Drain and refresh in cold water. Transfer to a salad bowl.
Mix together mayonnaise and pesto and stir through the pasta. Add tuna and tomatoes and toss gently to mix.
Arrange eggs over the top and season with salt and pepper.
Tips & Hints:
●        To cook medium boiled eggs:
Add eggs to a saucepan and just cover with tap water.
Cook over medium heat. Once the water reaches a simmer, start a timer for 6 minutes.
Gently stir the eggs in a clockwise direction, the movement of the water will help centre the yolks.
Use a large spoon to remove the eggs from the saucepan. Cool the eggs by running them under cold tap water for 30-60 seconds or placing them in a bowl of iced water.