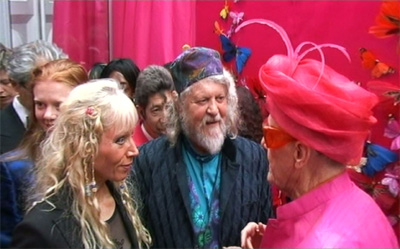 The life and times of Percy Savage - A Savage Life in Fashion
Who was Percy Savage? He was a close friend of Christian Dior, he played a pivotal role in the career of Yves Saint Laurent, he launched Mary Quant onto the US fashion scene, and he counted as his friends the likes of Jean Cocteau and Cecil Beaton. He was a boy from Brisbane born in 1926, who became one of the movers and shakers of fashion, a maverick of the Paris fashion scene in the 50's and 60's.

Percy Savage boarded a plane soon after graduating from school bound for England, however in true Percy style he was less than impressed with the dull and dreary face of England at that time. So he quickly decided that Paris would be a better place to be, with its left bank romance and style. He arrived in Paris in 1947, the year Christian Dior launched his New Look (perhaps a sign of things to come in the relationship between the two men). Graduating from the Sorbonne in history of art, and a regular guest at the salons of high society, Savage embarked on a career which included designing silk scarves for Dior and Balenciaga. His style, charisma and exotic flair won him all manner of admirers including Jean Cocteau, the Comtesse de Polignac, the Baron de Bosmelet, Cecil Beaton and Michel de Brunhoff, editor of Vogue.

Savage became such a close friend of Christian Dior, that Dior named Parfum Eau Sauvage after him. This came about after Savage was late for a dinner, "I was invited to a brainstorming session at Dior's house but unfortunately arrived late. When the butler announced my arrival someone banged on the table and said, 'Oh Savage, always late!' Dior clapped his hands and said, 'That's it! Eau Sauvage'."

Before long he found himself at Lanvin as Chief of Publicity and his influence was felt throughout fashion. It was Savage who recommended that Dior employ the young Yves Saint Laurent when he was fresh out of design school. Dior took his friend's advice and Saint Laurent went on to become one of the most celebrated fashion designers in the world. As Mary Quant said in the 2004 documentary A Savage Life in Fashion, "He stood over so much that came from Paris but he's also far more international and joined together influences from all over the world."

Savage was the first to see the value of celebrities wearing designer dresses at gala events, an approach that has become a staple of fashion PR. When Elizabeth Taylor came to Paris for a film premiere in 1954, Savage met her at the Hotel Meurice and gave her a Lanvin dress. After she promised to wear it at the premiere that evening, Savage alerted the press. When they later asked Taylor who had made her dress, she replied, "It's a Lanvin. Isn't it divine?" The publicity was enormous, imagine Hollywood premiers or The Oscars without the dresses! His idea has become a mainstay for promotion in the world of fashion.

Percy Savage also introduced the use of video to fashion. Understanding the difficulties and the costs of having models continually parading clothes for the press, Savage decided that using the new video technology to film the parades then show the press was an equally effective way of getting designers clothes press coverage. It could be said that Percy Savage is the Grandfather of Fashion TV.

At the end of the 1960s, Savage established YSL in London with Clare Rendlesham. By 1970 he had settled in England and Savage set about elevating the profile of British fashion. His years at the forefront of fashion PR boosted the fortunes of, among others, Zandra Rhodes, Bruce Oldfield, Katharine Hamnett, Wendy Dagworthy and Vivienne Westwood. With his ambition and foresight he paved the way for London Fashion Week and heralded a glorious era for British designers that led to the likes of Alexander McQueen, Stella McCartney and John Galliano dominating the industry.

Tragically life was not all roses for Savage, with more difficult economic times, and his fierce ambition, Savage was broken by the game and, finally, bankrupted. Never beaten Percy Savage carried on writing for various publications, mentoring young designers and even doing some modeling.

Vive Le Fashion Vive le Savage.

Donald Percival Savage, public relations executive: born Brisbane, Queensland 12th October 1926; married 1961 Frances Coolahan (one daughter; marriage dissolved 1965), 1977 Alicja Sedniska (died 1983); died London 12 August 2008.

A Savage Life in Fashion unclassified all ages
In Cinemas Sat 14 Nov 4pm
Narrated by Joanna Lumley, this documentary pays tribute to Percy Savage, one of the great unknowns of Australian fashion. Savage left his farm in Queensland to become an instrumental figure in international fashion circles, and has been credited with introducing Christian Dior to his successor Yves Saint Laurent.
Winston Cuthbert, 52 mins, UK, 2005, Digital Betacam. Source: Kapital Pictures

"whereas you can get the same amount of publicity in The Times or The Telegraph for the price of a couple of good lunches."