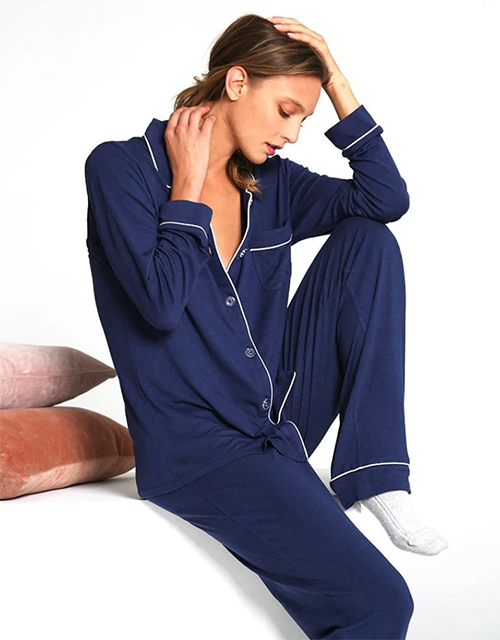 When we sleep, we should be as comfortable as possible and pyjamas or nighties are the first step in that process! Papinelle's "Kate pyjamas" are all things amazing about sleepwear. Beautifully designed and made from luxuriously soft Modal, you'll find it hard to get out of bed!

Modal is a high-quality botanic fibre and it's the comfiest thing you'll ever wear. Incredibly soft, modal is made from composed beech wood and the water and solvent used to transform the wood to fibre is recycled for re-use at a recovery rate of 99%! The process has a low-environmental impact, and the fibres created can be completely biodegradable and compostable.
Modal is naturally breathable and light weight, and also supports our natural thermal regulation processes making it the perfect sleepwear choice all year round. The absorbency of Modal means that less moisture is collected on the fabric which prevents bacteria growth, making it a more hygienic fabric compared to other fabrics such as Cotton.
Modal is also impressively durable and resistant to shrinkage, pilling and fading, where even after several washes your pyjamas will remain perfect every time. Modal sleepwear is light, luxurious, silky soft and 50% more absorbent than cotton, guaranteed to make you fall in love.
Our comfy, cozy, breathable new range of PJ's are available online and in

store now alongside our modal nighties, robes and loungewear.
Review: Stay cosy at home in your Papinelle PJs, made with quality materials, these stylish PJs are a welcome addition to your wardrobe. So soft, comfortable and completely breathable so you can lounge around in them all day. They have just the right amount of stretch, so you will barely notice you are wearing them. Totally in love with these Papinelle PJs, perfect to isolation days...