Organic Fusion: Conscious Food for the Mind, Body & Soul
A life-long advocate of healthy eating, with a love of Ayurvedic foods, in 2010 Amanda Battley opened organic food restaurant, -Buddha Soul Organic Fusion' at Padang Padang Beach, Uluwatu Bali. The objective was to create a menu where every meal was -good for the soul'.

This was achieved by offering raw, vegan and organic ingredients including organic lamb, chicken and beef as well as a long list of superfoods giving balance to every menu item.

The response was overwhelming with people travelling to Bali just to eat at the restaurant, which of course led to many requests for her recipes.

So Amanda's first book, -Organic Fusion' was created. Beautifully illustrated with over 65 recipes, -Organic Fusion' is a selection of the most popular menu items from Buddha Soul.

Full of gluten-free, sugar-free and raw food recipes, it also features superfoods like red rice and maca powder, which she uses extensively and which are now readily available in most supermarkets, and the increasingly popular chia seeds, kale, quinoa and goji berries.

Widely used are the healthy Ayurvedic spices turmeric, cardamom, cinnamon, cumin, ginger and saffron, which add a depth of fragrance, flavour and colour.

Recipes include juices, breakfast dishes, delicious light summer salads and vegetarian main meals like vegie burgers, curries, paella, lasagna as well as chicken, beef and seafood dishes. Desserts range from ice-cream, decadent gluten-free chocolate cakes and old-fashioned apple pie. The ingredients are easy to source and all the recipes are easy to prepare.

More than just a recipe book, Organic Fusion offers an insight into living a holistic and balanced life, with information on yoga, meditation and detailed descriptions of the health benefits and uses of Amanda's top superfoods.

A passionate supporter of children's rights, 10% per cent of profits from the book will go to Classroom of Hope – a charity that's mission is to provide access to life changing education to underprivileged children in the developing world.

As a child she drove her mother crazy always asking for healthy options when it came to meals. While her mum thought she was just a fussy eater, Amanda Battley thinks that's really when her desire for healthy living started.

After looking further into nutrition she was inspired by Ayurvedic foods and the positive difference it made to how she felt and looked after including these foods in her diet, and it made her a life-long convert.

She started practicing Yoga over 20 years ago – a time when there were only ever hippies in the classes! It became an integral part of her life culminating in a two-year, 350 hour Yoga Teacher Training Course in Vinyasa taught by Tamara. It was a life changing experience for Amanda.

Concurrently she studied Buddhism and travelled through India practicing yoga and partaking in meditation classes in places such as Rishikesh, on the Ganges that is known as the yoga capital of the world.

As an event promoter, Amanda brought artists to Australia including Jose Carreras, The Beach Boys, Natalie Cole, David Bowie and Cafe Del Mar. The concerts were fully catered with gourmet healthy food, which Amanda organised and were held in creative venues. This is where her love for catering began.

She completed a six-month raw food course in London and in 2010 she opened her organic food restaurant, -Buddha Soul Organic Fusion', at Padang Padang Beach, Uluwatu Bali, where every meal is good for the soul.

Her second restaurant, Om-burger also in Bali, opens in April this year.

Organic Fusion is Amanda's first book, but she has already begun compiling recipes for her second book, which she hopes to have published later this year.

Amanda spends half her time in Western Australia and half in Bali running her restaurants. She is married and has a gorgeous 15-year-old daughter who shares her mum's passion for healthy food.

Organic Fusion: Conscious Food for the Mind, Body & Soul
Buddha Soul Pty Limited/Jacksons Publications
Author: Amanda Battley
ISBN: 9780646914725
RRP: $39.99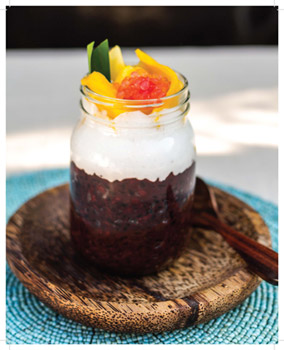 Black Sticky Rice with Coconut Cream and Fresh Fruit
Serves 4
Ingredients
350 gm (2 cups) black rice
1 litre water
250 ml (1 cup) coconut cream
1 jackfruit, mango OR banana
1/4 cup berries of your choice
40 ml (2 tbsp) agave syrup

Method
Boil the black rice in the water until the rice is soft and sticky.
Add agave syrup and mix thoroughly.
Serve in small bowls topped with the fresh fruit slices and with a small jug of coconut cream on the side.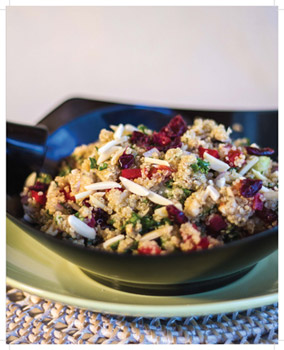 Quinoa and Cranberry Salad

Serves 4
Ingredients
400 gm (2 cups) red OR white quinoa
100 gm (1 cup) coarsely chopped kale
10 gm (1/4 cup finely chopped) mint
40 gm (1/4 cup chopped) bell pepper
150 gm (1/2 med.) lebanese cucumber
50 gm (1/4 cup chopped) roma tomatoes
80 gm (1 small sized) finely chopped red onion
3 gm (1 tsp) chia seeds
40 gm (1/4 cup) slivered almonds
40 gm (1/4 cup) dried cranberries
7 gm (1 med. sized clove) garlic
Himalayan pink rock salt

Dressing:
40 ml (2 tbsp) extra virgin olive oil OR coconut oil
1/2 med. sized lemon
7 gm (1 med. sized clove garlic, crushed
3 gm Himalayan pink salt
Pepper
Method
Put the quinoa and 4 cups of water in a saucepan and boil until seeds have opened. Place in the refrigerator to cool.
Place quinoa in a bowl and mix with kale, mint, bell pepper, cucumber, roma tomatoes, red onion, chia seeds, almond slivers and dried cranberries.
Dressing: In a small bowl, crush garlic, squeeze in juice of lemon, add extra virgin olive oil, mix, and season to taste with Himalayan pink salt and pepper.
Place quinoa mix on plate and drizzle with dressing.