Classic is always the new black with Nokia 6700
Classic styles are timeless looks that transcend trends and last through the decades.Typically, classic styles always start with a simple and practical design. Take the littleblack dress or a tailored suit jacket - a basic necessity in any fashionable wardrobe.Similarly, the quintessential handbag over the ages is a medium sized, simpleshaped,rich leather purse.
The new Nokia 6700 classic - heralded for its classic design, impressive features and consumer friendly price tag - will appeal to those who appreciatetimeless style.
The Nokia 6700 classic continues the legacy of one of the company'smost successful products, the Nokia 6300, offering consumers a stylishyet practical, feature-led mobile phone.
Product manager for Nokia Australia and New Zealand, StephenWright, said: "Today a mobile phone is as much a fashion accessoryas any other fashion item. Just like a classic pair of sunglasses orthe staple black dress, a mobile phone represents personal tasteand individual style.
"With its slim design and elegant colour set, the Nokia 6700 classicis a timeless piece and will appeal to those who want a stylish yetpractical device, packed with features - at an affordable price,"Mr Wright said.
The Nokia 6700 classic combines smooth surfaces, rich materialsand quality crafted parts, together with a full metal key mat.The device also sports a five megapixel camera and LED flash,making it an excellent imaging device. This combined withfast Internet connection speeds allows you to upload photosand video clips of your favourite places and share experienceswith friends via Ovi Share - share.ovi.com - Nokia's mediasharing platform.
Other handset features include assisted GPS navigation with NokiaMaps, MP3 player and FM radio, extended talk time, enhancedtalk quality and background noise reduction and support for upto 8GB MicroSD memory card to store your favourite songs andmultimedia content.
The Nokia 6700 classic is available in Australia through Vodafone,Optus and 3 and from leading retailers with a RRP of AUD$589.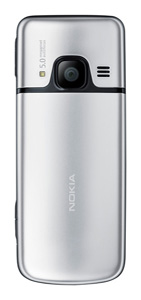 Review
: It's about time... the Nokia 6700 is the perfect phone for those who don't like the fuss. Simple and easy to use, upgrading your old mobile is now simple with the Nokia 6700. Don't get me wrong all the features are there, but they haven't over-complicated the options so it's easy to find just what you need and not get too distracted with other options. The Nokia 6700 has a smooth sleek feel to it, and it's the perfect size for any handbag, fitting easily into the phone pockets, that many do now.
With 5 megapixels to capture images, this is a great camera with printable quality images. The Nokia 6700 has up to 170 MB internal memory and can support an additonal memory card for 8GB. This allows you to store your images, take mini movies, and add your favourite songs to your phone for up to 20 hours.